Student Profile: Fourth-year student Diego Garcia finds artistry in the detailed demands of dentistry

10

min read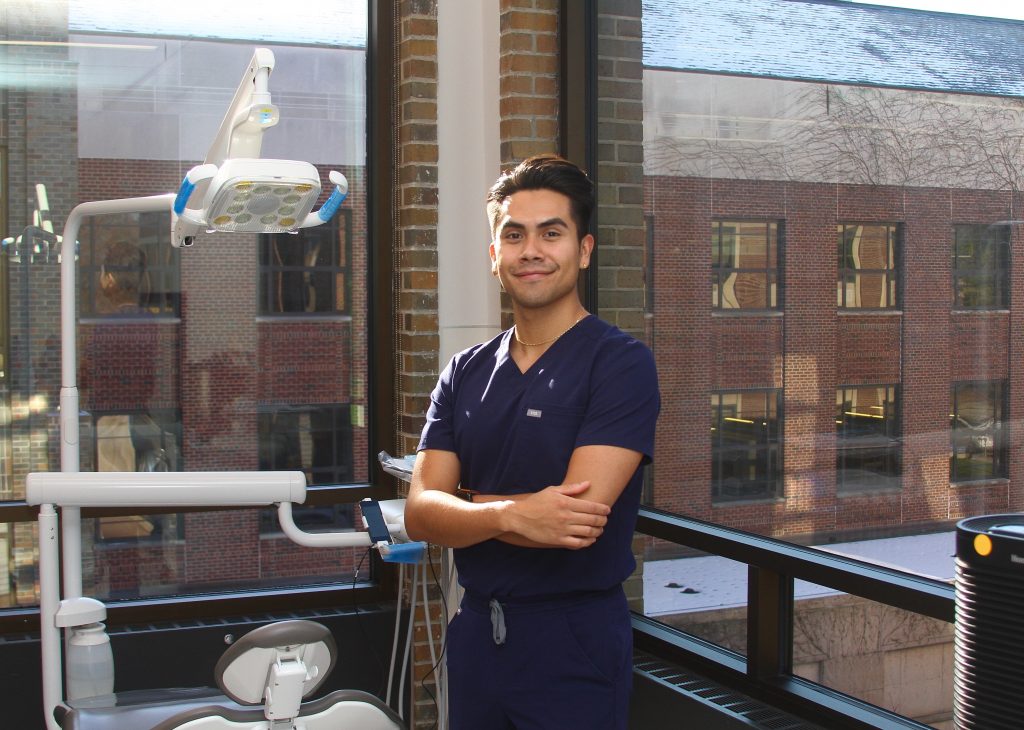 This profile is one in an ongoing series highlighting School of Dentistry alumni, donors and students.
_______________________
Fourth-year dental student Diego Garcia is demonstrating an early-morning mix of patience and determination as he works to give a patient a perfect fit on her denture during an appointment in a School of Dentistry clinic.
It is two days before Thanksgiving, when having a properly-fit denture on that annual day of feasting may be even more important than on most other days. The new denture, fabricated after a previous appointment, has a rough spot or two that need to be smoothed and reshaped slightly so that it doesn't rub uncomfortably against the patient's gumline. The patient describes where the rough spots are and Garcia removes the denture from her mouth, his hands clad in purple surgical gloves as he uses a dental handpiece with a rotating bur to smooth the problem areas.
The process requires focus. If he removes too much of the acrylic material, it may make the fit worse or might alter the overall denture fit so much that another denture would need to be made. By the time the patient reports a perfect fit, Garcia-Ortega has removed and smoothed the denture several times.
"It's like solving a puzzle," he says later. That detailed work with his hands, which is part mechanical and part artistry, is one of the reasons he was drawn to dentistry. It fits well with his creative and artistic side that has included crafting, sculpting, drawing, photography, dance and writing, among other non-dentistry interests.
"That's what's really cool about dentistry," he said. "You get to work on your craft every single time, even when you do a filling, for example. There is so much art and aesthetics that are associated with dentistry. People don't often realize how much detail there is in teeth. Figuring out the details and putting together the whole picture is super-satisfying. And that's one thing I love about dentistry."
In his last semester before graduation this spring, Garcia continues to refine his treatment skills and chairside manner by completing the various dental procedure requirements required for a DDS degree. In addition to treating patients in the dental school clinics, fourth-year students also are assigned for several weeks to external rotations around the state of Michigan where they provide services for underserved patients. Garcia is assigned to a clinic in Kalamazoo this term; last year he treated patients at clinics in Cadillac and Grand Rapids.
The latter rotation, at Cherry Health in Grand Rapids, was a significant homecoming for Garcia. He moved to Grand Rapids from his native Mexico when he was eight years old, learned English in bilingual schools and graduated from high school there. His parents and other family members still live there. Being assigned to Cherry Health as a dental student had additional meaning because it was there that, at age 14, he received his first treatment by a dentist. Dental care in his working-class family had always been on an emergency-only basis rather than regular check-ups. When a community-services dental team came to his school to apply fluoride to students' teeth, they discovered that Garcia needed the services of a dentist. They referred him to Cherry Health, a Federally Qualified Healthcare Center offering healthcare for underserved populations, where a dentist began a series of treatments for Garcia's significant dental needs.
It was during those childhood dental visits that Garcia became interested in healthcare. The treatment wasn't as bad as he feared, having heard only scary stories about what going to a dentist was like. The dental team was so positive and supportive that Garcia worked hard to make sure he followed their recommendations for how to maintain good oral health.
In high school, as he neared time to make a decision about career choices, he remained focused on healthcare options, maybe medicine or dentistry. It was while becoming certified as an Emergency Medical Technician that his career path turned toward dentistry. "After having a really good experience at the dentist, I knew that I wanted to go into healthcare," he said. "I took an EMT course in high school, but I found out I absolutely hated hospitals. So then it was, 'Well, what am I going to do now?'"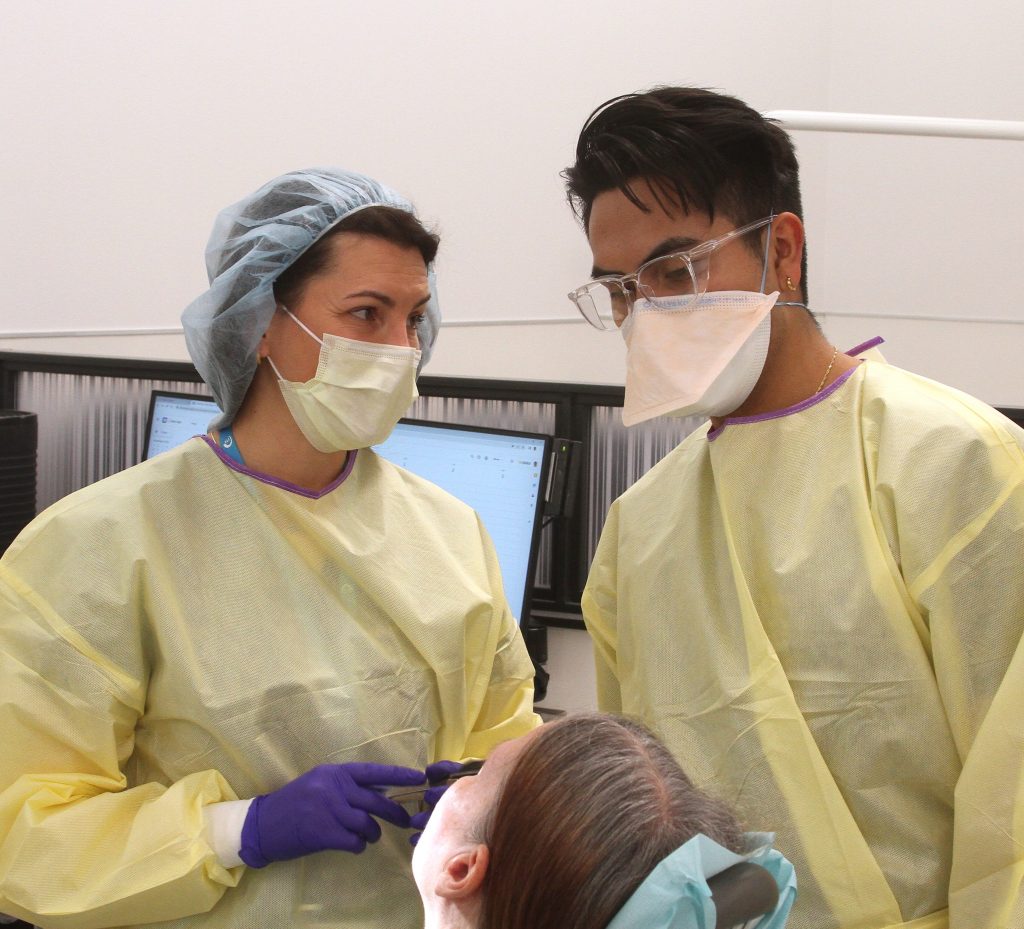 Switching his focus to dentistry, he searched out ways to gain more perspective on the field. During a visit to Mexico, Garcia's decision became clear. "In a neighboring town close to my own, I met a dentist who provided free treatment for those who could not afford it. I assisted on a full-mouth extraction case for an elder member of a family who traveled three hours on public transit to visit the closest provider. This really shined a light on health disparities. I enjoyed listening to the consultations and conversations that the dentist had with their patients to ensure they understood the importance of preventative dental care and how he encouraged them to not hold back their smiles."
Garcia majored in biology as an undergrad at U-M and was on the U-M rowing team for two of his four years. After graduation, he decided to take a gap year rather than pursue dental school immediately, although he spent the start of his year off at the U-M dental school after he was accepted into its Profile For Success program. Students are tutored in the science and math coursework they will find on the Dental Admission Test when they apply to dental schools. They also meet faculty, dental students and practicing dentists who can answer their myriad questions about the profession, dental school and treating patients.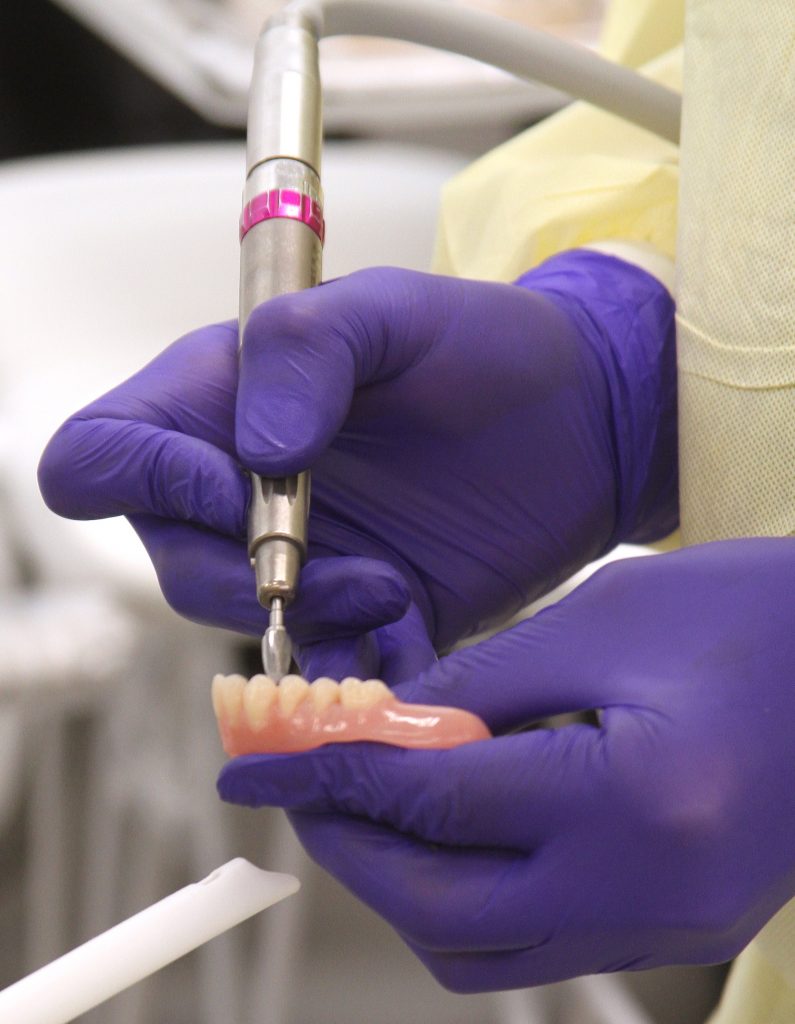 At the conclusion of the rigorous PFS schedule, Garcia spent the rest of his gap year in an enviable locale – the island of Bali in Indonesia. He had received the Darmasiswa Indonesian Scholarship, coordinated through the country's Ministry of Education and Culture. Students from around the world are assigned to Indonesian universities where they take courses to learn about various aspects of the country's culture. In Garcia's case, he studied Indonesian dance and language – which was easy to learn as his native language is Spanish. He was accepted by U-M and in late spring of 2019 returned to Ann Arbor to begin the jolting transition from nearly a year in a tropical paradise to the demanding reality of studying a challenging dental school curriculum.
His approach was to stay focused on his studies and use art, exercise, time for himself, and time with friends and family as stress relief. The first two years, with mostly didactic courses, were difficult, made more difficult by the COVID-19 pandemic, which arrived halfway through his first year. "I think the pandemic took a toll on our class because we were worried about what was going to happen to us," Garcia said. "It's like a 'trust fall': You just have to hope the system catches you, and I think the school managed pretty well." The students' last two years, which are mostly treating patients in clinic, has given them more time and has been less stressful, he said.
Garcia has taken advantage of various organizations and non-curricular activities in his four years. In his role as president of the Hispanic Student Dental Association from 2020-2022, he led the organization's mission of providing service, education and advocacy for promoting the health of Hispanic and other underserved communities. He participated in the national 2021 Student Diversity Leadership Program presented by the American Dental Education Association. He has mentored pre-dental students, raised funds for dental supplies for migrant workers and worked with an organization that helps high school students prepare college entrance essays.
This spring he will present a project that he has worked on over his four years as part of the school's Pathways program, which allows students to choose and investigate areas of dentistry beyond the core curriculum. Garcia's project focuses on developing ways to educate dental and dental hygiene students, along with dentists and dental hygienists, about providing optimal, patient-centered care for patients from LGBTQ+ backgrounds. "The topic is currently not incorporated into the curriculum of many dental schools," he notes. "This educational intervention is an important asset for dental schools and dental professionals because it helps to develop more inclusive strategies to apply in their practice as well as build good rapport with patients."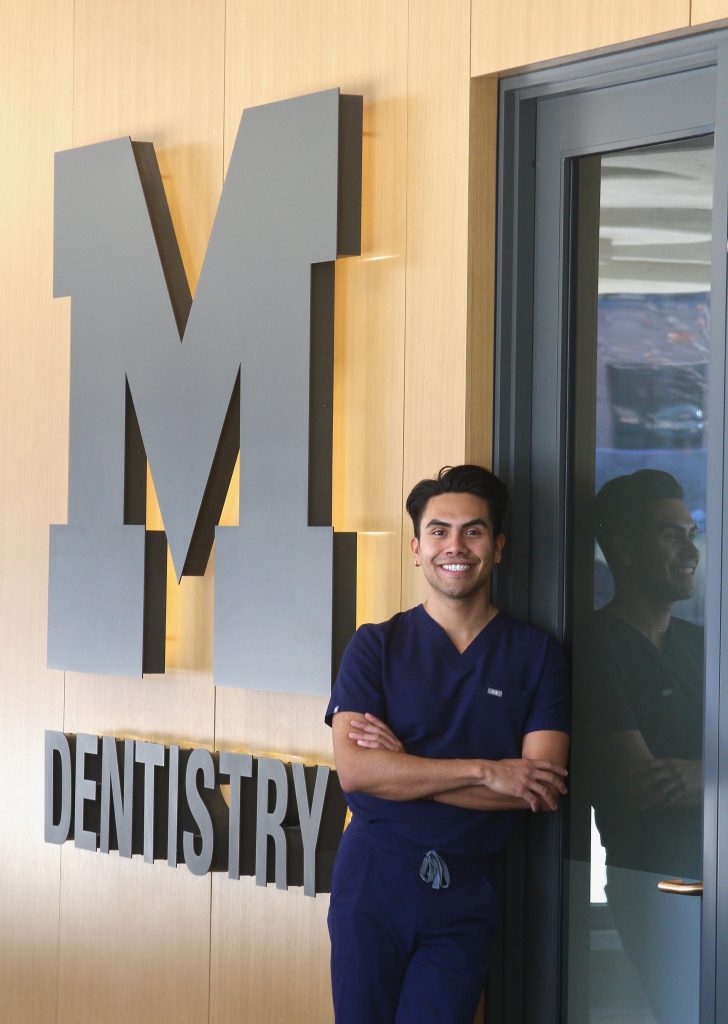 As graduation nears in May, Garcia likes the thought of staying with general dentistry as he enters the profession, rather than rushing into a specialty. With each patient he sees during internal and external clinics, he is gaining confidence and polishing his skills, from his favorite crown-and-bridge work and the equally satisfying oral surgery cases, to learning how to put patients at ease and mastering digital dentistry tools. "The number of procedures that I get to do has increased. My speed has picked up. My communication skills have improved, and also patient management. Getting to experience a workflow in an actual clinic outside the dental school has opened my eyes to how dentistry can be practiced. It's about: doing your best each time and you'll get better over time."
Garcia has begun to consider where he would like to work after graduation, perhaps some day owning a practice serving patients from underrepresented backgrounds. It's a thought tied to his memories of Cherry Health in Grand Rapids as a kid. When he was assigned to a rotation there last year, one of the dentists and a dental hygienist who treated him at age 14, greeted him with open arms. "I would love to be close to a bigger city, ideally in an established practice that allows me to provide optimal care with trust and compassion to a diverse patient population."
While his career starting point is uncertain, one thing he knows for sure is that four years of dental school have reinforced his career decision. "I enjoy general dentistry – a lot more than I even thought I would. Which is really good, right? I'd hate to get this point and figure out it's not for me. I am excited to become a dentist and create positive, lasting relationships with patients and also within my community."
###
The University of Michigan School of Dentistry is one of the nation's leading dental schools engaged in oral healthcare education, research, patient care and community service. General dental care clinics and specialty clinics providing advanced treatment enable the school to offer dental services and programs to patients throughout Michigan. Classroom and clinic instruction prepare future dentists, dental specialists and dental hygienists for practice in private offices, hospitals, academia and public agencies. Research seeks to discover and apply new knowledge that can help patients worldwide. For more information about the School of Dentistry, visit us on the Web at: www.dent.umich.edu. Contact: Lynn Monson, associate director of communications, at dentistry.communications@umich.edu, or (734) 615-1971.