Health Sciences MLK celebration examines quest for health equity

9

min read
Ann Arbor, Mich., Jan. 24, 2023 – Eliminating healthcare inequities in this country is a difficult but not impossible task that will take focus, determination and collaboration across many sectors of society.
That was one of the main messages delivered at the 33rd annual University of Michigan MLK Health Sciences Lecture and program on Jan. 16, hosted this year by the School of Dentistry. Speakers from various healthcare fields offered their experiences and insight tied to this year's theme of "(R)evolution – from Segregation to Elevation: The Quest for Health Equity."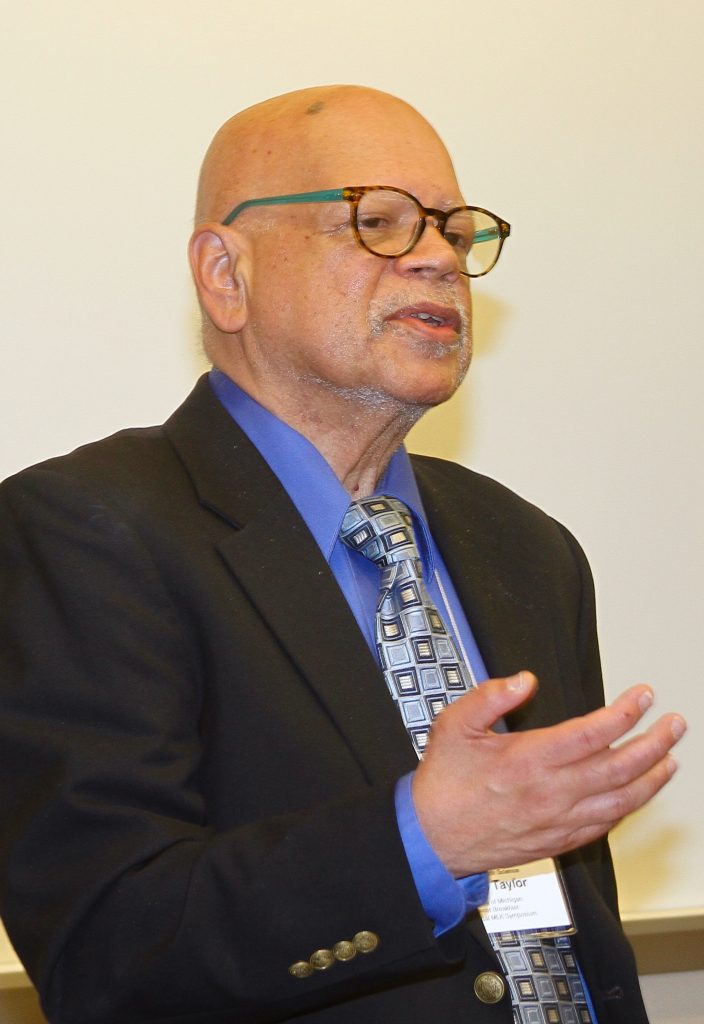 In honoring the legacy of the Rev. Dr. Martin Luther King, Jr., keynote speaker Dr. George W. Taylor, Associate Dean for Diversity, Equity and Inclusion at University of California-San Francisco (UC-SF) School of Dentistry, recounted his journey as a Black man into dentistry and academia from his native Virginia in the segregated South.
Believing in his parents' mantra that he could be anything he wanted to be, he enrolled at the University of Virginia from 1966-70. At the time, women were not admitted to UVA and each entering class of about a thousand students included only five Blacks. It was a time of social change and protest, however, and Taylor became a part of it. Students embraced the movements for civil rights, women's rights, the environment and gay rights, and protested the Vietnam War.
Martin Luther King's leadership in the civil rights movement inspired Taylor in many ways, leading him and other students to create an organization, Black Students for Freedom. It was a lesson in how to have your voice heard. "We declared it and the organization existed," Taylor said. "We learned from that." From that day on, the student newspaper would regularly check with the organization's members and ask their opinions on issues of the day. One issue that quickly emerged was why there were so few Black students at UVA. The campus admissions office took notice and soon Taylor and another student were driving around Virginia to educate students at predominantly Black schools about the educational opportunities and resources available at UVA. By the time Taylor graduated in 1970, the number of Blacks in the entering class had grown from five to 100.
"What is the lesson? The 'evolution' there for me was that longstanding inequities could be addressed," he said. "It took willpower. It took courage. And it also took an awareness that there is a need. In many cases, if we can't do it, who is going to do it? If we recognize it, in terms of inequities, then there's a moral responsibility to address it. That was the standard that we set up for ourselves. We were proud because we think we made a difference in education possibilities for Black students in the state of Virginia. That was the take-home message – the revolution, the evolution."
Taylor went on to earn his DDS at Harvard, completed a residency in New York, was an Air Force dentist for four years, and then began a career as a dental faculty member at the University of Detroit Mercy, the U-M schools of Dentistry and Public Health, and now at his current academic home, the UC-SF dental school.
In his work in healthcare, Taylor has been involved in numerous programs seeking to lessen the divide between underserved populations and those who can afford and seek out regular dental and medical care. Too many people, including those in the U.S. healthcare system, under-estimate the importance of dental care in overall health, he said. And even if they know that dental care is important, there remains a major gap in this country between those who can access quality healthcare and those who can't because of socioeconomic, geographic, racist or other reasons. Taylor cited King's 1966 observation that still applies today: "Of all the forms of inequality, injustice in health is the most shocking and the most inhuman because it often results in physical death."
"We all know there is more work to do, much more work to do," Taylor said. The dynamics of the problem are in some respects improved today compared to 30 or 40 years ago, he said, in part because the country has become more open in discussing its history of racism. "For example, we can define racism, we can talk about racism, we can do something about racism," he said. "We have scholars who share with us their thinking about racism, the different types of racism."
Just as his college group identified a problem and took steps to help improve it, healthcare inequities are more widely acknowledged today, but only action will make an impact. "We can all play a part in addressing health disparities," he told the audience of students, faculty and staff from around the U-M campus.
The lead organizer for this year's annual Health Sciences MLK program, Dr. Todd Ester, assistant dean for Diversity, Equity and Inclusion at the U-M School of Dentistry, echoed Dr. Taylor's sentiment. "We have seen the power and the powerlessness of what takes place in life expectancy … for the impoverished and people of color," he said. "But we also have seen a collaborative – our 33rd annual Health Science Committee, bringing together seven health science schools …to address difficult and tough problems. I think we can do something about this. Do you agree?"
"We come together, to work together, to struggle together, and to help address this inhuman injustice that exists," Ester said. "We're here to celebrate, to enjoy, but also to define collaborative work together in an interprofessional health education space to make a change in the world."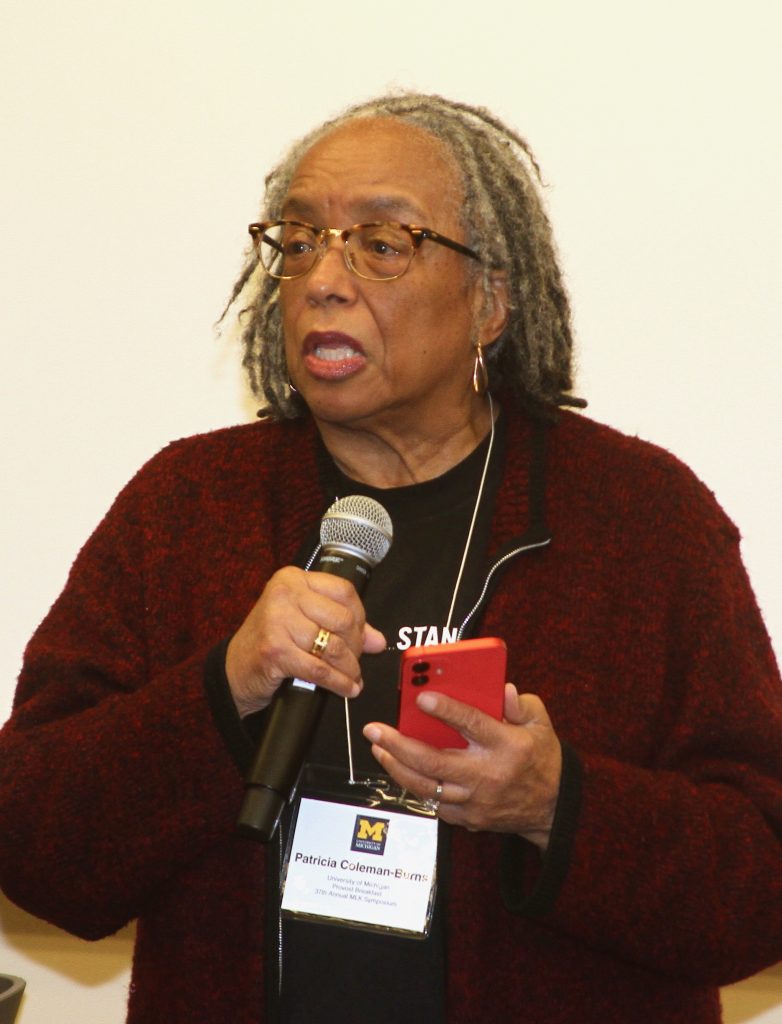 Another speaker during the program, Dr. Patricia Coleman-Burns, Assistant Professor Emeritus from the School of Nursing, sounded a similar optimistic theme. She praised the collaboration of the U-M health sciences on the MLK program and societal issues connected to racism and health equity over the last 33 years. She also noted a robust discussion among student leaders and some of the event's speakers the night before the program. – evidence that students today are more aware and more active in the health-equity issues than students were three decades ago. "Things are a lot different when you can see what we saw last night – these young folk who are forging the future and the history of health science and challenging some of the inequities that have been in existence for a long time," she said.
Coleman-Burns used the example of how quickly a major university like U-M took action to deal with the onset of enormous problems created by the arrival of the COVID-19 pandemic in early 2020. "Don't tell me what we can't do when we want to do it. Don't tell me that we cannot resolve the issues of health equity and recruiting and bringing equity and young folk into the profession. We do whatever we want to do when we think it is important," she said to applause.
Also during the program, Pharmacy students Aaron Johnson and Corrine Din discussed their involvement in promoting a series of dialogues, still ongoing, related to a thought-provoking book by Harriet Washington: "Medical Apartheid: The Dark History of Medical Experimentation on Black Americans from Colonial Times to the Present." Johnson and Din were among students so impressed by a discussion of the book last year that they wanted to expand its reach to more Health Sciences students and faculty this year. Several virtual book-discussion sessions remain through the end of March in a series put together as part of this year's MLK Health Sciences program. More information is available on the MLK Health Sciences website here.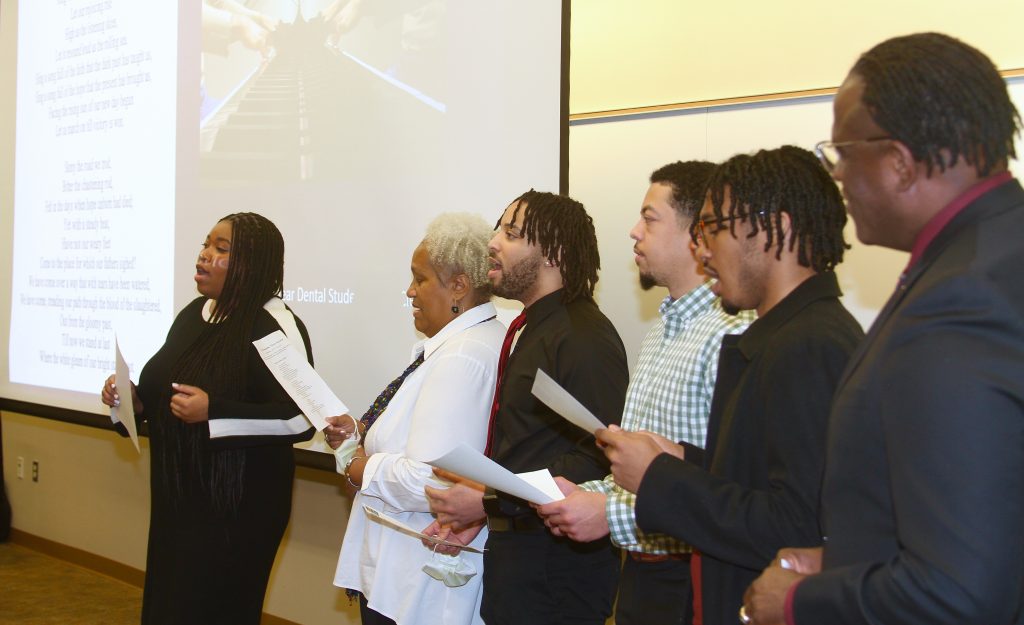 To emphasize the importance of personal healthcare, second-year dental student Matthew Woods led the audience in a brief yoga relaxation exercise during the program. He also held a Health and Wellness Yoga Session later in the week at the School of Dentistry.
The program also included two musical performances. A chorale led by members of the dental school's Diversity, Equity and Inclusion Multicultural Affairs Committee performed "Lift Every Voice and Sing," a historical selection also known as the "Negro National Anthem." The performance was directed by fourth-year dental student Brea Fleming with piano accompaniment by second-year student Joi McClellan. Dr. Colonya Calhoun, Adjunct Clinical Associate Professor of Dentistry in the Department of Oral and Maxillofacial Surgery/Hospital Dentistry, presented a solo vocal performance of "Still I Rise."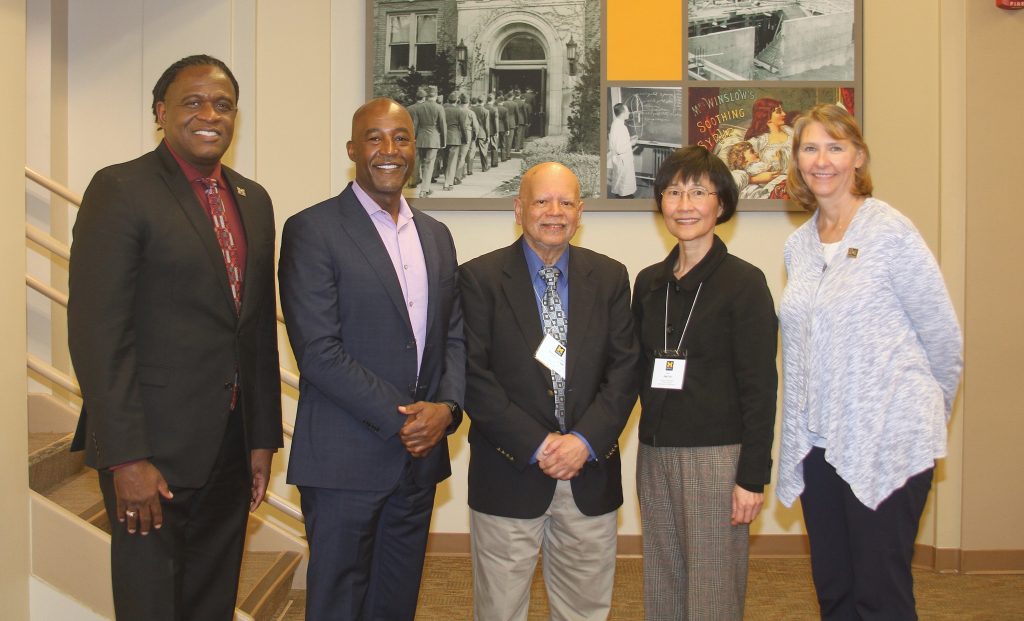 The Health Sciences event is an annual collaboration among U-M's seven health-related units – the schools of Dentistry, Kinesiology, Nursing, Public Health and Social Work; the College of Pharmacy; Michigan Medicine, its Office of Health Equity and Inclusion and the Medical School; and the Michigan Institute for Clinical Health and Research. A committee with members from each unit organizes the program. Assisting Dr. Todd Ester as the lead host for the School of Dentistry this year were Dinella Crosby, Student Affairs Program Specialist in the Office of Diversity, Equity and Inclusion; and Dr. Ken May, Associate Professor Emeritus.
---
To see the entire program, click on the video below:
###
The University of Michigan School of Dentistry is one of the nation's leading dental schools engaged in oral healthcare education, research, patient care and community service. General dental care clinics and specialty clinics providing advanced treatment enable the school to offer dental services and programs to patients throughout Michigan. Classroom and clinic instruction prepare future dentists, dental specialists and dental hygienists for practice in private offices, hospitals, academia and public agencies. Research seeks to discover and apply new knowledge that can help patients worldwide. For more information about the School of Dentistry, visit us on the Web at: www.dent.umich.edu. Contact: Lynn Monson, associate director of communications, at dentistry.communications@umich.edu, or (734) 615-1971.