Dental student RayJ Jackson named to 2023 cohort of Dow Sustainability Fellows

4

min read
Ann Arbor, Mich., Jan. 27, 2023 – A School of Dentistry student is one of 33 professional and master's students at the University of Michigan who have been selected as 2023 Dow Sustainability Fellows by the Graham Sustainability Institute.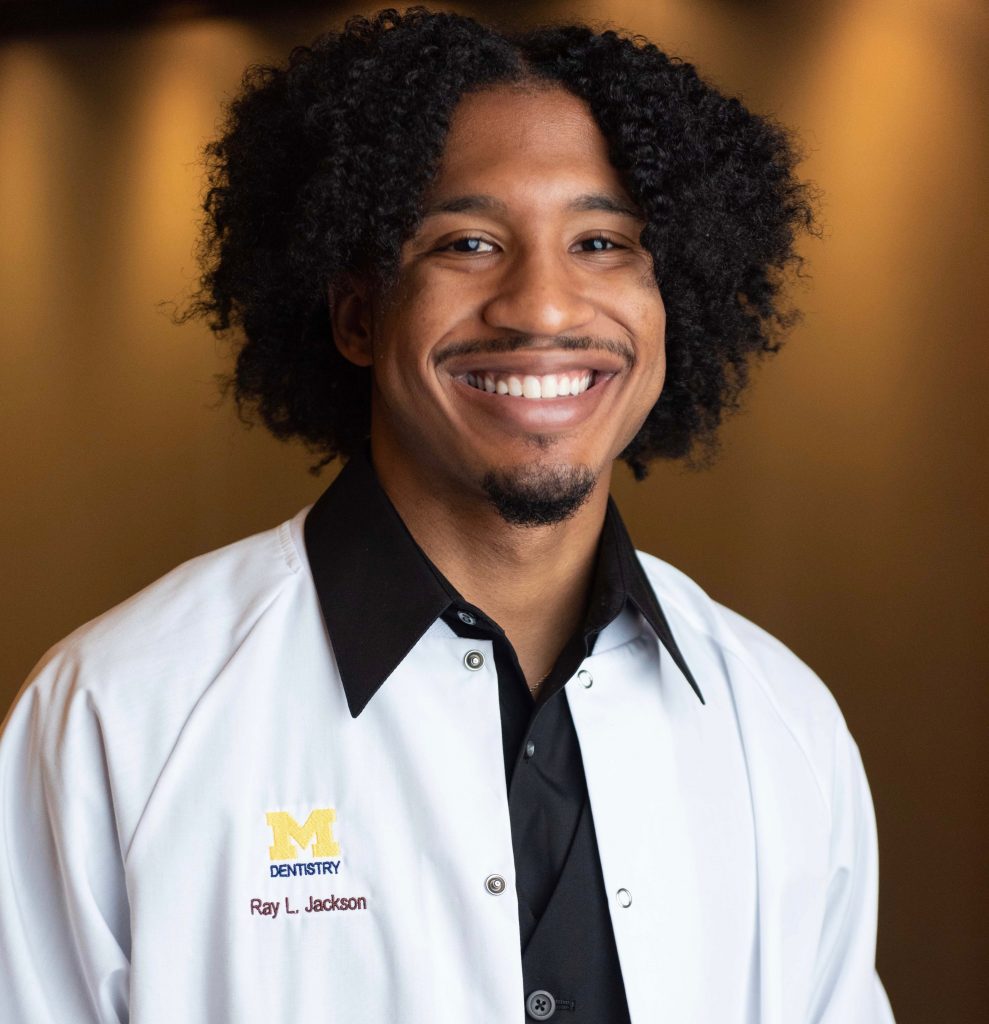 RayJ Jackson, a second-year dental student, is part of the annual fellows program that forms collaborative, interdisciplinary teams that participate in a variety of sustainability projects around the world. Dow Fellows work with businesses, non-profit organizations and communities in an effort to advance sustainable practices.
Leaders of the fellows program have assigned Jackson to a team that will work with the Ripples Foundation on a sustainable agriculture plan to enhance food security and economic independence for women in Ghana. Ripples is a non-profit founded in 2005 to focus on economic empowerment of women. About 70 percent of rural women in Nigeria, Ghana and Madagascar are below the poverty line and illiterate. Ripples provides women with training and resources to run sustainable businesses that protect the environment.
Jackson earned his undergraduate degree at Brown University in Providence, Rhode Island, and also attended the University of Arkansas. As an undergraduate and in his first two years as a dental student, he has been widely involved in various organizations, leadership positions and community service.
In his application to the Dow program, Jackson cited his goals of providing increased access to healthcare for underserved communities in the context of sustainability, which is defined by the United Nations as "meeting the needs of the present without compromising the ability of future generations to meet their own needs."
"My career goals stand as maximizing access, care, and dental health within underserved communities," he wrote in the application. "When considering restricted access, we talk about the ways in which people are suffering in oral health, mental health, financial stability and community health. Dental care is one aspect in which I want to work towards sustainable and accessible resources for these most-vulnerable communities, though the work does not end or begin with dental care. I intend to continue working with, listening to, advocating for, and assisting these communities to achieve the goals of sustainability, circular economy and climate protection."
Jackson noted the importance of diversity, equity and inclusion in trying to bring marginalized groups into the mainstream of excellent healthcare. For example, he is currently researching dental care experiences of LGBTQ+ patients. He notes that the impediments to safe and sustainable dental care for all can be financial, geographical, educational and inclusionary barriers. "When we speak about sustainability, we must talk about healing in communities that are often marginalized and harmed," he wrote. "I want to focus my efforts in this program on diversity, equity and inclusion work that studies how we can save the environment by first building, healing and sustaining our communities and those around us." Discovering and understanding why various groups in society have disproportionate and limited resources benefits from a team of people "from different backgrounds, ways of thought and various disciplines," he said, noting that is the model used by the Dow Fellows program.
Jackson is joined in this year's Dow Fellow cohort by students from eight other U-M schools and colleges – Architecture and Urban Planning, Business, Engineering, Environment and Sustainability, Law, Medicine, Public Health and Public Policy. Each Dow Sustainability Fellow receives a $20,000 stipend, along with supplementary project funding, sustainability professional development opportunities, and practical experience working on a team with an external organizational partner. Fellows are selected through a competitive process from a pool of applicants nominated by their academic units.
Since its inception in 2013, the Dow Sustainability Fellows Program has addressed the challenge of creating a sustainable world using natural and social sciences, innovative decision tools, and dynamic approaches to academics, operations, collaboration and change-making. The program centers on two critical challenges – addressing climate protection and embracing a circular economy – while also preparing future sustainability leaders to positively impact organizations worldwide. The U-M program is made possible by the Dow Company Foundation.
U-M's Graham Sustainability Institute describes its mission as one that "mobilizes the expertise and passion of scholars, partners and decision-makers to work together and bring world-class research to real-world sustainability challenges. We envision a just and sustainable world where policy and practice are powered by science, collaboration, and creativity."
###
The University of Michigan School of Dentistry is one of the nation's leading dental schools engaged in oral healthcare education, research, patient care and community service. General dental care clinics and specialty clinics providing advanced treatment enable the school to offer dental services and programs to patients throughout Michigan. Classroom and clinic instruction prepare future dentists, dental specialists and dental hygienists for practice in private offices, hospitals, academia and public agencies. Research seeks to discover and apply new knowledge that can help patients worldwide. For more information about the School of Dentistry, visit us on the Web at: www.dent.umich.edu. Contact: Lynn Monson, associate director of communications, at dentistry.communications@umich.edu, or (734) 615-1971.