Faculty member Purnima Kumar named Fellow of the American Association for the Advancement of Science

4

min read
Ann Arbor, Mich., Jan. 31, 2023 – University of Michigan School of Dentistry faculty member and department chair Purnima Kumar has been named a Fellow of the American Association for the Advancement of Science (AAAS).
The science advocacy organization said Dr. Kumar is receiving the prestigious honor for her distinguished contributions to the field of periodontology, particularly her studies of periodontal disease pathogenesis among people who smoke, including pregnant women, and for her research into inflammation around dental implants.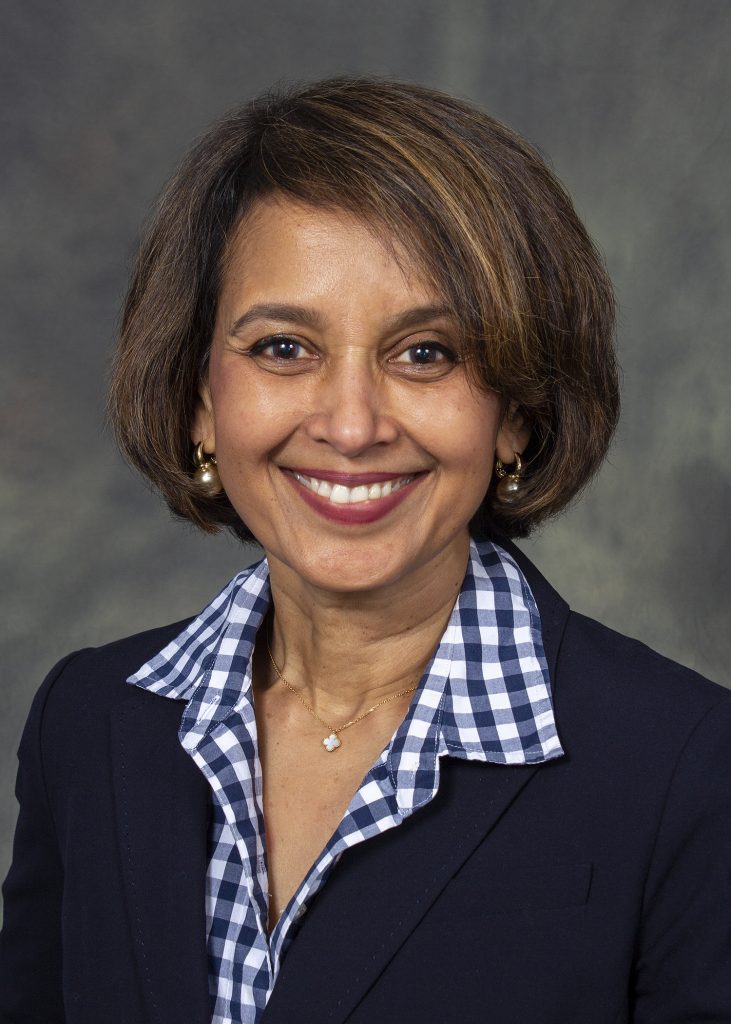 Dr. Kumar is the William and Mary K. Najjar Professor of Periodontology and chair of the Department of Periodontics and Oral Medicine at the dental school. She is a dual-trained periodontist and microbial ecologist whose research investigates the myriad ways in which the human microbiome can be harnessed to promote health.
AAAS is the world's largest multidisciplinary scientific society and a leading publisher of cutting-edge research through its Science family of journals. The organization has more than 120,000 members in about 90 countries. Since 1874, its council annually selects Fellows from among scientists, engineers and innovators for their achievements across disciplines, in research, teaching, technology, administration in academia, industry, and communicating and interpreting science to the public.
Dr. Kumar has authored or contributed to numerous scientific papers investigating the oral microbiome and she serves as associate editor of several journals related to periodontology and microbiology. Several national institutes have provided funding for her work. Her research into how smoking and vaping affect oral health has drawn national attention. In 2019, the American Dental Association (ADA) appointed her as a spokesperson for media inquiries related to the growing use of vaping and its impact on oral health. She is regularly quoted in national publications and online news reports on the subject, and she provided a deposition to the U.S. Food and Drug Administration on the adverse oral effects of vaping.
Dr. Kumar said the AAAS Fellowship is "a pinnacle of honor, something all scientists dream of." She said it is gratifying to be acknowledged by the academy as she continues to document the relationship between oral health and overall health by studying the oral microbiome, an ecosystem that hosts from 60-120 types of bacteria in most people. "The quest is to understand what shapes the communities that live in our mouths," she said. "The mouth is impacted by human behavior, your genetic background, the other parts of the body, systemic disease. They all interplay. I achieve whole-body health by treating the mouth. That is my guiding philosophy – that everything that happens in the mouth impacts the rest of the body, and everything that happens around and in the human body impacts the mouth. I use bacteria as a tool or metric to measure the changes."
Dr. Kumar is active in numerous national dental and scientific research organizations, including positions of leadership. Later this year, she will become chairperson of the ADA's Council for Scientific Affairs, and she will also chair the Periodontal Research Group of the International Association of Dental Research (IADR). In March, she begins a term as representative of the American Association for Dental, Oral and Craniofacial Research (AADOCR) on the joint IADR/AADOCR Publications Committee.
Her numerous awards include the Gies Award for Outstanding Education in Periodontology from the American Dental Education Association in 2020, and the Outstanding Educator Award from the American Academy of Periodontology in 2017. She received numerous teaching awards during her tenure at Ohio State University, where she was a Professor of Periodontology before joining the U-M School of Dentistry in 2022. During her tenure at Ohio State beginning in 2004, she completed a residency in periodontology, earned her PhD in molecular microbiology, completed a post-doctoral fellowship in oral biology and joined the OSU faculty. She holds a Bachelor of Dental Surgery degree from Annamalai University in Chidambaram, India, and a Master of Dental Surgery in Periodontology from Madras Medical College in Chennai, India.
More information on the 2022 cohort of AAAS Fellows can be found here on the organization's website.
###
The University of Michigan School of Dentistry is one of the nation's leading dental schools engaged in oral healthcare education, research, patient care and community service. General dental care clinics and specialty clinics providing advanced treatment enable the school to offer dental services and programs to patients throughout Michigan. Classroom and clinic instruction prepare future dentists, dental specialists and dental hygienists for practice in private offices, hospitals, academia and public agencies. Research seeks to discover and apply new knowledge that can help patients worldwide. For more information about the School of Dentistry, visit us on the Web at: www.dent.umich.edu. Contact: Lynn Monson, associate director of communications, at dentistry.communications@umich.edu, or (734) 615-1971.