School's research mission and publications remained robust, diverse throughout 2022

8

min read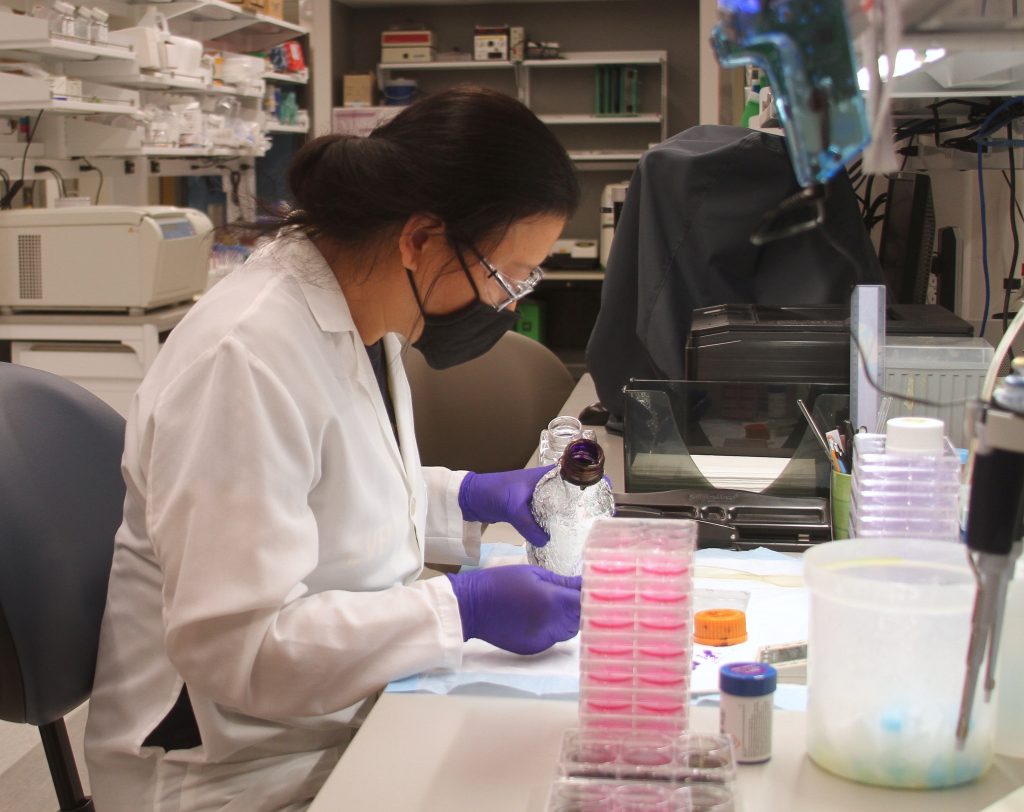 Ann Arbor, Mich., Jan. 13, 2023 – Generating new research, a core part of the University of Michigan School of Dentistry's mission, continued in 2022 with about $25.4 million in annual research expenditures. In addition, more than 240 papers, articles and reviews were published by the school's faculty in a wide range of topics, including insights into head and neck cancer, cancer stem cells, bioengineered materials for infection control and using color ultrasonography to assess dental implants.
Research led by faculty and staff is highlighted each year in leading scientific journals, helping to generate new knowledge in the oral health sciences and related fields that impacts people around the country and the world with improved health and outcomes.
"We seek to encourage scientific discovery at every stage of development," said Vesa Kaartinen, Associate Dean for Research. "Basic, translational, clinical and health services research, along with associated educational programs, creates discoveries that will advance into practice. The diversity, collaborations with other scientists and output of literature our faculty publish each year demonstrates this deep commitment."
Here are some of the top papers, based on high impact journal ratings. The journal name is followed by links to the paper's PubMed abstracts, with dental school faculty/staff noted in bold:
• Clinical Cancer Research: Spatial and Transcriptomic Analysis of Perineural Invasion in Oral Cancer. This paper focuses on the role of perineural invasion – defined as when cancer invades the nerves – in oral cancer. The study found that while perineural invasion is important, the distance between nerves and cancer may be as important in terms of patient outcomes. The findings could help pinpoint treatment-resistant tumors when they are diagnosed, so oncologists know to treat aggressively from the beginning, with the hope of giving patients a better chance at survival. It was previously thought that cancer had to wrap around or be within the nerve to be dangerous. The study shows that there is a distance gradient that influences the interaction and could improve treatment selection and patient survival. Authors: Ligia Schmitd, Cindy Perez-Pacheco, Emily Bellile, Weisheng Wu, Keith Casper, Michelle Mierzwa, Laura Rozek, Gregory Wolf, Jeremy Taylor, Nisha D'Silva.
• Clinical Cancer Research: p53 Inhibits Bmi-1-driven Self-Renewal and Defines Salivary Gland Cancer Stemness. This paper shows that certain drugs can change the fundamental makeup of cancer stem cells in mouse models of mucoepidermoid carcinoma, a salivary gland cancer that currently has no treatment options. Cancer stem cells represent the small number of cells in a tumor that fuel cancer's growth and spread. It was observed that when small molecule inhibitors of MDM2 were used for a short period of time, the population of cancer stem cells decreased. The study revealed that the drug changes the fundamental nature of the cells to make them more vulnerable to other therapies and less able to start new tumors. Authors: Christie Rodriguez-Ramirez, Zhaocheng Zhang, Kristy Warner, Alexandra Herzog, Andrea Mantesso, Zhixiong Zhang, Eusik Yoon, Shaomeng Wang, Max Wicha, Jacques Nör.
• Molecular Therapy: Phosphorylation of TRIP13 at Y56 induces radiation resistance but sensitizes head and neck cancer to cetuximab. Focused on a mechanism for radiation resistance, this paper details the use of immunotherapy cetuximab, an epidermal growth factor receptor (EGFR) inhibitor. Radiation induces EGFR, which phosphorylates TRIP13 (thyroid hormone receptor interactor 13) on tyrosine 56. Phosphorylated (phospho-)TRIP13 promotes non-homologous end joining (NHEJ) repair to induce radiation resistance. NHEJ is the main repair pathway for radiation-induced DNA damage. Tumors expressing high TRIP13 do not respond to radiation but are sensitive to cetuximab or cetuximab combined with radiation. Suppression of phosphorylation of TRIP13 at Y56 negates these effects. These findings show that EGFR-mediated phosphorylation of TRIP13 at Y56 is a vital mechanism of radiation resistance. Notably, TRIP13-pY56 could be used to predict the response to radiation or use of cetuximab and could be explored as an actionable cancer treatment target. Authors: Rajat Banerjee, Min Liu, Emily Bellile, Ligia Schmitd, Mitsuo Goto, Marsha-Kay Hutchinson, Priyanka Singh, Shuang Zhang, Dilna Damodaran, Mukesh Nyati, Matthew Spector, Brent Ward, Gregory Wolf, Keith Casper, Michelle Mierzwa, Nisha D'Silva.
• Cells: Bone Marrow Macrophages Induce Inflammation by Efferocytosis of Apoptotic Prostate Cancer Cells via HIF-1α Stabilization. The clearance of apoptotic cancer cells by macrophages, known as efferocytosis, fuels the bone-metastatic growth of prostate cancer cells via pro-inflammatory and immunosuppressive processes. However, the exact molecular mechanisms remain unclear. In this study, single-cell transcriptomics of bone marrow (BM) macrophages undergoing efferocytosis of apoptotic prostate cancer cells revealed a significant enrichment in their cellular response to hypoxia. The study's findings suggest that the clearance of apoptotic cancer cells by BM macrophages triggers p-STAT3/HIF-1α/MIF signaling to promote further inflammation in the bone tumor microenvironment where a significant number of apoptotic cancer cells are present. Authors: Veronica Mendoza-Reinoso, Patricia Schnepp, Dah Youn Baek, John Rubin, Ernestina Schipani, Evan Keller, Laurie McCauley, Hernan Roca.
• Cellular Oncology: Galanin mediates tumor-induced immunosuppression in head and neck squamous cell carcinoma. Galanin receptor 2 (GALR2) plays a significant role in the progression of head and neck squamous cell carcinomas (HNSCC). Since there is virtually no information on immunomodulation mediated by its ligand in the tumor microenvironment, this study assessed the effects of galanin on peripheral blood mononuclear cells (PBMCs). The outcome is that galanin alone and as a component of the HNSCC secretome decreased HNSCC cell proliferation and expression of pro-inflammatory cytokines, while increasing apoptosis and expression of pro-tumoral cytokines/growth factors. The data indicate that galanin secreted by HNSCC cells exhibits immune-suppressive and pro-tumoral effects which can help in developing more effective cancer treatments. Authors: Marcell Costa de Medeiros, Min Liu, Rajat Banerjee, Emily Bellile, Nisha D'Silva, Carlos Rossa Jr.
• International Journal of Molecular Sciences: Electrospun Azithromycin-Laden Gelatin Methacryloyl Fibers for Endodontic Infection Control. This study was aimed at designing and testing a gelatin platform that can provide infection control during endodontic procedures. In vitro compatibility with human-derived dental pulp stem cells and inflammatory response in vivo using a subcutaneous rat model were also tested. The presence of Azithromycin (AZ) in the gelatin, regardless of the concentration, did not pose significant toxicity. In vivo findings indicated higher blood vessel formation, mild inflammation, and mature and thick well-oriented collagen fibers interweaving with the engineered fibers. Altogether, AZ-laden gelatin fibers displayed significant antimicrobial activity without compromising biocompatibility. Authors: Afzan Ayoub, Abdel Mahmoud, Juliana Ribeiro, Arwa Daghrery, Jinping Xu, Christopher Fenno, Anna Schwendeman, Hajime Sasaki, Renan Dal-Fabbro, Marco Bottino.
• Journal of Dental Research: Ultrasonographic Tissue Perfusion in Peri-implant Health and Disease. Color flow ultrasonography has played a crucial role in medicine for its ability to assess dynamic tissue perfusion and blood flow variations as an indicator of a diseased condition. While this feature of ultrasound is routinely employed in various medical fields, its intraoral application for the assessment of tissue perfusion at diseased versus healthy dental implants has never been explored. This study tested the hypothesis that quantified tissue perfusion of power Doppler ultrasonography correlates with the clinically assessed inflammation of dental implants. The results strongly indicate that ultrasound color flow can be applicable in the diagnosis of peri-implant disease and can act as a valuable tool for evaluating the degree of clinical inflammation at implant sites. Authors: Shayan Barootchi, Lorenzo Tavelli, Jad Majzoub, Hsun-Liang Chan, Hom-Lay Wang, Oliver Kripfgans.
• Journal of Periodontology: Association between peri-implantitis and cardiovascular diseases: A case-control study. This study assesses the association between peri-implantitis and cardiovascular diseases (CVD). Patients with dental implants were recruited to evaluate the prevalence of peri-implantitis in patients with or without CVD. Multivariable logistic regression was performed to test the association between the two diseases. While the CVD group was found to have significantly higher prevalence of moderate to severe peri-implantitis, the association between the two diseases did not exist after controlling multiple confounders for CVD. Future studies with a larger sample size are needed to better understand the link between these diseases. Authors: I-Ching Wang, Alice Ou, Jeffery Johnston, William Giannobile, Bo Yang, Christopher Fenno, Hom-Lay Wang.
To further highlight research by faculty, students and staff, the school holds an annual Research Day. This year's event is on Thursday, Feb. 16, and will include research presentations, poster sessions and a keynote address by Rena D'Souza, Director of the National Institute of Dental and Craniofacial Research, at 1 p.m. in the school's Kellogg Auditorium. More information on Research Day is available on the Research Office website here.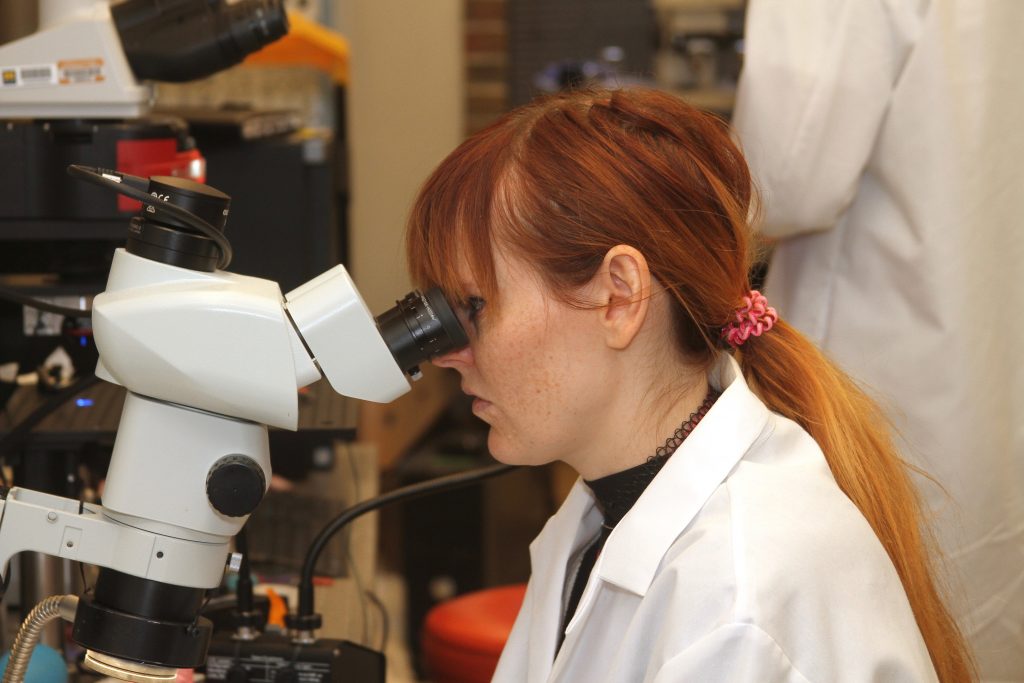 ###
The University of Michigan School of Dentistry is one of the nation's leading dental schools engaged in oral health care education, research, patient care and community service. General dental care clinics and specialty clinics providing advanced treatment enable the school to offer dental services and programs to patients throughout Michigan. Classroom and clinic instruction prepare future dentists, dental specialists and dental hygienists for practice in private offices, hospitals, academia and public agencies. Research seeks to discover and apply new knowledge that can help patients worldwide. For more information about the School of Dentistry, visit us on the Web at: www.dent.umich.edu. Contact: Lynn Monson, associate director of communications, at dentistry.communications@umich.edu, or (734) 615-1971.