Awards highlight staff contributions to School of Dentistry

3

min read
Ann Arbor, Mich., Jan. 10, 2023 – The School of Dentistry recently acknowledged and honored contributions by staff at the school during its Staff Service Awards event.
In addition to highlighting staff for service milestones, the second annual Great Impressions Awards were presented to staff in seven categories. The awards were presented in November during a reception hosted by Mark Fitzgerald, Associate Dean for Community-Based Collaborative Care and Education, as well as Interim Dean Jan Hu and members of the leadership team.
During her welcome, Dean Hu emphasized the critical role of the staff in helping it fulfill the school's mission. "You are the core of our school and the backbone of this university. Without your day-to-day efforts, our school would not be able to provide the patient care and support for education and research that makes us the school we are today. Thank you very much for your commitment and dedication to our school."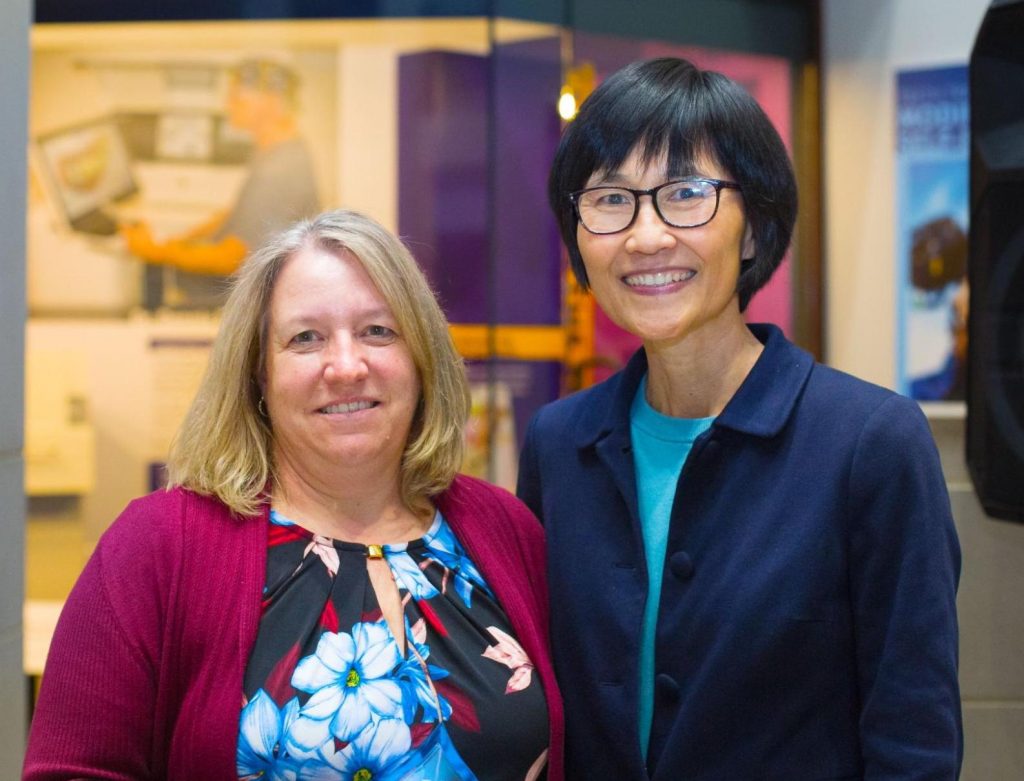 In the service anniversary categories, staff members were acknowledged for 10, 20 and 30 years of service to the university:
• 10 years: Jackie Bedore, Theresa Cody, Lisa Davis, Susan Dubois, Sharina Faison, Jessica Forsythe, Jeanette Garcia, Julie Kelsea, Keisha Reid, Kenneth Rieger, Becky Ruppert and Shelby Simons.
• 20 years: Michael Bleed, Patrick Burke, Sara Shipman, Bobbi Smith and James Sugai.
• 30 years: Pattie Katcher, Marie Navarre and Christopher Strayhorn.
For the second year, the school awarded its Great Impression Awards for staff who were nominated and voted on by their peers and faculty for outstanding work. Categories include patient care, administrative support, student support, research support, Diversity, Equity and Inclusion (DEI) support, faculty support and the Tooth Fairy Award for overall outstanding support to the school.
Recipients included:
• Patient care: Donna Brennan, Dental Assistant Senior, Department of Periodontics and Oral Medicine.
• Administrative support: Kerry Boyd, Administrative Assistant Senior in the Department of Biologic and Materials Sciences & Periodontics.
• Student support: Teresa Patterson, Student Administrative Assistant Senior, from the Office of Academic Affairs.
• Research support: Alice Ou, Clinical Research Coordinator, Graduate Periodontics, in the Department of Periodontics and Oral Medicine.
• DEI support: Dinella Crosby, Student Affairs Program Specialist in the Office of Academic Affairs.
• Faculty support: Alicia Baker, Allied Health Intermediate Supervisor in the Department of Periodontics and Oral Medicine.
• Tooth Fairy Award: Mary Ann Gietek, Facilities Coordinator for the school.
Award recipients received a trophy and a cash award.
###
The University of Michigan School of Dentistry is one of the nation's leading dental schools engaged in oral healthcare education, research, patient care and community service. General dental care clinics and specialty clinics providing advanced treatment enable the school to offer dental services and programs to patients throughout Michigan. Classroom and clinic instruction prepare future dentists, dental specialists and dental hygienists for practice in private offices, hospitals, academia and public agencies. Research seeks to discover and apply new knowledge that can help patients worldwide. For more information about the School of Dentistry, visit us on the Web at: www.dent.umich.edu. Contact: Lynn Monson, associate director of communications, at dentistry.communications@umich.edu, or (734) 615-1971.