Professor Peter Ma awarded for most-cited paper by Biomedical Engineering Society

7

min read
Ann Arbor, Mich., Jan. 10, 2023 – A research paper published by a University of Michigan School of Dentistry faculty member has been honored as the most-cited paper in the 50-year history of an international journal of the Biomedical Engineering Society (BMES).
Professor Peter Ma received the award during the annual meeting of the BMES in San Antonio, Texas. The paper, "Polymeric Scaffolds for Bone Tissue Engineering," was published in 2004 in the journal, Annals of Biomedical Engineering.
In celebrating the 50th year of publishing scientific research, Annals editors determined that Ma's paper had more citations than any of the nearly 6,500 papers that the journal has published since its inception. At the time of the award presentation in October, the paper had recorded the highest number of journal citations, according to Annals Editor-in-Chief Stefan Duma, a professor of engineering at Virginia Tech University. Given the many papers published in the journal over 50 years, Duma called the number of citation's for Ma's paper "quite impressive." When a paper is cited by successive researchers, it is often recognized as an indication of the importance of the original research.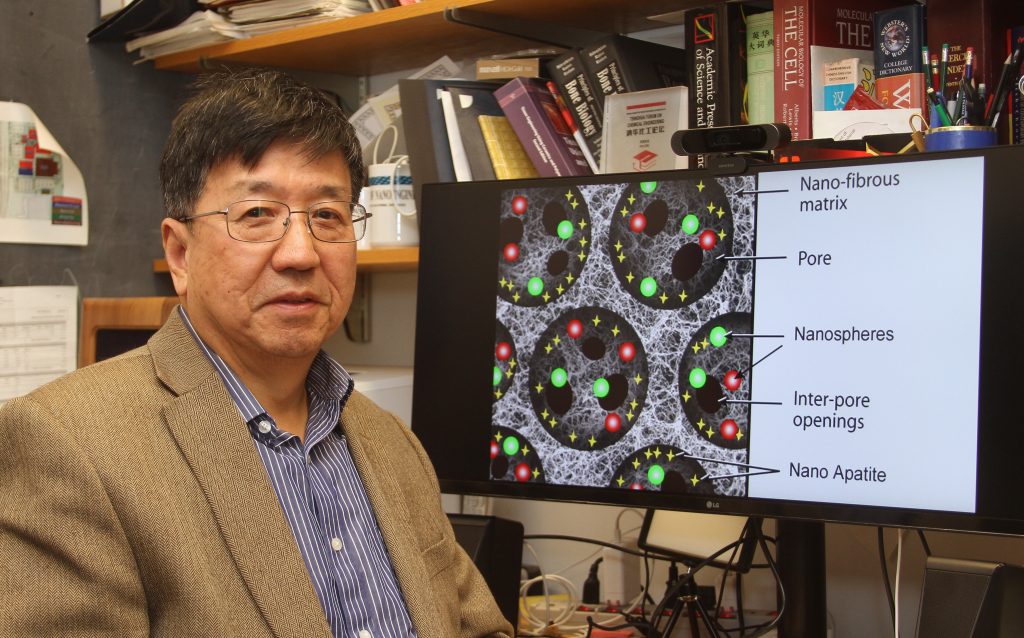 Ma was the corresponding author of the paper and one of his post-doc researchers at the time, Xiaohua Liu, was first author. Liu is now a professor at the Texas A&M University School of Dentistry. Ma said the Annals' editors at the time asked him to write about new bone tissue engineering research being conducted by his Polymeric Biomaterials and Tissue Engineering Laboratory at the School of Dentistry. Ma put together the outline to include the new research as well as summarize advances that scientists had made in recent years in the then relatively new field of using polymeric scaffolds to grow soft- and hard-tissue in the body. Liu drafted the paper and Liu and Ma revised it numerous times before it was submitted, accepted and published by the Annals.
The paper was a primer explaining the rapidly developing area of engineering bone and the use of an artificial extracellular matrix, or scaffold, along with osteoblasts or cells that can become osteoblasts. It discussed the various regulating factors that promote cell attachment, differentiation and mineralized bone formation, including many types of biodegradable polymer materials and designs for the scaffolds. The paper noted: "Using polymer scaffolding to controllably manipulate osteoblastic cell function is still in its infancy and expansion of this field will likely enable development of new therapies and technologies for bone tissue repair and regeneration."
With benefit of two decades of continued research and hindsight, Ma said there have been many significant developments and discoveries from researchers around the world in this still-evolving field. Today's scaffolds are often mass fabricated using sophisticated commercial equipment including 3-D printers that were not available at the time of the paper. The Ma lab continues to develop novel and biomimetic scaffolds that more advantageously regulate stem cells and osteoblasts for higher quality bone regeneration. In addition to bone and cartilage tissue engineering, the Ma lab also conducts research in heart and blood vessel regeneration, biomolecule delivery, and gene editing in collaboration with multiple faculty members at the U-M Medical School. Despite advances, tissue regeneration remains a quest for researchers who hope to develop therapies that will help patients suffering from bone or other tissue loss.
Ma said he was surprised that the paper was the most cited over the 50 years of Annals publishing. Although he has published many papers (as well as written or edited several books) related to tissue engineering, this paper is currently his most-cited publication in competition with several other highly cited papers. He said other papers initially drew greater attention, but this Annals paper has been cited more consistently over the years.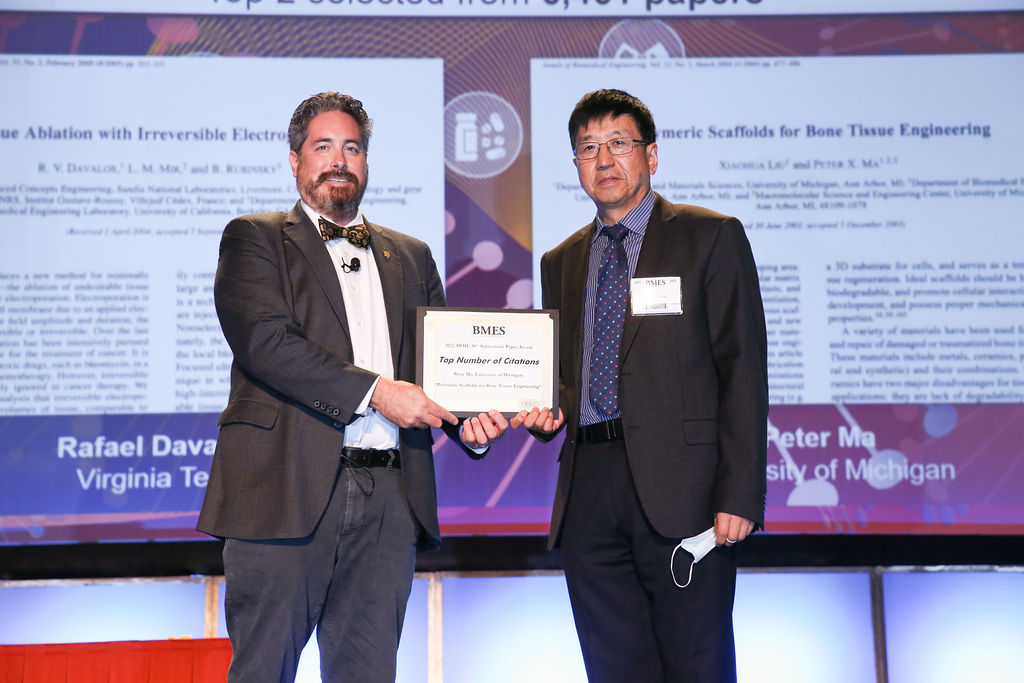 "When I started here, there was no kind of general understanding of what should be a good scaffold because we were in the process of creating them – different structures, different ways to design them," Ma said. "So in the paper we generally laid out what might be good, what we were achieving and what we didn't know then. It had a good summary structure to it, so people read it, people liked it, they felt they learned a lot."
"As the Principle Investigator of the lab and the corresponding author of the paper, I received the award, but this is truly a recognition of all those who worked in our lab over the years," he said. Ma estimates that about 60 of his former lab members have gone on to become faculty members at universities around the world. "This is what professors are proud of – to have their people become professors," he said. Other former trainees have become successful scientists working in industrial research and development and government research policy areas.
Ma is the Richard H. Kingery Endowed Collegiate Professor in the Department of Biologic and Materials Sciences & Prosthodontics at the dental school, with appointments in biomedical engineering, macromolecular science and materials science at the U-M College of Engineering. He joined the School of Dentistry in 1996 after previously conducting research at the Massachusetts Institute of Technology and Harvard University. He has published more than 300 peer-reviewed articles in scientific journals and books, and holds about 40 U.S. patents or patient applications. He has been invited as a speaker more than 295 times to conferences and institutions worldwide. He is the recipient of numerous professional awards, including the Isaac Schour Memorial Distinguished Scientist Award from International Association of Dental Research and the Clemson Award from the Society of Biomaterials. He was named one of the Top 100 materials scientists in the world by Thomson Reuters and is a fellow in numerous biomaterials and other scientific organizations. More information is available on his School of Dentistry biography page here, which contains a link to his lab web page.
Annals of Biomedical Engineering is an interdisciplinary, international journal that presents original and review articles in the major fields of bioengineering and biomedical engineering. It is one of four journals of the Biomedical Engineering Society, a professional society for students, faculty, researchers and industry professionals. The society has 6,800 members whose mission is to promote a collaborative and inclusive community to advance human health through education, discovery and translation. It works to "provide engineering approaches to enhance the power of the scientific method, and to maintain a balance between experimental observation and quantitative analyses."
###
The University of Michigan School of Dentistry is one of the nation's leading dental schools engaged in oral healthcare education, research, patient care and community service. General dental care clinics and specialty clinics providing advanced treatment enable the school to offer dental services and programs to patients throughout Michigan. Classroom and clinic instruction prepare future dentists, dental specialists and dental hygienists for practice in private offices, hospitals, academia and public agencies. Research seeks to discover and apply new knowledge that can help patients worldwide. For more information about the School of Dentistry, visit us on the Web at: www.dent.umich.edu. Contact: Lynn Monson, associate director of communications, at dentistry.communications@umich.edu, or (734) 615-1971.