Student Profile: Rebecca Larson – A commitment to return home after graduation and serve her community in Michigan's Upper Peninsula

10

min read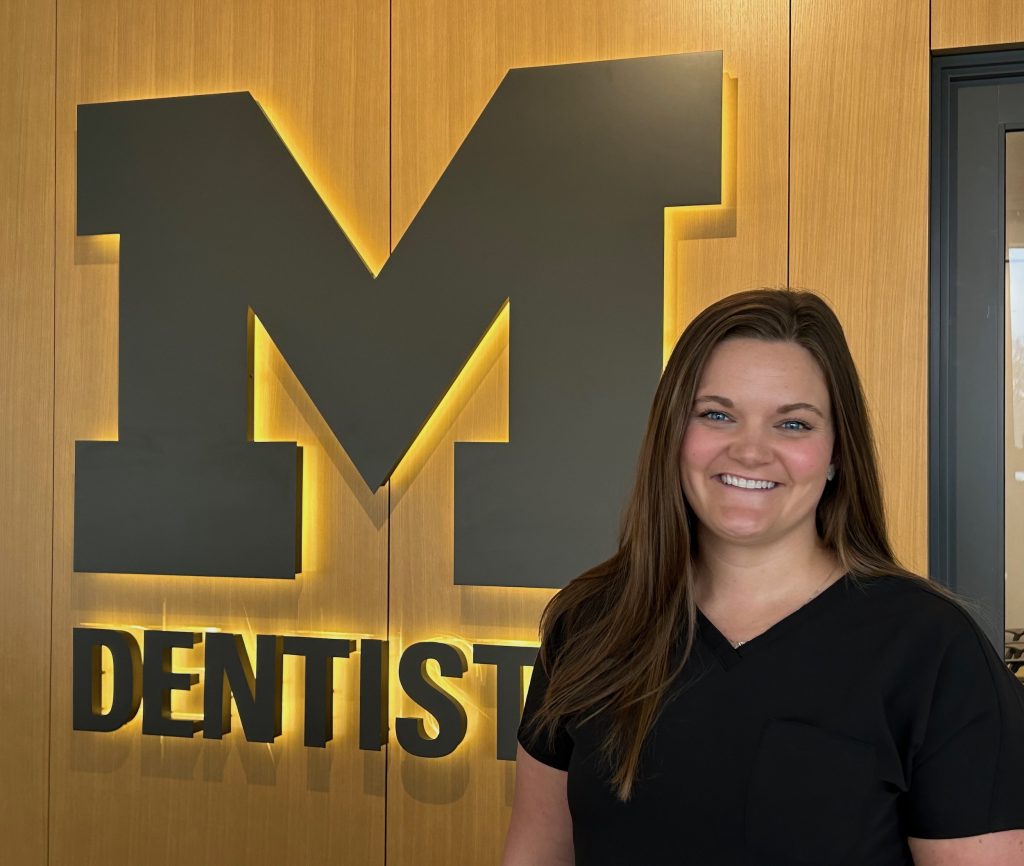 __________________________
This profile is one in an ongoing series highlighting School of Dentistry alumni, donors and students.
__________________________
After eight years of living in bustling Ann Arbor in densely populated southeast Michigan, Rebecca Larson is returning to the natural beauty and slower pace of the state's mostly rural Upper Peninsula.
She graduates from the University of Michigan School of Dentistry the first week in May and will return to practice dentistry in the area where she grew up on the far west side of the U.P.
About 1,900 people live in her hometown of Baraga on the Keweenaw Bay Indian Community reservation. Baraga (pronounced BEAR-a-ga) is on L'Anse Bay at the base of the eastern side of the Keweenaw Peninsula that juts north into Lake Superior.
It's a long way from Ann Arbor, both literally – 500 miles and an 8-hour drive – and figuratively, given the wide-ranging geographic and demographic extremes between Michigan's southern and northern parts. Southeast Michigan has been a good home while Larson was earning her undergraduate and dental degrees at U-M. Now, with her dental license in hand, she says she is thrilled to be returning to live and work among the network of family and friends who have been unwavering in support of her quest to become a dentist.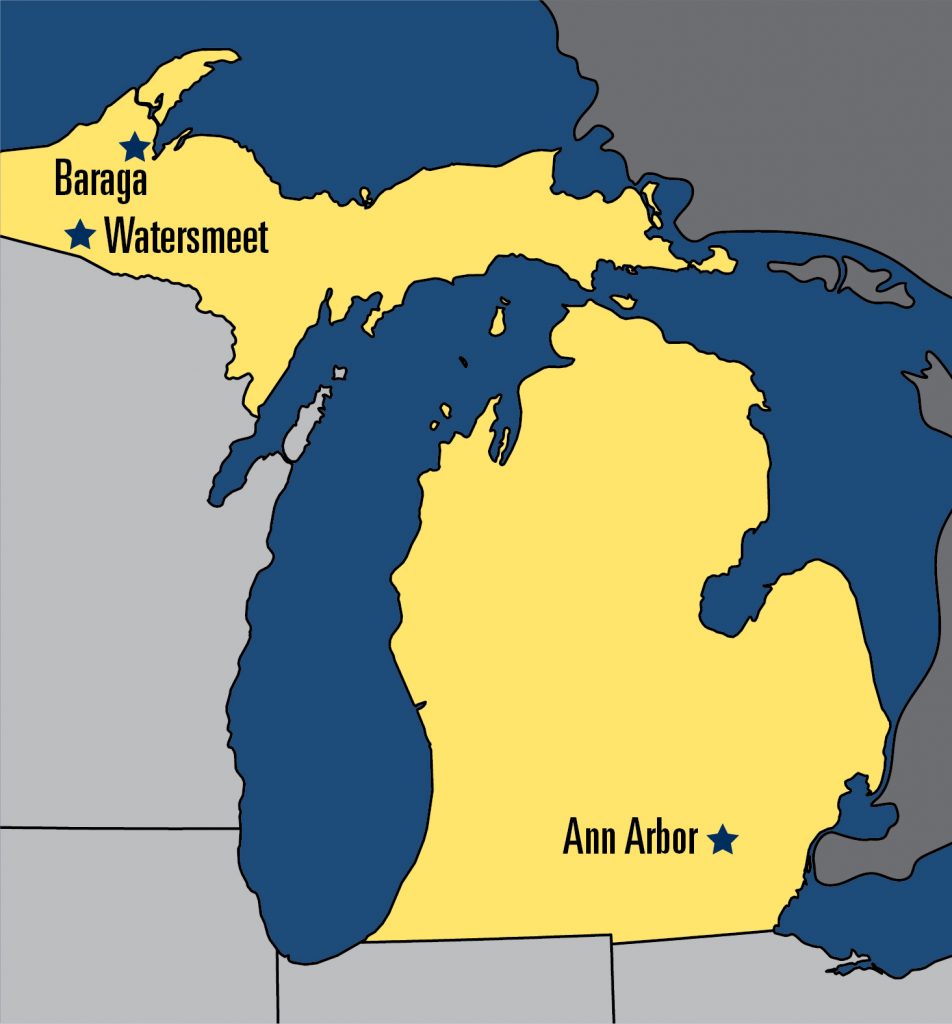 Larson will practice about an hour south of Baraga on the reservation of another band of Lake Superior Chippewa – the Lac Vieux Desert (pronounced lack view du-ZAIR). Located in the village of Watersmeet, the Lac Vieux Desert Health Center is a Federally Qualified Health Center, or FQHC. Clinics with this designation provide medical and dental care for underserved areas and patients, often in economically depressed areas around the country. While this particular clinic is a convenient resource for the tribal community, it also serves the general public from across the western part of the U.P.
Knowing the region and its people gives Larson a built-in advantage as she begins her dental career. Her connection to the Ojibwa tribe is referred to as a first-generation descendent, based on the tribal ancestry of one of her grandfathers and her mother. Growing up on the reservation in Baraga, she has seen first-hand the difficulties experienced by the tribal community and has a deep respect for its culture in the mostly rural areas across the region.
Larson was compelled to return to her roots is because she wants to be part of the solution for the unique challenges of dental care in the U.P. The need for dental care there is acute for several reasons. The geography, with long distances between relatively small rural communities, means the population and dentists are spread out more than in urban areas. The time and expense of long drives to a dentist office can discourage patients from scheduling regular check-ups and can stall treatment until a minor problem grows into something more serious or an emergency. In addition, many areas of the U.P. have a lower median income compared to other parts of the state, so affording dental care is also an issue that can delay or prevent treatment.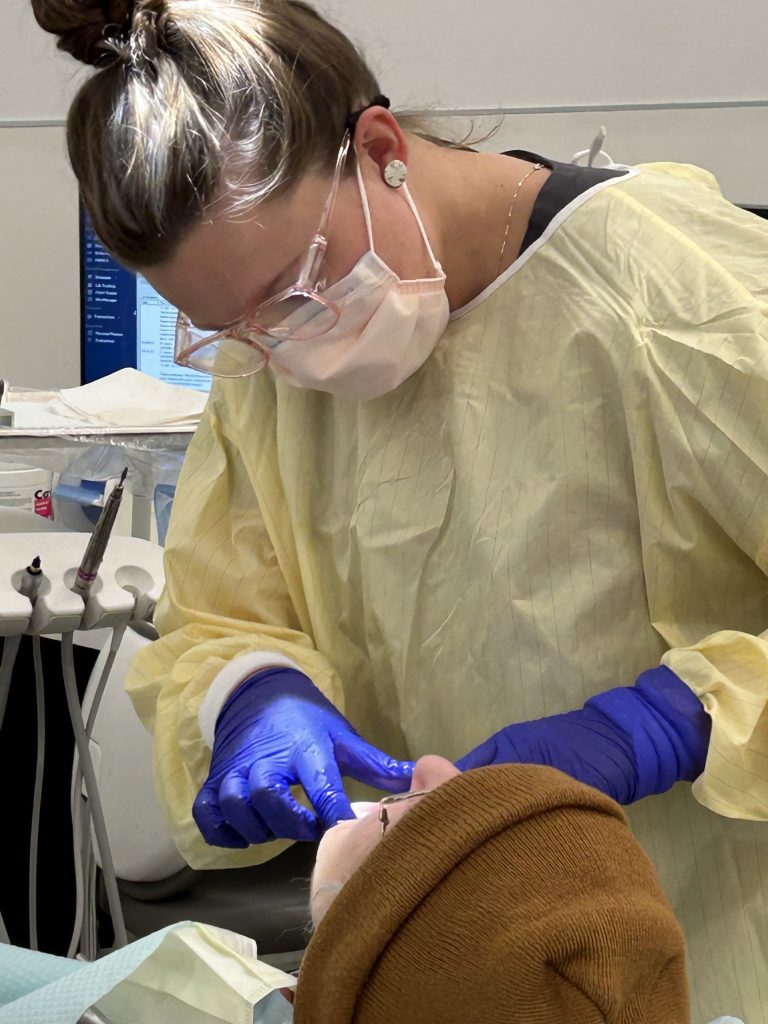 "Where I'll be working is a 100 percent underserved population, but they are also people who still deserve good dental care," she said. "Hopefully, by me going back there, I can help not only the Watersmeet community but surrounding communities as well."
During dental school, with an eye toward practicing in the U.P., Larson chose to stick with her general dentistry education rather than focus on a specialty like orthodontics, endodontics or cosmetic dentistry. "A lot of people up in the U.P. are at the dentist because they are in pain," Larson said. "I want to be that person to help them. That's why I stayed with general dentistry. I'm more a person to help people get out of pain. I'm not really into the whole cosmetic dentistry side of things. I'd rather just help people be comfortable. But I also have the skills to make them happy with their smile, so I will be able to do that, too."
Larson credits her childhood dentist, Dr. Brent Johnson, with generating her interest in dentistry. "I first started thinking about dentistry when I was mature enough to understand and appreciate how personable, committed and professional Dr. Johnson was," she said. "What I respected most about him and his job was that he was able to meet new people, watch them mature, and form valued relationships, in addition to providing dental care to an underserved area."
While earning her undergraduate degree at U-M, Larson prepared to apply to dental school, but she decided to wait a year after earning her bachelor's degree before committing to what she knew would be another four years of very challenging education. "Do I really want this?" was the question. To confirm that she was on the right path, she spent her "gap year" working as a dental assistant at the Lac Vieux Desert Health Center.
The job confirmed that she loved dentistry and that she received great satisfaction from helping the underserved community of patients at the center. Administrators there valued Larson's contributions so much that – before she had even started dental school – they offered her a contract for returning as a staff dentist after she graduated. Uncertain of how dental school and her future interests would evolve, she did not immediately sign the agreement. Then last year, as she started her final year of dental school, she signed the contract after she decided that Lac Vieux Desert fit her criteria as a great first place to begin her career as a dentist.
The best part of dental school were the final two-plus years when students move beyond the classroom and begin treating patients in-clinic. "I absolutely love seeing patients here at the School of Dentistry," Larson said. "They are very, very sweet people who wanted to know more about me since I'm treating them, and I want to know more about them. That patient rapport is important so they are able to trust me, which provides for a better dental experience for both my patient and for me."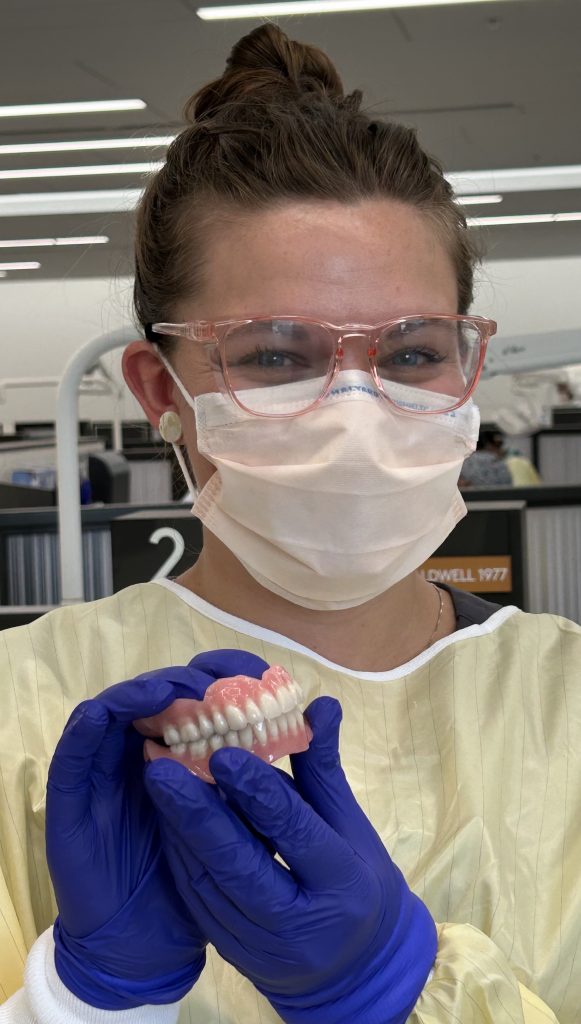 One woman was so happy with how Larson improved her smile that she sent a thank-you letter to dental school administrators. "The patients express their gratitude to me every time I see them. They have even said, 'Can you live closer to me or I'll have to travel eight hours up to see you (in the Upper Peninsula).' I said, 'Come on up. You get in touch with me and I will definitely see you.' If a patient from down here actually showed up in my office in the U.P., that would be pretty epic," Larson says with a smile.
As graduation nears only a few weeks from now, Larson says it feels surreal to have made it through the four years of dental school. This final year of dental school, like the first three, has been a blur of activity that is both challenging and rewarding. "At first, I was in awe. It was overwhelming, all this information being thrown at me. But I knew I needed to get used to it because it was going to be the next four years of my life. It's about 'adapt and overcome' – adapting to each of the four years of dental school because it's always something new. You get used to it. You learn. And you continue learning and you keep moving on and you keep chugging. I'm super proud of myself for doing that because it was a tough four years."
She also credits her network of family and friends, including dental school classmates whom she expects to be lifelong friends. "I'm very thankful for everyone at home. My success down here, having two degrees from Michigan, wouldn't have happened without the huge support system I have. My family, and my friends down here and my friends at home, and the entire community at home. Whether it's a text or message or phone call asking how I'm doing, it really meant a lot to me. I couldn't have done this down here without them."
"I'm just proud to be able to represent the KBIC (Keweenaw Bay Indian Community) and the west side of the U.P. It's pretty unheard of for a dual-degree 'Yooper' to have degrees from such a prestigious school like Michigan."
Beyond her family and tribal ties and the excitement of starting her career, living in the U.P. has other quality-of-life advantages that she can't wait to re-engage with: the peace and quiet of nature away from the urban population centers; family time spent camping and boating on Lake Superior in the summers; the lake's scenic vistas at sunrise and sunset; and a generally slower way of life along the rural roads.
"There's nothing like growing up on dirt roads, that's what I love," Larson says. "It's a beautiful place to live, but not a lot of people can handle those harsh winters with more than 300 inches of snow per year. Growing up way up north, I'm just used to it. It's second nature for me."
"It's like they say: You can take the girl out of the U.P., but you can't take the U.P. out of the girl."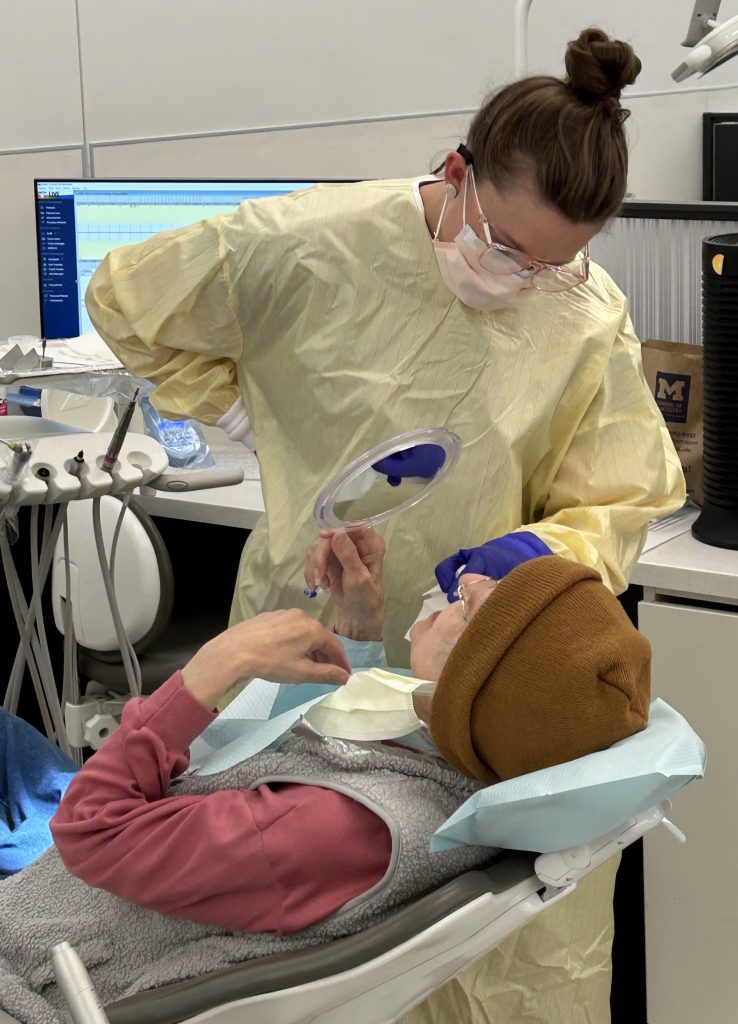 ###
The University of Michigan School of Dentistry is one of the nation's leading dental schools engaged in oral healthcare education, research, patient care and community service. General dental care clinics and specialty clinics providing advanced treatment enable the school to offer dental services and programs to patients throughout Michigan. Classroom and clinic instruction prepare future dentists, dental specialists and dental hygienists for practice in private offices, hospitals, academia and public agencies. Research seeks to discover and apply new knowledge that can help patients worldwide. For more information about the School of Dentistry, visit us on the Web at: www.dent.umich.edu. Contact: Lynn Monson, associate director of communications, at dentistry.communications@umich.edu, or (734) 615-1971.