Faculty member completes fourth edition of dentistry textbook on diagnosis and treatment planning

3

min read
Ann Arbor, Mich., April 7, 2023 – Dr. Stephen Stefanac, professor emeritus from the Department of Periodontics and Oral Medicine, has co-authored a new dentistry textbook with a familiar title. It's the fourth edition of a book initially published in 2001 – "Diagnosis and Treatment Planning in Dentistry."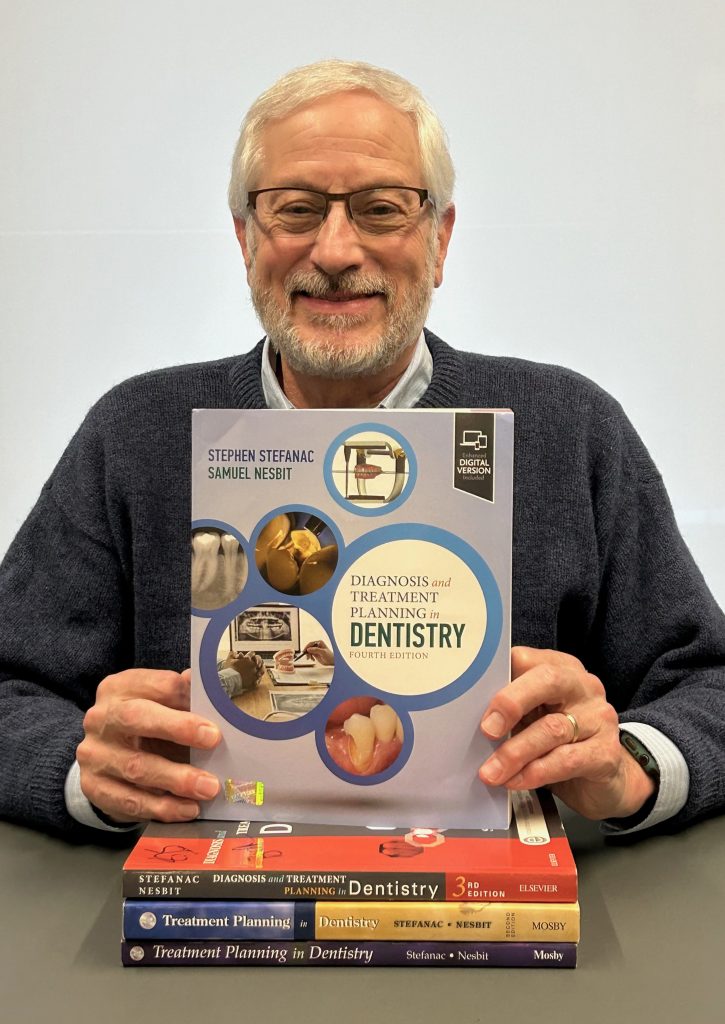 After two years of a major rewrite, the Elsevier publishing company has released the new edition with revisions and updates for each chapter in the previous edition. A new chapter on "Digital Tools for Diagnosis and Treatment Planning" was added. Three new instructional videos for interpreting panoramic and cone beam computed tomographic images are now accessible through the book's enhanced digital version. Including videos done for previous editions, that makes a total of 19. The digital version also includes study questions that mirror the national board questions so that students can practice what they learned in each chapter.
For all four editions, Stefanac has worked with co-author Dr. Samuel Nesbit, clinical professor in the Department of Operative Dentistry at the University of North Carolina School of Dentistry. For this fourth edition, the co-authors also used material from 44 contributors from around the country, including 10 of Stefanac's U-M colleagues.
The 485-page book is divided into four sections that cover an overview of patient examination and diagnosis; the treatment planning process; the five phases of the treatment plan; and planning treatment for unique patient populations. Although the authors note that the emphasis of the book is treatment planning rather than how to perform procedures and techniques, the book is generously illustrated with full-color photos, radiographs, illustrations, charts and graphics.
The book is used by dental schools across the United States and Canada, often in its electronic form, and by many dental schools in other countries.
Stefanac, who also served the dental school as Senior Associate Dean and Associate Dean for Patient Services, continues to teach at the school on a limited basis. The book is an extension of that teaching. He said it is rewarding to be able to create and update a well-organized summary of the considerable breadth of dental educational experience he accumulated over the course of his career as a faculty member. "I've been teaching since 1987, at Detroit Mercy, the University of Iowa and now here at Michigan. It's been a fun and challenging process to collect not only what I know, but also the expertise of others. I am grateful to have worked with so many knowledgeable contributors and to have such a great co-author. I think the fourth edition has turned out really well and I hope others agree."
More information on the books can be found on the Elsevier website here.
###
The University of Michigan School of Dentistry is one of the nation's leading dental schools engaged in oral healthcare education, research, patient care and community service. General dental care clinics and specialty clinics providing advanced treatment enable the school to offer dental services and programs to patients throughout Michigan. Classroom and clinic instruction prepare future dentists, dental specialists and dental hygienists for practice in private offices, hospitals, academia and public agencies. Research seeks to discover and apply new knowledge that can help patients worldwide. For more information about the School of Dentistry, visit us on the Web at: www.dent.umich.edu. Contact: Lynn Monson, associate director of communications, at dentistry.communications@umich.edu, or (734) 615-1971.