Faculty member publishes new cancer research exploring relationship between nerves and tumor cells

2

min read
Ann Arbor, Mich., July 1, 2022 – New research published by a School of Dentistry faculty member offers clues about cancerous tumors that may help oncologists select the optimal treatment for patients and improve survival rates.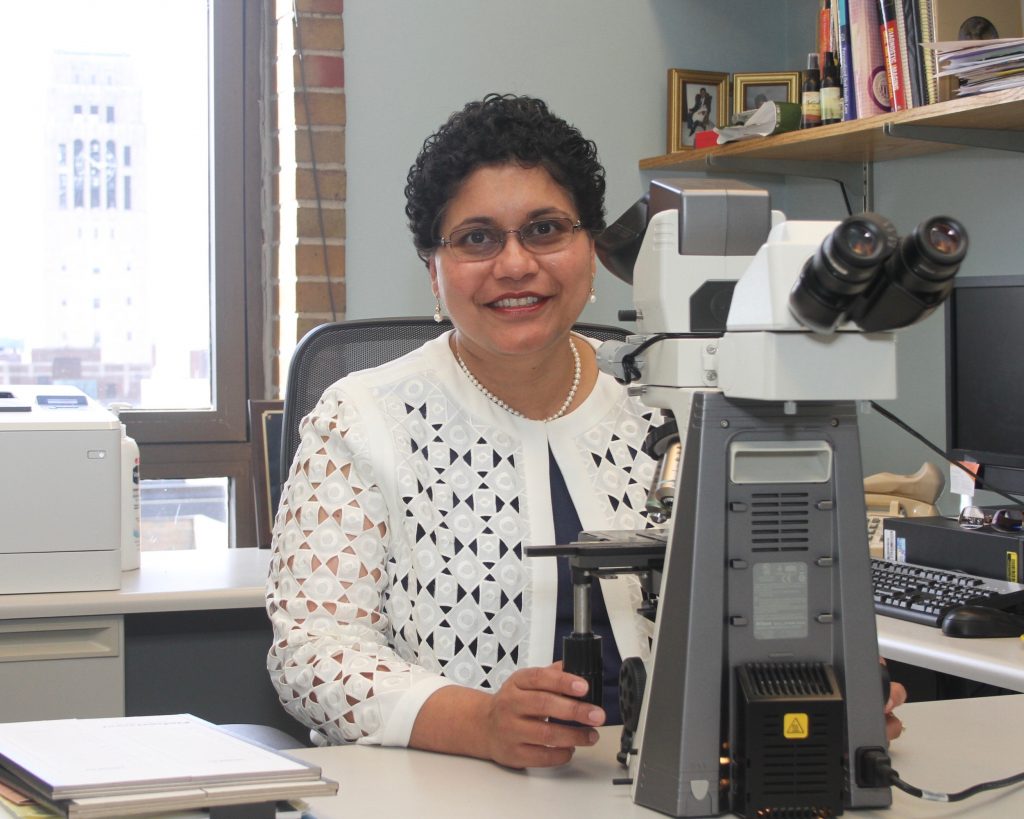 A study led by Dr. Nisha D'Silva, published in the journal Clinical Cancer Research, focuses on the role of perineural invasion – defined as when cancer invades the nerves – in oral cancer. The study found that while perineural invasion is important, the distance between nerves and cancer may be as important in terms of patient outcomes.
In an interview published on the University of Michigan News website, D'Silva explains that the new findings could help pinpoint treatment-resistant tumors when they are diagnosed, so oncologists know to treat aggressively from the beginning, with the hope of giving patients a better chance at survival.
"It was previously thought that cancer had to wrap around or be within the nerve to be dangerous. Our study shows that there is a distance gradient that influences the interaction and could improve treatment selection and patient survival," she said.
D'Silva is the the Donald A. Kerr Endowed Collegiate Professor of Oral Pathology and Associate Chair of the Division of Oral Medicine, Pathology and Radiology at the dental school. She is also Professor of Pathology at the U-M Medical School and a member of the U-M Comprehensive Cancer Center.
For more information on the study, go to the complete article on the Michigan News website here.
The study and its abstract are located on the Clinical Cancer Research website here.
###
The University of Michigan School of Dentistry is one of the nation's leading dental schools engaged in oral healthcare education, research, patient care and community service. General dental care clinics and specialty clinics providing advanced treatment enable the school to offer dental services and programs to patients throughout Michigan. Classroom and clinic instruction prepare future dentists, dental specialists and dental hygienists for practice in private offices, hospitals, academia and public agencies. Research seeks to discover and apply new knowledge that can help patients worldwide. For more information about the School of Dentistry, visit us on the Web at: www.dent.umich.edu. Contact: Lynn Monson, associate director of communications, at dentistry.communications@umich.edu, or (734) 615-1971.