Dental Hygiene faculty member, graduate student earn national awards

5

min read
Ann Arbor, Mich., July 18, 2022 – A faculty member and a former graduate student in the Dental Hygiene program at the School of Dentistry have received national awards from the American Dental Hygienists' Association (ADHA).
Kristin Peltz, an adjunct clinical lecturer, won the 2022 Sigma Phi Alpha Excellence in Journalism Graduate Award at the annual conference of the ADHA last month in Louisville, Kentucky. The award was for research Peltz completed while earning her master's degree from the dental hygiene program in 2021.
Also at the conference, Anne Marie Wang's oral presentation on her master's thesis research received a second-place award among graduate students from around the country who presented their projects as part of the Graduate Student Clinician's Research Program. Wang's research also was completed as part of the master's degree she received from the school in 2021.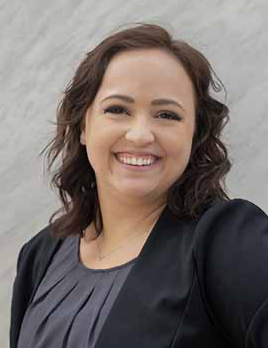 Peltz presented a manuscript from her master's thesis research entitled, "Practicing Dental Hygienists' Familiarity, Utilization, and Barriers to Using Advanced Instruments during Non-Surgical Therapy." Peltz surveyed licensed dental hygienists across Michigan about their use of advanced dental instruments that facilitate the removal of calculus in root concavities and difficult-to-reach areas during patients' teeth cleanings. Calculus is removed because it contributes to periodontal disease, which affects the soft tissue around teeth. Advanced instruments refer to narrower, smaller-bladed instruments specifically designed to reach tight, narrow periodontal pockets, and furcation areas that standard dental instruments are less effective at reaching.
The study found that hygienists were familiar with advanced instruments but utilize them to access furcation areas less than 50 percent of the time. The main barrier to lack of utilization was that the instruments were not available in the hygienist's office. Because familiarity of and perceived effectiveness of advanced instruments increases the likelihood of dental hygienists utilizing these instruments, the study recommends that dental hygiene educational programs continue to teach and provide non-surgical periodontal therapy opportunities for students to gain competency in using advanced instruments.
The Excellence in Journalism award is given to an outstanding manuscript submitted by a student pursuing a baccalaureate degree and by a student pursuing a master's or doctoral degree. Both winning research projects will be submitted for publication in the Journal of Dental Hygiene.
Peltz's thesis research committee members were faculty members Danielle Rulli, Robert Eber, Carlos González-Cabezas, and Janet Kinney, director of the Dental Hygiene program, who was committee chair. After earning her master's degree in 2021, Peltz joined the Dental Hygiene program as an adjunct clinical faculty member and teaches entry-level students.
Wang's project, "Efficacy of In-Vitro Periodontal Endoscopy on Calculus Removal in First Molar Furcations," investigated whether using a periodontal endoscope would allow hygienists to improve the removal of calculus from particularly difficult locations, such as furcation areas near the roots of molars below the gum line. Those areas are often difficult to clean using traditional scaling and root planing with dental instruments, and tactile detection of calculus using a dental explorer has limitations as well. The periodontal endoscope projects a magnified view of the area onto a digital screen, allowing the dentist or hygienist a better view for treatment or scaling purposes.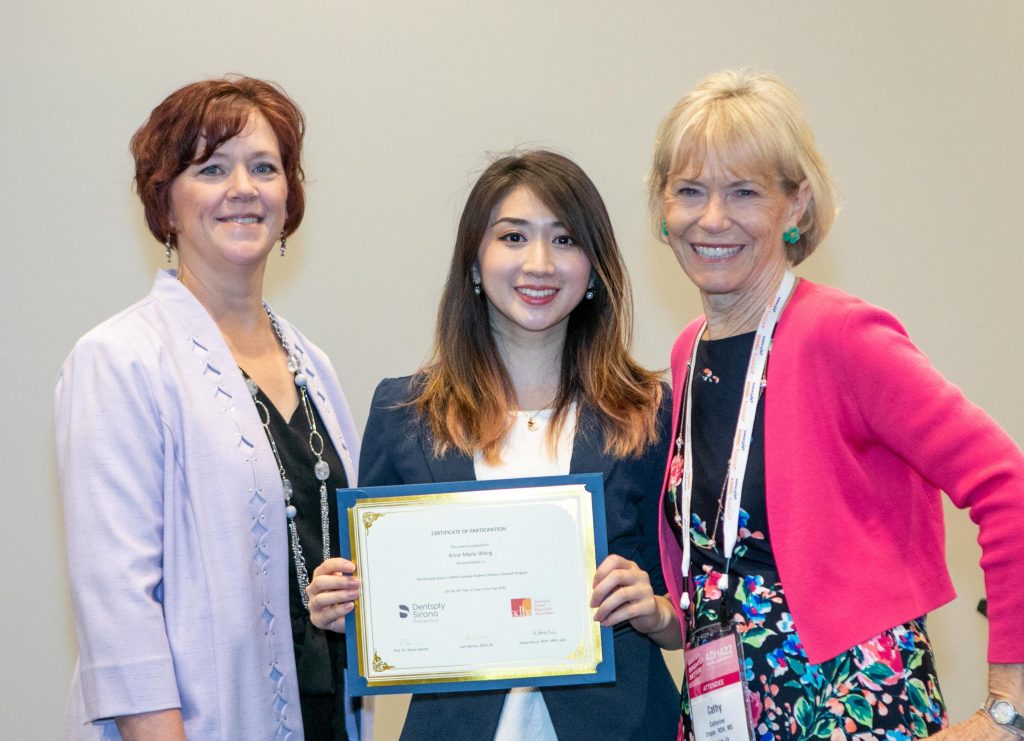 The study used previously extracted upper and lower molars that were imaged in 3-D with an oral scanner before and after treatment. A control group used only the standard dental instruments to scale and root plane the teeth that were set into a substance that simulated the gingiva of the mouth. A second group used the same dental instruments but added the use of a periodontal endoscope to provide a better image of the location where the calculus needed to be removed.
The results showed that the group using standard methods finished slightly faster than the group using the endoscope-guided method. However, post-treatment measurements determined that the standard process resulted in 22.5 percent more residual calculus than the endoscope-guided method. The findings indicate the endoscope method was more effective at calculus removal in furcation areas and may provide an important option in non-surgical periodontal therapy.
Dr. Danielle Rulli, a Clinical Associate Professor of Dentistry and Director of the Graduate Dental Hygiene Program, said the study provides insight into a new method for controlling calculus in molar furcation areas. Fully accessing those areas usually requires surgery, but this pilot project shows the endoscope can help with visualization and treatment without surgery, she said. Rulli was chair of Wang's thesis committee; other faculty members on the committee were Hsun-Liang (Albert) Chan, Dan Chiego and Janet Kinney, director of the Dental Hygiene program.
Wang completed her master's degree in dental hygiene at U-M in 2021, after earning her bachelor's degree in dental hygiene in 2019, also at the School of Dentistry. She is now a dental hygiene instructor in Arizona. The Graduate Student Clinician's Research Program is sponsored by the ADHA and Dentsply Sirona, a dental supply company, to promote dental hygiene research.
###
The University of Michigan School of Dentistry is one of the nation's leading dental schools engaged in oral healthcare education, research, patient care and community service. General dental care clinics and specialty clinics providing advanced treatment enable the school to offer dental services and programs to patients throughout Michigan. Classroom and clinic instruction prepare future dentists, dental specialists and dental hygienists for practice in private offices, hospitals, academia and public agencies. Research seeks to discover and apply new knowledge that can help patients worldwide. For more information about the School of Dentistry, visit us on the Web at: www.dent.umich.edu. Contact: Lynn Monson, associate director of communications, at dentistry.communications@umich.edu, or (734) 615-1971.