Faculty Member Dr. Mark Fitzgerald on Team Receiving International Education Award

4

min read
Ann Arbor, Mich., June 20, 2022 – A School of Dentistry faculty member is part of a University of Michigan team that received an international Learning Impact Award for a project that improves Interprofessional Education (IPE) data tracking.
The project was a collaboration between the Center for Interprofessional Education and the campus Information and Technology Services (ITS) center.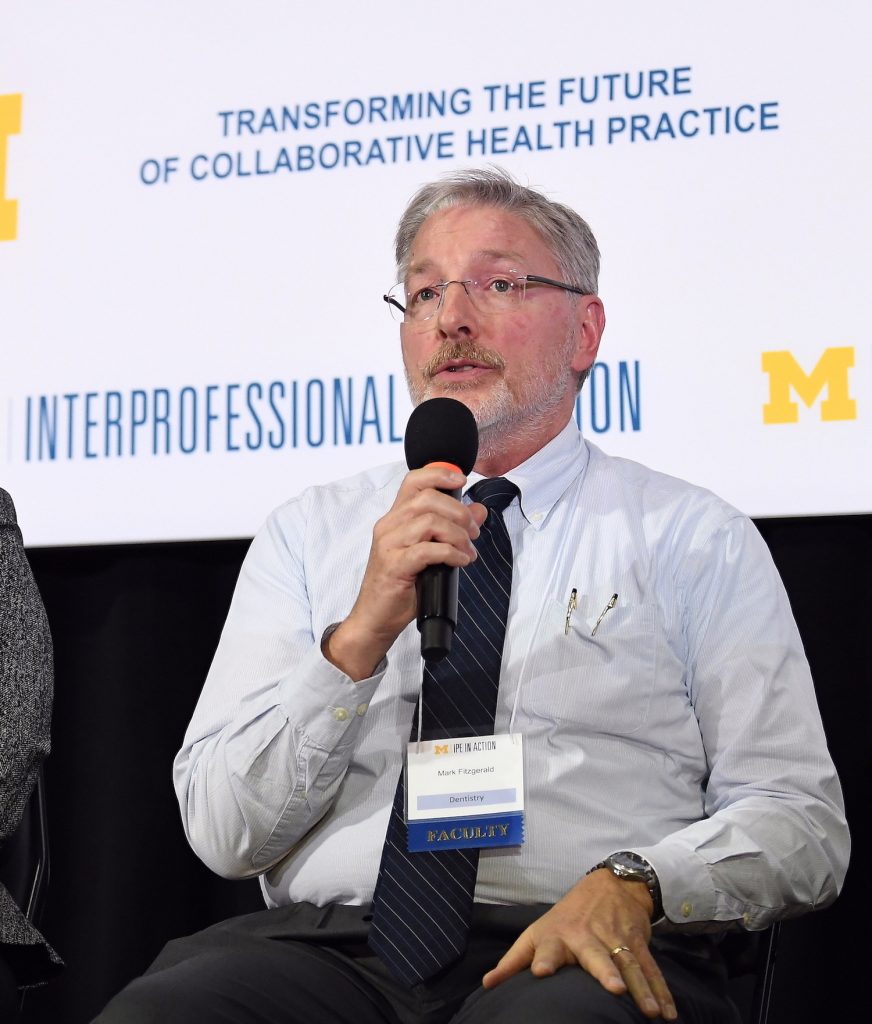 The Learning Impact Awards are presented each year by 1EdTech, an international non-profit collaborative of leading educational providers, government organizations and educational technology suppliers that advance digital teaching and learning technology. The award program is open to educational institutions, school districts, states, educational technology suppliers and workplace training organizations worldwide. Organizations from Australia, England, Japan, Mexico, New Zealand, Poland, Turkey and the United States participated in the 2022 competition. 1EdTech announced nine winning projects, presenting Gold, Silver, Bronze and Honorable Mention awards demonstrating the most significant impact on personalized learning, institutional performance, and the digital learning ecosystem.
The U-M project, which received a Bronze Award, was "Competency-Based Tracking for Interprofessional Education Leveraging Institutional Data." The team that has worked on it over the last three years includes dental school faculty member Dr. Mark Fitzgerald and Kate Weber, a former senior data analyst at the dental school. Fitzgerald is Associate Dean for Community-Based Collaborative Care and Education and an associate professor in the Department of Cariology, Restorative Sciences and Endodontics. He has been active in numerous projects for U-M's Center for Interprofessional Education in recent years and has received numerous awards for his work in IPE.
This particular project focuses on gathering information from across the U-M campuses to help track improvements in IPE in the healthcare fields. Educational leaders have created an increasing number of IPE courses and programs in recent years that require or provide opportunities for students in medicine, dentistry, pharmacy, social work and other related fields as a way to modernize the teaching of future healthcare providers. The goal, according to the Center of IPE, is to improve patient outcomes, improve patient experiences, reduce health care costs, and improve provider well-being.
The challenge for the center is to track offerings, student participation and IPE competencies gained by learners at 10 schools across three campuses. Tracking is complicated because learning occurs using diverse formats, including formal courses, online courses, modules embedded in courses, one-time events and experiential settings. The collaboration with ITS found new ways to gather data to monitor the growing use of IPE. The team is in the final stages of preparing this project for launch and utilization by the U-M campus.
Fitzgerald praised the involvement of Weber and the school's Dental Informatics team in working with central ITS to define the technical problems and brainstorm ways they could be solved. Cassandra Callaghan, the school's Chief Information Officer, said the project is a great example of how Dental Informatics is a vital link in the educational process in the digital age, whether in classroom and clinical settings, or collaboration with other departments across campus.
For more information on the project, including a video about it, and other members of the award-winning team, see a related story here on the website of the Center for Interprofessional Education.
More information from the award announcement is here on the website of 1EdTech.
###
The University of Michigan School of Dentistry is one of the nation's leading dental schools engaged in oral healthcare education, research, patient care and community service. General dental care clinics and specialty clinics providing advanced treatment enable the school to offer dental services and programs to patients throughout Michigan. Classroom and clinic instruction prepare future dentists, dental specialists and dental hygienists for practice in private offices, hospitals, academia and public agencies. Research seeks to discover and apply new knowledge that can help patients worldwide. For more information about the School of Dentistry, visit us on the Web at: www.dent.umich.edu. Contact: Lynn Monson, associate director of communications, at dentistry.communications@umich.edu, or (734) 615-1971.