Student Profile: Caleb Rainey, Class of 2023 – Bringing a Passion for Healthcare to Dentistry

11

min read
This profile is one in an ongoing series highlighting School of Dentistry alumni, donors and students.
---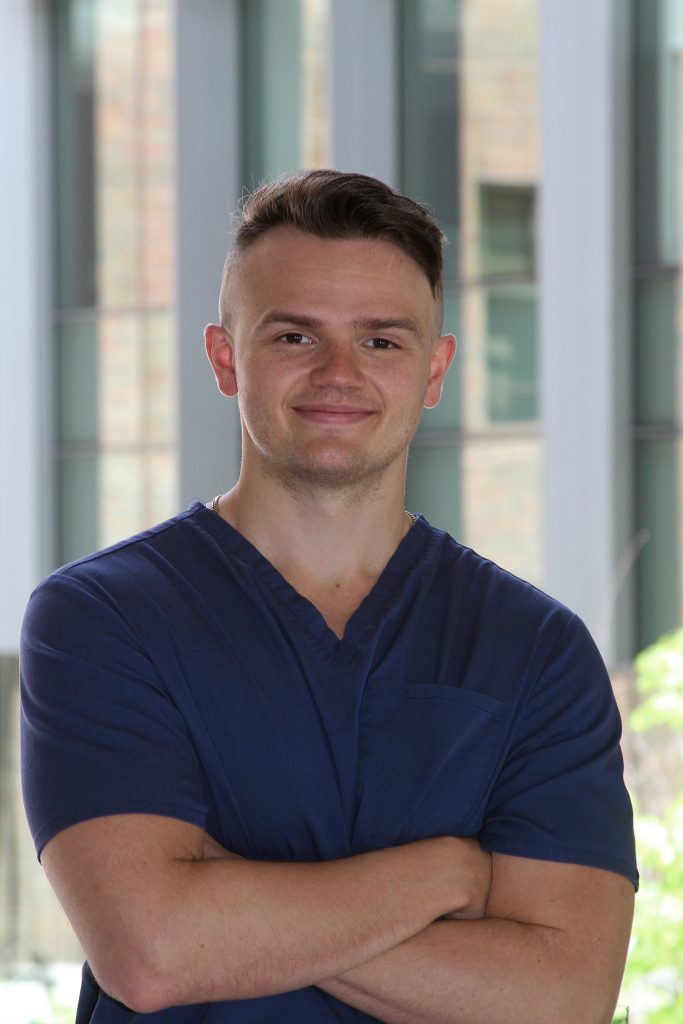 The path to dentistry for Caleb Rainey, a fourth-year student at the University of Michigan School of Dentistry, can be traced to several influences.
It's about his family's many experiences in the healthcare system as he was growing up.
It's about the respect he received as a child during his orthodontics appointments.
It's about realizing his ability to have a positive impact on someone's health over a long period of time – long enough to establish a meaningful relationship with them, and possibly even treat their children and grandchildren as well.
It's about working with his hands.
It's about his oldest sibling setting an example in choosing healthcare as a profession.
With less than a year until graduation, Rainey is busy finishing the checklist of required dental procedures for a steady schedule of his patients who come to the school's clinics. He's happy with his career decision and the opportunity to improve lives through excellent oral health.
Rainey and his three siblings have all achieved careers in healthcare. Rainey's oldest brother earned his medical degree at U-M and is now a resident in orthopedic surgery at the University of Utah; another older brother is an epidemiologist; and his younger sister is a speech pathologist. It's an impressive list of career choices, particularly since they are the first generation in their family to attend college.
Growing up in Whitmore Lake, just north of Ann Arbor, Rainey and his siblings were home-schooled through their middle-school grades, then attended Whitmore Lake High School. When it was time to decide on a college and major, Rainey said he was influenced by the many ways his family was immersed in the healthcare system and, especially, by the positive interactions his family had with healthcare providers.
Rainey's maternal grandmother was diagnosed with multiple sclerosis at an early age. She had many medical issues, was unable to walk on her own and was often hospitalized for lengthy periods. As a child, Rainey would accompany his mother on hospital visits to see his grandmother and it left an impression on him. "We got to see the doctors at work and the way they cared for her. They didn't treat her like just any other patient, they really treated her as a special human being. The doctors were also nice to us kids. They talked to us on an equal level, which I thought was pretty neat. It was someone in a position of power treating you as an equal."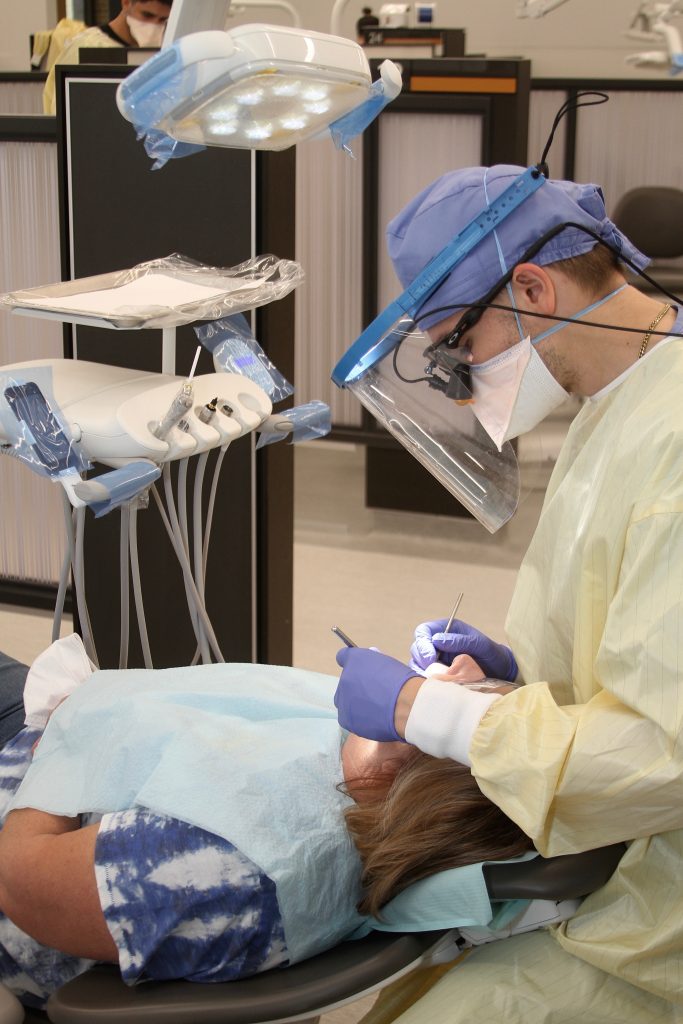 Another family health challenge, when his maternal grandfather was diagnosed with lung cancer, also brought important insights about healthcare. The initial medical diagnosis was that little could be done for his grandfather. The family sought a second opinion at the U-M health system and doctors there took a more aggressive approach. They had success in treating the cancer and Rainey's grandfather lived another 10 years. The family also experienced the trauma of cancer with two of Rainey's uncles and an aunt.
"We watched the doctors interact with my family, and help them, and make them as comfortable as possible," Rainey said. "That bought us extra time with family members, and there is not a better gift out there than time with your family."
Rainey credits his oldest brother, Josh, with translating the family's interaction with the healthcare system into a career choice. "All of our family's experiences really motivated him. He said, 'I'm going to become a doctor, I want to give back, I want to help people.' He's so determined and passionate about it." The best part of his brother's path into healthcare, Rainey said, is that he was accepted into the U-M Medical School, the same system that had done so much for the Rainey family. "After seeing him do that, it solidified that I can do this, too," Rainey said. "We might want to do different things, but we have a very similar 'why' – we want to be able to give back to people the way that these doctors had given to us."
Before settling on dentistry, Rainey considered medicine, particularly surgery. As an undergrad at U-M, he joined the Pre-Surgical Club. He shadowed surgeons, tagging along into operating rooms to observe many types of surgery. The club organized workshops on surgical topics, including hands-on training in the fine motor skills of suturing. It was fascinating and appealing, but Rainey came to an important realization about life in the operating room. "In the OR, you are doing absolutely phenomenal work, but the patients are asleep and you don't get any strong interaction with them, or not nearly as much. And once you treat the patient, you don't see them again unless something else happens because you are not their primary care physician."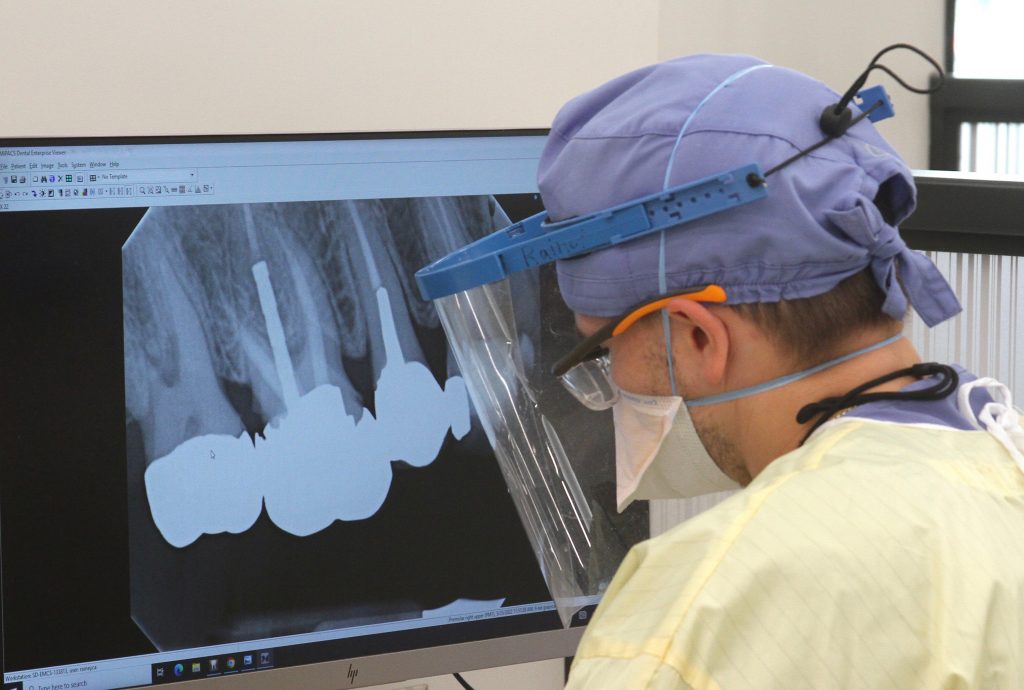 Dentistry, on the other hand, allows for more regular patient interaction – regular check-ups at the least and the ability to repair problems and improve smiles, which can lead to more frequent and longstanding contacts between dentist and patient. "You get to build these lifelong relationships with patients. You get to take care of their families, you get to know their entire family, and I think that is really special."
His own experiences with dentistry also were a factor. Much like he was impressed by the doctors treating his family members over the years, he was impressed by the way he was treated as a child going through his orthodontics appointments. "My dentist got to eye level with me and talked to me like I was an equal, rather than talking down to me. Even though I was a kid, they were treating me like my opinion mattered. And they wanted me to be a part of the process. And I liked that."
Ultimately, the ability to interact with people and meet their health needs led Rainey to commit to dentistry. He also felt comfortable joining a profession that depends on hand skills since he was already adept at that "mind-muscle connection" thanks to his background playing the guitar.
Rainey says dental school has been an exhilarating mix of meeting and making friends with high-achieving and talented people who are all trying to keep up with the heavy classroom and clinic workload. The first-year academic load was especially difficult, he said. It demanded an unfailing commitment to near-constant studying and little sleep. He would usually not get to bed before midnight and would set his alarm for 3:30 or 4 a.m. About the only thing outside of the dental school that he did in that first year was to regularly go with friends to a campus recreation center for weight-training, a passion that served as a stress-reliever. He describes his daily routine in that first year as: "Wake up, study, study, study, study, study, go work out, study, study, study, study, study, go to bed. Repeat." He thought often of the quote by celebrity body-builder Arnold Schwarzenegger, who said busy people just need to "sleep a little faster" to have more time to achieve their goals.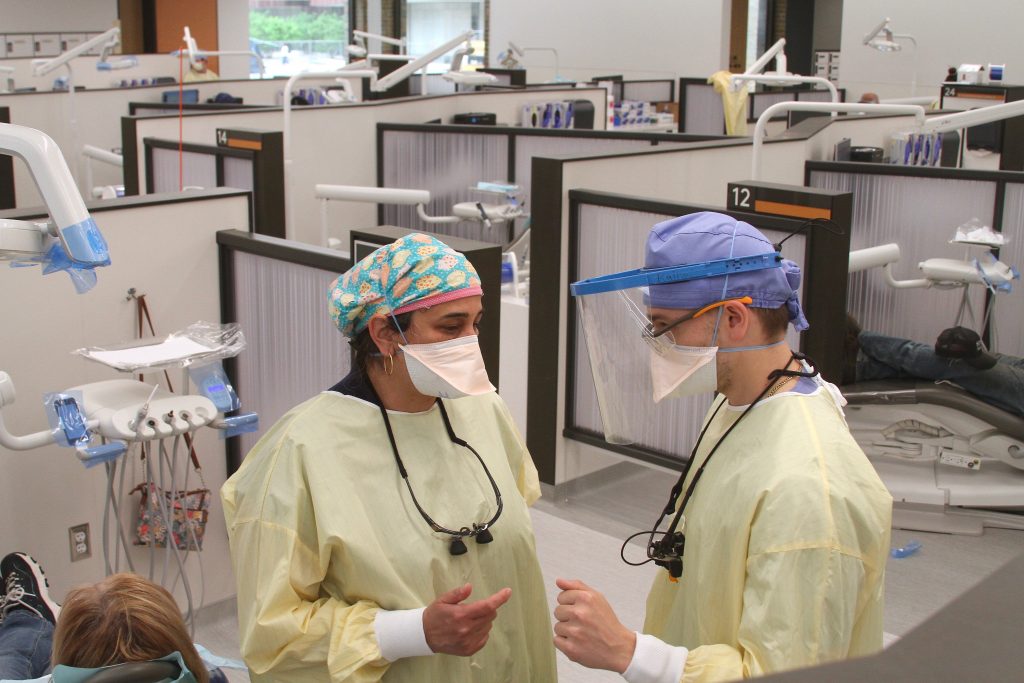 It may not be possible to sleep faster during dental school, but it is possible – and smart – to make friends faster. That was easy, Rainey said, because all the 109 or so dental students in each class are facing the exact same demanding curriculum and challenges during each phase of their four-year education. The bonds become strong as class members use teamwork to help each other through the tough times.
"The best thing about dental school is who I have met here among my classmates," Rainey says. "I've met some of the most brilliant people. There are so many talented people at this school. Everybody brings something to the table. And it's really nice when you come together as a team and you all help each other. It's like a well-oiled machine."
He has become so close to some of his classmates that he considers them to be family members. And one student he met, in the class ahead of his, will literally become family. He and Sarah Kowalski (DDS 2022) plan to marry in November 2023.
With less than a year left before his graduation next spring, Rainey has learned that dentistry is more than just learning procedural skills like filling a cavity. It's complicated even when it's simple. "As I got to see more patients, something that really clicked with me that I hadn't realized before was that you get so focused on the teeth, because you want to do such a good job. And then when you get to know your patients and their backgrounds, you start realizing that you are not treating a tooth, you are treating a whole person. You are treating a human being and there is so much that goes into this job more than just focusing on their tooth or their arch or anything like that. They have lives, they have health complications, they may have financial issues, and you get to learn everything about them. And you ask yourself, how can I best holistically treat this patient?"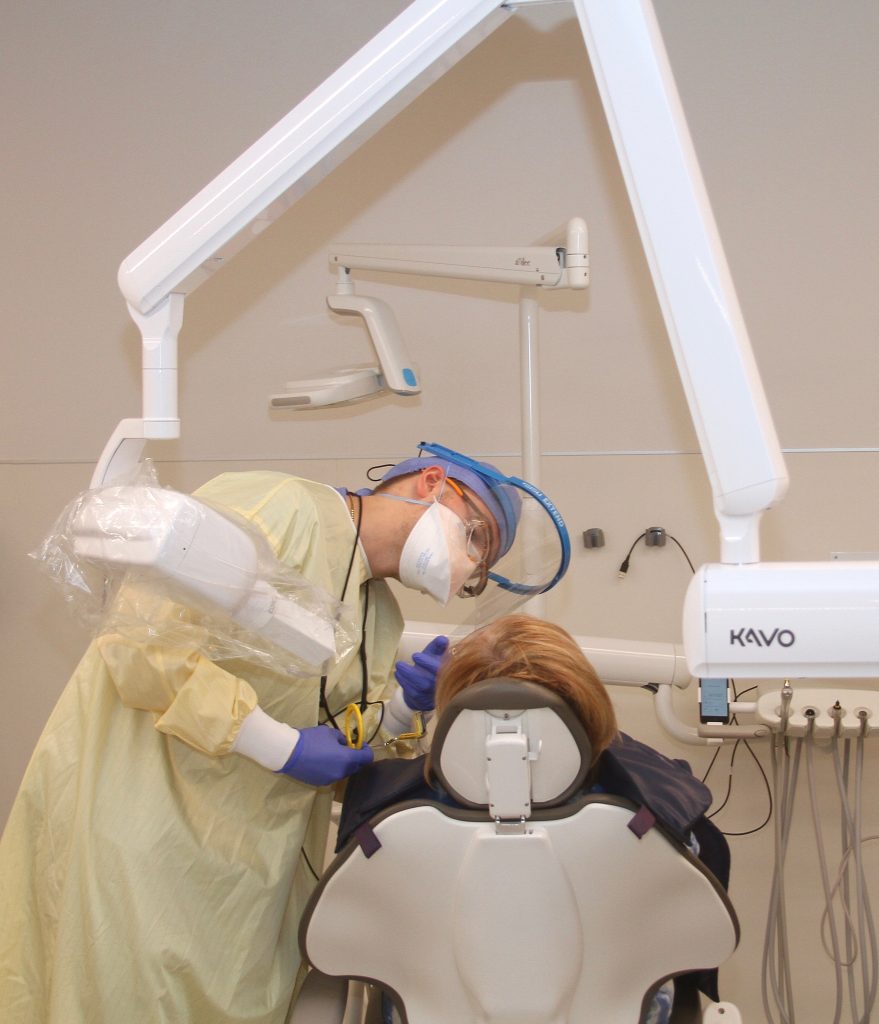 That means treatment planning, which Rainey says may be the most difficult part of being a dentist. "Not every treatment plan is going to be the same for every patient, even if they need the same dental work. They may have different other health issues. You might have to attack it at a different angle. And that's pretty fascinating, too, because every time you have to think outside the box."
Rainey said he plans to focus on general dentistry when he graduates, though he has a special interest in oral surgery and could decide later to earn a graduate degree in that specialty. "But what I like about general dentistry is that it covers a lot of things. I like seeing things from start to finish. So if you have to remove teeth, then you restore their mouth, give them back their bite so they can eat, or give them a great smile so they can have confidence in their appearance."
As he moves into the profession next year, Rainey is looking to join a dentist who can be a mentor and help him grow as a clinician, while also helping him learn the ins and outs of running a dental practice.
Rainey already has a mentor in some ways in his oldest brother the surgeon, whom he has emulated since they were kids. What Josh brings to surgery, Caleb is bringing to dentistry. "Looking at his passion for being a surgeon, it is just energizing and it motivates you," Caleb said. "Wow, this guy breathes, eats and sleeps it. When you see somebody get that passionate, it kind of catches on."
###
The University of Michigan School of Dentistry is one of the nation's leading dental schools engaged in oral healthcare education, research, patient care and community service. General dental care clinics and specialty clinics providing advanced treatment enable the school to offer dental services and programs to patients throughout Michigan. Classroom and clinic instruction prepare future dentists, dental specialists and dental hygienists for practice in private offices, hospitals, academia and public agencies. Research seeks to discover and apply new knowledge that can help patients worldwide. For more information about the School of Dentistry, visit us on the Web at: www.dent.umich.edu. Contact: Lynn Monson, associate director of communications, at dentistry.communications@umich.edu, or (734) 615-1971.