Faculty Member Nisha D'Silva Named Rogel Scholar by Michigan Medicine Cancer Center

3

min read
Ann Arbor, Mich., May 6, 2022 – School of Dentistry faculty member Nisha D'Silva has been named a Rogel Scholar for 2022 by Michigan Medicine. The award provides support for exceptional faculty dedicated to achieving impact on cancer prevention, patient outcomes and quality of life.
D'Silva is the Donald A. Kerr Endowed Collegiate Professor of Oral Pathology and a Professor in the Department of Periodontics and Oral Medicine in the School of Dentistry. She is also a Professor of Pathology at the U-M Medical School. As an oral pathologist, cancer biologist and educator, her research in head-and-neck cancer focuses on biomarkers and molecular mechanisms of tumor progression and treatment resistance.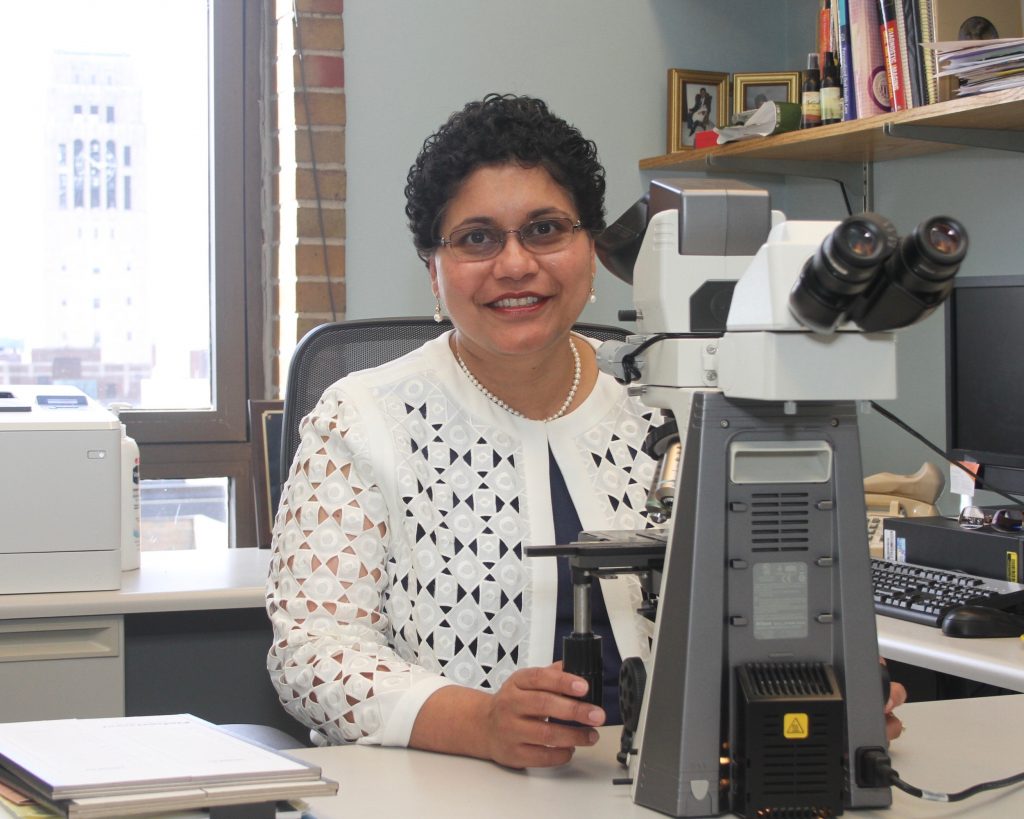 The Rogel Scholar program is one of seven funded by a $150 million gift to the Michigan Medicine cancer center in 2018 by Rich and Susan Rogel. The programs are intended to improve treatment and care for cancer patients; develop promising scientists; and leverage the university's broad and deep strengths in science, innovation and patient care
D'Silva is one of 12 Rogel Scholars named this week and the only researcher from the School of Dentistry. Recipients receive $50,000 per year for three years to assist in their research projects.
"The grant will help us greatly in pursuing a couple of critical and expensive experiments that could have a significant impact on our research in oral cancer," D'Silva said.
"As a faculty member from the dental school, I am honored to receive this award," she said. "Long-standing encouragement by current and former deans to establish inter-disciplinary research collaborations across units on campus has been very successful. This award highlights the strength of our research environment at the School of Dentistry. I am very grateful to Richard and Susan Rogel who established the endowment at the Rogel Cancer Center that enabled this award. I am also grateful to the leadership at the Rogel Cancer Center for selecting me."
D'Silva's research has been widely published and funded by grants from the National Institutes of Health. In 2017, she received the Sustaining Outstanding Achievement in Research award, or SOAR, from National Institute of Dental and Craniofacial Research for her continuing research into the molecular pathways that control the spread and recurrence of head and neck cancer. The grant provided $8.1 million over eight years.
D'Silva has received numerous national and international research awards and has held leadership positions with the two largest dentistry research organizations, the International Association for Dental Research (IADR) and the American Association of Dental, Oral and Craniofacial Research (AADOCR). D'Silva is an AADOCR Fellow and received the IADR Distinguished Scientist Award for Oral Medicine and Pathology Research in 2017. D'Silva has also received mentoring awards from various organizations for her work with graduate student researchers.
The announcement of the latest Rogel awards included Rogel Clinical Research Early Investigators awards that support junior faculty members and Rogel Scholarships that support medical and Ph.D. students.
More information on the Rogel Scholar program and awards can be found on the Michigan Medicine website here.
# # #
The University of Michigan School of Dentistry is one of the nation's leading dental schools engaged in oral healthcare education, research, patient care and community service. General dental care clinics and specialty clinics providing advanced treatment enable the school to offer dental services and programs to patients throughout Michigan. Classroom and clinic instruction prepare future dentists, dental specialists and dental hygienists for practice in private offices, hospitals, academia and public agencies. Research seeks to discover and apply new knowledge that can help patients worldwide. For more information about the School of Dentistry, visit us on the Web at: www.dent.umich.edu. Contact: Lynn Monson, associate director of communications, at dentistry.communications@umich.edu, or (734) 615-1971.