Dental Hygiene thesis research project earns award at national conference

4

min read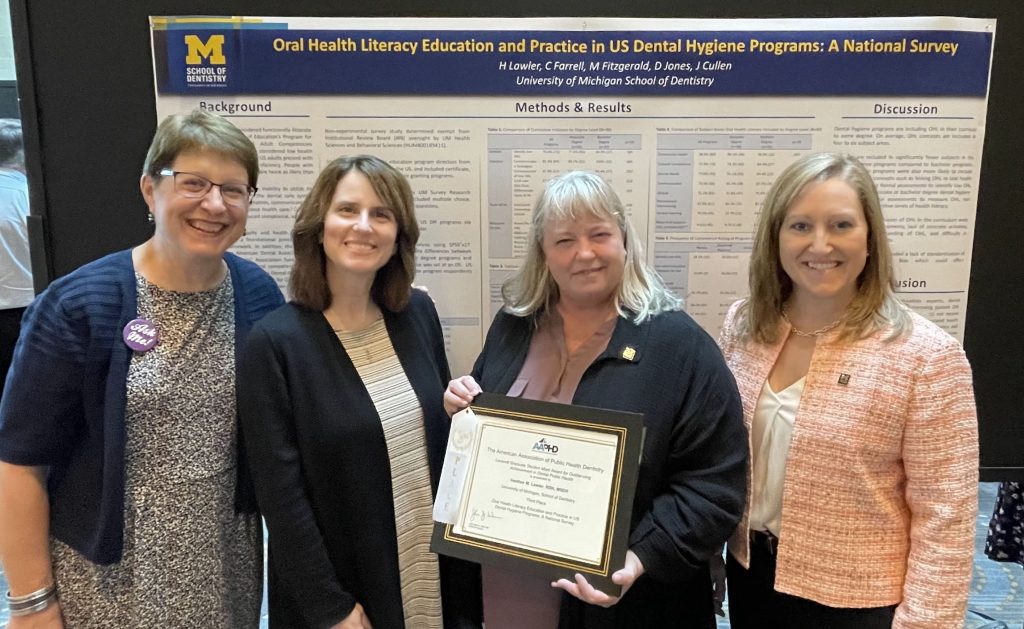 Ann Arbor, Mich., April 25, 2022 – Research conducted by a dental hygiene student while earning her master's degree at the University of Michigan School of Dentistry has received a national award.
Heather Lawler received the Leverett Graduate Student Merit Award for Outstanding Achievement in Dental Public Health during the National Oral Health Conference in Fort Worth, Texas, earlier this month. Her master's thesis research and poster, "Oral Health Literacy Education and Practice in U.S. Dental Hygiene Programs: A National Study," received the third-place award in the Leverett judging. The award is sponsored by the American Association of Public Health Dentistry (AAPHD).
Lawler's research, conducted prior to receiving her MSDH degree from the School of Dentistry in August 2021, sought to determine the extent to which Oral Health Literacy, or OHL, is being included in dental hygiene education programs across the country. Previous studies have shown a significant relationship between low oral health literacy and poor oral health outcomes for patients. National calls for action include better training of dental providers to meet the needs of the public's understanding of the importance of oral health.
Lawler queried 90 accredited dental hygiene education programs and found that several aspects of OHL education were being taught by a high percentage of programs, such as communication strategies as they relate to community health, cultural competency and special populations. However, other important concepts and strategies recommended for improving low OHL are less frequently included in curricula. Less than half of respondents rated their graduates competent in understanding language as a determinant of health and in linking low OHL to poor health outcomes.
Conclusions for improving OHL education include standardizing OHL concepts and establishing competencies to reduce the uneven understanding of faculty and educators as to best practices for incorporating it into their curriculum. The project noted that dental hygienists, as prevention and patient education experts, play an important role in improving patient OHL, thus dental hygiene education programs play an important role in providing a competent workforce. More fully integrating OHL into dental hygiene curricula would provide better-trained hygienists and would better align dental hygiene education programs with national OHL initiatives.
Lawler's thesis chair was Jennifer Cullen, a clinical lecturer and director of the Degree Completion Program in the dental hygiene program. Nominees for the Leverett Award may be either currently within their program or a recent graduate within one year of graduation. Projects must have a community and-or research basis with dental public health significance. Winners attend the National Oral Health Conference, which is a joint meeting of the AAPHD and the Association of State and Territorial Dental Directors (ASTDD). Winners presented their projects as part of the NOHC General Poster Session on April 11.
Lawler, who practiced clinically and taught in the dental hygiene programs part-time while in the MSDH program, is now interim director for the dental hygiene program at Cabrillo College in Aptos, California.
Also at the national conference, which was attended by about 600 people, two dental hygiene faculty members were part of the program. Danielle Rulli, a clinical associate professor and director of the Graduate Dental Hygiene Program, was the moderator of a roundtable session, "Oral Health-Behavioral Health Integration." Christine Farrell, a clinical lecturer and the Oral Health Program Director for the Michigan Department of Health and Human Services, presented a session, "Listening and Learning – Key Steps to Improving Dental Care for People Living with HIV/AIDS." The conference marked the end of Farrell's two-year term as president of ASTDD. Farrell was also a member of Lawler's thesis committee. Other thesis committee members were Darlene Jones, a clinical lecturer in Dental Hygiene, and Dr. Mark Fitzgerald, an associate professor of dentistry and Associate Dean for Community-Based Collaborative Care and Education.
###
The University of Michigan School of Dentistry is one of the nation's leading dental schools engaged in oral healthcare education, research, patient care and community service. General dental care clinics and specialty clinics providing advanced treatment enable the school to offer dental services and programs to patients throughout Michigan. Classroom and clinic instruction prepare future dentists, dental specialists and dental hygienists for practice in private offices, hospitals, academia and public agencies. Research seeks to discover and apply new knowledge that can help patients worldwide. For more information about the School of Dentistry, visit us on the Web at: www.dent.umich.edu. Contact: Lynn Monson, associate director of communications, at dentistry.communications@umich.edu, or (734) 615-1971.