Faculty member, students receive awards at annual AADOCR conference

6

min read
Ann Arbor, Mich., April 20, 2022 – A School of Dentistry faculty member and several students received awards from the American Association for Dental, Oral, and Craniofacial Research (AADOCR) at its national conference last month.
Faculty member Dr. Jacques Nör, the 2021-22 president of AADOCR (formerly the AADR), presented three Presidential Citations at the end of his term, including one to Dr. Peter Polverini, the Jonathan Taft Distinguished University Professor of Dentistry and former Dean of the school. The citation acknowledges AADOCR members who have made significant contributions and shown dedication to the association, and who have helped to further its mission through their service and commitment.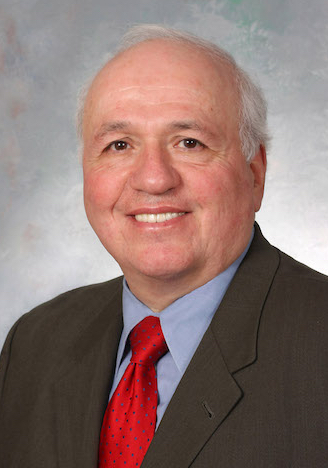 "Peter has had a major impact on the training and mentoring of innumerable dental, graduate students and postdoctoral fellows, many of whom are now established faculty, academic leaders and researchers in the United States and throughout the world," Nör said in announcing the award.
The citation noted that Polverini, who is also a professor of pathology at the U-M Medical School, is a former president of AADOCR, from 2013-14, and has continuously served on several committees for AADOCR and its parent organization, the International Association of Dental Research (IADR), since 1991. In 2006, he received the Distinguished Scientist Award in Oral Medicine and Pathology Research from the IADR.
Also at the 51st annual conference, which was held March 21-26 in Atlanta, Georgia, and virtually, several School of Dentistry students and residents received honors at the Student Research Day:
• Receiving AADOCR Student Research Fellowships were Shawn Hallett, a DDS/PhD student; Amy Li, a second-year dental student; and Ben Swanson, a DDS/PhD student. The fellowships were created to encourage dental students living in the United States to consider careers in oral health.

• Ligia Schmidt, a Ph.D. student who receives her degree this year, was recognized with the AADOCR Student Research Day Award, for the best presentation at an academic institution's Research Day competition. At the School of Dentistry's annual Research Day in February, Schmidt received First Place among Ph.D. Students and Postdoctoral Trainees and Staff for her research: "Oral Cancer-Associated Nerve Injury Stimulates Axonogenesis."
Two former Ph.D. students at the School of Dentistry also received prestigious awards in the annual Hatton Competition, which is designed for junior investigators (junior, senior and post- doctoral) who exhibit potential for a productive career in dental research. In the post-doctoral category, Joe Nguyen won the first-place award for his research and Fatma Mohamed won second place. Nguyen is a Clinical Research Fellow at the National Institute for Dental and Craniofacial Research and the National Cancer Institute, and Mohamed is now a faculty member at the Ohio State University School of Dentistry. The AADOCR Hatton winners will go on to the Hatton Competition at the general session of the IADR later this year.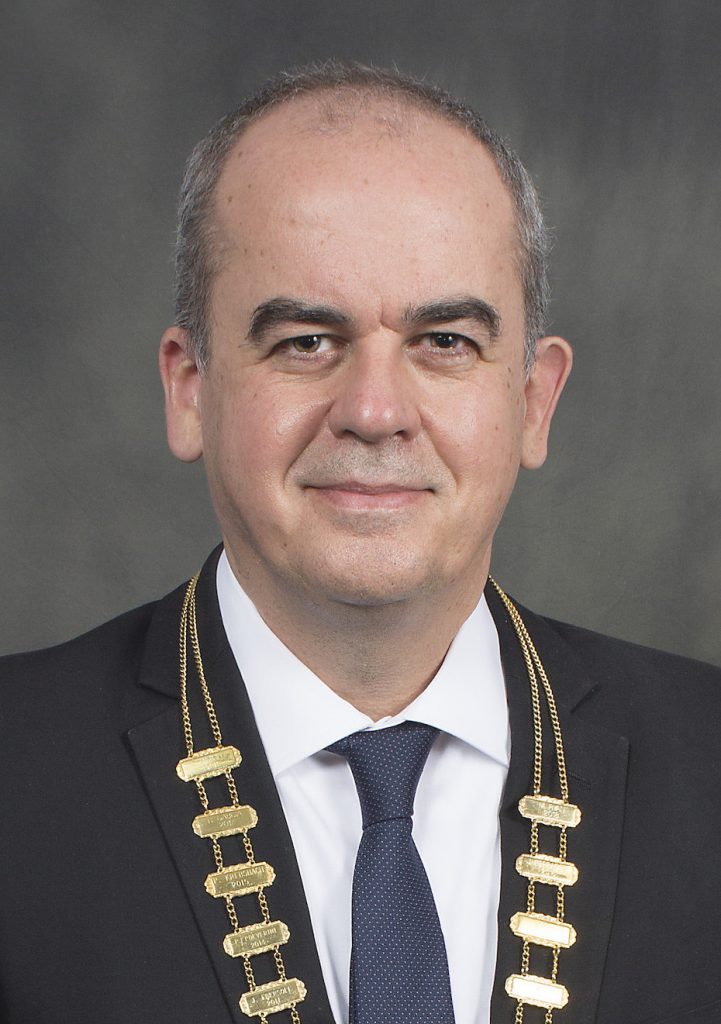 Also during the AADOCR conference, outgoing President Jacques Nör, addressing the end of his year as the 50th president of the organization, reflected on coming to the United States 30 years ago after earning his DDS in Brazil. His journey into higher education continued with a master's degree in pediatric dentistry, a PhD in oral health sciences and a Postdoctoral Fellowship in cancer biology, all at the University of Michigan. Noting that his parents had only a basic education, Nör said he is thankful for the opportunity to come to the United States, work hard in his chosen field, and become president of the AADOCR. "There are very few countries in the world where an immigrant has the opportunity to become president of such a prestigious organization. This, to me, represents the American Dream! So, I am so very thankful for this opportunity to serve the profession."
Nör said he had the good fortune to find "incredible mentors and advisors along the way." He cited dental school faculty members Robert Feigal and Lloyd Straffon from his time in Pediatric Dentistry; dental school faculty members Brian Clarkson and Peter Polverini during his Ph.D. training; Michigan Medicine colleagues Gabriel Nunez, Gregory Wolf and Max Wicha during his work at the U-M Cancer Center; and dental school Dean Laurie McCauley. "I owe each one of these colleagues for the support, mentorship and guidance that enabled me to grow as a clinician-scientist," Nör said.
Nör is the Donald A. Kerr Collegiate Professor of Dentistry and chair of the Department of Cariology, Restorative Sciences and Endodontics. He is also a professor of Otolaryngology at the U-M School of Medicine and a professor of Biomedical Engineering at the U-M College of Engineering. Nör serves as an Associate Editor of the IADR's Journal of Dental Research and has participated on numerous IADR and AADR committees. He was selected as an AADR Fellow in 2017 and was winner of the 2012 IADR Distinguished Scientist Award. He received the 2010 and 2011 William J. Gies Award, and won first place in the both the IADR and AADR Edward H. Hatton Award, Postdoctoral Category, in 1999.
Also receiving a Presidential Citation at the conference in addition to Peter Polverini was Martha Somerman, a former department chair and professor at the U-M School of Dentistry and former director of the National Institute for Dental and Craniofacial Research.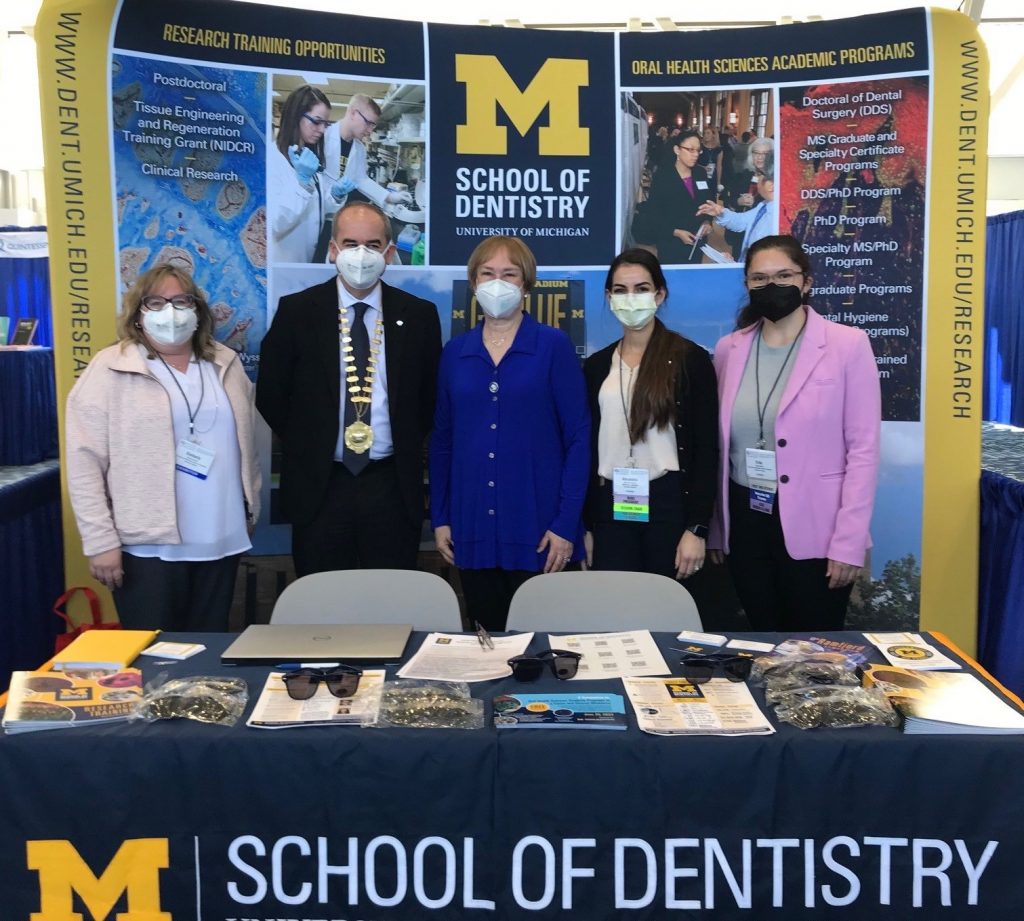 ###
The University of Michigan School of Dentistry is one of the nation's leading dental schools engaged in oral healthcare education, research, patient care and community service. General dental care clinics and specialty clinics providing advanced treatment enable the school to offer dental services and programs to patients throughout Michigan. Classroom and clinic instruction prepare future dentists, dental specialists and dental hygienists for practice in private offices, hospitals, academia and public agencies. Research seeks to discover and apply new knowledge that can help patients worldwide. For more information about the School of Dentistry, visit us on the Web at: www.dent.umich.edu. Contact: Lynn Monson, associate director of communications, at dentistry.communications@umich.edu, or (734) 615-1971.