Dr. Hom-Lay Wang receives distinguished service award; several others also cited by national periodontology group

7

min read
Ann Arbor, Mich., Dec. 8, 2021 – Periodontics faculty and graduate program residents received numerous awards at the American Academy of Periodontology annual meeting last month.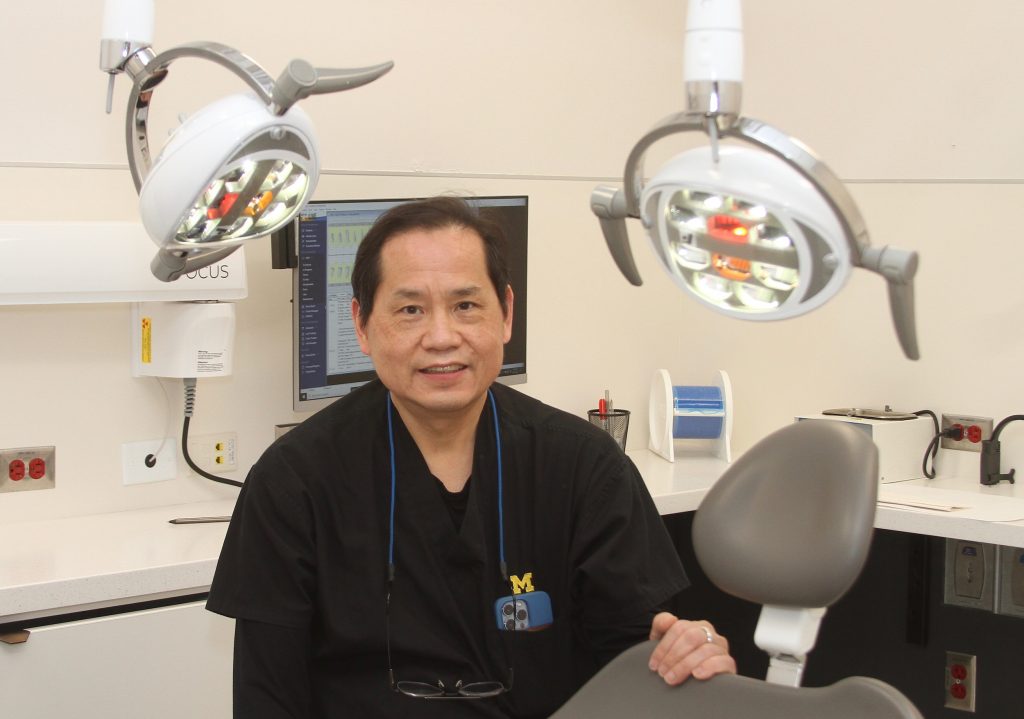 Faculty member Dr. Hom-Lay Wang received the Distinguished Service Award from the organization that represents more than 8,000 periodontists. The award honors members who have contributed to the specialty for more than 20 years in many areas, including pre-doctoral or post-doctoral education, committee activity, continuing education and publication. Dr. Wang is the endowed Collegiate Professor of Periodontology in the Department of Periodontics and Oral Medicine. He has served as director of the graduate periodontal program for the last 26 years.
Two other faculty members and several residents received awards in the areas of clinical and basic science research, education, and leadership in periodontology and dental implantology. These additional award, presented during the 107th annual meeting of the AAP in Miami Beach, Florida, last month, were: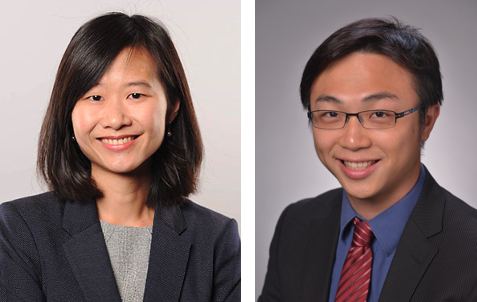 • Drs. Hom-Lay Wang, Erin Shan-Huey Yu and Chin-Wei (Jeff) Wang received the AAP Clinical Research Award for the paper, "American Academy of Periodontology best evidence consensus statement on modifying gingival phenotype in preparation for orthodontic and restorative treatment." The three were among several authors of the paper. Yu is a Clinical Assistant Professor and Jeff Wang is a Clinical Associate Professor, both in the POM department. The award is presented for the year's most outstanding scientific published article with direct clinical relevance in periodontics and which presents new information that may be readily used by practitioners in the evaluation and/or management of patients with periodontal diseases.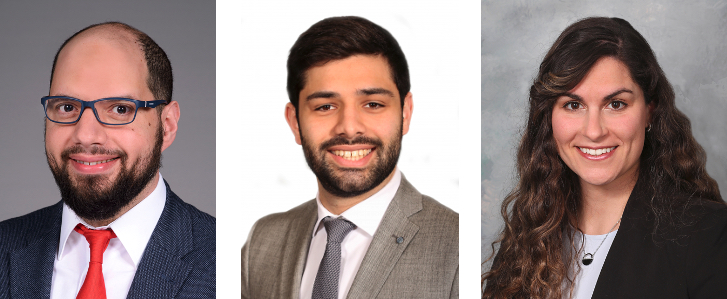 • Dr. Muhammad Saleh, Adjunct Clinical Assistant Professor and a former postgraduate student at the dental school, received the Robert S. Schoor Research Award from the American Academy of Periodontology Foundation (AAPF). The award supports resident research in the field of periodontology. Recipients are judged on a resident-written manuscript that can cover a wide range of research subjects that are significant to the clinical practice of periodontology. Saleh was in the postdoctoral periodontics program at U-M from 2016-18, then finished a residency at the University of Louisville in Kentucky. This fall he returned to U-M as an adjunct clinical professor in periodontics.
• Dr. Andrea Ravidà, a graduate student in POM, received the Educator Scholarship from the AAPF. It provides financial relief to a student intending to pursue a career as a full-time teacher at a U.S. periodontal program upon graduation from a U.S. periodontal postdoctoral training program. The scholarship is intended to provide help with tuition and living expenses during the training period and may also be used for debt reduction. Ravidà is involved in multiple research projects in the areas of periodontics and implant therapy, is the author or co-author of many peer-reviewed publications, and serves as a reviewer for multiple journals covering periodontics and implant dentistry. He is a past recipient of Robert S. Schoor Research Award (2020).
• Dr. Janet Zalucha, a second-year resident in the graduate periodontics program, received the Dr. Mark K. Setter Leadership in Periodontology and Dental Implantology Award from the AAPF. Applicants must be full-time periodontal residents at accredited U.S. periodontal programs and nominated by their periodontal program director. Zalucha earned her DDS at U-M in 2016 and was a resident in the Hospital Dentistry General Practice program at Michigan Medicine. The AAPF bases its selection on the applicants' leadership in promoting periodontology, implantology, advanced treatment planning and case acceptance strategies through mentorship of other students and professionals; making a positive impact on how periodontology and dental implantology is viewed in their school; or by promoting the importance of periodontology and dental implantology in the comprehensive treatment of patients. This is not a clinical award but an award for leadership for promoting all aspects of what it means to be a periodontist.
Two School of Dentistry residents received the top awards in the Balint Orban Memorial Program competition. It is named in honor of Dr. Balint Orban, a member of the Academy who was influential in developing the scientific foundations of contemporary periodontics. Eight finalists, selected on the basis of written abstracts, are invited to present oral presentations at each AAP annual meeting in two categories – basic research and clinical research. This year's Balint Orban awardees are: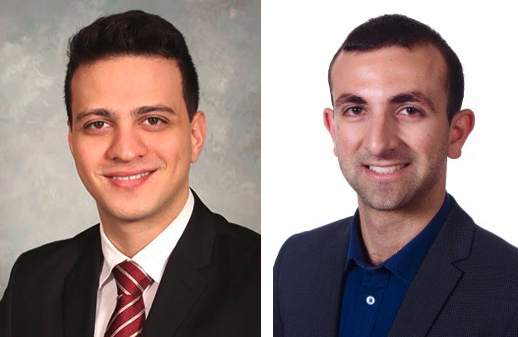 • Dr. Shayan Barootchi, a resident in the graduate periodontics program. He received the Orban Award in the Clinical Research category. He joined the POM department at U-M in 2017 as a post-doctoral research fellow. In 2019 he started the 3-year residency training program that leads to a master's degree in Periodontology. He has been involved in numerous research projects, from human randomized clinical trial and cross-sectional studies, small and large animal models, in-vitro and other translational and basic research, many of which have been published in peer-reviewed journals. His current research focuses on periodontal and peri-implant hard and soft tissue regeneration as well as contemporary methods for the treatment of peri-implantitis.
• Dr. Riccardo Di Gianfilippo, an Adjunct Clinical Assistant Professor at the dental school who also practices periodontics in Canton, Michigan. He received the Orban Award in the Basic Research category. He earned his master's degree in periodontics from U-M earlier this year. His research activity focuses on peri-implant bone regeneration and plastic surgery. He has published numerous articles in leading journals of the field and currently serves a reviewer for several international journals. He has been recognized by the Michigan Periodontal Association twice for the best clinical case submission.
In receiving the Distinguished Service Award, Hom-Lay Wang has added to a series of awards he has received from the AAP in recent years. In 2017, he received both the Distinguished Scientist Award and the Outstanding Periodontal Educator Award, and in 2019 he received Master Clinician Award. The Outstanding Periodontal Educator Award cited his extensive work mentoring dozens of students during his career.
Wang joined the periodontics department as an assistant professor in 1989, and was promoted to associate professor in 1997 and to professor in 2002. His periodontal and dental implant-related clinical research includes a specific focus on barrier membranes, bone grafting and growth factors. Wang has co-edited two textbooks, has published more than 50 book chapters or invited reviews, and has authored more than 700 scientific articles.
Wang is a Diplomate of the American Board of Periodontology and served as a director of its board from 2004-10. He currently is a member of AAP's Future Science Strategy Task Force and Nevins Teaching and Clinical Research Fellowship Selection Committee. He is the Vice President and Fellow for the Academy of Osseointegration, and has served numerous other professional organizations.
###
The University of Michigan School of Dentistry is one of the nation's leading dental schools engaged in oral health care education, research, patient care and community service. General dental care clinics and specialty clinics providing advanced treatment enable the school to offer dental services and programs to patients throughout Michigan. Classroom and clinic instruction prepare future dentists, dental specialists and dental hygienists for practice in private offices, hospitals, academia and public agencies. Research seeks to discover and apply new knowledge that can help patients worldwide. For more information about the School of Dentistry, visit us on the Web at: www.dent.umich.edu. Contact: Lynn Monson, associate director of communications, at dentistry.communications@umich.edu, or (734) 615-1971.