Student Profile: Natani Atsitty has navigated a distinctive path from a Navajo reservation to linguistics to Army helicopter pilot to dentist

13

min read
---
This profile is one in an ongoing series highlighting School of Dentistry alumni, donors and students.
---
The story of Natani Atsitty's journey to the University of Michigan School of Dentistry stands out even at a highly selective school where his fellow students also have distinctive and impressive credentials that led them to Ann Arbor.
The first hint of Atsitty's non-traditional path is his age. He will be 38 years old when he graduates next spring, about 13 years ahead of – or behind, depending on how you look at it – the usual 25-ish graduation age.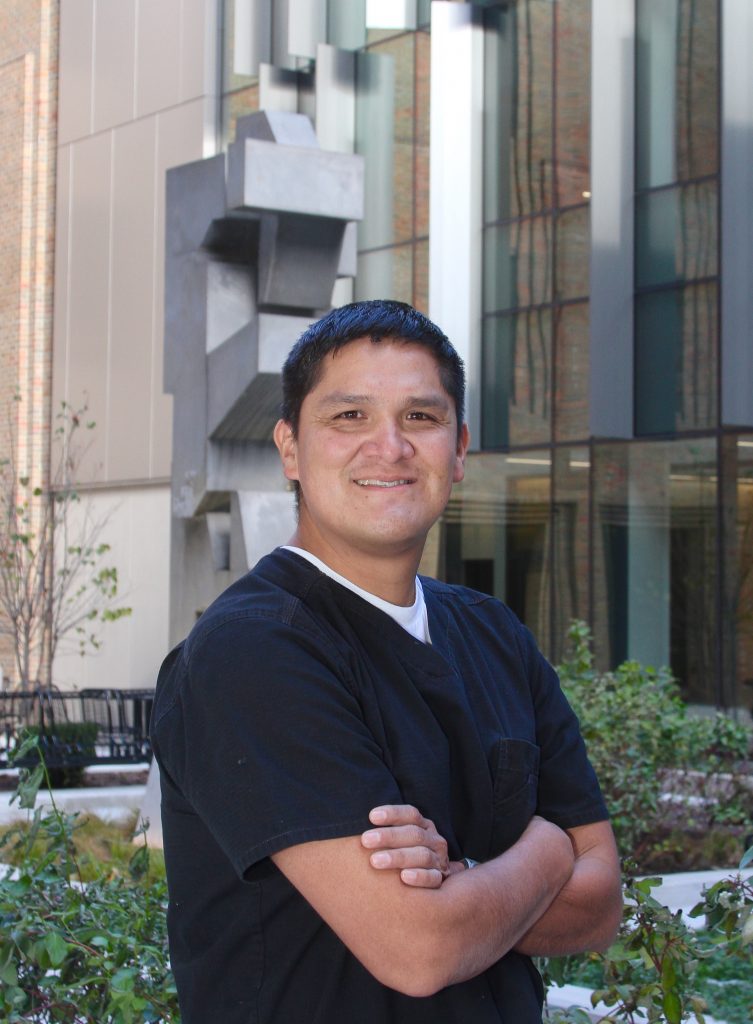 And then there are the eye-catching skills and work history listed on his resume, starting with his time as a pilot flying Black Hawk helicopters for the U.S. Army. His eight years of active duty in the Army took him to posts all around the country, as well as two years in Korea and two months of deployment to Afghanistan. Over time he moved from flying helicopters to accumulating expertise in planning for the Army's highly complex movements of troops, equipment and materials. He spent one of his years in Korea as an aide-de-camp to a one-star general who is now a three-star general and Superintendent of the U.S. Military Academy at West Point.
Atsitty speaks several languages in addition to English. He learned Japanese and Portuguese during a two-year religious mission to Japan when he was in college. He speaks Spanish and Navajo because he grew up living on and near the Navajo Nation reservation in northeast Arizona and northwest New Mexico.
Dentistry drew Atsitty's attention a few times, but he detoured around committing to it as a profession for various reasons. His first contact with dentistry was a series of dental treatments, as a young child through his teen years, that were the result of a tragic car accident. In 1985, when Atsitty was 2-years-old, he was riding in a car with his mother, an older sister, an infant sister, an aunt and a cousin when another vehicle driven by a drunk driver crashed into them. Atsitty and his infant sister survived, but the other four family members were killed. Atsitty suffered relatively minor facial injuries, but one of the after-effects was that his upper molars on his injured side did not develop properly as he grew, which required trips to reservation healthcare centers for specialized dental care.
After the fatal accident, Atsitty, his infant sister and another older sister continued to live with their father on the Navajo reservation for a few years until they moved to a nearby small town close to Farmington, New Mexico. There Atsitty attended high school at the Navajo Preparatory School, a boarding school that includes enrichment programs to prepare promising Navajo students for college. His time there included trips to the East Coast for summer college prep programs and tours of Ivy League universities.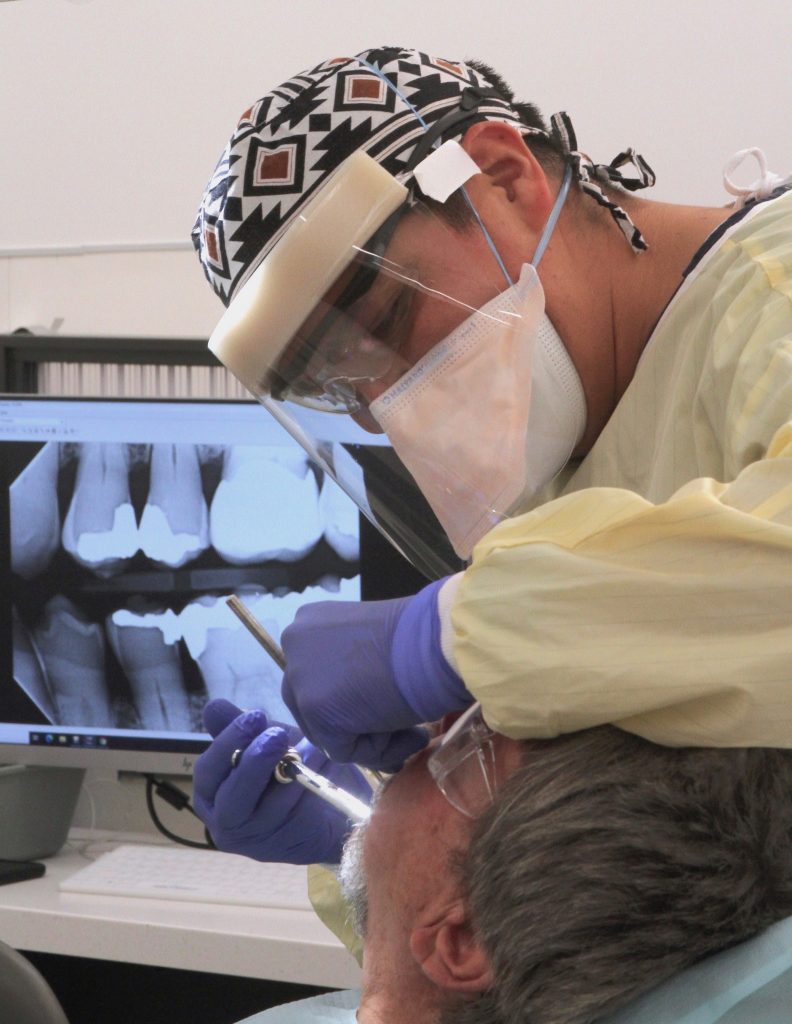 As Atsitty began to think about where to attend college and what to major in, he had a conversation one day with the father of a friend. Atsitty regularly visited their large and comfortable home and asked his friend's father what sort of profession it would require in order to have such a nice home. When he learned that the father was an oral and maxillofacial surgeon at the local Indian Health Service, Atsitty asked if he could visit the dentist's office to see what an oral surgeon does. "He was so good that he made it look so easy," Atsitty remembers of the shadowing experience. "So I said, 'I can do that. Who couldn't pull out molars? That doesn't seem like anything hard.'" He had no idea about the wide skill set his friend's father needed to deal with complex dental and facial surgeries, broken mandibles, severe accident injuries, burn victims and gunshot wounds. Atsitty laughs today at how naive he was at age 16 to think dentistry would be easy, but that is what he listed as his career goal as he was finishing high school in 2002.
He enrolled at Brigham Young University in Utah and completed a semester before he left for his two-year religious mission in Japan, from 2003-04. Beyond learning new languages, it was an eye-opening, worldly experience for a young man who had grown up in a homogenous and sparsely populated desert area of the American Southwest. When Atsitty returned home, he transferred to the University of Utah with the intent of taking pre-dental courses. Instead, he turned his attention to linguistics as a major because of his newfound multi-language skills and, frankly, he says, because the thought of taking difficult pre-dent biology and chemistry courses was unappealing as he rejoined the college routine after two years off.
Then an even bigger detour away from dentistry took place. An Army recruiter engaged him one day on campus and explained the many educational, career and financial benefits of joining the military, including the Army's aviation program. Atsitty researched his options and decided to join the Army while he finished his linguistics degree. He trained with the Utah National Guard on weekends and during breaks between college terms, and he joined the Reserve Officers' Training Corps (ROTC) on campus. He trained at first as a combat engineer with expertise in explosives and demolition. By the time he graduated from the University of Utah in 2009, he had been accepted into the highly sought-after Army aviation program.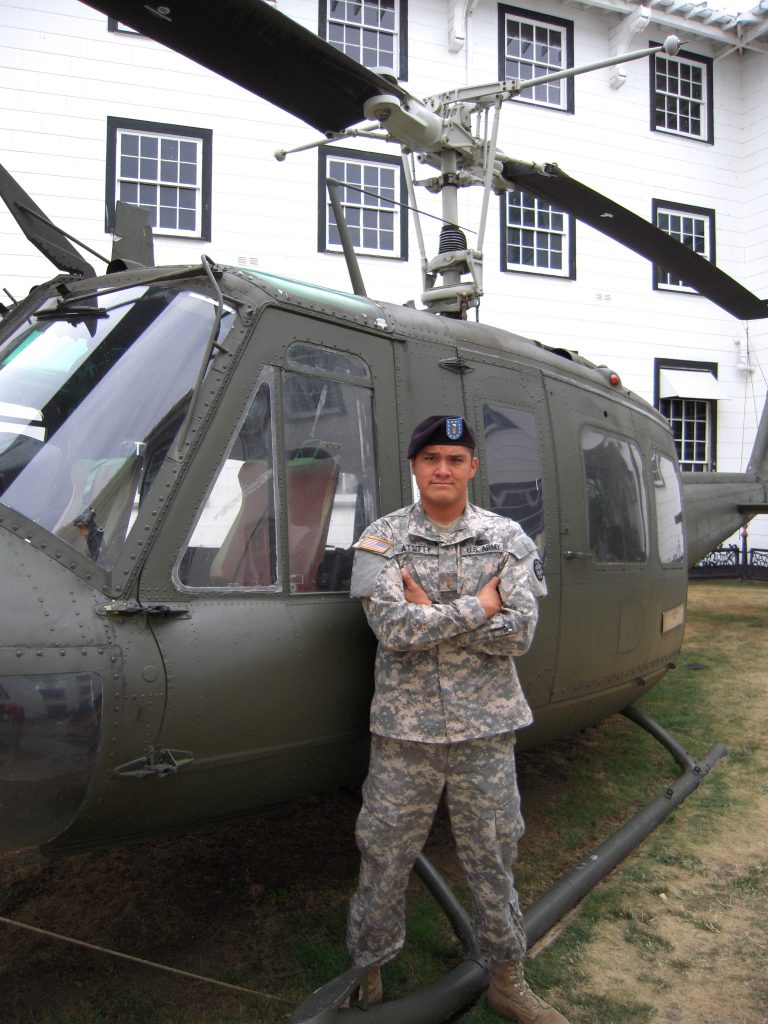 His two years of flight school were with the 1st Aviation Brigade at Fort Rucker, Alabama. He learned more than how to fly a helicopter. It included "Dunker School," a hazardous set of water training exercises that prepared the aviators for what to do if their aircraft goes down in a body of water. Then there was what is known as SERE training, an acronym for survive, evade, resist and escape. The strenuous SERE training is necessary since helicopters in war zones are targets that are shot down. Pilots are trained in how to survive, avoid capture and resist interrogation if they are captured. It is not fun. Atsitty said he lost 20 pounds in three weeks.
Once accepted into the aviation program, he asked to fly Black Hawk helicopters because they are utility craft that are more widely deployed around the world than some other types with narrower missions. As a Native American, Atsitty notes that the various types of U.S. Army helicopters carry names related to Native Americans – Black Hawk, Apache, Chinook, Comanche, Lakota and others.
His first duty station was with the 2nd Combat Aviation Brigade in South Korea from 2011-13. He was platoon leader for a helicopter group and trained for military missions. His duties also involved transporting visiting dignitaries such as the Vice President, Secretary of State, U.S. Senators, military leaders and performers entertaining the troops, including Dallas Cowboy Cheerleaders on one occasion.
Atsitty said the second year of his Korean post was the most formative in shaping how he approaches life today. He spent the year as the personal assistant, also known as the aide-de-camp, to Lt. General Darryl Williams. Atsitty was responsible for managing the general's crowded daily schedule, a relentless task that required never-ending attention to detail and coordination with a wide network of people. "It was my biggest learning experience," Atsitty said. "He taught me how to think ahead and how to plan globally."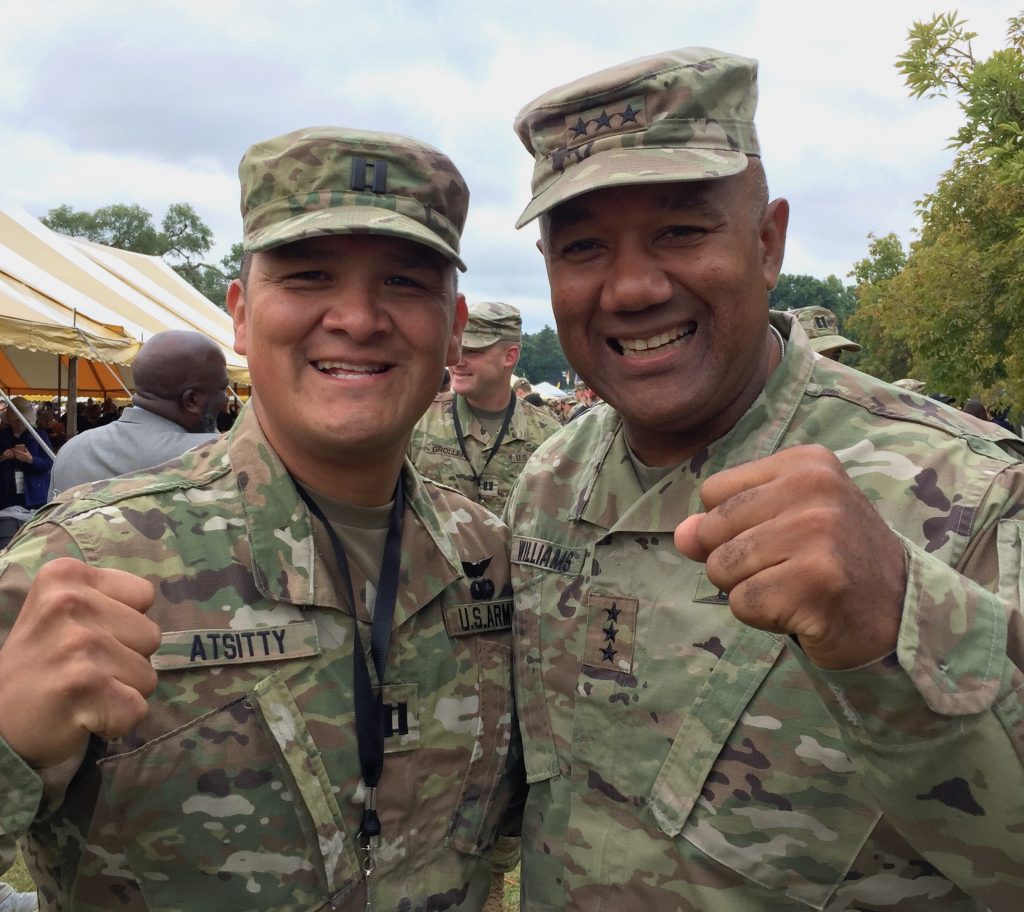 It was an intense year of research, preparation, coordination, thinking ahead, predicting problems, finding solutions, executing a plan. The Army decided Atsitty was highly skilled in that area so it gave him assignments in planning when he returned from Korea in 2013. During his three years at Fort Bragg in North Carolina, his battalion was ramping up for deployment to Afghanistan. Atsitty planned moves of hundreds of soldiers and equipment for training in this country as well as for the final deployment across the Atlantic Ocean and through Europe to Afghanistan. Two months before his unit returned from Afghanistan, he was sent there to plan the move back to the U.S. He flew several air missions out of Bagram Air Force Base, but mostly focused on planning the return of the Battalion Task Force.
In 2016, after he had completed eight years of service in the Army, he left active duty with the rank of Captain and remained in the Army reserves. In both Korea and at Fort Bragg, he had kept his dentistry interests alive by taking a few college-level courses. Once he was out of active duty, he and his wife Keri, moved to her hometown of Murray, Kentucky, where he enrolled at Murray State University to bolster his dental school requisites and to prepare for the Dental Admission Test (DAT). He also taught military science there as an adjunct assistant professor.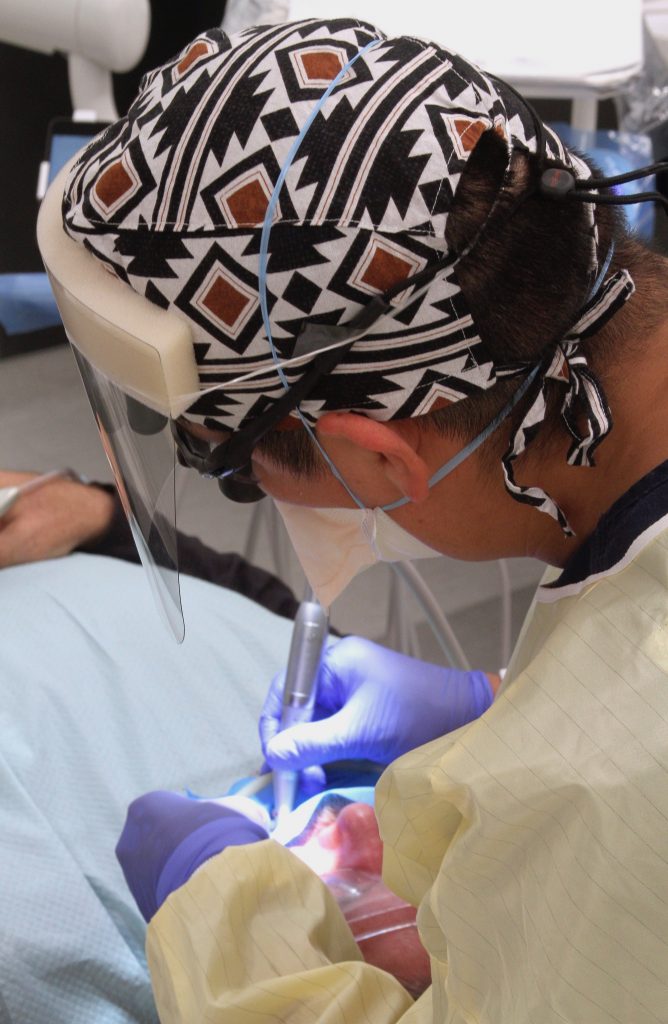 His connection to the U-M School of Dentistry began in 2016 when he discovered College Horizons, a non-profit organization that supports the higher education of Native American students by providing college and graduate admissions workshops. The Graduate Horizons subset of the program, for students preparing for graduate and professional schools, was held that year at the University of Michigan. When his U-M hosts learned of his dentistry plans, they referred him across campus to the dental school where he met Dr. Todd Ester, the dental school's Assistant Dean for Diversity, Equity and Inclusion; faculty member Dr. Ken May; and Pattie Katcher, Director of Admissions. That led to Atsitty's participation in the dental school's 2017 Profile for Success summer program, which acclimates potential students to dental school and helps them prepare for the DAT.
Atsitty was accepted at several dental schools and chose U-M because of the PFS program, the people he met here and the financial aid he received. "I felt wanted at U-M," he said during an interview on his first day at the school in 2018. "The faculty and the team at U-M made me feel like I was someone special. That made the difference for me in my decision."
Nearly four years later, as he approaches graduation next spring, he is happy with his decision to go into dentistry and come to U-M. "Resoundingly yes, I am extremely happy with it," he said. He could have made a career out of the Army, which he says was a positive, life-changing experience. He knows his dentistry career – and all the other aspects of his life – will benefit from what he learned and experienced in the military: the emphasis on teamwork and the ability to work with all types of people; the concept of service before self; mastering difficult skills like piloting a Black Hawk helicopter; learning how to think ahead and plan for any eventuality.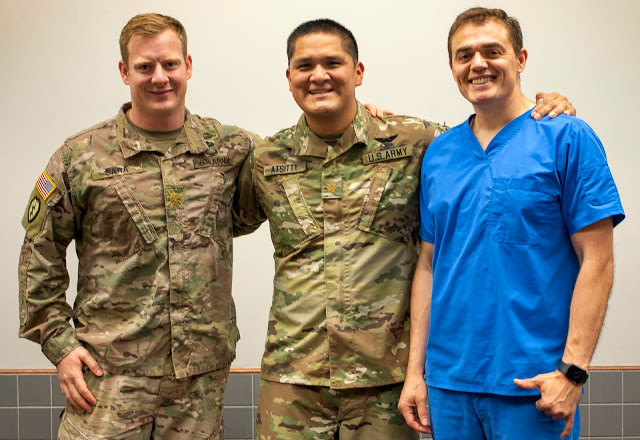 Atsitty says his dental school experience has taught him a lot, beyond just filling cavities and other technical skills. He now better understands how good oral health affects holistic health and that access to health care is uneven and needs to be improved for underserved populations. That's why he has already agreed to join a Federally Qualified Health Center (FQHC) in Columbia, Missouri, after he graduates. FQHCs are community-based health care providers that receive funds from the federal Health Services and Resources Administration to provide primary care services in underserved areas.
In addition to his FQHC dentistry, Atsitty will continue in the Army Reserves, this time as a dentist rather than as a helicopter pilot or planner. Even with that commitment for one weekend a month and two weeks each year, he and his wife hope his first job as a dentist will allow for a more planned-out and steady existence. Maybe the most important difference is that now the couple, not the Army, will choose where they live with their five children and when to move, if at all.
"I'm trying to figure out how I can serve the most people. And I think that's through an FQHC because poverty hits all groups of people, not just skin color but gender, transgender, the old, the young, the documented, the undocumented. I think an FQHC will give me the most ability to do the most good. Now is it the glamorous esthetic dentistry? Will my work be displayed in a movie? No, but it's going to allow people able the ability to eat without pain, to improve their oral health. And that's what I'm about as a dentist."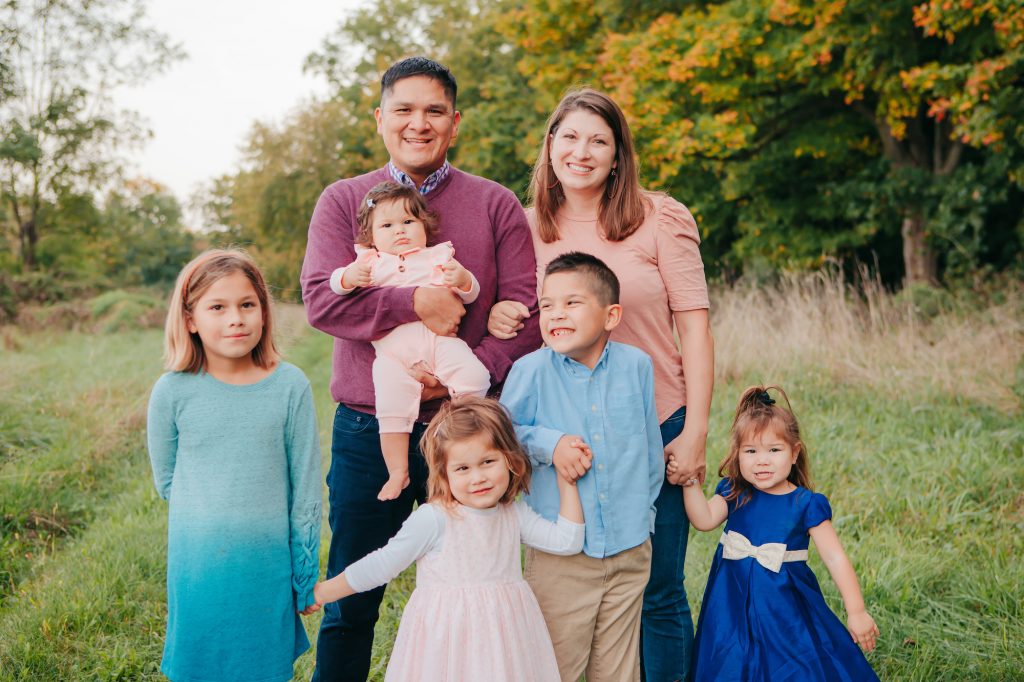 ###
The University of Michigan School of Dentistry is one of the nation's leading dental schools engaged in oral health care education, research, patient care and community service. General dental care clinics and specialty clinics providing advanced treatment enable the school to offer dental services and programs to patients throughout Michigan. Classroom and clinic instruction prepare future dentists, dental specialists and dental hygienists for practice in private offices, hospitals, academia and public agencies. Research seeks to discover and apply new knowledge that can help patients worldwide. For more information about the School of Dentistry, visit us on the Web at: www.dent.umich.edu. Contact: Lynn Monson, associate director of communications, at dentistry.communications@umich.edu, or (734) 615-1971.