Student Profile: Carla Jones is focused on helping kids develop good oral health habits

11

min read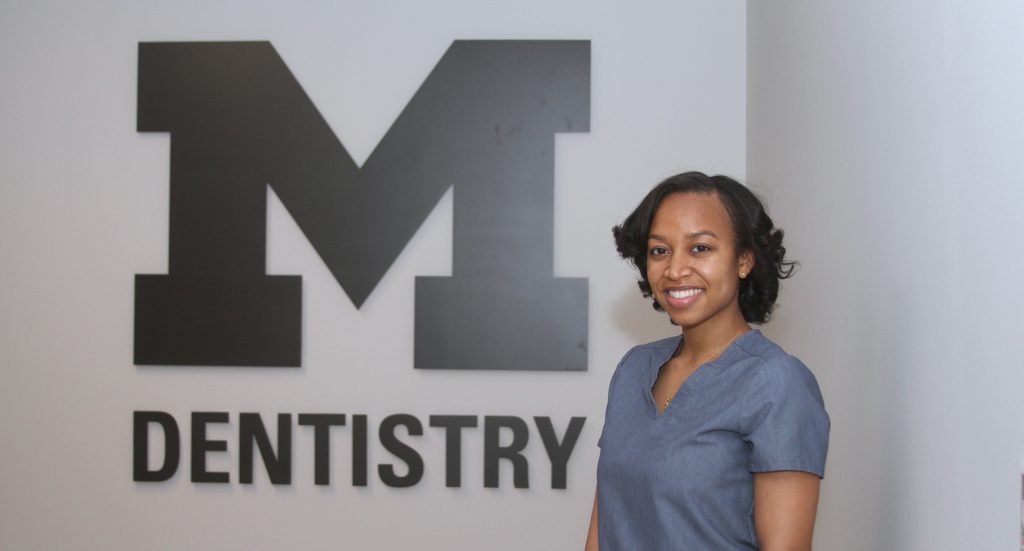 ---
This profile is one in an ongoing series highlighting School of Dentistry alumni, donors and students.
---
Ann Arbor, Mich., March 5, 2021 – Carla Jones is a testament to the power of positive dental experiences for children. Her early, pleasant memories of dental care and going to the dentist's office helped lead Jones to choose dentistry as a career.
Now a fourth-year student at the University of Michigan School of Dentistry, Jones fondly recalls going to the dentist when she was growing up in Lansing. Being excused from school for the appointment was part of it, but she and her younger brother, DeJuan, also liked the challenge of getting a good report card from the dentist because it made them eligible for a prize drawing. "My brother and I would always compare who did better because we're very competitive."
The siblings were usually members of the no-cavity club, but even when Carla needed a filling, there were benefits, like watching a movie. Relaxed by anesthesia, she usually fell asleep. At the end of the appointment, she enjoyed stopping to get food on the way back to school. "So that's what got me excited at first about dentistry – just that whole experience."
Now Jones wants to create similar positive experiences for young patients of her own.
After graduating with her DDS degree in May, Jones will enter the U-M dental school's pediatric dentistry graduate program.
"I think it's so important to shape the oral health trajectory of a child," she said. "When I see that my patients are anxious or fearful of receiving dental care, it's often because of an experience they had in their childhood. So as a pediatric dentist, I will be able to work with children at a young age and influence them to have good oral health habits. I can encourage and inspire them to become a dentist or to just accomplish their goals and dreams."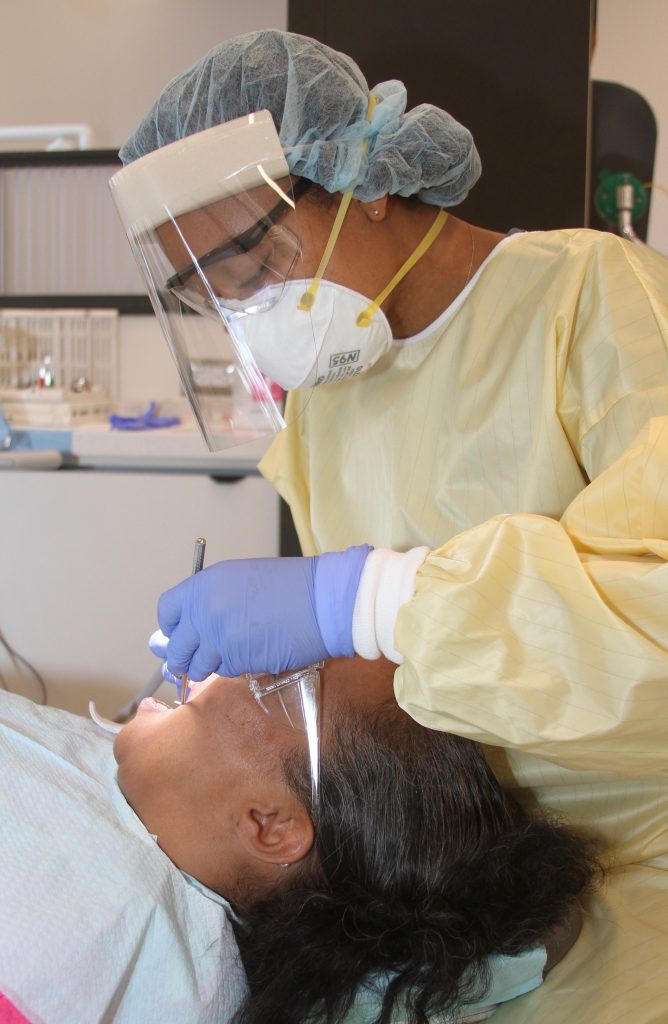 Jones attended East Lansing High School, where she participated in cross country and track, making All-State teams in both sports. Although she initially thought she might attend the University of Michigan as an undergrad, she chose North Carolina Agricultural & Technical State University after a tour of Historically Black Colleges and Universities (HBCU) during her junior year of high school. "Once I saw North Carolina A&T, I fell in love with the environment. I fell in love with the campus, and I loved the energy the tour guide provided."
She received the Lewis and Elizabeth Dowdy full-ride scholarship based on her high school GPA, testing scores and overall achievements. Jones found an empowering environment on campus. "I enjoyed participating in various leadership activities and learning in a positive atmosphere, surrounded by diverse students and faculty."
In high school and early in college, she planned to pursue dermatology as a career. "I had eczema at that time, so I felt like maybe improving the self-esteem of adolescents, young girls and individuals would make for a meaningful career," she said. But during her junior year at North Carolina A&T, as she labored to write a personal statement to apply to medical school, the words would not come. "I felt I didn't have that true passion and desire that some of my classmates demonstrated for medicine," Jones said. "So I looked back and thought about how I did like dentistry when I was younger. I was obsessed with brushing my teeth and going to the dentist. It was so fun." Thinking about becoming a dentist, she discovered that the words for a personal statement flowed out of her pen.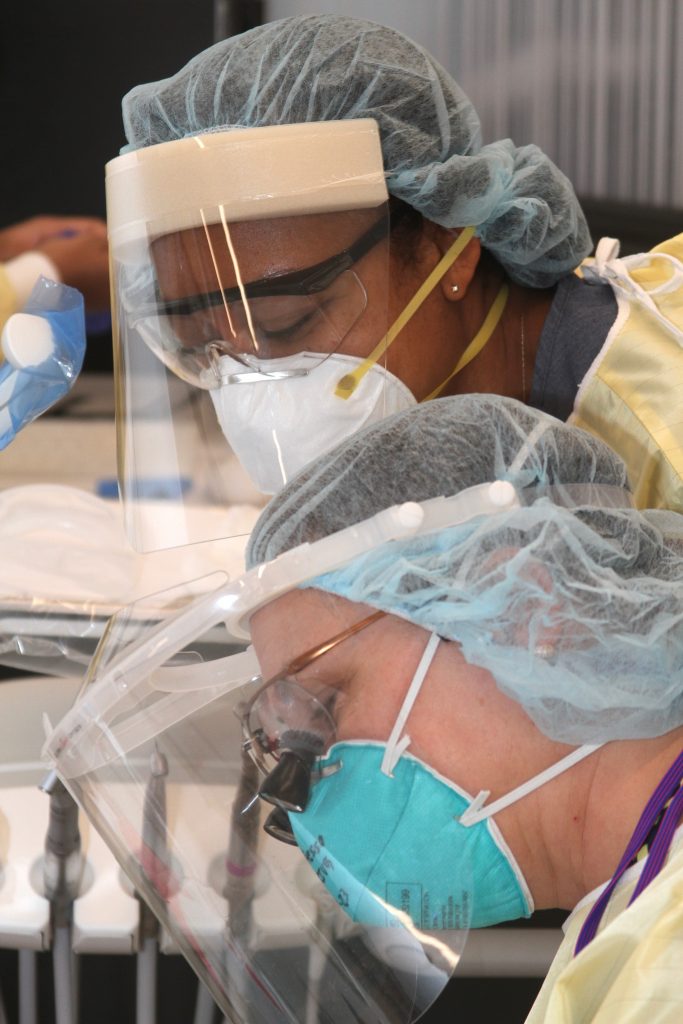 That led her to volunteer at a clinic in North Carolina. "When I saw the impact that dentists had on people's lives, how they could take people out of pain and increase their confidence, I thought that was incredible. I felt it would be my calling from that point forward."
Once she had settled on dentistry, she attended an American Dental Education Association recruitment fair in Denver to talk with admissions counselors of various programs "I felt my connection with people at U-M was the most authentic one," Jones said. "I felt they really valued me as a person, not just as a statistic. I could see that it would be an environment where I would feel comfortable."
When she arrived on campus for her interview, Jones was even more sure Michigan was the place for her. Members of the Student National Dental Association (SNDA) greeted her. "I didn't know they were SNDA members at the time, but I just knew that they truly embraced me. And that was amazing. So, I felt that support and that's ultimately what made me decide on Michigan."
Jones also liked that Michigan was ranked the No. 1 dental school in the country and is consistently rated among the top schools in the world. She knew that the fact she qualified as an in-state student would help to control costs, and she was pleased to be close to her family in Lansing again.
"So really there are so many reasons why I chose University of Michigan, and all that has been confirmed through what I've been able to accomplish here."
One of those major accomplishments is serving as the National President of SNDA this academic year. She previously served as National President-elect, Recording Secretary, and Secretary of the U-M Chapter. SNDA has been an integral part of her life at U-M. "SNDA is my home away from home. I'm able to really connect, not only for academic resources, but also for my social well-being. A lot of my friends are SNDA members."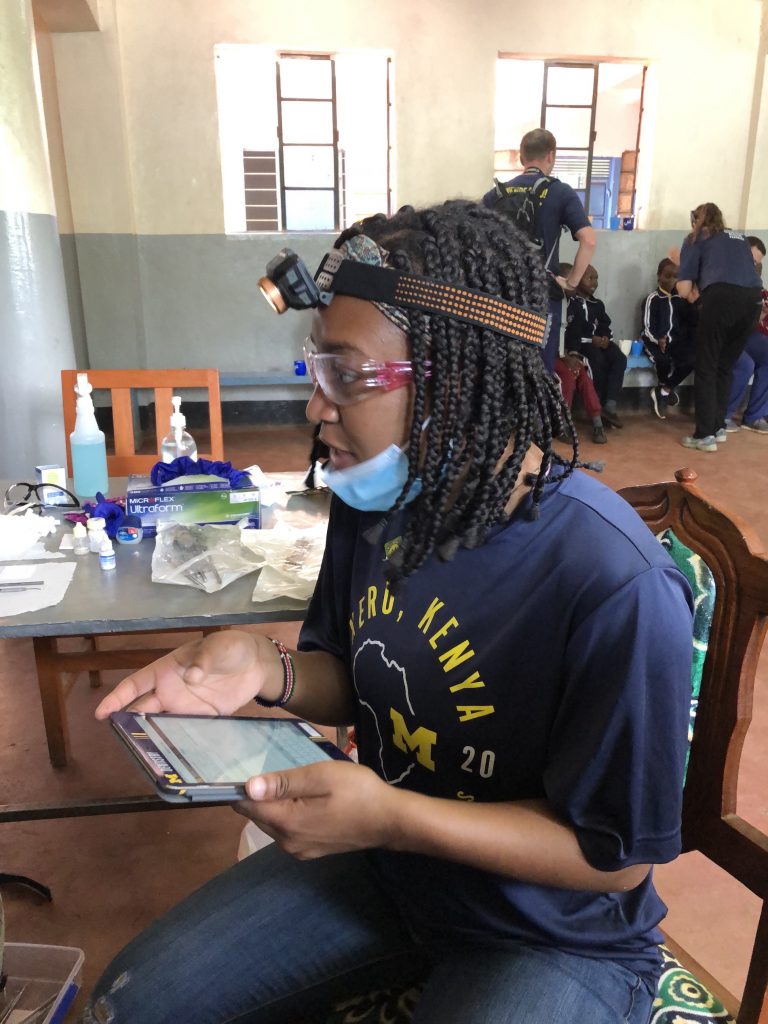 As SNDA President, Jones led the establishment of Bridge (S)NDA, a mentorship program that pairs dentists in the National Dental Association (NDA) with SNDA members. NDA seeks to improve the delivery of oral health care in underserved communities and to improve educational opportunities for underrepresented minorities in oral health care. Under Jones' leadership, SNDA also holds monthly virtual sessions as part of the HBCU Connect Program, which aids in increasing the matriculation of HBCU and pre-dental students into dental school. SNDA also sponsored a panel discussion on mental health awareness; created a toothbrush and toothpaste pantry for children at a Boys and Girls Club in New Orleans; and co-sponsored a program on implicit bias with presenters that included U-M's Dr. Todd Ester, Assistant Dean for Diversity, Equity and Inclusion.
As she reflects on her four years at the dental school, Jones said the top highlight came early last year when she participated in U-M's Global Initiatives in Oral and Craniofacial Health Program, which sends small groups of students to several countries each year to treat patients, often school children or those living in underserved areas. Jones went to Jamaica and Kenya. In Meru, Kenya, Jones and several other dental students, as well as two faculty members, provided children with oral hygiene instruction, fluoride and other protective applications, and restorative dental treatments. In Jamaica, students focused on more serious dental conditions, which often required dental extractions, including Jones' first-ever extraction of a primary tooth.
The Kenya trip featured considerable interaction with the school children before and after treatment sessions. "I liked chatting with them about their goals and aspirations. They definitely had big dreams to possibly study in the United States or just other aspirations. And some of them were telling me they wanted to be doctors. I could feel the immense love and joy the children had for us. When I was there, I thought, 'Wow, this is the reason why God put me at Michigan.' "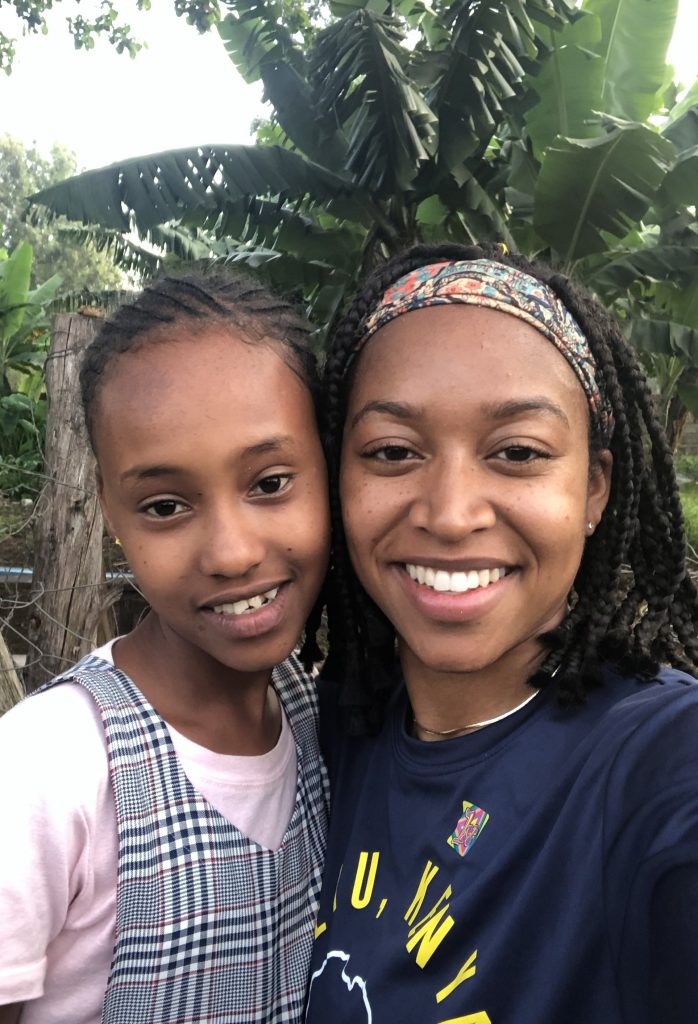 Jones was in Kenya just as concerns about the coronavirus in the United States were rising. After the group returned to the dental school last March, dental clinics were canceled. It was a stressful time. Many questions raced through her mind, Jones said. "Am I ever going to go back to clinic? Is life going to get back to normal? Am I making a mistake becoming a dentist? What is going to happen?" But the time away from clinic also gave her an opportunity for self-reflection and personal growth, she said.
In the midst of the global pandemic, widespread protests and a national conversation followed the death of George Floyd. "I was just like, 'I thought we were done with this. I can't believe I'm 25 and experiencing this, that I'll tell my kids that I was a part of this civil war and seeing these protests and everything. It's crazy to me." Jones chose to offer her support of the national movement by attending a rally in Lansing with her sister, Stephanie.
Jones hopes to use her influence as a dentist to encourage more minorities to enter the dental field. At the dental school she has served on the Diversity, Equity and Inclusion Multicultural Affairs Committee. She is already mentoring some younger students and expects to continue mentoring as a professional dentist. "Having somebody who looks like you, who may have faced the same obstacles you face, can provide encouragement," Jones said. "It can make you think 'Wow, if she can do it, so can I. If he can do it, so can I.' "
As she looks toward graduation and starting the graduate program in pediatrics, Jones is proud to be the first dentist in her family. Her decision to become a dentist has prompted some members of her own family to initiate needed dental care. Teaching her 6-year-old niece, Laila, how to care for her teeth and seeing the impact of that on her oral health helped inspire Jones to choose pediatric dentistry.
After completing the graduate specialty program, Jones hopes to work as an associate in a pediatric dental office and perhaps eventually own her own pediatric dental practice where she can establish a culture that's inviting and inclusive for everyone. She's also considered working at a federally qualified health center, where she could treat Medicaid patients.
"I think working with children is really exciting and enjoyable," Jones said. "It's just what I'm passionate about."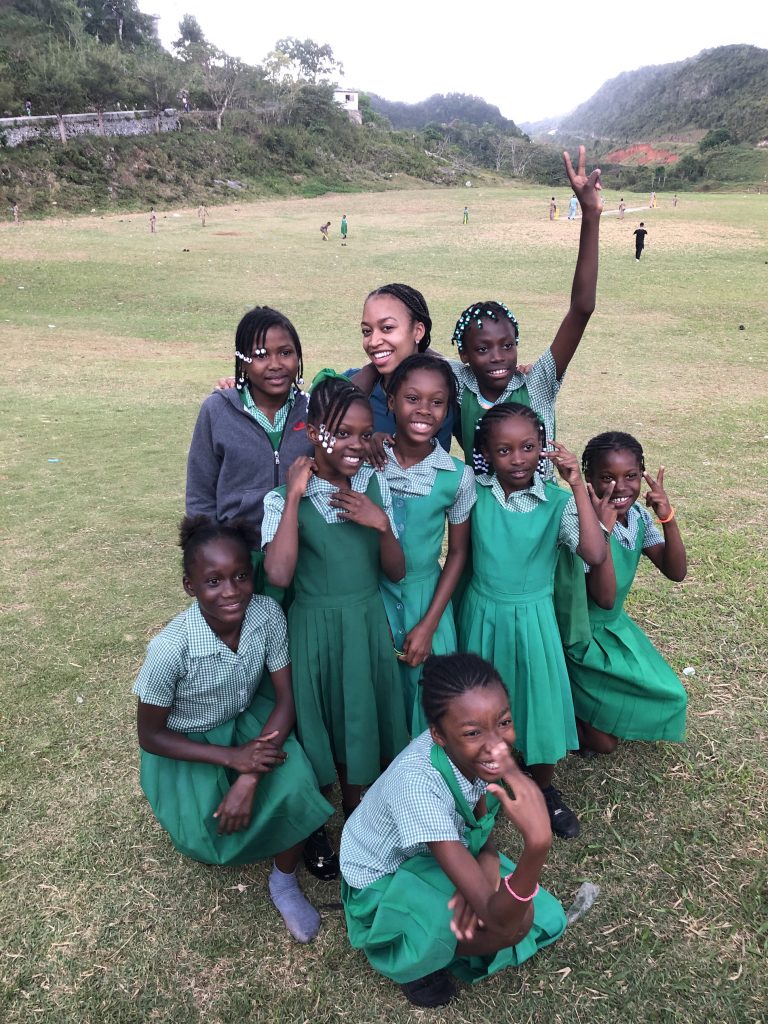 ###
The University of Michigan School of Dentistry is one of the nation's leading dental schools engaged in oral health care education, research, patient care and community service. General dental care clinics and specialty clinics providing advanced treatment enable the school to offer dental services and programs to patients throughout Michigan. Classroom and clinic instruction prepare future dentists, dental specialists and dental hygienists for practice in private offices, hospitals, academia and public agencies. Research seeks to discover and apply new knowledge that can help patients worldwide. For more information about the School of Dentistry, visit us on the Web at: www.dent.umich.edu. Contact: Lynn Monson, associate director of communications, at dentistry.communications@umich.edu, or (734) 615-1971.