Students appreciate return to in-person instruction

6

min read
Ann Arbor, Mich., Sept. 11, 2020 – Students returning to the School of Dentistry in-person after several months of distance learning because of the pandemic say they have a new appreciation for the opportunity to work alongside classmates, treat patients and interact closely with faculty.
While many of the newest dental and dental hygiene classes arrived in the past two weeks, students started returning to the school in June and have successfully worked through the new protocols for health and safety. These included daily health screenings, mandatory mask wearing and social distancing in addition to new personal protection equipment for those working in the patient clinics. Overall, students have adjusted well and managed the transition with a blend of resiliency and flexibility.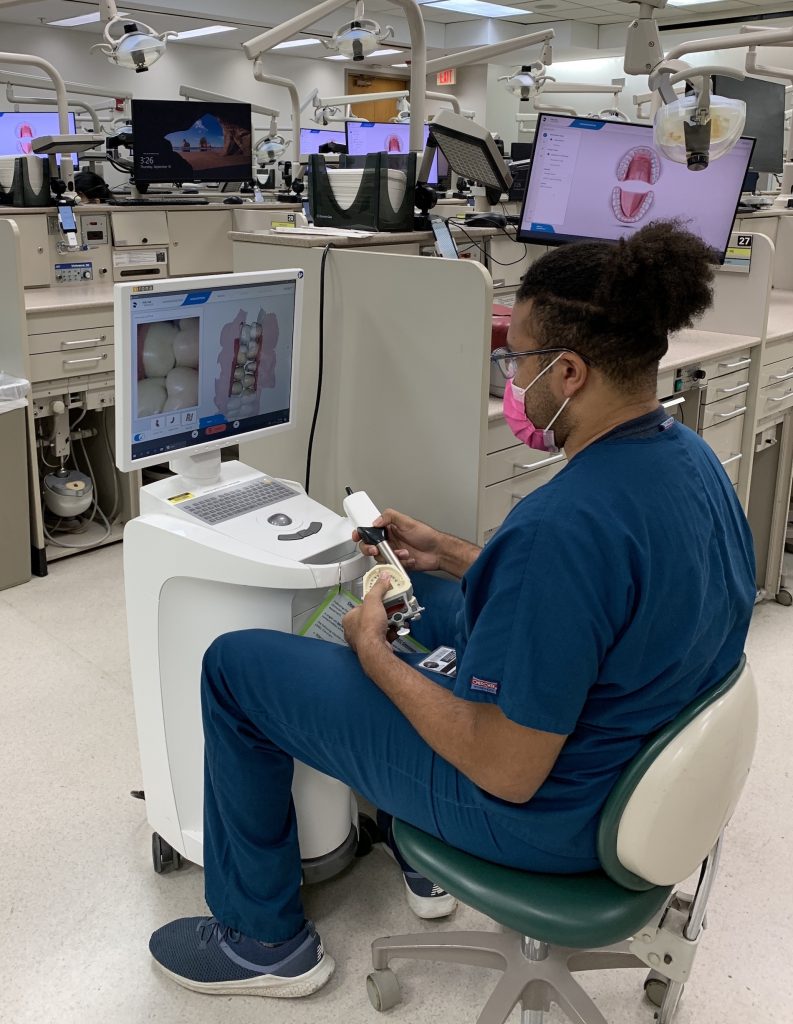 Faculty have been emphasizing the importance of in-person instruction and hands-on exercises as key components of dental education that can't be adequately replicated through videos or other online instruction.
The new normal at the dental school will consist of both online and in-person instruction for DDS and Dental Hygiene students for the foreseeable future, but the in-person elements are imperative for dental students. Advanced students have returned to clinics to treat patients while first- and second-year students spend time in the school's Simulation Lab to practice dental procedures on typodonts (dental models) or perform other exercises.
"The most exciting part about being back at the school this semester is having physical interaction with my colleagues and instructors and treating my patients in the clinic," said Ana Maldonado, a member of the Dental Hygiene Class of 2021.
Parker Wilson, in the DDS Class of 2022, said being back in-person has helped him regain motivation. "The face-to-face interaction with faculty is arguably the most important component of our dental education," he said. "Regaining the ability to discuss problems, concepts and theories in-person with faculty has been re-energizing and has helped provide some sense of normalcy."
Dr. Stephen Sterlitz, clinical assistant professor in the department of Cariology, Restorative Sciences and Endodontics, notes that dentistry is both science and art. It involves the diagnosis of disease, the application of evidence that results in the best outcomes, and the selection of patient-centered treatment from a variety of options. The majority of this didactic foundation can be delivered remotely using synchronous or asynchronous lectures to deliver the content that will become the foundation of a clinical practice. However, the artistic component of dentistry involves the development of dexterity and what he calls "professional vision," or the ability to perform precise tasks in a confined environment.
"Due to the precision required of these early exercises designed to develop dexterity, practice without feedback could result in the students getting very good at bad habits," he said. "In-person feedback is structured to help the students progress from the application of principles to developing a 'professional vision' of what clinical excellence looks like."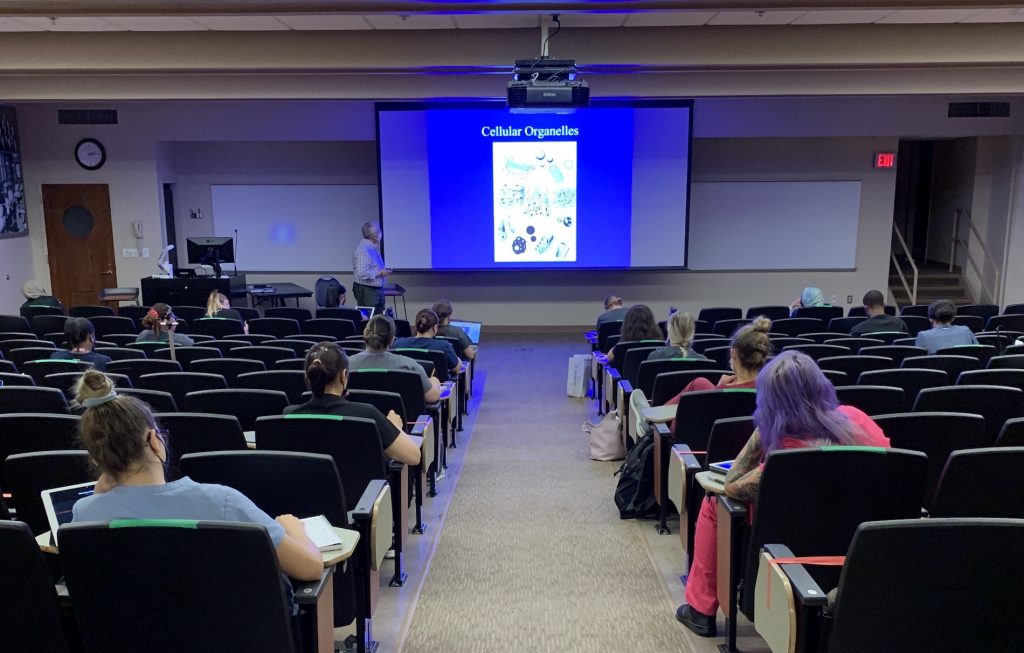 At the U-M School of Dentistry, dental students are assigned to the Simulation Lab for more than 170 hours in the first two years of their education. This time is spent developing the skills to modify a tooth in a way that evidence suggests will lead to a successful restorative outcome. During this time, instructors work closely with the students to provide feedback on their work so students can practice with intent and better understand how to perform the precise tasks of a practicing dentist.
Long Zhang, DDS Class of 2022, agrees that there is no way to substitute for in-person learning experience in the clinic. "We can watch a video on how to prep a crown a hundred times, but it is never going to be real until we actually prep a tooth on a patient," he said.
The COVID-19 pandemic has necessitated significant changes at the dental school, but there are some new, emerging aspects that some see as benefits for students. Dr. Elisabeta Karl, clinical assistant professor in the Department of Cariology, Restorative Sciences and Endodontics, finds two things that are working well – online lectures that give students flexibility and split classes in the Simulation Lab where only half of the 109 students are present because of social-distancing requirements.
"The asynchronous lectures work much better in my opinion in the sense that students can watch the lectures when convenient for them. Some brains work better at night, some others early mornings," she said. "In the Sim Lab, with only half as many students, we are more efficient, there is less crowding, the sound level is significantly reduced, and most of the students report to me that they feel more relaxed."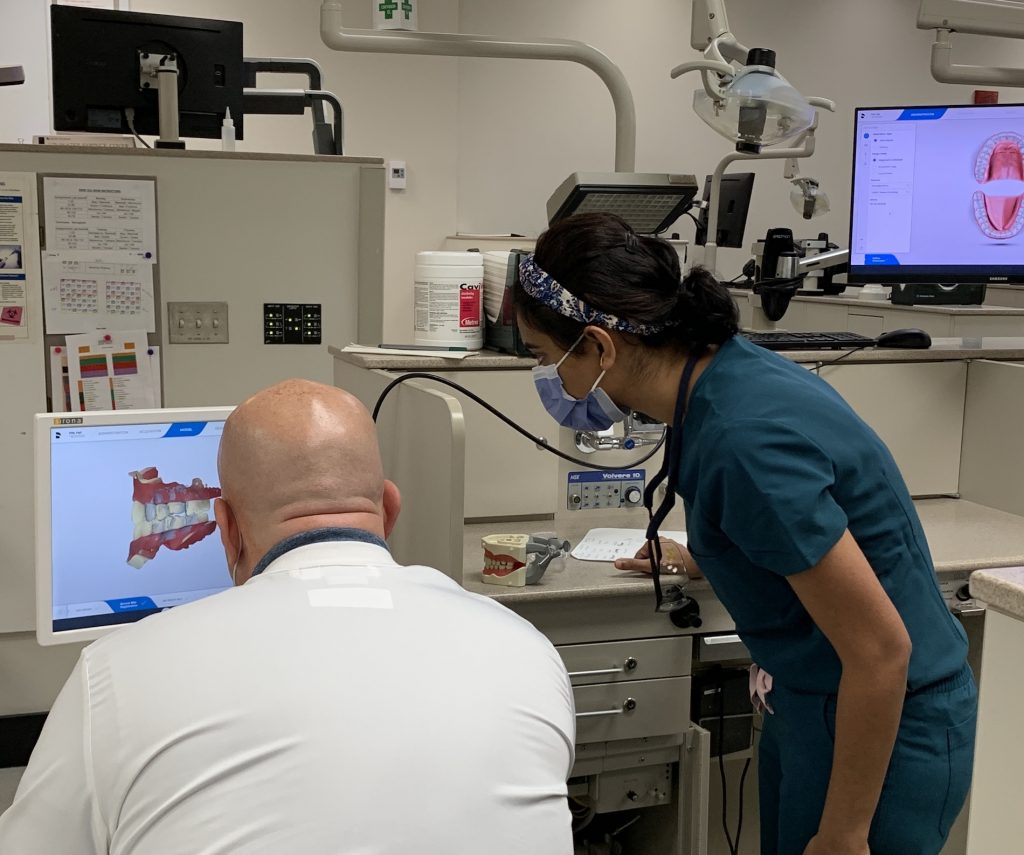 Improved mental health is something that Samantha Sciancalepore, a member of the DDS Class of 2023, notices about being back at the school. "I personally feel that in-person instruction is essential for our mental health," she said. "In order to thrive in this field, dentists rely on interpersonal relationships, but it has been difficult to connect with others in isolation. Being back at the school has re-solidified my identity as a busy dental student who enjoys connecting with others in-person."
In addition to an appreciation for their fellow students and faculty, students are also understanding how their work impacts the health of the community.
"I am thankful for the opportunity to begin providing care to our patient population, many of whom have gone so long without dental treatment due to COVID-19," said Lisa Walker, a Class of 2021 Dental Hygiene student. "The dental school is a pivotal aspect of our community's oral health here in southeast Michigan and I am so happy to see that our patients are eager, willing and feel safe returning to the school to receive care."
Sterlitz said the so-called "Michigan Difference" requires broad, comprehensive instruction that takes many forms. "To me, the 'Michigan Difference' isn't sterile distance-learning of broad and comprehensive didactic information. To me, the 'Michigan Difference' is engaged faculty committed to the professional development of future dental colleagues who will graduate here as 'Leaders and Best' in clinical dentistry. You can't get that online."
###
The University of Michigan School of Dentistry is one of the nation's leading dental schools engaged in oral health care education, research, patient care and community service. General dental care clinics and specialty clinics providing advanced treatment enable the school to offer dental services and programs to patients throughout Michigan. Classroom and clinic instruction prepare future dentists, dental specialists and dental hygienists for practice in private offices, hospitals, academia and public agencies. Research seeks to discover and apply new knowledge that can help patients worldwide. For more information about the School of Dentistry, visit us on the Web at: www.dent.umich.edu. Contact: Lynn Monson, associate director of communications, at dentistry.communications@umich.edu, or (734) 615-1971.