Dental Hygiene 'True Blue Faculty' Profile: Stefanie VanDuine

2

min read
Faculty are at the heart of the University of Michigan Dental Hygiene Program. Their commitment to teaching is what drives the remarkable accomplishments of our students. We showcase our True Blue Faculty in this ongoing series of mini-profiles.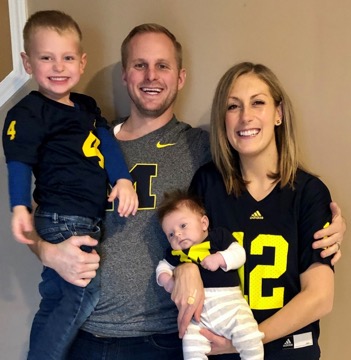 Clinical Lecturer Stefanie VanDuine graduated from the University of Michigan School of Dentistry entry-level dental hygiene program in 2010, then headed to Chicago where she worked in both general dental and periodontal practices. She was drawn back to U-M in 2012 to start the Master of Science in Dental Hygiene program. After earning her graduate degree, she began teaching in our entry-level program clinic and classroom. Stefanie also teaches two courses in our online degree completion program. Her role within the division has expanded over the years as she has broadened her expertise in the areas of research, educational methodology, head-and-neck anatomy, nutrition and online learning. In 2017, Stefanie was a speaker at the School of Dentistry commencement ceremony after receiving the Dental Hygiene Senior Class Faculty Award.
What do Stefanie's students say?
• "She engages her students in class, not only with her enthusiasm and passion, but by creating an active learning environment with unique activities for students to apply their newfound knowledge."
• "My clinical skills have reached new heights by having her as one of my instructors."
• "She not only understands the individual learning styles of her students, but also takes time to understand the patient being treated. Her preparedness contributes to her effectiveness as a clinical instructor and leads to a better learning experience for the students."
---
Read more on our Facebook page