Two from School of Dentistry named to IPE Fellows program

4

min read
Ann Arbor, Mich., March 5, 2020 – Two of the 11 new fellows in the University of Michigan Interprofessional Leadership Program are from the School of Dentistry.
Dr. Elizabeth Hatfield, a house officer and resident in the dental school's Orofacial Pain program, and Martha McComas, a clinical assistant professor in the Dental Hygiene program. were selected as part of the new cohort of IPL Fellows program, now in its fifth year. Other fellows in the cohort are from the schools of Kinesiology, Nursing, Public Health and Social Work, the College of Pharmacy and the U-M Flint College of Health Sciences.
The educators and practitioners entering the 18-month program participate in a campus-based interprofessional learning community facilitated by the Center for Research on Learning and Teaching (CRLT). The fellowship features an internationally acclaimed interprofessional training program that is a customized version of one developed at the University of Toronto Centre for IPE, "Educating Health Professionals in Interprofessional Care: Advancing the Future of Healthcare."
The IPL Fellows program coaches participants in knowledge, skills, attitudes and behaviors to lead interprofessional education and practice initiatives. Fellows participate in the annual U-M Health Professions Education Day, which is set for April 14. IPL Fellows organizers said this is the first cohort whose team projects will focus predominantly on interprofessional collaboration in experiential initiatives, such as clinics or community settings.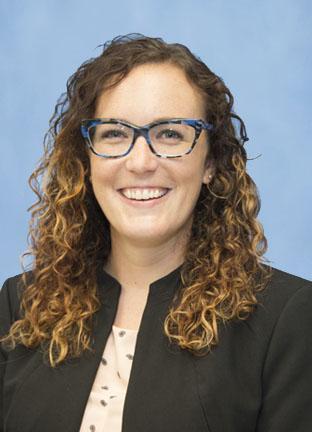 Hatfield earned her DDS at the School of Dentistry in 2017. As a resident in the school's Orofacial Pain program, her recent research includes investigating pain control using neuromodulation in patients undergoing chemo-radiotherapy for locally advanced head and neck cancer. She developed an educational tool for emergency medicine residents for recognizing opportunities for collaboration and definitive follow-up care. She is working with a multidisciplinary team on a course in acute orofacial pain; targeted learners include practitioners in emergency medicine, family medicine and urgent care.
As a dental hygiene faculty member, McComas oversees coursework from preclinical foundations to continuing education. Her research interests include curricula development, professional role identity, assessment and cariology. She is interested in developing courses that incorporate oral care, oral trauma, pain control and the management of acute oral conditions for physicians, medical personnel, nurses and nurse practitioners and physician assistants – practicing and-or students – in order to close gaps between dentistry and medicine and improve overall patient care.
The new fellows join the 67 preceding IPL faculty fellows, including several previously from the School of Dentistry, who have launched multidisciplinary team projects resulting in a variety of new interprofessional courses, publications and awards. The IPL Fellows program was founded in 2016 and is funded by the Michigan Center for Interprofessional Education with support from the U-M Transforming Learning for the Third Century Initiative and the deans of the seven health science schools located in Ann Arbor: School of Dentistry, School of Kinesiology, Medical School, School of Nursing, College of Pharmacy, School of Public Health, and School of Social Work.
More information is available on the Interprofessional Education website.
###
The University of Michigan School of Dentistry is one of the nation's leading dental schools engaged in oral health care education, research, patient care and community service. General dental care clinics and specialty clinics providing advanced treatment enable the school to offer dental services and programs to patients throughout Michigan. Classroom and clinic instruction prepare future dentists, dental specialists and dental hygienists for practice in private offices, hospitals, academia and public agencies. Research seeks to discover and apply new knowledge that can help patients worldwide. For more information about the School of Dentistry, visit us on the Web at: www.dent.umich.edu. Contact: Lynn Monson, associate director of communications, at dentistry.communications@umich.edu, or (734) 615-1971.