Alumni Profile: Wes Schulz (DDS 1972)

14

min read
Passing along his dentistry knowledge to the next generation and sailing through retirement
---
This profile is one in a series highlighting School of Dentistry alumni, donors and students.
---
Dr. Wes Schulz spent more than four decades as a dentist, advancing from the basic skills of a young practitioner to the time-tested expertise of a veteran who encountered and treated countless dental conditions over the years. Beyond mastering the technical skills of dentistry, Schulz learned the importance of gaining the trust of his patients, which became the foundation of his philosophy on how to operate a first-rate dental practice.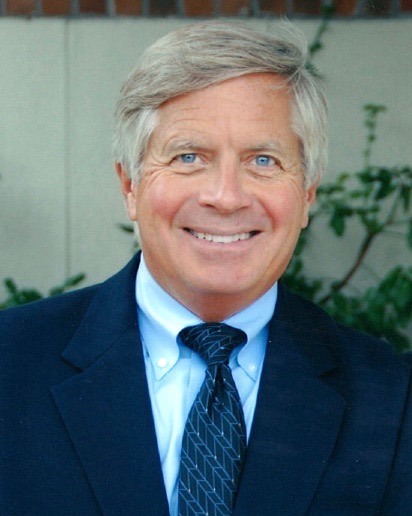 Leading up to his retirement in 2013, Schulz had the great satisfaction of transferring his book of knowledge to his daughter Brooke Chapman, who had chosen to follow his career path. They worked together in Schulz's practice in Traverse City, Mich., for the last six years of his career before she took over Schulz Chapman Dentistry.
During a recent interview, Schulz reflected on his graduation from the University of Michigan School of Dentistry in 1972, how dentistry and his career evolved, and how he defined success as a dentist.
The closeness between patient and dentist, both literally and figuratively, makes it a unique profession that requires special consideration, Schulz believes. Think about the essence of the process, he says: A patient is often in pain and is asking a dentist to intrude on their personal space and fix it. Even non-emergency treatment and cosmetic improvements can be painful, so many people fear undergoing dental procedures. "They must have a tremendous amount of trust in us to allow us to do those things to them," Schulz says. "In what other profession do you sit that close to a patient for that long. The relationship has to be one of complete trust. I think that's one of the unique things about dentistry and why many patients like their dentists so much, because they trust them so much."
Honesty and candid assessments of treatment options help build that trust, but it takes more than just a commitment by the dentist, Schulz says, using a variation of the mantra of U-M's most-famous football coach. "I think the staff has to be well-trained. Bo Schembechler would say, 'The team, the team, the team.' I say, 'The staff, the staff, the staff' because patients don't come to see only the dentist and his personality, but also the personality of the practice."
Schulz began every day at his office with a 20-minute staff meeting. He and his assistants discussed patients and procedures scheduled for the day, along with reminders about the patients' families, even down to the level of the name of the family dog if they had one. Staffers were required to practice the "five-foot rule" of customer service where they would address the patient by name if they passed within five feet of them.
"We wanted to make sure that every patient knew that they were in exactly the right place. Many people here in Traverse City would drive by 30 other dental offices to come to my office. There had to be a reason for that. So we focused on those tiny little details that make a difference between what I consider to be a good dental office and a great dental office."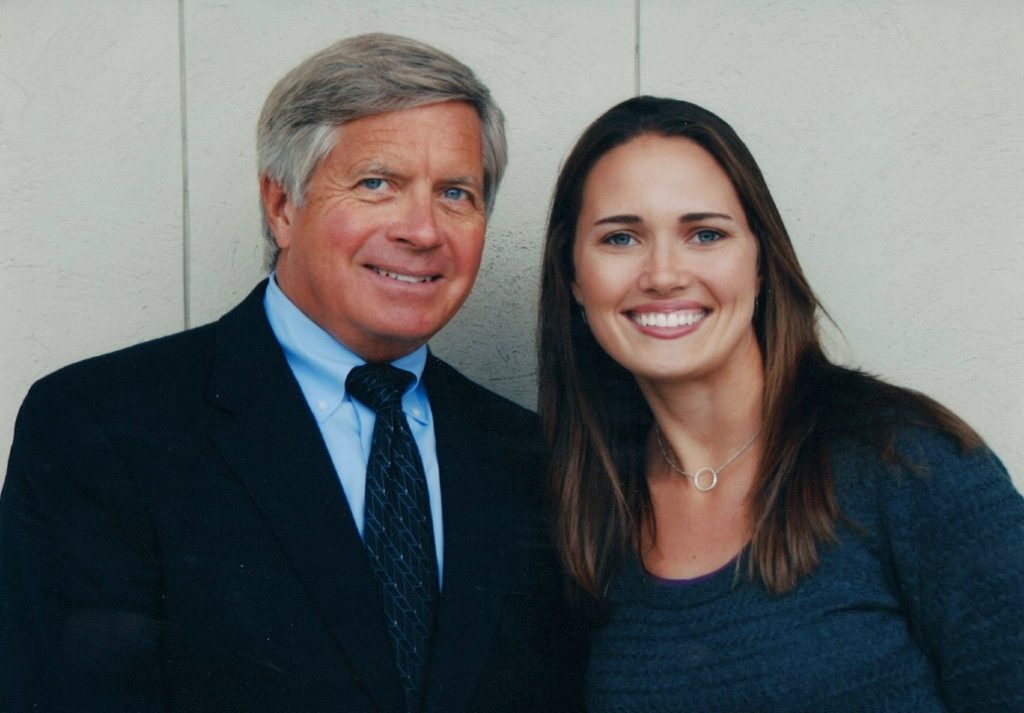 That's the philosophy that Schulz passed along to Brooke as she was considering dentistry and after she graduated from U-M in 2007 and returned to Traverse City to join his practice. It was an easy transition, he says, because she is a skilled clinician and easily develops a rapport with patients. "I can't think of one situation where we had any conflict about anything," he says. It wasn't just a one-way street of instruction and collaboration. Schulz says he regularly asked for her opinions to take advantage of the advances in her dental school training that came 35 years after his.
Neither Brooke nor her sister Marin faced parental expectations to become dentists and indeed Marin chose a different career path. Brooke said she thought about other professions but came back to dentistry after watching and listening to her father. His advice was consistent – focus on the patient and the person. "Make sure they know they are in the right spot," she says, "and that they are in good hands, that you are going to take good care of them, and that you care about them."
She admires and tries to emulate her father's steady pace and ability to focus. "Not much ruffles him," she said. "In dentistry, you get some things thrown at you during the day that you may not expect. You are behind schedule, you are late for your next patient, and now you have an emergency, somebody just broke tooth No. 9. It can be a little frenzied sometimes. It never gets to him at all. He taught me that when you are rushed, you just have to breathe and be more intentional about where you are and what you are doing so that people don't feel that rush."
Brooke is the third generation of the family to join dentistry. Schulz's father was in the first class to graduate from what was then the University of Detroit School of Dentistry in 1935. He practiced first in Pontiac, then the family later moved to Bloomfield Hills where he practiced for many years. Wes initially wanted to go to medical school, but changed his mind during his undergraduate time at U-M. He was accepted into the U-M dental school after only three years of undergraduate study, which was not unusual in the late 1960s and early 1970s.
Schulz said he got off to a good start at dental school by meeting and working with several accomplished faculty members who were a positive influence throughout his four years. In particular, Dr. Gerry Charbeneau and his work in dental materials interested Schulz. It led to a research project between his first and second years that set the educational tone for the rest of his dental school experience.
Dealing with changes in dentistry came right from the beginning. Schulz's class started at the old dental school and endured the construction of a new dental school literally all around them. They were in the old school for two years, then moved into the new school for their last two years. They went from a 1908 building with leaking skylights and outdated dental equipment to a state-of-the-art facility with all the latest clinic designs and dentistry tools.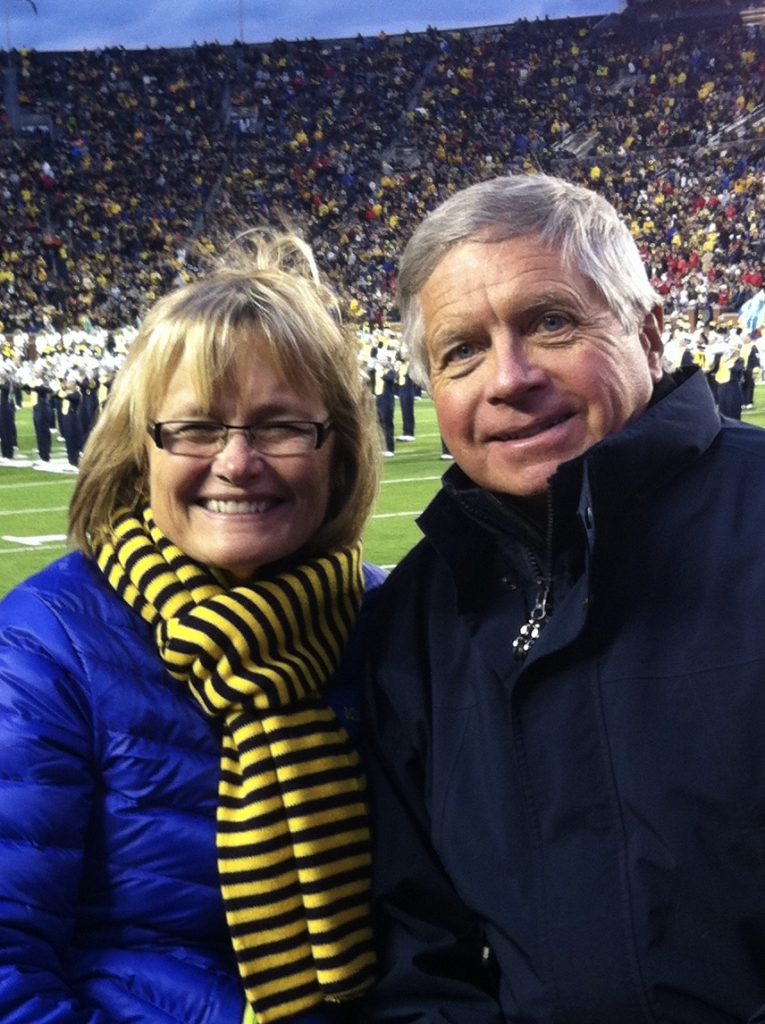 Schulz and his classmates – he was president for the first three years – gladly accepted another change, in the school's longstanding decorum. "When I started dental school, we had to wear a coat and a tie. You did not take your coat off unless your instructor told you that you could," he said. "And by the time we graduated, you could wear cut-offs and t-shirts when you weren't in the clinic with patients."
Schulz liked his dental school experience so much that he stayed on as an instructor for two years, also working part-time as a dentist at the U-M hospital. Most of his patients at the hospital were psychiatric, oral cancer or hemophilia patients, which helped expand his treatment experience. He also was able to work with two faculty icons, Dr. Donald Kerr, a pathologist, and Dr. James Hayward, an oral surgeon. Both were models of excellence.
In 1974, Schulz left Ann Arbor to join one of his classmates, Dr. Gary Kaberle, at a practice in Traverse City. One of the two senior partners in the practice had died and the other had left because of declining health. Kaberle and Schulz worked together for four years before dividing the practice and going their own ways. Schulz moved into a medical building with several physicians and stayed there for most of his career. As Brooke neared dental school graduation, he purchased and renovated another building that provided more space.
Schulz was a general dentist "doing what general dentistry does – a little bit of everything." That meant all types of restorative dentistry, crown and bridge, fillings, and a lot of undertreated periodontal disease in the days before good oral healthcare was more widely discussed and practiced. He also was interested in occlusion – the way teeth come together and how to adjust bites. He worked with the now-defunct Society for Occlusal Studies, organizing regional seminars during a period in the 1980s when every dental meeting seemed to include presentations about temporomandibular joint disorder and occlusion. "That was the hot topic and everybody was all hot and bothered about that for years and years. That kind of died down but it's coming back now," he said, evidence of how dentistry is always changing.
One thing that didn't change for Schulz over the years was the loyalty of his patients. "I was blessed by always having too many patients and having scheduling problems, from day one up through my retirement, which was very nice," he said.
In retirement, Schulz has more time to spend on a boat on the Great Lakes. He and his wife Janie discovered the joy of sailing the year they were married, in 1976. It seemed like a perfect pastime for a couple living in Traverse City on Lake Michigan, so they bought a small sailboat and entered a local race not knowing a thing about how to sail. They figured they would follow the other boats, but found themselves out in front trying to figure out how to navigate around the course markers.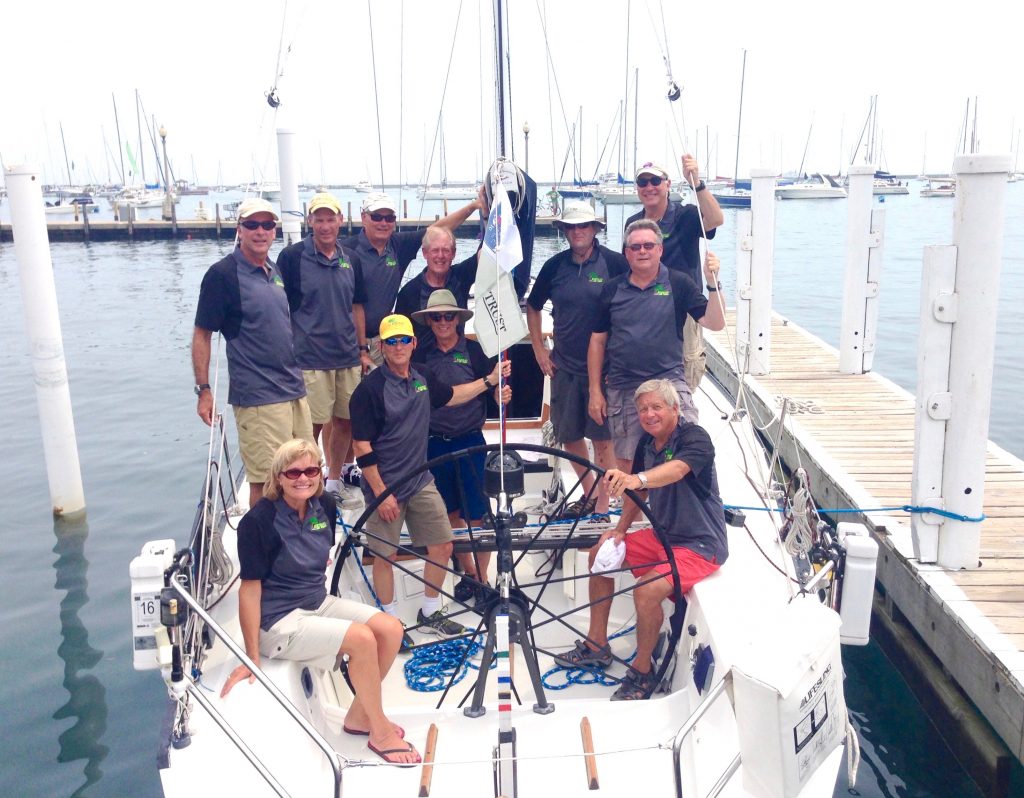 Schulz doesn't remember the outcome of that race, but the couple quickly decided they wanted to make sailing a regular part of their lives. They started with a 27-foot boat, then moved up in size over the years to a 41, 50 and finally a 55. Part of their sailing was leisurely adventure, with family vacations around the Great Lakes, often in the Canadian waters of the North Channel in northern Lake Huron. But they also became devoted to big-time sailing competitions like the annual Chicago to Mackinac race. It's a demanding non-stop event that takes 40-60 hours for most of the 300-plus boats that participate, sometimes in hazardous weather conditions. Schulz hasn't made an official tally lately of how many times he has competed in the event, but says it is either 29 or 30 times. He's especially proud that his current 55-foot boat, the Kokomo, placed in the top three in its section of boats six years in a row, from 2012-2017. A boat that large is serious sailing and requires a crew of about 12 people. Friends, including several dentists from around Michigan, have rotated through as crew members. Wes may be the captain, but he says Janie keeps the boat underway and on course. "She's our tactician and motivator. She is very knowledgeable and a great sailor," he said.
A couple of years ago, the Schulzes began to realize that the big-time sailing and big sailboat were becoming more than they wanted to maintain. The Kokomo is now up for sale and Schulz has purchased a boat with a motor – a 1966 Huckins, which is a classic wooden boat. It's not really a step down since, at 56 feet, it's a foot longer than the Kokomo, but at least it's got a motor so the cruising is easy.
When Schulz looks back over his dentistry career he is grateful for what it has provided – lifelong friends among his patients and colleagues, the satisfaction of helping other people maintain their health, a stable family life and, yes, some great sailing stories. He's given back to dentistry through his involvement with the Resort District Dental Society, including a term as president, and as a peer reviewer for the Michigan Dental Association for a decade. He served on the MDA Board of Trustees for seven years on various committees and was its delegate to the American Dental Association House of Delegates for two years.
He also has maintained ties to the School of Dentistry, volunteering his time and contributing financial gifts. He's currently in the middle of his second three-year term on the school's Board of Governors. "I think it's an obligation," he says. "It's the number one school in the country and number one in the world by various rankings. It has to be supported to continue to be that. It has given us our profession. I think it's an obligation to give some time and some money back to the school."
Two years ago those high rankings inspired a trip to the newspaper office in Traverse City. Schulz felt that a public dental school in Michigan being rated as best in the country and world was big news that should be publicized. The paper's editors said it didn't qualify as a local news story. The following year, when the school repeated the lofty rankings, Schulz didn't waste time asking the editors to write a story. Instead, he wrote a letter to the editor that the paper printed with the emphatic headline, "No. 1 in the world!" The letter explained how the rankings are determined and concluded by declaring, "Michigan residents should be proud that one of our state universities has earned these awards of distinction!"
That pride in his alma mater and profession now extends to watching Brooke carry on the tradition, helping out if she needs advice or sometimes maybe just finding an excuse to "go over and change a lightbulb at the office." He looks at it this way: "I am just glad she went into dentistry. I am glad she went to the University of Michigan. I am glad she came back to Traverse City. I'm glad she practiced with me for six years, because I would not want to be a competitor of hers," he laughs.
Brooke says she, too, is grateful for the dentistry connection they have, but his contributions go beyond treatment skills and how to run a practice. He also was a model of how to build a strong family life around a dentistry career, she says, citing the countless athletic events her parents never missed when she and her sister were participating in multiple sports from grade school through high school.
"He was always very good about being present and involved in what he was doing. But also knowing there was a balance. Whether it was at the office or when he was sailing, that was what he was doing. But he also made all the birthday parties, all the basketball games, all the ski meets," she said. "He's great at everything he's touched. Great dentist. Great father. Great sailor. Great person. Now, with my sons, a great grandfather. If I end up just like my father, I think that's a wonderful thing."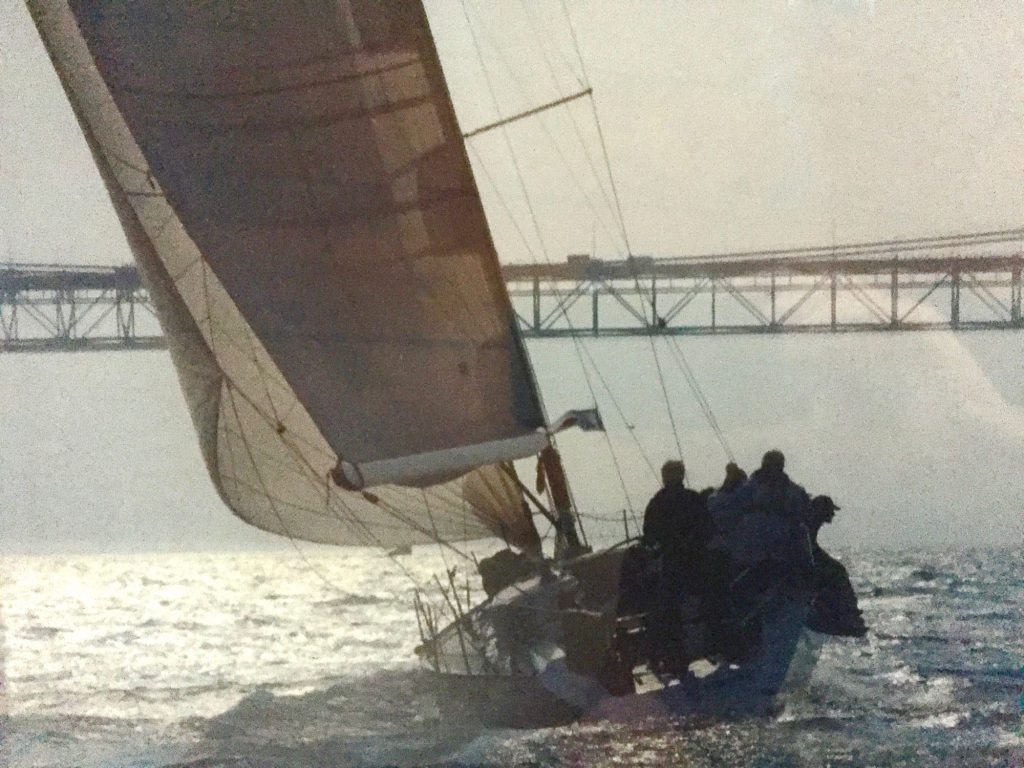 ###
The University of Michigan School of Dentistry is one of the nation's leading dental schools engaged in oral health care education, research, patient care and community service. General dental care clinics and specialty clinics providing advanced treatment enable the school to offer dental services and programs to patients throughout Michigan. Classroom and clinic instruction prepare future dentists, dental specialists and dental hygienists for practice in private offices, hospitals, academia and public agencies. Research seeks to discover and apply new knowledge that can help patients worldwide. For more information about the School of Dentistry, visit us on the Web at: www.dent.umich.edu. Contact: Lynn Monson, associate director of communications, at dentistry.communications@umich.edu, or (734) 615-1971.