School Welcomes New Class of International Dentists

5

min read

Ann Arbor, Mich., Jan. 20, 2020 – Twenty dentists from eight countries were welcomed to the School of Dentistry last week as they start the school's Internationally Trained Dentist Program (ITDP).
Since the dental school created the program in 2005 to meet a growing demand, the ITDP has drawn dentists from around the world to further their dental education. The newest cohort includes 12 dentists from India, two from Turkey and one each from Chile, Egypt, Iraq, Pakistan, Sri Lanka and Venezuela.
The international dentists have graduated from dental schools in their home countries, but need additional training and credentials to practice in the U.S. A few have been living in the U.S. prior to enrolling, but many come directly from their native countries. They attend the dental school full time for 28 months, starting with a specialized ITDP curriculum for a few months, then join an existing class of dental students for its final two years. This latest ITDP cohort will graduate with the school's Class of 2022.
Last Monday, the school held a White Coat Ceremony for the international dentists, similar to the ceremony held each summer as the new first-year dental students put on their personalized clinic coats for the first time. The student's name and the Block-M dentistry logo on their coat signifies the commitment of the student and the school to pursue and uphold the highest standards of care and ethics of the profession.
Dean Laurie McCauley congratulated the 20 ITDP students on their distinguished achievements that led to their selection from among nearly 700 applicants. "The many different backgrounds, perspectives and customs that you bring will strengthen our school," McCauley said. "We have long been committed to the belief that diversity and a diverse educational setting strengthens the educational process, both for our students and for us as educators. We know that each of you will make important contributions to the dental school, whether you have already been practicing in your country for a number of years, or have focused on a certain specialty, or even if you are a recent graduate of a dental school in your home country."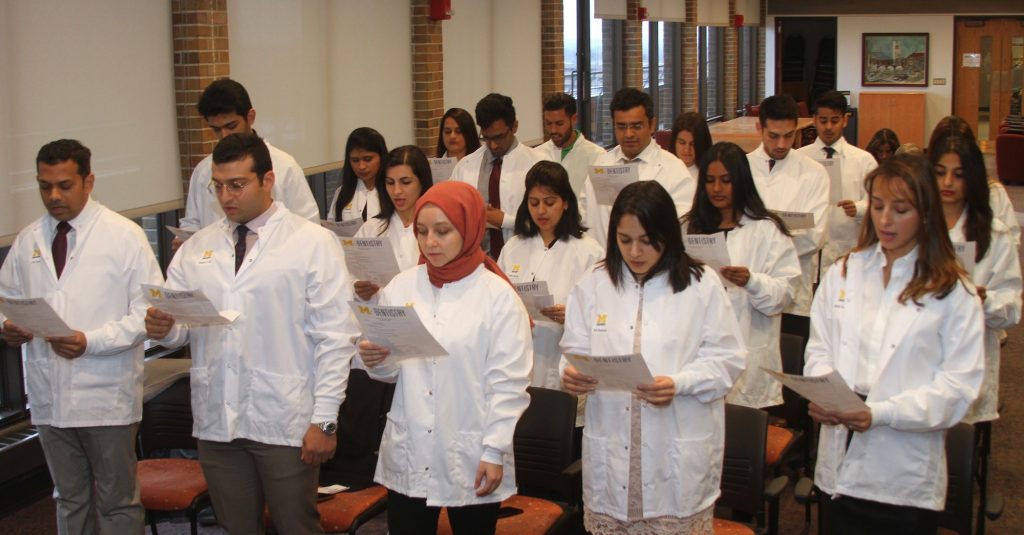 McCauley noted the difficulties that international students face. "We understand the unique aspects of continuing your education away from your native country, with language barriers, different professional resources and standards, and just the general adjustment of joining a different social community and culture. We appreciate the dedication you are showing by embarking on this additional education. We will work to ensure that you achieve the highest degree of success here."
ITDP director Dr. Mark Snyder, a Clinical Assistant Professor in the Department of Biologic and Materials Sciences & Prosthodontics, also emphasized the way international students bring new perspectives and diversity to dental education during their stay at the school. He said the students not only receive an education, but they also give back to the school and strengthen it. "I am better because you are here, the school is better because you are here," Snyder said.
Before the ITDP was created in 2005, only a few international students were admitted each year, usually to fill a last-minute vacancy when another student decided not to enroll, said Pattie Katcher, the school's Admissions Director who organizes the ITDP application process. Since the first eight-member ITDP class in 2005, the program has grown in popularity and today supports 20 students each year. "It provides the opportunity for individuals to obtain their U.S. dental degree and the opportunity to practice dentistry all over this country," she said. "We attract applicants from around the world. Over the years we've admitted students with an amazing variety of backgrounds. Each class brings a fascinating mix of life experiences to the school and Ann Arbor."
McCauley told the students that their next two and a half years of study will be difficult, but they will grow exponentially, both professionally and personally. Beyond teaching specific dental procedures, the school's mission is also to prepare students to think creatively and critically, she said. "Each day you will work side-by-side with our world-class faculty and staff breaking new ground in patient care and research," McCauley said. "During that process, we will grow with you, not just teaching you, but learning with you and from you – from your questions, from your new ideas, from your persistence, from your dedication to excellence."
###
The University of Michigan School of Dentistry is one of the nation's leading dental schools engaged in oral health care education, research, patient care and community service. General dental care clinics and specialty clinics providing advanced treatment enable the school to offer dental services and programs to patients throughout Michigan. Classroom and clinic instruction prepare future dentists, dental specialists and dental hygienists for practice in private offices, hospitals, academia and public agencies. Research seeks to discover and apply new knowledge that can help patients worldwide. For more information about the School of Dentistry, visit us on the Web at: www.dent.umich.edu. Contact: Lynn Monson, associate director of communications, at dentistry.communications@umich.edu, or (734) 615-1971.