Students Share Stories of Triumph Over Adversity: 'Buoy' Newsletter Written by Students Reaches First Anniversary

4

min read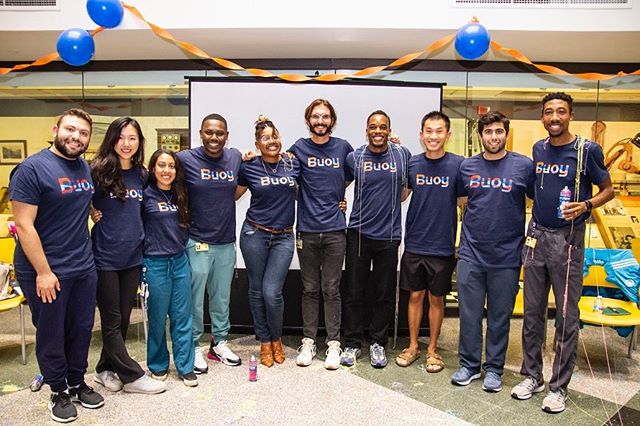 Ever gotten rejected? Ever feel like you're not smart enough? Ever been in a war?
Buoy News creator Jordan Evans starts every student story with a question that hints at a bigger question: What has this student gone through to get to where they are today? The answer is often something that might surprise the reader. Even though students at the University of Michigan School of Dentistry are among the highest achievers from their high schools and colleges, how these students ended up at the No. 1-ranked dental school in the U.S. is not always a straight line to success.
Evans, founder of Buoy Inspirations, started the Buoy at Brown newsletter while an undergraduate at Brown University in Providence, R.I. The first iteration was created to spread "Positivity Pics," short stories accompanied by a picture of the featured student. Designed to inspire other students, the newsletter came to the attention of Dr. Todd Ester, Assistant Dean for Diversity, Equity and Inclusion at the dental school. Recognizing the power of a positive message, Ester worked with Evans, who lives in Georgia, to launch BuoyUMSD in newsletter and Instagram forms in fall 2018.
"I was immediately drawn to the honesty and humility that the writers shared in the Buoy at Brown newsletters," said Ester. "We were looking for new ways for our students to share and connect with each other and that was the premise for developing and bringing this platform to our school."
The first BuoyUMSD story was published on Oct. 14, 2018, and told the story of third-year Dental Hygiene student Said Al-Jazaeri. "Coming to the U.S. at the age of 19 was absolutely a challenging experience at first," Al-Jazaeri said. "I came here as a means to escape the war in my country, Syria, and to continue pursuing my educational goals." Said had to assimilate to a new culture, far from his family. He remains committed to uplifting those less fortunate. "My ultimate goal upon my graduating from the Dental Hygiene program is to provide dental care to the most needy in my community," he said.
D2 Noella Fernandez was in a serious car accident in 2007 that left her family in financial and emotional turmoil. Her family lost their house and struggled to get back on their feet, but succeeded through hard work. "Although it was a rough and graphic beginning to my involvement in health care, the accident made me realize how important it is to encourage others," Fernandez said. "It is critical to let others know that their goals are obtainable as long as we don't give up."
Students from Dental Hygiene, DDS and the post-doctoral programs have been featured in the stories. The newsletter is shared once a month with School of Dentistry students and then is featured on the school's Facebook page and Instagram account. The newsletter has been well-received by students with a majority opening and reading each message. "It provides inspiration from the students around you every day," said D2 Eric Dutton.
The school's Multicultural Affairs Committee (MAC) provided support for the launch and recent one-year celebration of BuoyUMSD.
To see the whole series of BuoyUMSD positivity pics, visit the school's Instagram page.
###
The University of Michigan School of Dentistry is one of the nation's leading dental schools engaged in oral health care education, research, patient care and community service. General dental care clinics and specialty clinics providing advanced treatment enable the school to offer dental services and programs to patients throughout Michigan. Classroom and clinic instruction prepare future dentists, dental specialists and dental hygienists for practice in private offices, hospitals, academia and public agencies. Research seeks to discover and apply new knowledge that can help patients worldwide. For more information about the School of Dentistry, visit us on the Web at: www.dent.umich.edu. Contact: Lynn Monson, associate director of communications, at dentistry.communications@umich.edu, or (734) 615-1971.