Faculty help celebrate JDR's 100th Year

4

min read
The Journal of Dental Research, one of the most prominent research publications in the dental field, turned 100 years old this year. To commemorate and celebrate, the journal created a series of articles, papers and podcasts that highlight topics from its pages over the past century as it continuously transformed dental, oral and craniofacial research to the current day. A video series that features several School of Dentistry faculty members focuses on the lasting importance the Journal has made.
Dr. William Giannobile, chair of the Department of Periodontics and Oral Medicine, has the distinction of serving as editor-in-chief of JDR during its 100th year. "I am honored to contribute to the commemoration of this milestone and to be a part of the rich history of the JDR that has helped shape the course of dental research and the profession of dentistry," Giannobile said.
JDR is the official joint publication of the International Association of Dental Research, which has 11,400 members worldwide, and the American Association of Dental Research, with 3,300 members.
JDR's review of its contents over the last century, along with commemorative articles it has published throughout the year, provides a thorough recounting of the history of dentistry and a reminder of how far our understanding of oral health has come from those early days when journal founding editor William J. Gies started the publication. Topics include advances in dental materials; discoveries about saliva and salivary diagnostics; the role of bacterial biofilm in dental caries and periodontal diseases; the introduction of fluoride; innovations in the diagnosis and treatment of head and neck cancer; genomes and dental medicine; and regenerative dentistry.
Giannobile is one of five dental school faculty who are featured in videos emphasizing the importance of the journal to dentistry and scientific research. Dean Laurie McCauley, Peter Polverini, Jacques Nör and Nisha D'Silva are also interviewed.
McCauley said the journal has built its readership thanks to the strong peer review process of submitted papers. "Having that peer review, with high rigor and high caliber, is an important reason why the JDR is so well-regarded," she said. "This review process is reflected in the increased impact scores the publication has achieved over the past 30 years. If you took a current issue, you will see a great snapshot of where our profession is headed."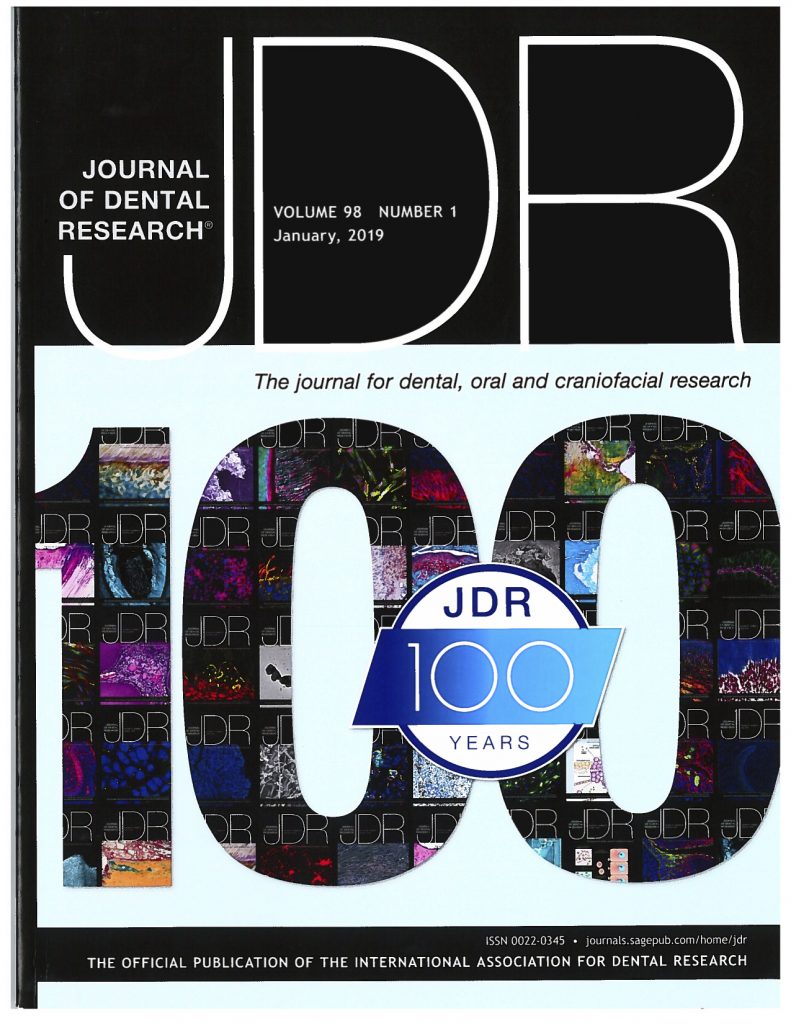 Giannobile will step down as editor-in-chief in March 2020 after serving in the role for 10 years. "I have been able to accomplish the major objectives set out for me to advance the journal and to leave it in a place where a fresh perspective can bring the journal to even greater heights. I feel privileged to have been able to follow such capable and forward-thinking editors who have made the JDR the leading source of research findings for over a century," Giannobile said.
Under Giannobile's leadership, the JDR currently holds its highest 2-Year Impact Factor in the "Dentistry, Oral Surgery & Medicine" category at 5.380 as well as the top Eigenfactor score and most citations for the 90 ranked journals in dentistry. This is the second year in a row that the Journal's Impact Factor has exceeded 5. Impact Factor reflects the number of citations a journal receives and is considered a measure of its prominence within a research domain.
More information on the JDR centennial is available on its website.
###
The University of Michigan School of Dentistry is one of the nation's leading dental schools engaged in oral health care education, research, patient care and community service. General dental care clinics and specialty clinics providing advanced treatment enable the school to offer dental services and programs to patients throughout Michigan. Classroom and clinic instruction prepare future dentists, dental specialists and dental hygienists for practice in private offices, hospitals, academia and public agencies. Research seeks to discover and apply new knowledge that can help patients worldwide. For more information about the School of Dentistry, visit us on the Web at: www.dent.umich.edu. Contact: Lynn Monson, associate director of communications, at dentistry.communications@umich.edu, or (734) 615-1971.