Patient credits dental school care team for its life-saving actions

6

min read
Dental appointment highlights the importance of routine blood pressure checks
Ann Arbor, Mich., July 22, 2019 -– Susanna Zoumbaris has a compelling story to tell about the importance of the routine blood pressure check that starts every dental appointment at the University of Michigan School of Dentistry.
Zoumbaris is convinced that three members of her treatment team at the dental school saved her life during an appointment earlier this year. The team discovered that her pulse rate was about twice what it should be and recommended that she go immediately to a hospital emergency room. Her pulse increased even more by the time she reached the hospital. She spent about five hours there until medication allowed her heart rate to return to its regular rhythm. Additional medical treatment since then has allowed her to return to her normal good health.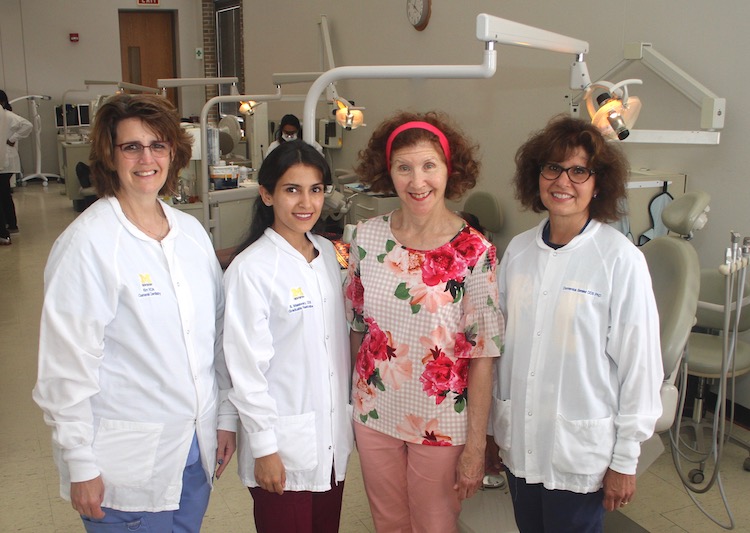 "How do I properly thank you and your excellent staff for saving my life?" Zoumbaris wrote in a letter to Dean Laurie McCauley. One way to do that, she decided, is to share her story so that the general public can understand the value of blood pressure checks that are standard procedures for dental and medical appointments.
Zoumbaris, a resident of Ann Arbor, wasn't feeling well the morning of the 8 a.m. appointment with Dr. Shahd Almasswary at the School of Dentistry. She was short of breath and attributed the problem to a flare-up of her asthma. As is the practice when that happens, she used an inhaler for a dose of her prescribed asthma medication before leaving for her appointment in the school's General Dentistry Clinic. That likely made things worse, she believes.
Kim Fuller, a registered dental assistant, said standard procedure at the dental school is to immediately take a patient's blood pressure after seating them in the dental chair. Using a wrist cuff blood pressure device, Fuller noticed that Zoumbaris' pulse was high. Zoumbaris was skeptical about the accuracy of the reading, which she recalls was 144 heart beats per minute, more than double her normal 70 or so. She asked Fuller to use a larger, traditional blood pressure monitor that inflates around an arm. The second reading was nearly identical to the first.
Fuller alerted Dr. Almasswary, a resident in the dental school's Graduate Restorative Dentistry Program. Dr. Almasswary said she talked with Zoumbaris about her health history and how she was feeling. Zoumbaris said she was "winded" and just not feeling right. For a patient with no history of heart problems, the shortness of breath and high pulse rate were puzzling and alarming, Dr. Almasswary said. She alerted the clinic's supervising faculty member that day, Dr. Domenica Sweier.
Drs. Sweier and Almasswary concluded that Zoumbaris should immediately go to a hospital emergency room and offered to call an ambulance. Zoumbaris said she felt well enough to drive herself. Still thinking that the problem could be associated with her asthma, Zoumbaris stopped at her allegist's office, which is near St. Joseph Mercy Hospital. The recommendation there was the same as the dental school's: Go to the hospital immediately.
Zoumbaris said the hospital staff quickly connected her to various monitors and called in a team to treat her. She recalls that her pulse hit a high of 188, well above what it had been at the dental school. She was given medication to stabilize her heart rate, but it remained elevated for three or four hours before finally "converting" to near her normal rate. She was dismissed in the early afternoon with a recommendation to consult a cardiologist, which she did. Today she takes an aspirin a day and a small dosage of heart medication designed to prevent a recurrence, but otherwise feels back to normal.
"I was so shocked by what happened," Zoumbaris said. "I felt so grateful to the school for doing a routine blood pressure as part of the dental exam that I wanted to say thank-you. I thought: Would I have gone to the hospital if they hadn't alerted me? I don't think I would have. I don't know if the pulse would have converted on its own without intervention. The doctors at the hospital said it could have ended in a stroke. Or worse."
Dr. Almasswary said the unique part of the case is that her patient didn't have a history of cardiac problems. "We were a little bit afraid about what was causing this," she said. "I'm very happy that we caught this."
Dr. Sweier said the case is an example of why the dental school measures the vital signs of patients. "It's not only to help assess if our patients are physically able to safely tolerate our treatments and medications. It is also to be able to detect signs in the uncommon instance of an occult problem and refer them for a medical evaluation in a timely manner," she said. "Fortunately, in this case, all ended well."
As a registered dental assistant, Fuller said she regularly completes continuing education courses where the importance of linking dental health to overall health is emphasized. In addition to checking blood pressure, the dental school staff also checks the blood sugar levels of diabetic and pre-diabetic patients as a precautionary procedure. Fuller notes that patients may not have serious enough general health symptoms to cause them to see a doctor, but often they have regularly scheduled or emergency dental appointments where checking vital signs can catch overall health problems. If readings are at dangerous levels, the patients are referred to their doctors before dental procedures can be performed.
Dr. Gisele Neiva, Graduate Restorative Dentistry Program Director in the Department of Cariology, Restorative Sciences and Endodontics, oversees the clinic where Zoumbaris was treated. "This makes me so happy," Neiva said when she learned of the story. She said it is rewarding to hear success stories that confirm why school protocol requires health checks at every appointment as a standard of care.
Zoumbaris said her racing-pulse story is an example of the overall excellent treatment she has received in the last seven years as a patient at the School of Dentistry. "Everything that's been done for me at the U-M dental school has been superior. Anytime anything has happened, the quality of care has been overwhelming," she said. "It is always such guarded care. It seems to be the overriding mission — to guard the patient's health, whether it is their teeth or the rest of their body. They recognize a problem which the lay person would not. I just have to say thank you."

###
The University of Michigan School of Dentistry is one of the nation's leading dental schools engaged in oral health care education, research, patient care and community service. General dental care clinics and specialty clinics providing advanced treatment enable the school to offer dental services and programs to patients throughout Michigan. Classroom and clinic instruction prepare future dentists, dental specialists and dental hygienists for practice in private offices, hospitals, academia and public agencies. Research seeks to discover and apply new knowledge that can help patients worldwide. For more information about the School of Dentistry, visit us on the Web at: www.dent.umich.edu. Contact: Lynn Monson, associate director of communications, at dentistry.communications@umich.edu, or (734) 615-1971.