White Coat Ceremony launches Class of 2023

9

min read
Ann Arbor, Mich., July 30, 2019 — Newly arrived first-year students received their official welcome to the dental profession Friday at the annual White Coat Ceremony at the University of Michigan School of Dentistry.
One by one, the 109 students in the Class of 2023 crossed the stage at Rackham Auditorium to put on their personalized clinic coats. The student's name and the Block-M dentistry logo on each coat signifies the commitment of the student and the school to pursue and uphold the highest standards of care and ethics of the profession.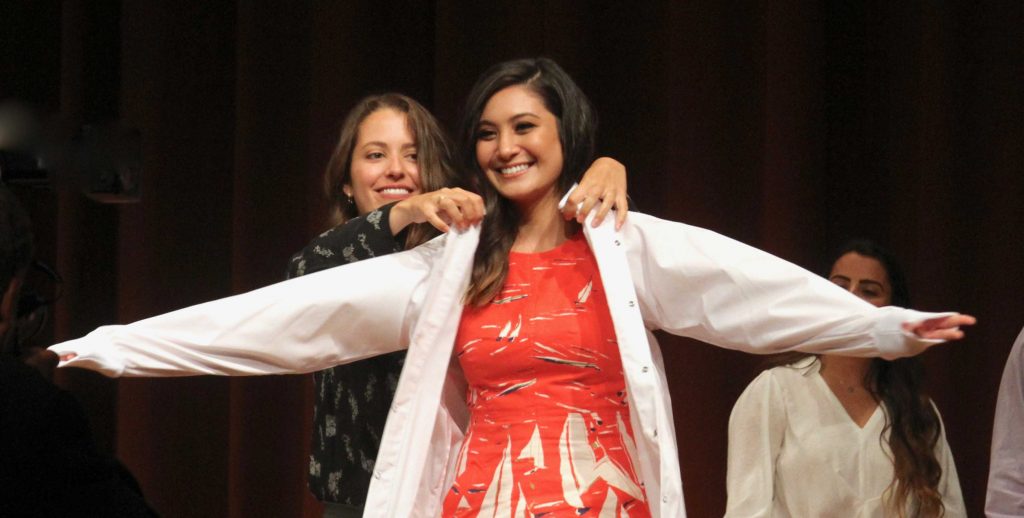 The first-year students, known as D1s, started classes about a month ago. The annual White Coat Ceremony draws their families and friends from around the country to commemorate the official start of their four-year journey to a DDS degree.
This year's 109 students were admitted out of 1,747 applicants. The class has 64 Michigan residents and 45 from out of state. The students hold 102 bachelor's degrees and six master's degrees; one student arrives with 3-plus years of college. Their collective GPA is 3.69.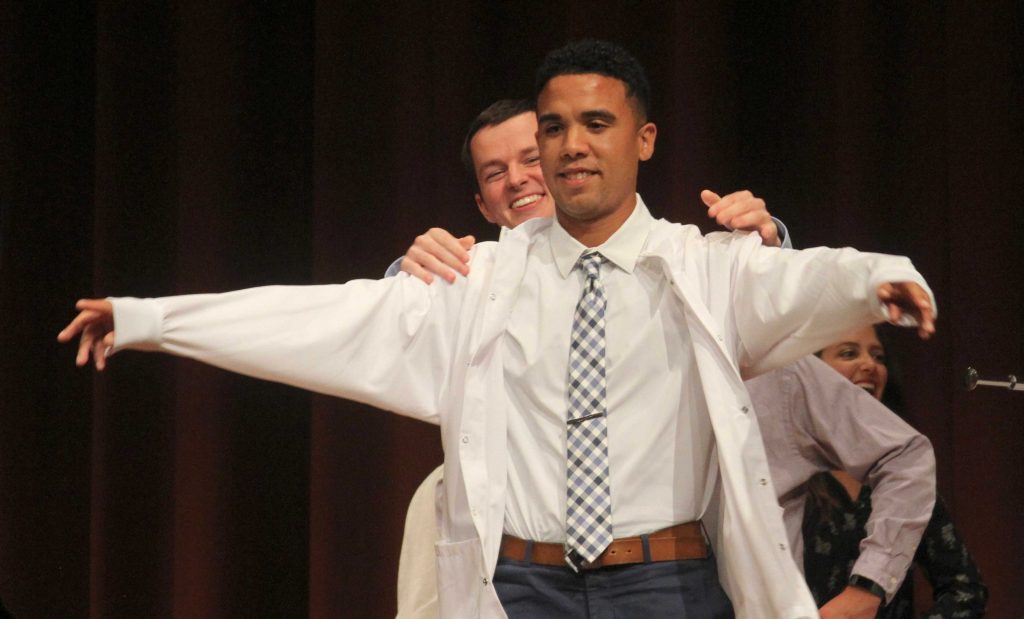 Of particular note this year is that the entering class has the most women of any class since the school was founded in 1875, with 67 women and 42 men. Dentistry was a male-dominated profession until near the end of the 20th century when women began entering the field in much greater numbers. Women began to approach 50 percent of the entering dental class in the early 2000s. In the last 15 years, the male-female ratio has fluctuated up and down slightly, but usually has been close to an even number of men and women. This year's 67 female students represent 61 percent of the class.
Speakers shared advice, praise and encouragement for the new class. Here are excerpts from the speakers at the ceremony:
• School of Dentistry Dean Dr. Laurie McCauley: "By wearing the M Dentistry logo, you are the latest to join a long line of oral healthcare providers who have passed through this school and university – an alumni body that is nearly 10,000 strong. They have built, maintained and advanced a tradition steeped in commitment, high expectations and accountability. It's a tradition that has produced generation after generation of leaders in the practice of dentistry as it evolved over the last century and a half. We've learned an incredible amount about oral health and dental care in that time, but new frontiers await you and you will learn about things our current alumni never dreamed about. We selected you because we know you can carry on our tradition of serving the people of Michigan and the world. And you, too, will develop into leaders who challenge the present and enrich the future. We know that you, the Class of 2023, both as individuals and as a collective, will continue to lead the clinical and scientific advancement of our profession."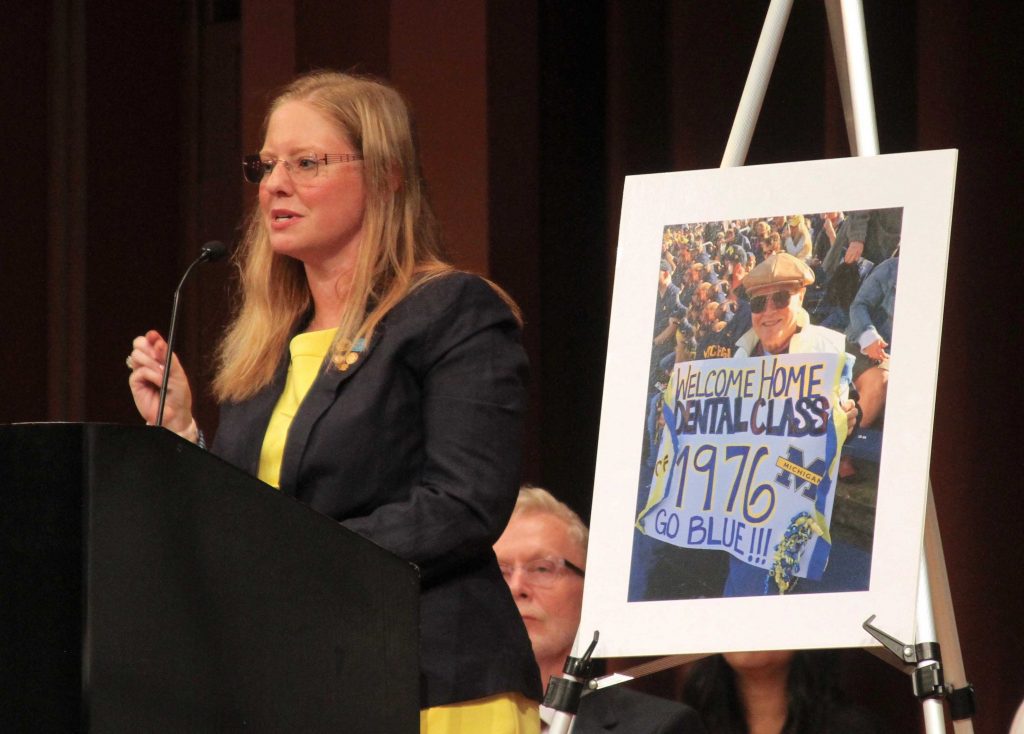 • Dr. Margaret Gingrich, president of the Michigan Dental Association and an alumna: She shared wisdom she learned from her late father, Arthur, also a dentist, in both her speech and by providing class members with a bookmark-like list of "Wise Words from My Dad." Some of the entries: "If you take care of your patients, the patients take care of you. … It is not what you see on the x-ray that gets you in trouble, it's what you miss that does. … Don't tell a patient what they must do. Explain their options, educate and help them come to a decision on the best treatment for them. … Find a mentor you can trust; it always helps to talk a case through. … When it stops being fun to go to work, find another profession. Dentistry is a wonderful profession to be in. I have never gone to a day of work in my life. I am excited when I get to go in, and the paycheck is a bonus. I hope you all are able to experience that."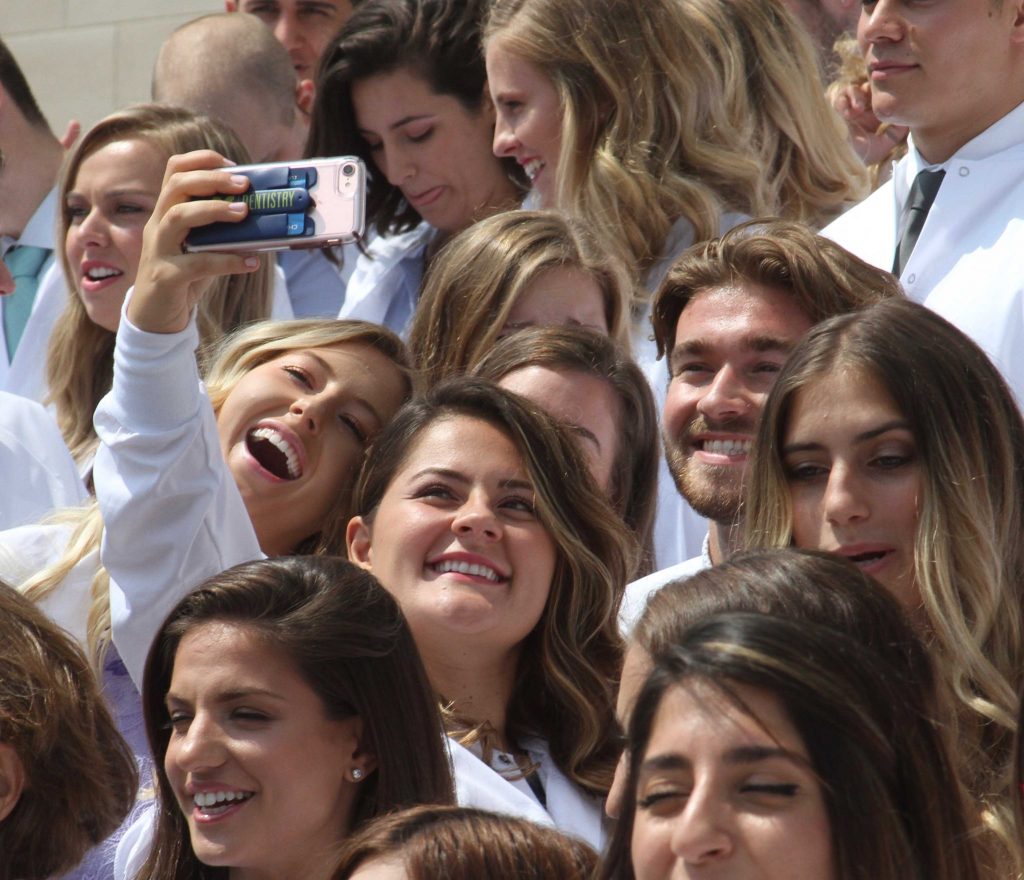 • Rita Maizy, president of the Class of 2019: The white coats signify "your passion and your responsibility for caring for your future patients. … You all now have at least one thing in common – and that is the goal of becoming compassionate and competent oral healthcare providers. … Wear these coats proudly and with the integrity that they represent. Enjoy the next four years. Believe me, it will go way faster than you think. Have fun, laugh a lot, learn a lot, make mistakes and learn from them, and don't give up. … Be proud of where you come from, be proud of where you are and be proud of where you go."
• Dr. Sam Shamoon, president of the Michigan Academy of General Dentistry: "This will be a rewarding career for all of you. … On behalf of the Academy of General Dentistry, I would like to welcome you to this dynamic, exciting and just utterly fantastic profession. … Remember, in dental school you are taught how to crawl and walk; when you graduate it is up to you to learn how to run and fly. In the next four years about 70 percent of you will decide to become generalists. This is a hard-working profession. … The Academy of General Dentistry, with its almost 40,000 members nationally and over 1,300 members in Michigan, has been in the forefront supporting and promoting the need and availability for quality continuing education for the dental profession."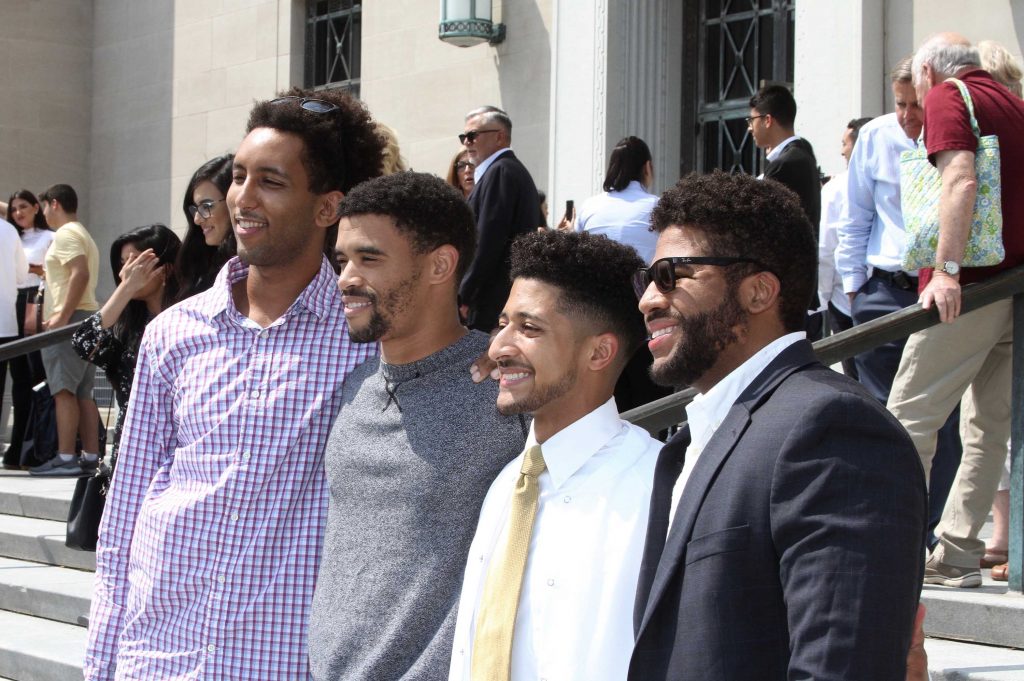 • Dr. Steven Sulfaro, Regent, Ninth District, International College of Dentists, and an alumnus: Sulfaro noted that the ICD is the largest international honorary dental society and the mission of its fellows is to recognize leadership, scholarship and service in the profession of dentistry. "Congratulations on being accepted to the University of Michigan, the No. 1 dental school in the nation. … We should not forget to thank your parents, and perhaps a spouse, and your entire family for their support, their love, their encouragement and, of course, their checkbook. It takes a village to raise a dentist. … Dentistry is an awesome responsibility (but) don't forget to have some fun. … Seek out, develop and enjoy the friendships and camaraderie of your fellow classmates. You are all in this together. … Work hard. Learn all you can. Do your best. Have fun. Goodspeed and Go Blue!"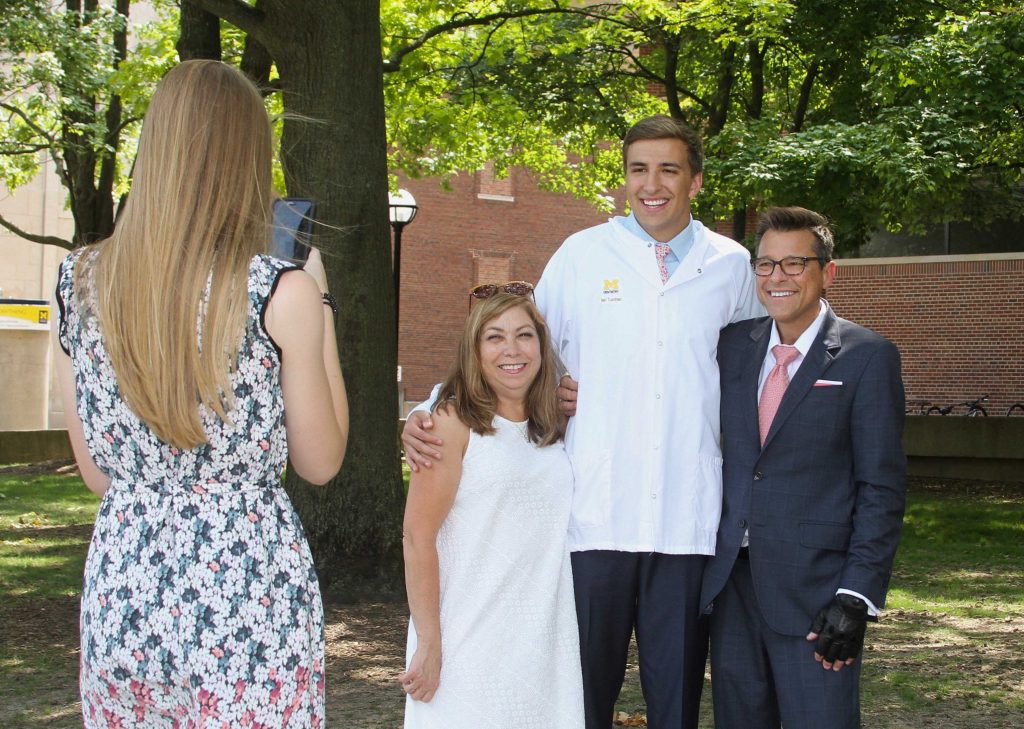 • Dr. Larry Salzman, clinical associate professor and clinic director, Department of Orthodontics and Pediatric Dentisty: "Today's White Coat Ceremony marks your transition into the clinical health sciences. It serves to welcome you to dentistry and instill in you the values of human interests, dignity and compassion along with scientific excellence as core to healthcare and your central obligation of caring for patients. … Along the way you will benefit your classmates, your faculty, your school, your university, your community and your profession. The White Coat symbolizes your commitment to go beyond your general call to dentistry – serving humanity for the rest of your life and the opportunity you have to make real change in this world."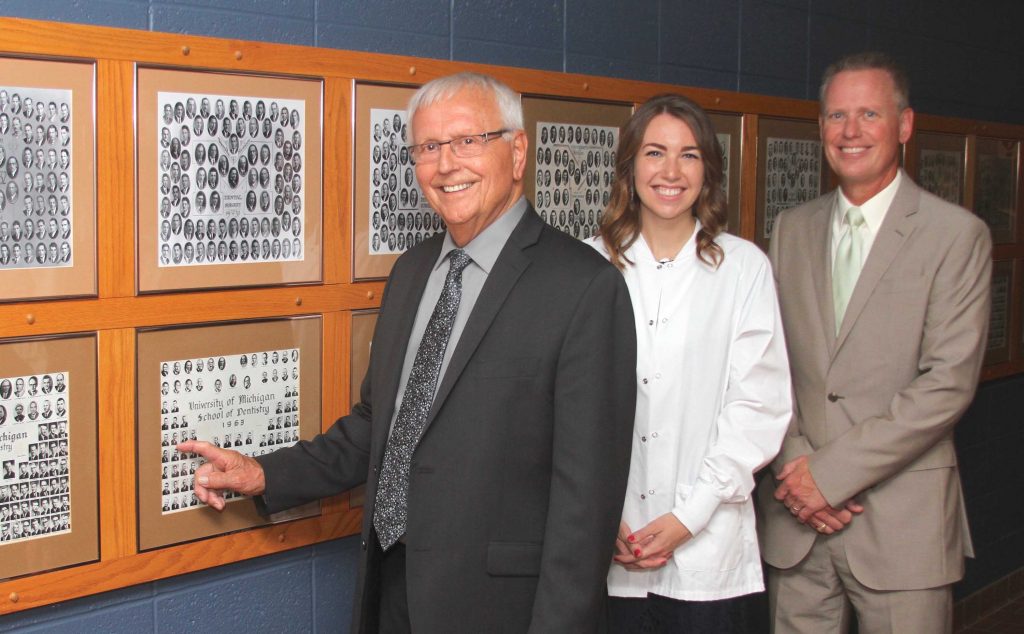 ###
The University of Michigan School of Dentistry is one of the nation's leading dental schools engaged in oral health care education, research, patient care and community service. General dental care clinics and specialty clinics providing advanced treatment enable the school to offer dental services and programs to patients throughout Michigan. Classroom and clinic instruction prepare future dentists, dental specialists and dental hygienists for practice in private offices, hospitals, academia and public agencies. Research seeks to discover and apply new knowledge that can help patients worldwide. For more information about the School of Dentistry, visit us on the Web at: www.dent.umich.edu. Contact: Lynn Monson, associate director of communications, at dentistry.communications@umich.edu, or (734) 615-1971.