Student Profile: Megan Utter

11

min read
This profile is one in a series highlighting School of Dentistry alumni, donors and students.
Ann Arbor, Mich., June 28, 2019 — Graduation from the University of Michigan School of Dentistry was only a few weeks away and Megan Utter was finishing one of the last patient appointments for her Doctor of Dental Surgery degree requirements.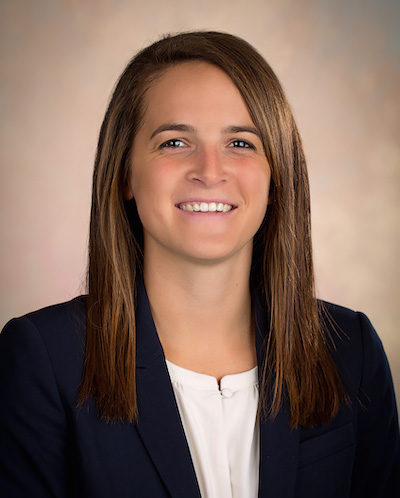 The patient, a woman in her late 70s, sat in the dental chair and Utter stood next to her, talking in a friendly, low-key, confident tone. The patient's partial denture was not fitting well and needed adjustment. Utter listened patiently and asked an occasional question as the woman described the problem. After examining the fit while the denture was in the patient's mouth, Utter removed it and began using a rotary instrument to smooth the rough spots that were bothering the patient. After adjusting it for a minute or two, Utter handed the denture back to the patient, who put it back into her mouth and reported that it wasn't quite right yet. It took several attempts before the patient said it fit comfortably. Utter checked the fit one last time and explained what the patient could expect as the denture inevitably wears down in the future.
If Utter needed affirmation about her choice of profession, it came near the end of the appointment. The patient's daughter, who was observing from a chair inside the dental cubicle, lamented that Megan's graduation meant this was the last time her mother would be Megan's patient. The daughter and other family members also have had appointments with Utter in the last two years. They've driven an hour to the dental school in Ann Arbor from St. Clair Shores because they have been so happy with the treatment provided by Utter. "Megan is a household name in our family," the daughter said. "We all love her."
The compliment confirms not only Utter's technical dentistry skills but also her people skills. Experiencing that bond with people — engaging patients, putting them at ease and solving their oral health problems — is what prompted Utter to leave a successful scientific research job and enter dental school three years later than most dental students.
Growing up in Grand Rapids, Mich., Utter's academic preferences were math and science, which she thought might lead to engineering or dentistry. On the extracurricular side, she liked several sports, particularly soccer. As a successful travel team and high school soccer player who won all-state recognition, she decided she wanted to play college soccer, so she chose Wittenberg University in Springfield, Ohio. It had a good math and science curriculum with smaller class sizes, and she figured its strong Division III soccer team would still give her high-level athletics but with more playing time and less stress than playing at a large Division I university.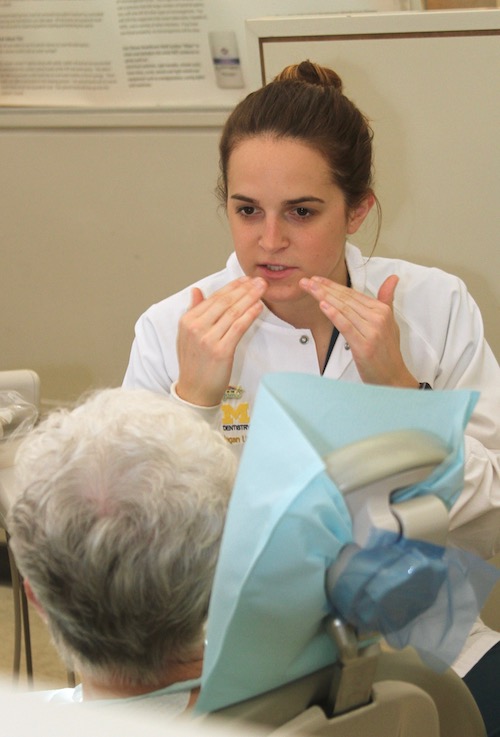 Many of her expectations worked out, some didn't. The academics were good — she had a summer internship in computational chemistry — and so was the soccer. But she learned that even Division III sports are year-round commitments. Practices, conditioning, weight-training, game film study, travel to games and her responsibilities as a team captain as a junior and senior left little time for anything but classes and maybe homework, if it was a good week. By the time she graduated, she needed a break. She had thought more about dentistry during college, but preparing for and taking the Dental Aptitude Test, or DAT, required for admission to a dental school, was not an option in her busy senior year.
"I can admit that I was a little burned out by the end," she says. "I didn't think I could apply to anything right then, other than a job. I didn't have it in me to take any big standardized tests. I just wanted to live in a city, get a job and earn some money, get comfortable and then reevaluate what I wanted to do."
Utter accepted a job offer in the College of Medicine at the University of Illinois at Chicago as a research specialist in the Department of Physiology and Biophysics at the Center for Cardiovascular Research. She worked there for three years, assisting doctors, professors and other researchers with a variety of lab duties involving the physiology and biophysics of the heart. Her mentor encouraged her to do her own research and helped her become a first-author on two papers that were published during her tenure there, including one in the Journal of Cardiovascular Pharmacology that related to a heart condition, familial dilated cardiomyopathy.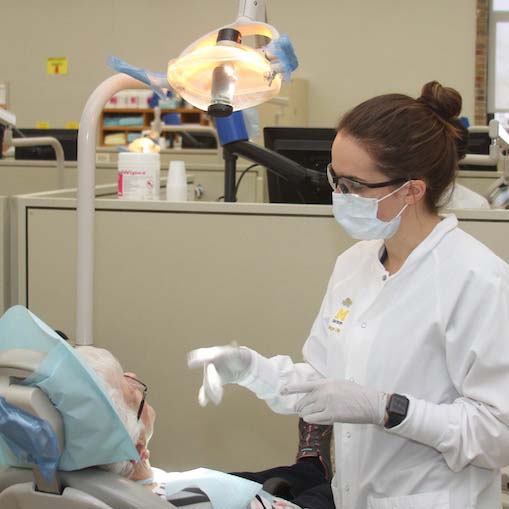 "It was very fulfilling from an achievement standpoint," she said of the published papers and helping researchers with high-end science. The down side is that she may have spent more time with mice in the lab's mouse-model research than she did with her human colleagues. Lab work can be a singular endeavor much of the time.
She liked the intellectual challenge of the work and her faculty mentor encouraged her to work toward a master's or PhD degree. "That wasn't going to work for me," she said. "I didn't feel that what I was doing was as rewarding to not only myself but also to the general public. You can really just be by yourself all day doing research, and that's good for some people and not good for other people. I didn't have any sort of interaction with people. I was working with mice. I liked what I was doing. I liked the hand skills and the knowledge that has to go into it, but it just wasn't as rewarding for me."
About halfway through her second year in Chicago, she thought back to the various professions she had researched or shadowed in high school and college. "I really clicked with the dentist I had shadowed," she recalled. "I think it was because of the amount of patient interaction that was there. That's what I felt like I was missing when I was doing research." So she began gearing up to pursue dentistry by studying for the dental school admissions test during her days off from research. Dental schools, particularly U-M, require an extensive number of shadowing hours with dentists prior to admission. It was during her time shadowing in the offices of two dentists in Chicago that Utter rekindled her enthusiasm for the profession. "I loved it. This is what I could do every day instead of sitting at a benchtop doing research," she told herself.
After completing the DAT, Utter applied and was accepted to several schools around the country. She chose her home state university. "I think U-M appreciated my research background," she said. "I think it's one of the things that helped me get an interview here and something I liked about the university as well. I like research. I didn't want to make it my profession, but I was happy to have had that experience."
Four years later, she says dental school was what she expected — difficult but rewarding. In many ways, the hectic pace of both soccer and academics at Wittenberg, along with the regimented research lab work in Chicago, were good preparation for the pace of dental school. Her goal was to be organized from the start, do well academically, but not to the point of burning out as she had in her undergraduate years. The perspective that comes from being a few years older than most of her classmates helped her realize she needed to find ways to make friends and enjoy the experience. She was treasurer for her class all four years and schoolwide treasurer for one year, among other groups she participated in.
"Because of my experience in soccer, I definitely wanted leadership roles in the school, so I quickly dived into student council and other organizations. I find those super-rewarding. You get to work with people, not just leading by yourself, but leading with others, providing direction for classmates, underclassmen."
Ultimately, though, her delayed decision to enter dental school was ratified by the enjoyment of working with people and helping patients achieve improved oral health. "Every case and every patient is different. You might think you are doing the same procedure, but if it is on a different patient, it feels like a different procedure. Even for the same patient, you are doing different things. Each time you see a patient, you have to apply yourself and make sure you are navigating it appropriately based on that patient. I think the dental school did a good job of making sure we are able to critically think and keep learning, even if we think we are comfortable doing fillings or some other procedure."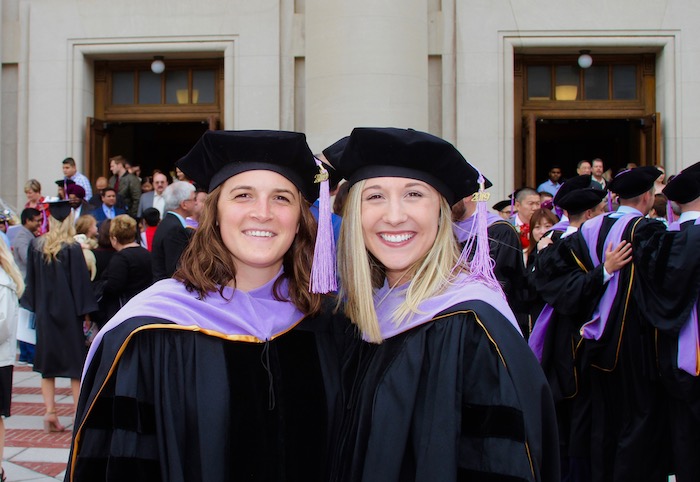 Utter will be doing more than general dentistry now that she has graduated. She was accepted into the two-year orthodontics master's degree program at the University of Iowa College of Dentistry. Utter's fiancée, Kelsie Pittel, also a 2019 U-M dentistry grad, is joining her at the UI dental college, in its endodontics graduate program.
Utter said her decision to pursue orthodontics pairs well with her longstanding interest in engineering. "I'm able to use these physics and biomechanical aspects of education that I really enjoyed. And now I'm taking it into dentistry, something I really love, and specializing in something that is even more rewarding for me mentally. Thinking through those sorts of orthodontics planning decisions is something I really like."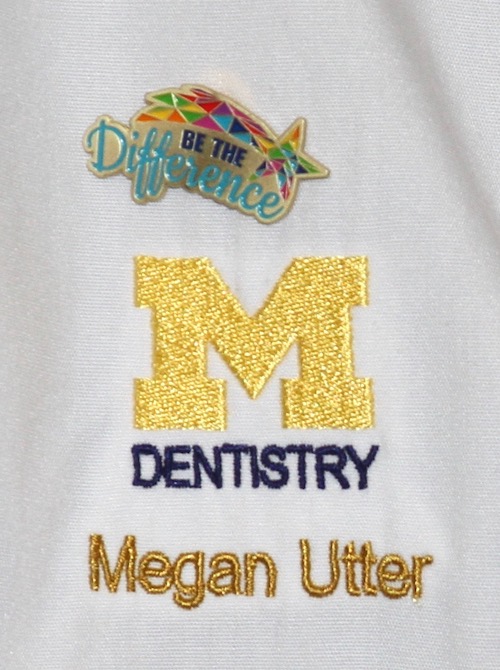 No matter the specialty, the bottom line of the dental profession is still about helping people, like the woman she helped with the partial denture on one of her last appointments in dental school. That people connection is something Utter thought about a lot on those days working alone in the research lab in Chicago. "You learn so much in dental school and it's a mix of so many different things. But for me the most rewarding and exciting part was actually treating and seeing patients. Those weren't always straightforward and easy procedures. You had to work through difficult times, but that's when you felt like, OK, I know dentistry, I'm applying it and it's working. And I'm actually kind of feeling like a dentist. This is what I'll do one day."
###
The University of Michigan School of Dentistry is one of the nation's leading dental schools engaged in oral health care education, research, patient care and community service. General dental care clinics and specialty clinics providing advanced treatment enable the school to offer dental services and programs to patients throughout Michigan. Classroom and clinic instruction prepare future dentists, dental specialists, and dental hygienists for practice in private offices, hospitals, academia and public agencies. Research seeks to discover and apply new knowledge that can help patients worldwide. For more information about the School of Dentistry, visit us on the Web at: www.dent.umich.edu. Contact: Lynn Monson, associate director of communications, at dentistry.communications@umich.edu, or (734) 615-1971.