School welcomes Class of 2023

11

min read
DDS students from around Michigan and the country arrive for orientation, classes
Ann Arbor, Mich., June 28, 2019 -– Converting 109 dreams of becoming dentists into reality began to take shape this week at the School of Dentistry as the Class of 2023 arrived to start orientation.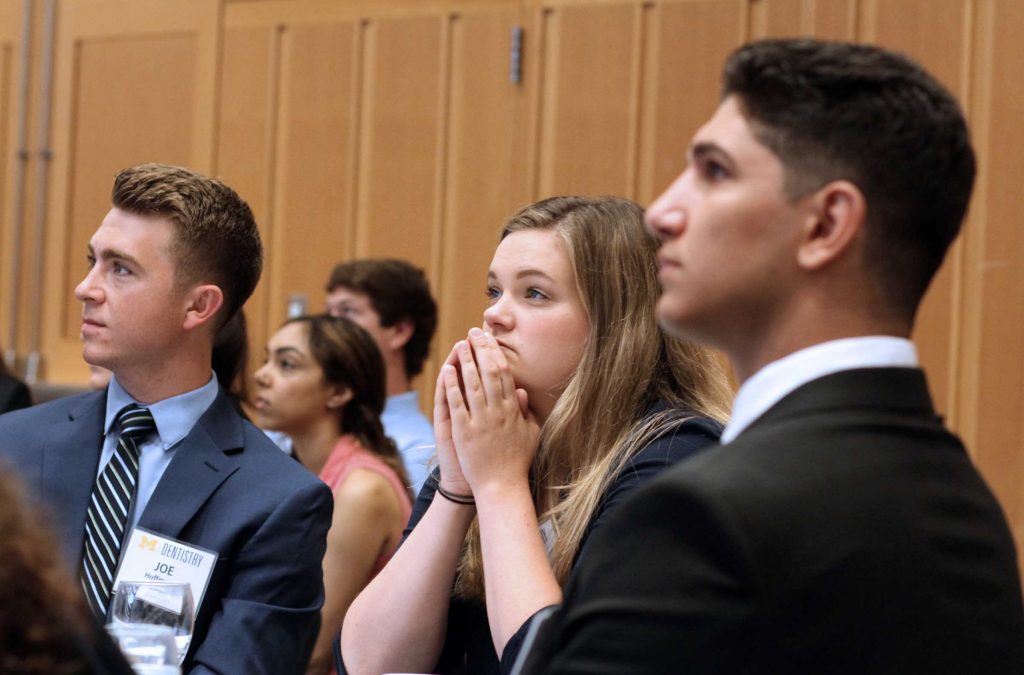 The school welcomed 109 new students with a week of tours, checking out instruments, computer training, curriculum explanations and instruction in various policies and procedures.
At an opening session on Monday, Dr. Renée Duff, Assistant Dean for Student Services, described the new class as "a great group of future dental leaders" based on the credentials that the students bring with them from their previous educational stops. She noted the traditional high demand to get into the dental school: 1,747 applicants applied for the 109 seats. The class GPA is 3.69 and the students hold 102 bachelor's degrees and six master's degrees; one student arrives with 3-plus years of college. The class has 64 Michigan residents and 45 from out of state. The average age is 22.6.
Of particular note this year is that the entering class has the most women of any class since the school was founded in 1875, with 67 women and 42 men. Dentistry was a male-dominated profession until near the end of the 20th century when women began entering the field in much greater numbers. Women began to approach 50 percent of the entering dental class in the early 2000s. In the last 15 years, the male-female ratio has fluctuated up and down slightly, but usually has been close to an even number of men and women. This year's 67 female students are 61 percent of the class.
Administrators and faculty emphasized to the class members that their resources for success include each other and many other support services provided by the school. That includes offices of Educational Support Services, Student Services and Academic Affairs, along with counseling, library resources, financial aid, wellness and technology support, among others. "You're in for an amazing ride … full of ups, downs, twists, turns, challenges, and definite fun and excitement," Duff told the students.
Dean Laurie McCauley provided an overview of the University of Michigan and the dental school. Statistics from recent graduating classes show that the dental school has a higher percentage of new dentists going into community dentistry to treat the underserved, or into military dentistry, than the national average. Last year, about 12 percent of the dental school's graduates chose those options, significantly above the national average of about 2 percent. "A lot of our students choose to go on after dental school into areas where they are giving back to their communities," she said.
Among the many programs and facets of the school's dental education included in the overview was an emphasis on building a strong scientific foundation among students for the work they will be doing for the rest of their careers. "The technology and knowledge in our profession is changing at an incredibly rapid rate," McCauley noted. "We know that if you have the underlying scientific foundation you'll be able to adapt to new technologies as they are developed. Whatever you learn and train with here in these four years, it's going to change in five years, 10 years, 20 years after you graduate. So having that understanding of the real fundamentals is critical. As is that compassion to serve those in need."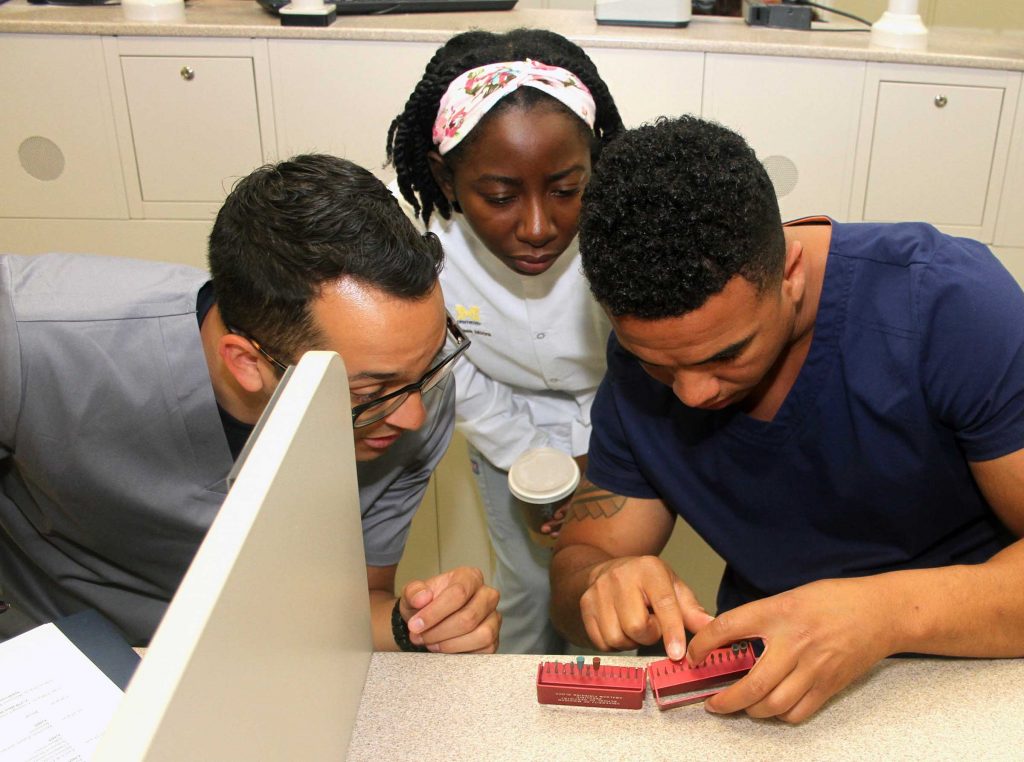 Class members also received advice from two current students who are beginning their fourth and final year at the school. Rita Maizy and Shannon Young, who are president and treasurer, respectively, of the Class of 2019, assured the new students that their uneasy feelings in the first few weeks will soon turn into a comfort level as they develop a routine. Their advice: plan ahead and manage your time, get involved in organizations, find a mentor, ask questions and seek help, don't stress over the little things, make friends and set goals. "Don't be afraid to fail while trying," Young said. "Dental school is going to ask you to do a lot of 'firsts.' It's going to push you to that limit. You're going to have to be OK with giving it your best shot and seeing how it goes because that's kind of our environment. We're learning a ton here. So give everything 110 percent. Sometimes it doesn't work out, but don't be afraid of that. Just keep pushing through."
Several students starting their DDS journey this week said the research and shadowing of dentists that are required for admission to the dental school mean they have a good idea of what to expect over the next four years. Still, it's a new experience that will require absorbing a challenging amount of new material and procedures, so a common refrain among students was that they are "a little nervous but mostly excited."
Here is a look at four members of the Class of 2023, their journey to U-M and their career aspirations: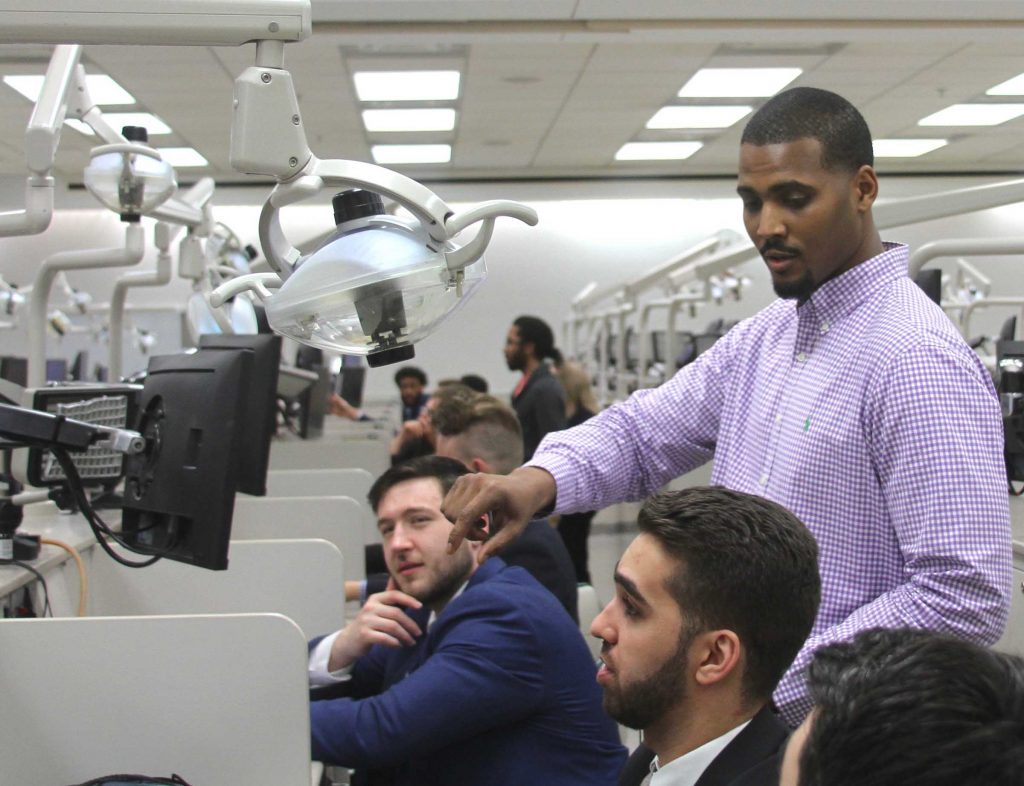 Diego Garcia-Ortega is a native of Mexico who migrated to this country with his parents, eventually living in Grand Rapids, Mich. One of the reasons he became interested in dentistry is that his parents lived in a region of Mexico where dentists were few and far between. "I knew there was a need for dentistry in the world, and specifically more dentists that represent different backgrounds," he said. "I wanted to be able to bring my background, my heritage, my roots as a Latino to the rest of the world and share that. I wanted to be able to understand different patients, different languages, different backgrounds." He said he hopes his life experiences and fluent Spanish will allow him to make a large group of patients feel more comfortable than they might with other dentists without that background.
Kaitlyn Hahn of Portland, Ore., represents the national draw of the dental school. She earned her undergraduate biochemistry degree at Whitworth University in Spokane, Wash. She chose dentistry because of a childhood experience. "When I was little I had really crooked teeth and my orthodontist was so kind and helpful and encouraging during the whole process. I had (orthodontia) in my mouth for 10 years. She got me through that and I just loved her for that. I said, 'I want to be just like her,' when I was eight-years-old." Why did she choose to apply to far-away Michigan for dental school? "Michigan has a wonderful reputation," Hahn said. "And from what I've heard about the school, I will have a really strong foundation in clinical skills and be taught good patient interaction, as well as wonderful academics."
Rebecca Larson is from the small town of Baraga, along Lake Superior in the northwest portion of Michigan's Upper Peninsula. She has lived on the Keweenaw Bay Indian Community reservation there her entire life; her mother and brother are members of the Ojibwa tribe. Like Hahn, Larson's interest in dentistry began as a child when she had braces. "I started off wanting to be an orthodontist, but then I started shadowing dentists and realized I wanted to be a general dentist," she said. After finishing her undergraduate degree at U-M in movement science and kinesiology, she didn't immediately apply to dental school. "When I graduated, I was having doubts: Do I really want to do this? So I had this great opportunity back home to be a dental assistant and I snagged it." The opportunity was on a different tribal reservation 60 miles from her hometown. She worked there with the rural, underserved population for a year and a half and loved the experience. "I realized 100 percent, without a doubt, that I wanted to be a dentist," she said. The clinic liked her in return, offering a contract if she would return after dental school. "I told them I'm not putting my signature on anything yet because a lot can change in four years," she said, "but I would love to go back and work for them." The rewards of helping an underserved population in an area close to where she grew up is appealing, but she is taking the start of dental school a day at a time. She's prepared for a challenging four years that will take her outside her comfort zone during what she's been told will be the best four years of her life. "Like my brother always tells me, you gotta appreciate the journey, not the destination," she said.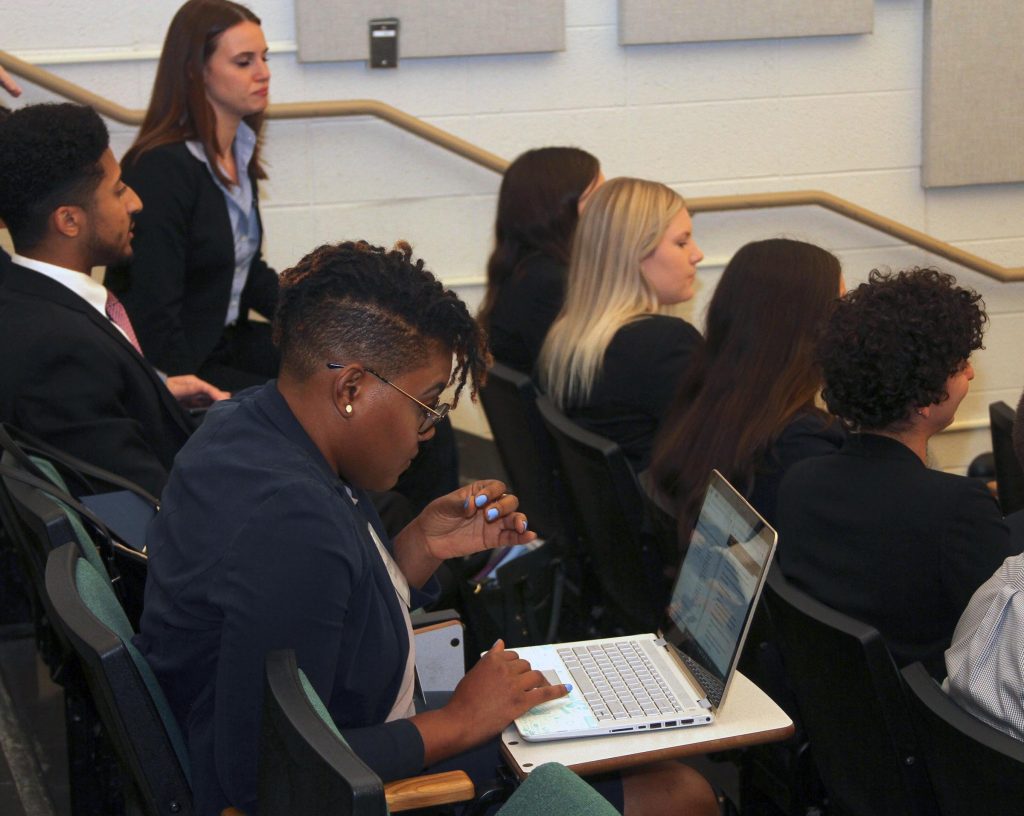 Epiphany Washington earned her undergraduate degree at Florida A&M in her hometown of Tallahassee, Fla., then completed a master's degree in Health Sciences at Barry University in Hollywood, Fla. Yet another student who decided on dentistry early, she calls her family's dentist her "dental dad." She observed him at work as part of a sixth-grade school project and has wanted to be a dentist ever since. "What appealed to me about dentistry is the effect it has on the person's general well-being," she said. "Dentistry is an art to me, and also a health career. A lot of people are affected by their smile and how they may feel about their smile. So being able to help people feel better about themselves, and improve their general and overall health, is very important to me." She recently became interested in oral surgery after seeing a Facebook video about a woman with an overgrown jaw that so affected her appearance that her children were facing ridicule and resenting their mother. The woman accepted an offer of jaw surgery at no charge from an oral surgeon who was moved by the video. "That got me interested in the oral surgery specialty because I want be able to positively impact someone's life like that. The oral surgeon changed the woman's life forever."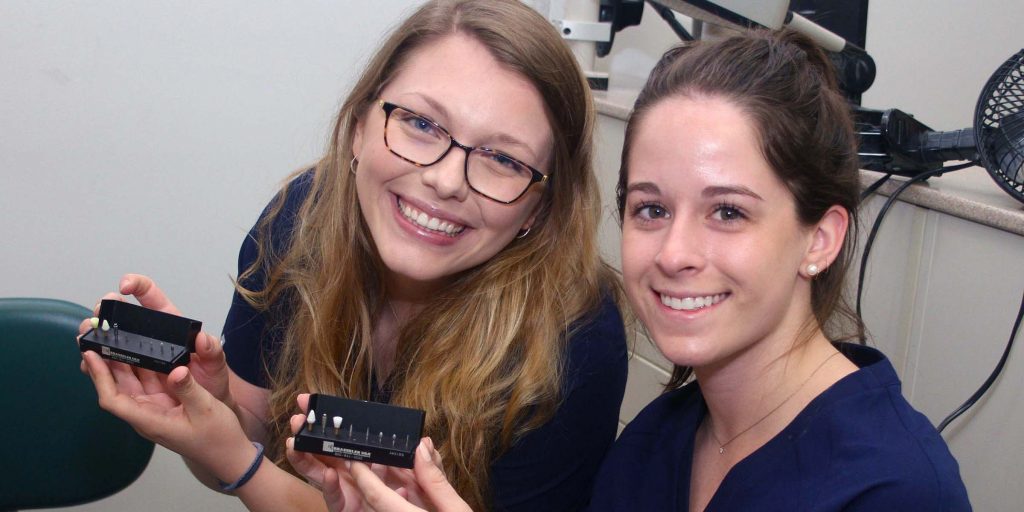 ###
The University of Michigan School of Dentistry is one of the nation's leading dental schools engaged in oral health care education, research, patient care and community service. General dental care clinics and specialty clinics providing advanced treatment enable the school to offer dental services and programs to patients throughout Michigan. Classroom and clinic instruction prepare future dentists, dental specialists and dental hygienists for practice in private offices, hospitals, academia and public agencies. Research seeks to discover and apply new knowledge that can help patients worldwide. For more information about the School of Dentistry, visit us on the Web at: www.dent.umich.edu. Contact: Lynn Monson, associate director of communications, at dentistry.communications@umich.edu, or (734) 615-1971.