School, administrator honored with Gies Awards at national ADEA conference

6

min read
Ann Arbor, Mich., March 21, 2019 -– The School of Dentistry and one of its top administrators were presented with national awards Monday evening in Chicago at the annual session of the American Dental Education Association (ADEA).
The school was honored with a 2019 William J. Gies Award in Achievement for Academic Dental Institutions for its initiatives promoting diversity, equity and inclusion. Lynn Johnson, Associate Dean for Faculty Affairs and Institutional Effectiveness and a professor in the Department of Periodontics and Oral Medicine, also received a Gies Award in the category of Innovation for Dental Educators. Johnson, who has a PhD in instructional design and technology, oversees the school's information technology unit and is a nationally recognized leader in adapting the latest technology to advance dental education.
The two U-M awards are among nine "trailblazers in academic dentistry and oral health" who received the 2019 William J. Gies Awards for Vision, Innovation and Achievement. The awards are presented by the ADEAGies Foundation, an affiliate of ADEA. Selected by a national panel, the Gies Awards honor individuals and organizations exemplifying the highest standards in oral health and dental education, research and leadership.
Members of ADEA include all 76 U.S. and Canadian dental schools, more than 1,000 allied and advanced dental education programs, 60 corporations and about 20,000 individuals. The ADEA mission is to lead institutions and individuals in the dental education community to address contemporary issues influencing education, research and the delivery of oral health care for the overall health and safety of the public. It publishes the Journal of Dental Education.
During the award presentation at Monday's gala, ADEA showed videos highlighting the achievements of each recipient.
Commitment to Diversity
ADEA honored the dental school for its commitment and various programs promoting diversity in the education of dental students, treatment of patients and throughout the broader community of dentistry. The nomination documented that diversity, equity and inclusion have been core values of the school since the early days of its 143-year history.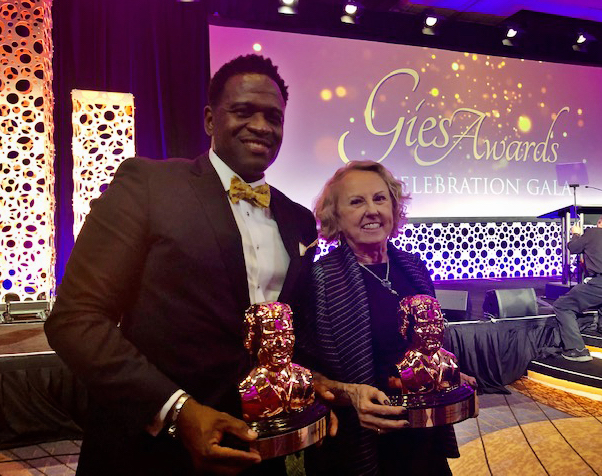 Carol Anne Murdoch-Kinch, the dental school's Associate Dean for Academic Affairs and the Dr. Walter H. Swartz Professor of Integrated Special Care Dentistry, summarized the school's longstanding DEI commitment as she introduced the award during the ADEA gala Monday. "Today those values are woven into the very fabric of the institution, a commitment and a promise that is manifested across every key area, including curriculum, strategic planning, admissions, professional development, administrative structure and the recruitment of students, faculty and staff," Murdoch-Kinch said. "School leaders have long believed that even the finest, most technically accomplished dental education is incomplete if students don't have the opportunity to learn in an inclusive environment that celebrates diversity."
As he accepted the award, Dr. Todd Ester, the school's Assistant Dean for Diversity, Equity and Inclusion, asked everyone in the audience with connections to the University of Michigan to stand as a way to illustrate that the award honors "the body of work our institution has accomplished" over many years. He said the national acknowledgement is the result of the work of "so many current and past deans, faculty, staff and students who thought it was not robbery to open the door of access to this great dental profession. Thank-you to all mentors who teach, sponsor, collaborate and love. You realized a long time ago that diversity means excellence." Among the many people to thank, Ester said, are current dean Laurie McCauley; members of the school's Multicultural Affairs Committee who have sponsored a wide variety of inclusion events over the last 20 years; and previous diversity directors, including Dr. Lee Jones, the first Office of Minority Affairs director for more than 25 years beginning in the 1970s. "This award will continue to serve as a beacon of hope, to what is possible, important and should be celebrated. For even though we have accomplished much, there is still tremendous work to do," Ester said.
'Exceptional Vision'
Amy Coplen, program director for the School of Dental Hygiene Studies at Pacific University in Hillsboro, Ore., presented the Gies Award to Johnson, who is a longtime proponent of adapting the latest technology to dental education. Coplen, an alumna of the U-M dental school (BSDH 2002, MSDH 2009), praised Johnson's ability to lead teams in finding solutions to complex problems while encouraging innovation by those around her. Coplen cited Johnson's work developing a new electronic health record system, helping the school's dental hygiene program set up its online degree completion and graduate programs, and working with Apple, Inc. in 2004-05 on a system of capturing lectures so students could review them online.


"Lynn has an exceptional vision for developing something new and innovative, but always with an evidence-based foundation," Coplen said in her nomination. "And where the evidence does not yet exist, she goes to great lengths to study educational innovations rigorously and publish the results. Her leadership, astuteness, knowledge, collaborative spirit and willingness to take risks has resulted in important advances in oral health, education and research."
In accepting the award, Johnson thanked the faculty and staff she has worked with at U-M and as part of the Collaboration for Health IT, an international visionary group of healthcare professionals founded and led by dental education with the goal of improving the personal and population health of the world. She also thanked the Gies Award organizers for including a category for innovation. "It is the spirit of innovation and hard work that helps dental education continually move forward," Johnson said, adding for those in the audience: "I am comforted to know that you will continue to dream about the next innovations that will allow dental education to thrive and grow."
For more information on the ADEA awards, see related stories about the school DEI award and Lynn Johnson's award, that were published on the School of Dentistry website when the ADEA first announced the recipients last October. The ADEA website also contains additional information.
###
The University of Michigan School of Dentistry is one of the nation's leading dental schools engaged in oral health care education, research, patient care and community service. General dental care clinics and specialty clinics providing advanced treatment enable the school to offer dental services and programs to patients throughout Michigan. Classroom and clinic instruction prepare future dentists, dental specialists and dental hygienists for practice in private offices, hospitals, academia and public agencies. Research seeks to discover and apply new knowledge that can help patients worldwide. For more information about the School of Dentistry, visit us on the Web at: www.dent.umich.edu. Contact: Lynn Monson, associate director of communications, at dentistry.communications@umich.edu, or (734) 615-1971.