Student Profile: Gloria Kwon

9

min read
An international background was good preparation for dentistry
This profile is one in a series highlighting School of Dentistry alumni, donors and students.

Ann Arbor, Mich., March 21, 2019 — The life experiences of fourth-year dental student Gloria Kwon help demonstrate the dynamic diversity found in the student body at the University of Michigan School of Dentistry. While the majority of students are from Michigan, the top-rated school also draws students from across the country and around the world. No matter their point of origin, students admitted to the dental school bring a wealth of accomplishments and interests to the school.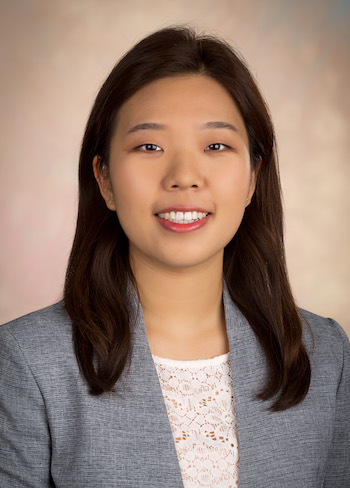 For Kwon, there is no simple answer when her patients or other students ask about her background. "This is a question I go through almost every day," she says. "People ask me where I'm from and it's like: Do you want the long version or the short version?"
Sometimes Kwon will start with the fact that she was born in suburban Chicago when her parents, natives of South Korea, were in this country to advance her father's education. When Kwon was three, her parents moved back to South Korea, where she lived for 10 years. Then her family moved to Dubai in the United Arab Emirates for her father's work with the family business, an international trading company.
As a child living in Korea, she was close to her extended family and learned how the close-knit Korean culture values the wisdom of elders and people in positions of authority. After moving to Dubai, Kwon spent her formative middle school and high school years in one of the wealthiest and most diverse cities in the Middle East. Located along the southeast coast of the Persian Gulf, Dubai is a sophisticated international business center that draws people from many parts of the world. Arabic is the official language but many other languages are spoken because of the large number of residents from other countries. Similarly, although it is a Muslim country, many other religions are practiced with approval of the UAE government. It was a cultural shock for a teen-ager living there, Kwon said, because she constantly met people from other countries and cultures with wide-ranging customs.
She attended a British school and graduated from a Lebanese international high school. The schools were a microcosm of the city, with students from not only Dubai and the Middle East, but also Asia, Europe, Africa and the United States. Students spoke English in the schools, though French and Arabic were also required. Each year all the high schools in Dubai held International Day, with students from 25 to 30 countries filling a soccer field with booths where they provided food from their countries and shared their native customs. "I could see how different cultures are really interesting to learn about, their differences," Kwon said. "Everyone wore their country's traditional clothes. Doing that every year, I think I just got really comfortable talking with people who aren't from similar backgrounds."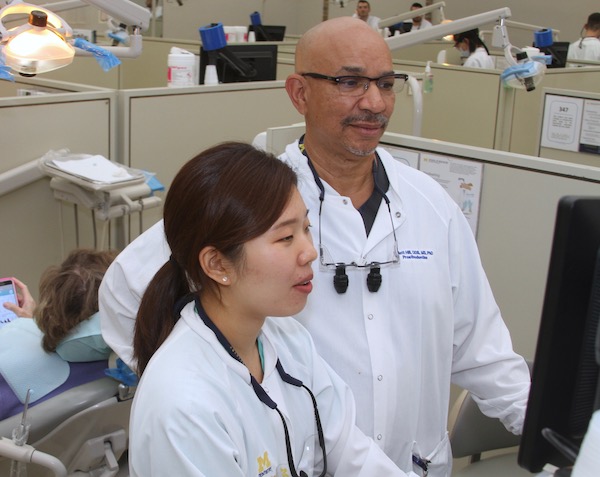 She also has traveled widely, with her family to Jordan, Israel and South Africa, and she took mission trips with members of her church to Kenya and Madagascar. She said her parents wanted her to experience more than the usual, popular tourist destinations like Europe and the U.S. "Looking back, I am so thankful that I had that experience," she said. "It was a life experience that I use here at the dental school, because I see Middle Eastern patients, Asian patients, many European people, from so many different cultures. It was a good experience."
When it was time to decide on college, Kwon said she wanted to experience education in the U.S., her birth country. "Living in Dubai opened my eyes to bigger things out in the world," she said. She applied to the University of Michigan because she liked its world-class academic reputation and commitment to diversity. She had no connections to the university or Ann Arbor, so her first year was yet another time of major adjustment in her life, in large part because of the switch to speaking only English all the time. She spoke Korean at home, English at school and had picked up bits of several other languages. The result in her first months at U-M was an accent that she describes as a combination of English, Korean, Middle Eastern and Lebanese. Her English improved steadily and she did so well in her coursework, majoring in biology, that she graduated in three years.
By then she had decided to pursue dentistry, which years earlier she had declared off limits. In high school, she thought she might work in a healthcare field because she liked the idea of helping people. She also liked doing things with her hands -– drawing and small crafts -– which led to suggestions that she consider dentistry. "I would say, 'I don't want to look at people's mouths all day! Why would anyone want to do that?!'"
Later in high school, on one of her church mission trips, she changed her mind. "I happened to help out a dentist who came with us to Madagascar, and I realized it's not only about looking at the teeth all the time," she said. "There's a lot more behind it. It kind of interested me, then I wanted to know more about it. So I began assisting at a dentist's office in Dubai before college. I saw that you look at a lot of things. You don't just look inside their mouth. You interact with patients. It's a very 'people job.' You form relationships with people, you talk with people. You become a part of their life in a sense. I like that idea."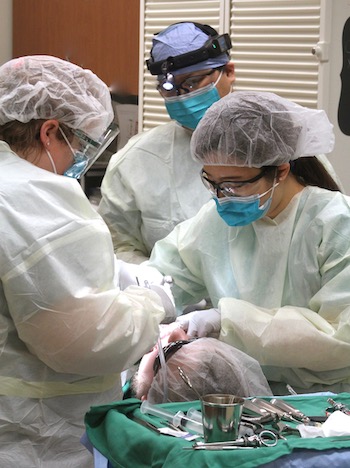 She said the U-M dental school has been just as it was billed. "Dental school is hard. It's a lot of information thrown at you," she said. "I remember as freshman someone telling me that you would expect it to be like water coming out of a garden hose, but it's actually water coming out of a fire hydrant. That was exactly how I felt. You are overwhelmed by the basic sciences and skills part in the Sim Lab, and then treating patients in the clinic takes a lot more skill than you expect."
Kwon said she has a great appreciation for the people who helped her over the last four years — faculty, classmates, students both ahead of and behind her class, and staff. "All the hardship I went through, it was OK because there were people who were willing to help me, who were willing to teach me a lot of things," she said. "Whenever I had any questions the faculty were so willing to spend an extra hour after school to give me the knowledge. And my friends, whenever I had a hard time, they were going through the same thing. I think the relationships that you form in dental school can carry on throughout your whole life. It's definitely stronger than the bonds I formed in undergrad or high school years."
Kwon's experiences at U-M and the dental school have been a testimonial for her family. Her sister Hanna is a second-year student at the dental school and her youngest sister Sarah is an undergrad at U-M, studying computer science and math.
Gloria Kwon graduates from dental school in May and it's likely her world travels will continue. That's because she was accepted into the U.S. Army's Health Professions Scholarship Program, which paid for her dental school costs. In return, she will complete a four-year commitment as an Army dentist. Before that starts, in August she is heading to Fort Benning, Ga., where she will complete an extra year in the Army's Advanced Education in General Dentistry program, as well as explore oral surgery, a recently discovered interest. "As a person who grew up internationally, I don't mind being stationed wherever — Germany, Italy, South Korea, Japan, anywhere in the United States. I love experiencing new places," she said.
What continues to motivate her about the dentistry profession are the patients. "Whenever a patient shows me appreciation, it just makes my day," she said. "Delivering dentures, my patients have cried in my chair in front of me. They were overwhelmed at having beautiful teeth after not having them for so many years. Just getting patients out of pain, by extracting a decayed tooth, they show me appreciation. That really keeps me motivated and makes me want to stay in the field."
###
The University of Michigan School of Dentistry is one of the nation's leading dental schools engaged in oral health care education, research, patient care and community service. General dental care clinics and specialty clinics providing advanced treatment enable the school to offer dental services and programs to patients throughout Michigan. Classroom and clinic instruction prepare future dentists, dental specialists and dental hygienists for practice in private offices, hospitals, academia and public agencies. Research seeks to discover and apply new knowledge that can help patients worldwide. For more information about the School of Dentistry, visit us on the Web at: www.dent.umich.edu. Contact: Lynn Monson, associate director of communications, at dentistry.communications@umich.edu, or (734) 615-1971.