Midway Dental gift to fund new clinic with latest innovative dentistry tools and technology

4

min read
Ann Arbor, Mich., March 21, 2019 — A major gift from Midway Dental will allow the University of Michigan School of Dentistry to create a unique clinic where students, faculty and staff learn how to use the latest innovative dentistry tools and technology.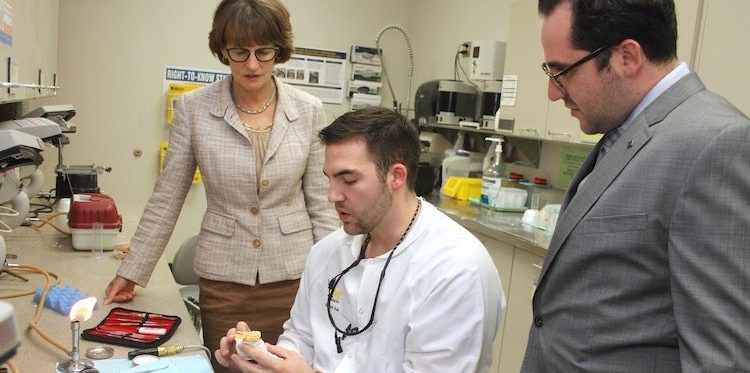 The gift is one of the largest financial commitments the school received during the recently concluded Victors for Dentistryfundraising campaign. The new clinic will be part of the major renovation and expansion currently underway at the school.
Midway Dental, a full-service dental supply company based in Livonia, Mich., will provide in-kind contributions of the latest high-tech dentistry equipment, tools and digital software so that students, faculty and staff can keep current with the rapidly-evolving profession. The Midway Dental Advanced Continuing Education and Innovation Clinic — or ACE Clinic — is a five-year commitment, with the option of an extension. Midway also will train dental school personnel in the use of the equipment.
"We are grateful for this forward-thinking gift," said Dean Laurie McCauley. "One of the challenges for any dental school is keeping students, faculty and staff up-to-date with the many new technologies that are constantly being introduced. For us, it's a perfect collaboration to pair with a dental supplier that works closely with a broad array of companies as they bring their cutting-edge developments and innovations to the dental profession and its marketplace."
Steven Kizy, Chief Executive Officer of Midway, said the company's rapid growth and expansion in the last few years is being used to aggressively expand the scope of services that help dentists more efficiently serve patients. He also emphasizes the importance of growing educational opportunities in dentistry and those abound within the University of Michigan's new clinic. When Midway made its substantial donation, Kizy stated that "education is not only important to the dental industry, but to our society's ability to improve healthcare. It's how we improve our condition and status as a country for current and future generations."
Kizy said a committee of Midway and School of Dentistry representatives will meet quarterly to survey the options of emerging technology and equipment that could be installed in the ACE Clinic, starting in 2020 once the dental school renovation is further along. Some additions to the clinic might stay long-term, and others might be tested briefly and then moved out to make way for other arrivals, he said. The arrangement will allow Midway's manufacturing partners to test their products in a clinical setting where students and faculty want access to the best possible options for treating patients. "There are a lot of innovations in the pipeline but it takes a while for them to actually come to market," Kizy said. "This will be a perfect place for students and faculty to see what is coming out. Is there better technology for better results? They will see something new every three months."
Midway Dental is the fastest-growing full-service dental supply company in the United States. Midway provides comprehensive services for dental practices in Michigan, Indiana, Illinois, Wisconsin and Pennsylvania, with plans to expand across the country. With a commitment to "redefining the relationship between the distributor and the dental practice," the company sells supplies, equipment and a wide range of services to dentists. Services include equipment repair, information technology support, business operations consulting, office design, educational courses, financing and a dental lab. It has branch offices in Grand Rapids, Mich., Chicago, Ill., Indianapolis and South Bend, Ind., Columbus, Ohio, and Wisconsin. More information can be found on the company website.
###
The University of Michigan School of Dentistry is one of the nation's leading dental schools engaged in oral health care education, research, patient care and community service. General dental care clinics and specialty clinics providing advanced treatment enable the school to offer dental services and programs to patients throughout Michigan. Classroom and clinic instruction prepare future dentists, dental specialists and dental hygienists for practice in private offices, hospitals, academia and public agencies. Research seeks to discover and apply new knowledge that can help patients worldwide. For more information about the School of Dentistry, visit us on the Web at: www.dent.umich.edu. Contact: Lynn Monson, associate director of communications, at dentistry.communications@umich.edu, or (734) 615-1971.