Alumni Profile: Olivia Croom, DDS 1988

10

min read
From private practice to healthcare management on a national level
This profile is one in a series highlighting School of Dentistry alumni, donors, faculty and students.
Ann Arbor, Mich., Jan. 30, 2019 -– It's been 30 years since Olivia Croom graduated from the University of Michigan School of Dentistry, but at least once a year she awakes after a familiar dream.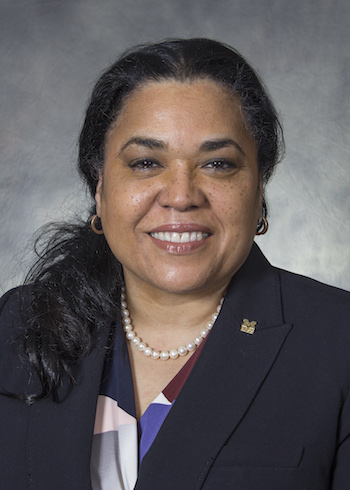 It's a few weeks before graduation and she is panicked because she hasn't checked off all of the requirements she needs to graduate. She has somehow come up short on the multitude of dental procedures she must complete for patients in the dental school clinic. What if she can't quickly find a patient who needs a partial denture? How will she find someone in need of a molar root canal? Will she be able to graduate?
The dream is her subconscious momentarily forgetting her Class of 1988 DDS diploma and instead remembering the intensity that students, then and now, talk about when they describe dental school.
On a recent morning, Croom was visiting the dental school and stopped by the "Second Floor Green" clinic where she treated patients during her third and fourth years. She walked quickly to the far side of the room, near the front, and found the dental chair and cubicle that she had been assigned to. "I spent a lot of time here," she mused as she looked around the room and posed for a photo.
When Croom walked out of dental school with her DDS degree in 1988, she believed she would be a practicing dentist for the rest of her life. It didn't work out that way. She's still associated with dentistry but in a way she could not have predicted back then. She says she's an example of how people need to make a plan, execute it, evolve and ultimately be willing to pursue what they love the most.
Today Croom is Chief Dental Officer and Senior Vice President at DentaQuest, a purpose-driven oral health organization based in Boston, Mass. She serves as the internal advisor for clinical and oral health policy matters, and she leads an enterprise-wide group of clinicians to enhance collaboration and develop clinical strategy rooted in DentaQuest's mission to improve oral health for all. DentaQuest serves more than 27 million Americans in 30 states and is the largest Medicaid dental program administrator in the country. It also manages 85 oral health centers in Alabama, Kentucky, Massachusetts, Oregon and Texas, with plans to double the number of centers it manages in the next five years.
Her journey from dentist to executive in a national healthcare organization started in Detroit with her working-class family that she describes as "hard-workin' folk." Her father's work history shows only two jobs -– one in the same factory for 30 years — during an era when long-term employer-employee commitment was the norm. That work ethic and her mother's belief in education made Croom and her five siblings first-generation college students. Coming up through Cass Technical High School, Croom considered medicine, biomedical engineering and optometry before taking a friend's suggestion to explore dentistry. She studied biology as an undergrad at U-M, then was admitted to the dental school. "It was a lot of work and I studied quite a bit," she said. "Dental school did not have all the 'warm fuzzies' but I understand what they were trying to accomplish. You had to engage quickly. It was sink or swim. But I think it prepared me to be a really great clinician out in the real world of dentistry. So, I received a good education."
Her first job out of school was in a Detroit practice where she had previously interned. She worked there and several other practices before opening up her own practice in 1993. "I think I was the last dinosaur to build a practice from scratch," she says. Croom Family Dentistry in Lathrup Village was one of the early boutique-style practices that catered to patients and provided fun things like flavored coffees served in chinaware and a play area for kids. From the start, she had a commitment to customer service and employee training. "Someone from the dental school said something to me that I never forgot: Treat your patients like you are treating your family, like you are treating your mom or your kids. That's always stuck with me."
Like any new practice, it started slowly. One of the problems, besides attracting new patients, was that her expertise was dentistry, not business management. So, she started taking practice management courses – lots of them. Over the next decade she built a thriving practice that reflected her deeply held beliefs of being friendly, efficient, progressive and accountable. "How can you separate yourself from other dentists? I made it a family environment so kids would look forward to the dentist," she said. "It was kid- and patient-friendly and I cared for staff. You can feel when you go into an atmosphere whether it is tense or whether it is a loving, caring atmosphere. And that's how I grew my practice – and by word of mouth. People felt comfortable in coming into the office."
She loved what she had created as a solo dentist, but the responsibilities of raising two young children led her to sell the practice in 2003. She kept her hand in dentistry by working part-time for Mobile Dentists of Michigan, an enterprise started by two other dental school alumnae, Marcy Borofsky (DDS 1984) and Margo Woll (DDS 1978). Croom was among dentists who went into schools throughout Michigan to provide treatment for children from low-income families. Using her can-do organizational skills that had built her private practice, Croom found ways to help streamline the process at Mobile Dentists over the four years she worked there. She is the sort of person who, if she sees something that doesn't make sense or could be done better, she addresses it in a tactful but persistent way. "I was always thinking about efficiency, something I brought from my practice. It's a great win when I can do something more efficiently."
That approach, combined with her dental skills, made Croom a natural for moving into the management and business realms of dentistry and healthcare. In 2008, she took a job with a company that had offices around the country. Initially, as a lead dentist at a dental center, she developed a reputation for turning an underachieving office into an efficient and more profitable operation that improved the quality of care for patients. In 2011, management convinced her to transition from lead dentist to Senior Vice President of Operations where she was responsible for the operational plans, performance reviews, recruitment and training of doctors, marketing plans and policy compliance for the company's Midwest region. Despite the extensive travel, it was a challenge that meshed with her talents and interests. More than 20 years after graduating from dental school, it marked the start of her career switch from dentistry to healthcare management.
Croom then returned to the Detroit area and worked as director of dentistry for two dental centers, developing and directing new care programs. During those years, as she interviewed for various executive jobs, she discovered that she was often in competition with other job candidates who held MBA degrees. Committed to her career in healthcare management, she decided to pursue her an MBA and was accepted at U-M's prestigious Ross School of Business. It allowed her to continue with her day job while studying evenings and attending program residencies once a month on campus. Many of her classmates were younger, had previous business education and had worked in business longer than Croom.
"I was learning these business concepts for the first time while these were old hat for everyone else," she said. "I worked during the day at my job, went straight home and studied every day till midnight. Because of my rigid schedule, I didn't have any friends any more, I didn't go anywhere or do anything. I didn't have a life! It was a lot of work, but I loved going back to school, and I loved my classmates. It's funny because I hadn't been to school in a long time so going back was difficult. When you're young, you could do all-nighters to finish your assignments and recover easily the next day. I'd find myself nodding off to sleep at 9 o'clock. Coffee was a necessity. I had to get the work done!"
And she did. With the newly-minted MBA on her resume, she landed a job in 2015 as Vice President of Operations for another large regional dental center group, this time based in Atlanta, Ga. Her work for Great Expressions Dental Centers was similar to the comprehensive oversight role she had performed before. She spent two years applying her proven formula of effective strategic operations management based on efficient customer service and excellent patient care.
Then came what she calls "a great opportunity to join a dynamic and innovative company" when she accepted the executive position at DentaQuest, which is advocating for a sea change in how Americans receive oral healthcare. DentaQuest's new initiative announced last fall, called Preventistry, promotes greater emphasis on prevention and calls for making treatment more affordable and easier to access for all Americans, not just those with good insurance plans. It calls for integrating oral care more effectively into the broader healthcare system and looking at a variety of factors that influence health. It advocates that dentists should not just treat problems, but also help patients improve their oral health and prevent disease before it starts. DentaQuest understands that its goal is ambitious because it will take collaboration and agreement from many constituencies in the healthcare network.
"We are trying to prevent disease before it happens," Croom said. "That's what the prevention model attempts to accomplish — dentists provide treatment but also focus on lowering the chances a patient will develop disease at all. And for that, having a reimbursement system that will reward dentists for preventing disease is key."
It's a complex and evolving mission that involves new thinking, innovation, metrics, marketing and engaging many current and developing constituencies across the country. DentaQuest is establishing itself as a thought leader in these areas.

It's not lost on Croom that her work is a long way, figuratively, from her working-class upbringing in Detroit, a conversation she occasionally has with her son and daughter, both recent college graduates. "I would have never imagined that I'd end up where I am," she said. "I tell my kids to write out a plan, then execute it. But you never know where life will lead you. I thought I was going to be a dentist and have a practice for the rest of my life. It didn't end up that way, but I wouldn't change it for anything."
###
The University of Michigan School of Dentistry is one of the nation's leading dental schools engaged in oral health care education, research, patient care and community service. General dental care clinics and specialty clinics providing advanced treatment enable the school to offer dental services and programs to patients throughout Michigan. Classroom and clinic instruction prepare future dentists, dental specialists and dental hygienists for practice in private offices, hospitals, academia and public agencies. Research seeks to discover and apply new knowledge that can help patients worldwide. For more information about the School of Dentistry, visit us on the Web at: www.dent.umich.edu. Contact: Lynn Monson, associate director of communications, at dentistry.communications@umich.edu, or (734) 615-1971.