Special Care Clinic Opens

3

min read
Delta Dental Foundation grant provides expanded care
This article was first published in the Fall 2018 edition of the Dentalum alumni magazine.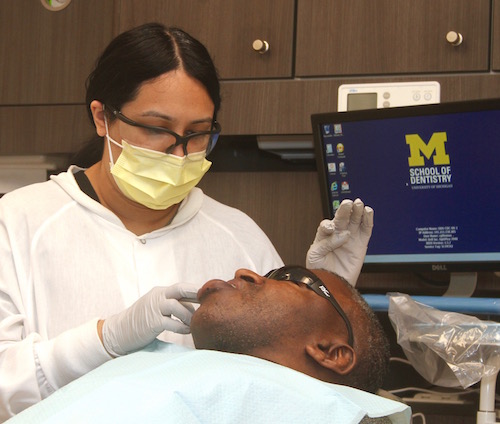 Ann Arbor, Mich., Dec. 1, 2018 — Patients with special healthcare needs are now being treated at the School of Dentistry's new Delta Dental Integrated Special Care Clinic. The clinic opened earlier this year in space that was remodeled at the Community Dental Center (CDC), the non-profit clinic that the dental school has operated in downtown Ann Arbor since 1981. It is the newest of several sites at which the school provides dental care to patients with special healthcare needs, including Hospital Dentistry at Michigan Medicine, Mott Children's Hospital and the dental school clinics.
The creation of this unique clinic at the CDC for patients with special needs, ages 16 and above, was funded with a $2 million grant from the Delta Dental Foundation. The clinic will eventually move to the main dental school building as part of the major renovation project now underway.
Specialized equipment is designed to improve the treatment of patients with a wide variety of conditions, such as cerebral palsy, autism spectrum disorder, dementia, traumatic brain injury, progressive neurologic disorders, and disabilities that limit mobility, vision or hearing. Clinic features include interior design for broader accessibility and movable dental chairs and equipment so that patients can remain in their wheelchairs during treatment rather than be moved into the dental chair. Other features are adjustable lighting that dims for patients who are sensitive to bright light; portable, hand-held x-ray devices; rooms with more privacy than dental clinics with open floor plans; and fully adjustable dental chairs to accommodate a variety of special needs.
Dr. Nita Singh, a dentist at the dental school who is the lead provider, said the clinic's flexibility is important because patients' needs vary from day to day. "Maybe on one day they feel good and can transfer to the dental chair. Maybe on another day they just want to stay in their wheelchair and recline back. It's nice that we can accommodate that," Singh said. "I also think it's a quieter environment, so that patients who have mental health conditions, or autism are more at ease than being in the dental clinic where there are lots of people, lots of voices."
Educational opportunities for dental and dental hygiene students also are an important feature of the new clinic. Dr. Carol Anne Murdoch-Kinch, the Dr. Walter H. Swartz Professor of Integrated Special Care Dentistry and Associate Dean for Academic Affairs, is working with faculty and students to offer a clinical elective course in which students are trained in the best practices for providing care for patients with special needs. That requires the dental team to be skilled at communicating and collaborating with many other healthcare professionals – from disciplines such as social work, pharmacy and medicine – because of the complex and interrelated needs of the patient.
Singh and Murdoch-Kinch are raising awareness of the new facility with dentists and agencies throughout the region so that they can refer patients with special needs to the clinic.