Why I Give …

3

min read
For Dr. Carrie Ehinger, paying it forward is about respect and gratitude
This article was originally published in the Fall 2018 Dentalum alumni magazine in a section called 'Why I Give' that features alumni who make financial gifts to the dental school.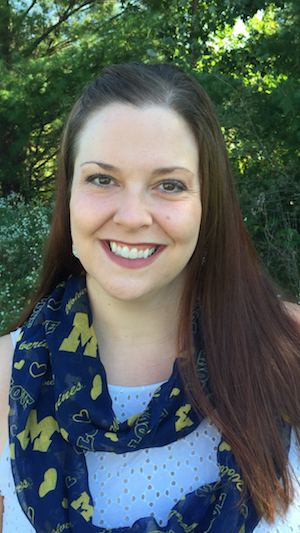 Ann Arbor, Mich., Dec. 1, 2018 — Dr. Carrie Ehinger earned her DDS degree from the University of Michigan School of Dentistry in 2011. She practices dentistry in Chesaning, Mich., about 30 miles southwest of Saginaw, with Dr. Jeannine Hopfensperger (U-M DDS 1980). Dr. Ehinger was a dental hygienist for seven years before being accepted into the dental school. She is a regular donor to the dental school, making a gift in each of the last five years, most recently to the scholarship fund named for professors Don and Ron Heys. She explains in her own words why she feels it is important to give back.
When I think of the dental school I remember the excitement all around and how quickly it felt like home. Classmates from all years were ready to help each other out. From day one, you could just tell that everyone at the school wanted you to be there and would do whatever was necessary to help you succeed. There was so much positive energy.
Dr. Don Heys (DDS 1972, MS restorative 1975) stands out in my mind when I think back to instructors. He was my clinic coordinator and I had one particularly large case that he guided me through. Whenever I worked with him, he brought such calmness. The questions he would ask would make you think outside the box you had drawn. He was always positive and supportive. He encouraged me to push myself, to work a little faster and I couldn't help but believe in my abilities more because of it.
I strongly believe in paying it forward. When I was in dental school I received some scholarships. It meant so much to me that someone donated money to make my tuition payment a little bit easier. Education is expensive but so important, and if I can help in a small way to make another life just a bit easier then I want to. My respect and gratitude for Dr. Don Heys made donating to the Heys Scholarship Fund an easy decision. In addition to personally donating to this fund I also donate through the office because Dr. Hopfensperger has equally positive memories of the Don and Ron Heys.
My decision to give back is a decision supported by my husband, Ryan. He knows how much going to U-M meant to me and is totally supportive of the causes we support. And donating is a great thing for my daughter Isabella to see us doing, to encourage her to be kind and giving as she grows as well.

I think sometimes we need to step back and remember where we came from and that something small you could give may end up meaning the world to someone who receives it! I am proud to have graduated from U-M School of Dentistry and I enjoy giving back and making a difference!