New president of Pakistan is School of Dentistry alumnus

4

min read
Ann Arbor, Mich., Sept. 7, 2018 -– The new president of Pakistan is a dentist turned political leader who earned his master's degree in prosthodontics at the University of Michigan School of Dentistry in 1975.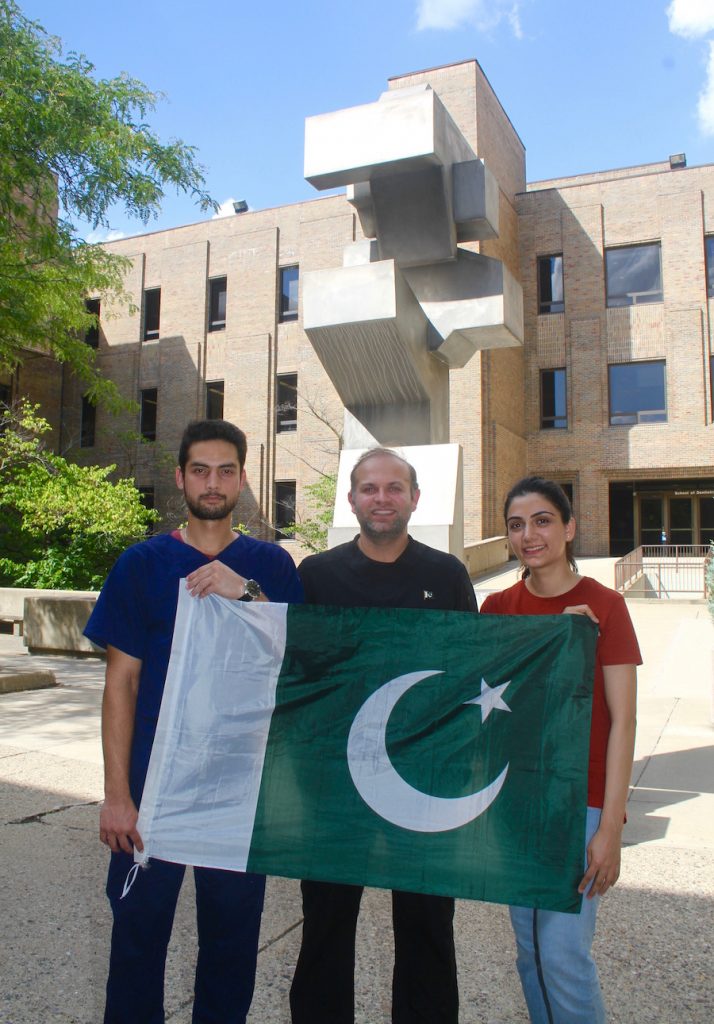 Dr. Arif Alvi was elected president on Tuesday by members of the National Assembly, the Senate and four provincial assemblies. His five-year term begins Sept. 9. Alvi is a member of the same political party as the country's new prime minister, Imran Khan, who was elected in August. In the Pakistani form of government, the president is kept informed of national and foreign policy matters by the country's Prime Minister and is the civilian commander-in-chief of the country's military, but the position is largely ceremonial.
Three Pakistani dentists who are studying at the U-M dental school celebrated Alvi's election because they said it will elevate the appreciation for dentists throughout their country. They said they are proud to be studying at the same dental school where Alvi spent two years earning his master's degree in prosthodontics.
Muhammad Atif, who has been at the dental school since January as part of the Internationally Trained Dentist Program (ITDP), was riding a bus from North Campus to the dental school Tuesday morning when he heard the news. Atif went directly to the office of Admissions Director Pattie Katcher so that school officials would know that one of their alums is now holding the second highest political office in Pakistan.
"For me, it was overwhelming," said Atif. "I am excited that a dentist became president and more excited because he is a Michigan alumnus from the same dental school where I am."
Two other Pakistani residents are currently at the school: Musa Qazi is in the one-year Periodontics Dental Postgraduate Program; he is from Peshawar. Filza Imran arrived this week from Lahore to start her one-year postgraduate certification program in regenerative medicine. "I feel extremely proud that somebody from my profession has been elected as the president of the country," Imran said. "I feel that dentists are not given the respect that they deserve compared to medical doctors in Pakistan, although the importance of dental health cannot be neglected. However, with Dr. Alvi's election, I am hopeful that it will change the stereotypical perception."
Atif, a practicing dentist in Lahore before coming to U-M for the ITDP, said Alvi is well known throughout the Pakistani dental community. Alvi's family has been in dentistry for four generations and operates a large and progressive dental practice, Atif said. Even as Alvi became more involved in politics, he continued to hold leadership positions in numerous dental organizations and to make presentations at dental conferences, Atif said.
Atif, who finishes the ITDP in 2020, hopes to use the new president's connection to the U-M dental school as a recruiting tool to draw more dentists from Pakistan to Ann Arbor, just as he has done with his career. Atif is working with Katcher in the admissions office to plan informational meetings when he returns to Pakistan during the dental school's year-end academic break in December. "There is a lot of talent, they just need direction," Atif said of connecting the dental community in Pakistan to U-M. "I am proud to be a part of Michigan because without any doubt that's the No. 1 dental school. And once you are in the Michigan dental school, that means you belong to Michigan."
Alvi has ties to a second U.S. dental school as well. He received a master's degree in orthodontics from the University of the Pacific in 1984.
More information about Alvi's election can be found on the website of Dawn, one of the most widely read English-language newspapers in Pakistan. Alvi's dental practice website has information about his dental education, involvement in dental organizations and practice history.