Dr. Jan Hu named chair of the Department of Biologic and Materials Sciences & Prosthodontics

3

min read
Ann Arbor, Mich., Aug. 9, 2018 -– School of Dentistry faculty member Dr. Jan Hu has been named chair of the school's Department of Biologic and Materials Sciences & Prosthodontics.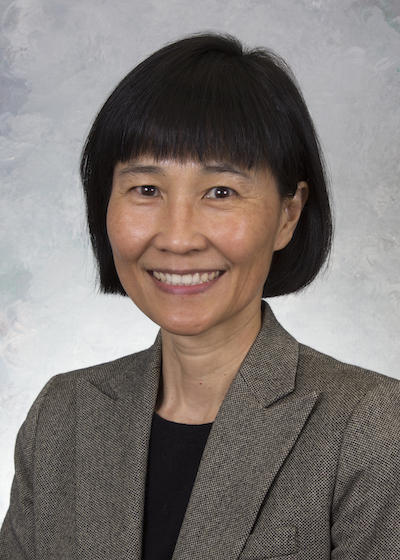 Dean Laurie McCauley announced the appointment, which is effective Sept. 1, 2018. Dr. Hu was selected after an international search by a committee of faculty and alumni.
Dr. Hu is the Samuel D. Harris Collegiate Professor of Dentistry. Her research focuses on characterizing the molecular regulation of tooth development and determining etiologies of genetic disorders involving teeth.
Dr. Hu is already experienced in the chair role. She served as the interim chair for BMSP since January 2018, and for the Department of Orthodontics and Pediatric Dentistry from July 2015 through June 2016. She has also served as the director of the Oral Health Sciences PhD program for the past seven years. Dr. Hu has held continuous funding from the NIH for 24 years and has contributed more than 150 peer-reviewed publications.
"Jan possesses a great combination of scientific acumen, calm yet firm resolve, and valued administrative capabilities that will serve BMSP and our school well in the years ahead," McCauley said.
Dr. Hu has made strong contributions to the field of tooth development and dental genetics. Her research team has identified and characterized multiple genes from the developing teeth of mice, pigs and humans and demonstrated the functional importance of those genes on enamel mineralization. In 2006, Dr. Hu and her pediatric dental team established a multi-center, long-term study that provided the scientific evidence to support the replacement of diluted formocresol with mineral trioxide aggregate for vital pulpotomy. This series of studies improved pulpotomy treatment for children. In 2017, Dr. Hu led 21 program directors to complete the first outcome assessment study of oral science PhD programs in the United States.
Dr. Hu received a Bachelor of Dental Surgery degree in 1985 from National Taiwan University. She completed a residency in pediatric dentistry and a PhD in Craniofacial Biology at the University of Southern California. Her postdoctoral training was in Dr. Harold Slavkin's lab at the Center for Craniofacial Molecular Biology at USC. She joined the Department of Pediatric Dentistry at the University of Texas Health Science Center at San Antonio as an assistant professor in 1993 and became an associate professor with tenure in 1999. She was recruited to the U-M Department of Orthodontics and Pediatric Dentistry in September 2002 as an associate professor with tenure and was appointed to the Harris Professorship in 2006.
Dr. Hu's professional honors include the AADR/IADR William J. Gies Award in 2001 and 2005, the AAPD Paul P. Taylor award in 2011, and the IADR distinguished scientist award for basic research in biological mineralization in 2015. Dr. Hu is a fellow of the 2017 class of the Hedwig van Ameringen Executive Leadership in Academic Medicine Program.

In making the announcement, Dean McCauley thanked the search committee, led by Dr. Russell Taichman, as well as to the BMSP department for its flexibility and commitment over the past two years. Dr. Hu replaces Paul Krebsbach, who is now dean of the UCLA dental school.

###
The University of Michigan School of Dentistry is one of the nation's leading dental schools engaged in oral health care education, research, patient care and community service. General dental care clinics and specialty clinics providing advanced treatment enable the school to offer dental services and programs to patients throughout Michigan. Classroom and clinic instruction prepare future dentists, dental specialists, and dental hygienists for practice in private offices, hospitals, academia and public agencies. Research seeks to discover and apply new knowledge that can help patients worldwide. For more information about the School of Dentistry, visit us on the Web at: www.dent.umich.edu. Contact: Lynn Monson, associate director of communications, at dentistry.communications@umich.edu, or (734) 615-1971.