School of Dentistry to host seminar for foreign-trained dentists

2

min read
Ann Arbor, Mich., Aug. 3, 2018 -– Foreign-trained dentists face a variety of challenges when they seek to continue their profession in the U.S. It can take many years to gain entry into a U.S.-based dental school and to acquire the necessary skills to effectively practice dentistry.
This fall, a new seminar at the University of Michigan School of Dentistry will help address the obstacles for these dental professionals. The seminar is designed to accelerate the learning of foreign dentists about the U.S. healthcare system, dental profession and educational system as well as the cultural differences that will support the dentists' application and performance in interviews.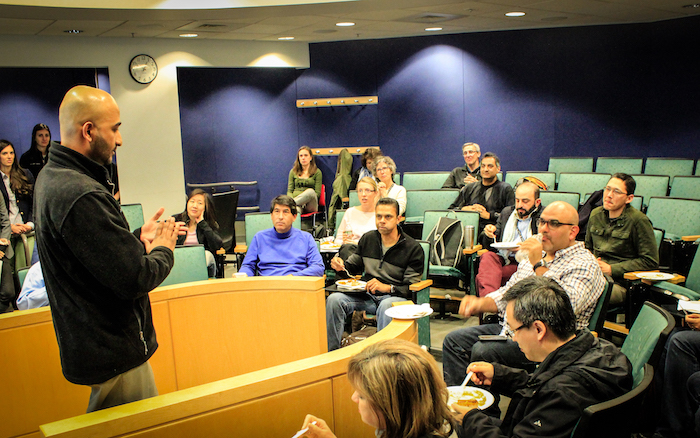 "Our faculty has extensive experience in supporting students on the pathway to licensure in U.S.," said Romesh Nalliah, DDS, MHCM, associate professor at the School of Dentistry and lead organizer for the seminar. "We designed the content for this seminar based on surveys and focus groups to address the specific needs of foreign-trained dentists and how best to help them gain entry into U.S. international dentist programs and U.S. residency programs."
The three-day seminar will begin on Saturday, Sept. 29, and run through Monday, Oct. 1. The agenda includes a number of lectures and interactive programs such as developing a high-caliber CV and personal statement under the mentorship of a U.S. dental faculty member; conducting various communication exercises such as mock interviews and public speaking that will include feedback sessions; and a deep dive into the U.S. standards of evidence-based dentistry and guidance on how to critically appraise research papers.
More information is available at the seminar website. An early-bird discount for the seminar ends on Aug. 31.
###
The University of Michigan School of Dentistry is one of the nation's leading dental schools engaged in oral health care education, research, patient care and community service. General dental care clinics and specialty clinics providing advanced treatment enable the school to offer dental services and programs to patients throughout Michigan. Classroom and clinic instruction prepare future dentists, dental specialists, and dental hygienists for practice in private offices, hospitals, academia and public agencies. Research seeks to discover and apply new knowledge that can help patients worldwide. For more information about the School of Dentistry, visit us on the Web at: www.dent.umich.edu. Contact: Lynn Monson, associate director of communications, at dentistry.communications@umich.edu, or (734) 615-1971.