Faculty member receives award during international dental research conference

3

min read
Ann Arbor, Mich., July 26, 2018 -– Dr. Daniela Mendonça, a faculty member at the University of Michigan School of Dentistry, has received an international award for her cellular-level research that has applications for improving dental implant therapy.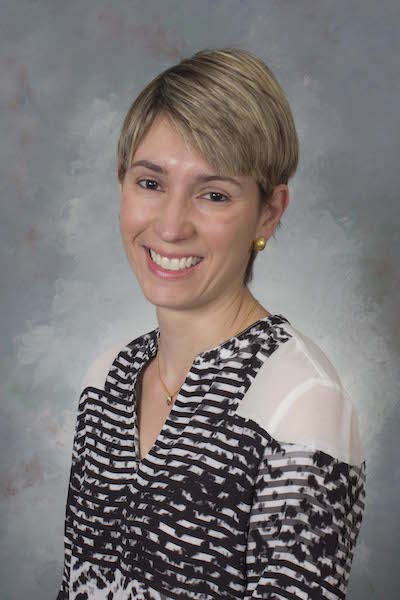 The International Association for Dental Research (IADR) and American Association for Dental Research (AADR) announced that Mendonça is the 2018 recipient of the IADR Academy of Osseointegration Innovation in Implant Sciences Award.
Mendonça, a clinical assistant professor in the Biologic and Materials Sciences Department, was recognized Wednesday at the opening ceremonies of the 96th general session of the IADR in London, England.
Mendonça was selected for her research entitled, "Effect of Nanotopography on Cell Population and Differentiation in Osteoporosis in vivo." Mechanisms that control osseointegration are not completely understood and include a diverse cell population that interacts at the implant surface, but very little is known about how these cells interact. Mendonça and co-investigators propose to examine how titanium topography affects osseointegration in an osteoporotic mouse model in vivo by using single-cell genomic approach to identify cluster of cells. They hypothesize that topography affects osseointegration in cases of osteoporosis and hope that a better understanding of the role of cell population in implant/cell interactions in osteoporosis can lead to the development of novel implant surfaces with a more direct effect on bone cells.
The award, now in its eighth year, is supported by the Academy of Osseointegration. It is intended to help investigators pursue innovation and novel research in oral care that involves, but is not limited to, dental implant therapy. Mendonça will receive an award of up to $75,000.
"IADR thanks the Academy of Osseointegration for their continued support which allows dental, oral and craniofacial researchers to create innovative discoveries that can be applied in clinical practice and be used to enhance oral health and quality of life," said IADR President Angus William G. Walls.
Mendonça received her DDS, postgraduate training in prosthodontics and a master's degree in oral rehabilitation from the University of Uberlândia in Brazil. She holds a PhD in Genomic Sciences and Biotechnology from the Catholic University of Brasilia, Brazil. Prior to joining the U-M faculty, she taught at the University of North Carolina School of Dentistry. In addition to her research, Mendonça teaches predoctoral students in the Comprehensive Care Clinics and preclinical courses in fixed and removable prosthodontics.
Also at the general session, former U-M dental school faculty member, Dr. Martha Somerman, received the IADR Distinguished Scientist Award in Basic Research in Biological Mineralization. Somerman is director of the National Institute of Dental and Craniofacial Research at the National Institutes of Health in Bethesda, Md.
The IADR is a nonprofit organization with more than 10,800 members worldwide. It is dedicated to advancing research and increasing knowledge for the improvement of oral health worldwide. It supports and represents the oral health research community, and it facilitates the communication and application of research findings. More information is available on its website at www.iadr.org.
###
The University of Michigan School of Dentistry is one of the nation's leading dental schools engaged in oral health care education, research, patient care and community service. General dental care clinics and specialty clinics providing advanced treatment enable the school to offer dental services and programs to patients throughout Michigan. Classroom and clinic instruction prepare future dentists, dental specialists, and dental hygienists for practice in private offices, hospitals, academia and public agencies. Research seeks to discover and apply new knowledge that can help patients worldwide. For more information about the School of Dentistry, visit us on the Web at: www.dent.umich.edu. Contact: Lynn Monson, associate director of communications, at dentistry.communications@umich.edu, or (734) 615-1971.