Valerie Nieto wins national Dental Hygiene award

2

min read
Ann Arbor, Mich., Aug. 3, 2018 — Valerie Nieto, a first-year master's student in the Dental Hygiene Program, has won a national award from the American Dental Hygiene Association for a research project examining oral health disparities among military veterans.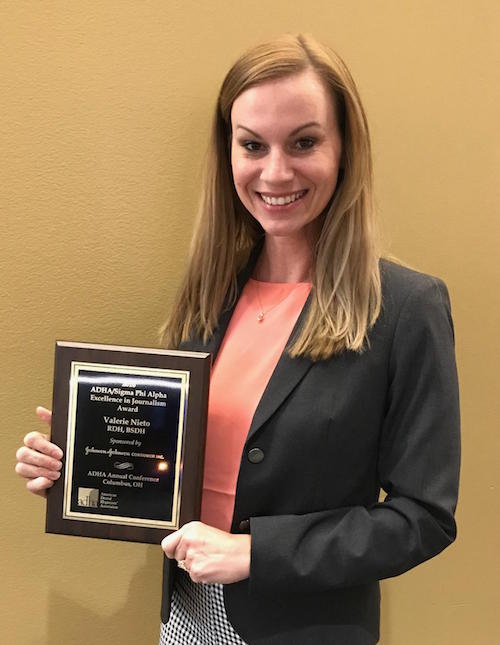 Nieto received the 2018 ADHA/Sigma Phi Alpha Journalism Award for a manuscript entitled, "Attitudes and Access Patterns of Michigan Veterans not Eligible for VA Oral Health Care: A Cross-sectional Study." She completed the study as the capstone project in the DH Degree Completion Program a year ago, before she entered the master's program.
The ADHA award recognizes one outstanding manuscript submitted by a student pursuing a baccalaureate degree and one outstanding manuscript submitted by a student pursuing a master's or doctoral degree. Nieto won in the baccalaureate category. To be eligible, students must be enrolled at a school with an active chapter of the Sigma Phi Alpha Dental Hygiene Honor Society.
Danielle Furgeson, a clinical assistant professor and director of the Graduate Dental Hygiene Program, said the award is one of the premier student awards in dental hygiene. "Valerie's research is unique and important because it calls attention to the disparities in oral health care in the veteran population," Furgeson said. "This award is particularly significant because it recognizes outstanding original research produced by a student."
Nieto's research also is scheduled to be published in the October 2018 issue of the Journal of Dental Hygiene.
Nieto is continuing her research on oral health disparities in veterans through her graduate studies in the MSDH program. She is studying the periodontal status, inflammatory biomarker and cortisol levels in veterans with Post-Traumatic Stress Disorder.
Last year, Nieto was named as the first recipient of a new, tuition-paid MSDH Teaching Fellowship.
###
The University of Michigan School of Dentistry is one of the nation's leading dental schools engaged in oral health care education, research, patient care and community service. General dental care clinics and specialty clinics providing advanced treatment enable the school to offer dental services and programs to patients throughout Michigan. Classroom and clinic instruction prepare future dentists, dental specialists, and dental hygienists for practice in private offices, hospitals, academia and public agencies. Research seeks to discover and apply new knowledge that can help patients worldwide. For more information about the School of Dentistry, visit us on the Web at: www.dent.umich.edu. Contact: Lynn Monson, associate director of communications, at dentistry.communications@umich.edu, or (734) 615-1971.