Dental educator Jeanne Sinkford to receive honorary degree from U-M

3

min read
Ann Arbor, Mich., March 30, 2018 — An internationally renowned dental educator, academic leader and social justice advocate nominated by the School of Dentistry will receive an honorary degree from the University of Michigan at its spring commencement on April 28 at Michigan Stadium.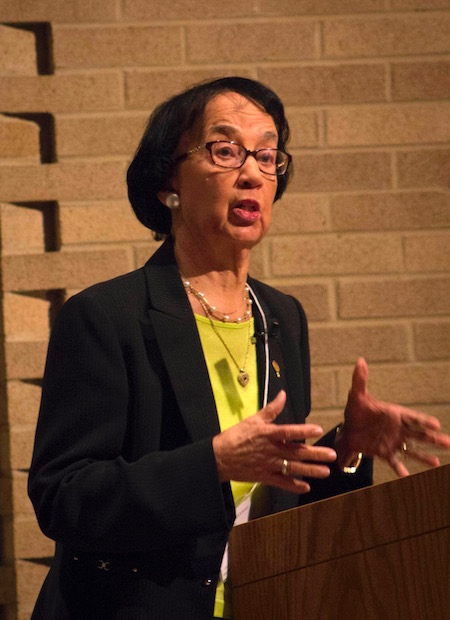 Jeanne Craig Sinkford is a professor and dean emerita of the Howard University College of Dentistry in Washington, D.C., and senior scholar-in-residence at the American Dental Education Association. When she was named dean of the Howard dental school in 1975, Dr. Sinkford was the first female dean of an American dental school.
Dean Laurie McCauley and the dental school will host Dr. Sinkford during her visit to campus to receive a Doctor of Science degree during the commencement ceremony. The school also hosted Dr. Sinkford in 2016 when she delivered the annual Health Sciences MLK Day Lecture at the U-M medical center.
Sinkford is a 1953 Phi Beta Kappa graduate of Howard with a degree in psychology and chemistry. She graduated first in her class at Howard's College of Dentistry in 1958 and joined the school's faculty in the Division of Prosthodontics. She later attended Northwestern University for a doctorate in physiology and post-graduate training in prosthodontics. She returned to Howard in 1964 to become chair of the Division of Prosthodontics. She became associate dean in 1967 and a full professor in 1968.
During her tenure as dean, from 1975 through 1991, Sinkford expanded the research and community service components of dental education at Howard and nationally. Among other leadership roles, she chaired the Council of Deans of the American Association of Dental Schools and the Anatomical Review Board of the District of Columbia. Notable among her many honors is her election to fellowship in the National Academy of Medicine, formerly the Institute of Medicine.
U-M presents honorary degrees to recognize those who have "advanced their field of endeavor in significant ways" or have made major contributions to society.
For more information, see the story on this year's honorary degrees on the University Record website.
Visit Jeanne Sinkford's biography on the Sindecuse Museum website.
###
The University of Michigan School of Dentistry is one of the nation's leading dental schools engaged in oral health care education, research, patient care and community service. General dental care clinics and specialty clinics providing advanced treatment enable the school to offer dental services and programs to patients throughout Michigan. Classroom and clinic instruction prepare future dentists, dental specialists, and dental hygienists for practice in private offices, hospitals, academia and public agencies. Research seeks to discover and apply new knowledge that can help patients worldwide. For more information about the School of Dentistry, visit us on the Web at: www.dent.umich.edu. Contact: Lynn Monson, associate director of communications, atdentistry.communications@umich.edu, or (734) 615-1971.