Regents approve moving forward with School's major renovation

6

min read
Ann Arbor, Mich., March 30, 2018 — A major renovation and addition for the School of Dentistry will begin this fall after the project was given final approval Thursday by the University of Michigan Board of Regents.
The board unanimously approved the schematic design and authorized proceeding with construction of the $140 million project. The regents first approved the design phase and selection of an architect in 2016 and a revised budget in 2017.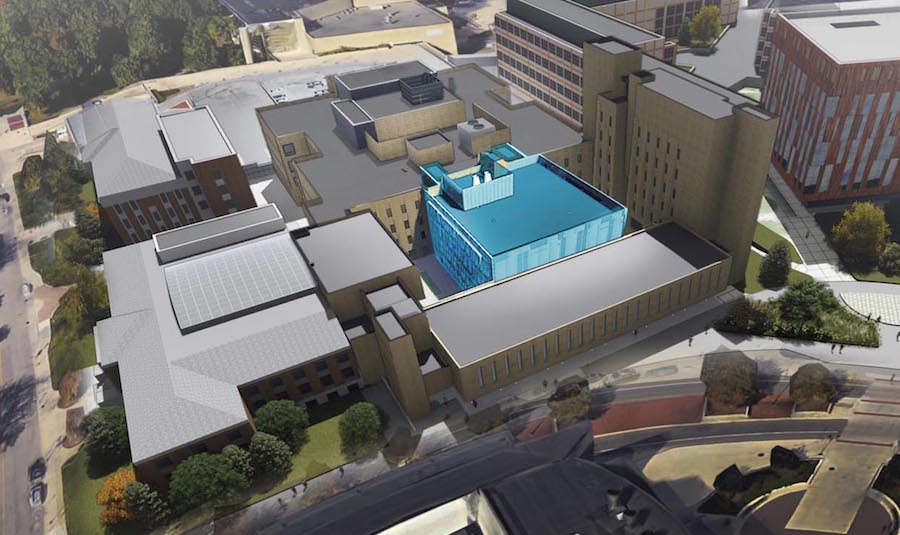 The project will update and expand the school's facilities for teaching dental students, serving patients from around Michigan and conducting world-class scientific research that advances the dental profession. Construction will be completed in phases to allow the school's teaching mission and treatment of patients to continue during the project. Completion is expected in 2022.
About half the existing facility will be renovated and approximately 48,000 square feet will be added, primarily by building a three-story addition in what is now the central courtyard of the school. The two main parts of the current complex were completed in 1940 and 1971, two eras when technology and priorities were much different than they are today. The renovation will allow the school to update and incorporate the latest best practices, design and equipment for patient care, dental education and research.

The Michigan Legislature and Gov. Rick Snyder approved $30 million in state funds for the project in fiscal year 2017. The rest of the funding will come from the Office of the Provost, School of Dentistry resources and university investment proceeds.
Calling it "a period of renewal," Dean Laurie McCauley said the renovation is an important next step in the history of the dental school, which is consistently ranked at or near the top of national and world rankings. "For us to continue to be a leader in dentistry and dental education, we must continually move forward in many ways," McCauley said. "Maintaining excellence takes not only talented and innovative people — the faculty and staff — but also modern, state-of-the-art facilities. These building improvements will help us do an even better job of teaching our students, treating patients from nearly every county in Michigan and conducting research that advances the dental profession."
The project addresses a wide variety of needs, with a particular emphasis on patients — both their oral health treatment as well as how they navigate into and through the building to their appointments. Outdated clinical space was redesigned with a larger and more efficient configuration, and the creation of a unique clinic for special needs patients was funded with a $2 million grant from the Delta Dental Foundation. Spaces were designed to enhance current trends in interprofessional treatment, which involves health care providers from many disciplines contributing to the treatment of patients. New research labs are configured with a more open design than traditional labs in order to facilitate collaboration among faculty, students and research personnel.
Planning over the last two years was led by a Facilities Planning Committee with representatives of the dental school, the university Provost's Office, U-M's Architecture, Engineering and Construction office and Smith Group JJR, the project architect. Numerous subcommittees with faculty, students and staff contributed to the process. Michigan-based Smith Group JJR has planning and design experience in dental environments, clinical patient care and research facilities.
Here are additional details of the building plans:
Improvements for Patients: A new main entrance and redesigned registration area will flow directly to predoctoral dental clinics, which will now all be on one floor for a more streamlined and efficient entry to the school and appointments. Patients utilizing specialty clinics elsewhere in the building will find improved wayfinding signage, pathways and elevators that allow them to more easily navigate to their appointments. Larger, improved dental operatories will have the latest technological improvements in dental equipment. The latest advances in electronic health records, developed for the School of Dentistry, will aid in more efficient care for patients. The new special needs clinic will provide specialized equipment and practices to serve patients with a wide variety of physical and mental limitations, such as developmental disabilities, cognitive impairments, blindness or hearing loss, complex medical problems, stress disorders related to military service or vulnerable conditions unique to the elderly.
New Entrances: The school's north entrance, nearest the Fletcher Parking Structure, is being redesigned with a covered, drive-through access that leads directly into a patient registration area. Patients will still be able to use the building's south entrance, along North University Avenue, but it will be significantly modified. At the south entrance, pedestrians will no longer walk under the overhanging Student Commons study area to reach the courtyard and current south entry doors. Instead, a ground-level addition will be enclosed under the Commons to create seminar and common space. The new south entrance will direct patients toward the registration area and clinics on the north side of the building.
Advancing Dental Education: Many of the benefits for patients are also benefits for students and faculty, particularly the larger dental operatories that will allow more access for the team of specialists who provide individualized interprofessional care. Centralized equipment dispensaries and sterilization services will help students provide more efficient patient care, as will the revised design of the clinic areas. Technology improvements will include operatories with video capability for creating instructional videos.
New, Improved Research Labs: Research needs, equipment and the collaborative process of scientists have changed significantly in the five decades since the existing research tower was built. A three-story addition, with two floors dedicated to research, will rise out of the current courtyard to provide a new benchmark for scientific research facilities. An open, adaptable floor-plan for lab space will allow researchers to better collaborate. Graduate students, research assistants and faculty will have more common areas — from their lab benches to write-up spaces to break areas — where they can easily meet to discuss existing projects and inspire new ideas.
Utilities Upgrade: Major upgrades of the heating, air conditioning and ventilation needs of the school are part of the project.
Step by Step: Construction will be coordinated in several major phases to allow the school to continue its educational, clinical and research mission during the renovation, with completion expected in 2022.
For more information:
Go to the School of Dentistry's webpage devoted to the renovation. You will find artist's renderings of what the finished building will look like, as well as short videos that allow the viewer to virtually walk through portions of the new building.
###
The University of Michigan School of Dentistry is one of the nation's leading dental schools engaged in oral health care education, research, patient care and community service. General dental care clinics and specialty clinics providing advanced treatment enable the school to offer dental services and programs to patients throughout Michigan. Classroom and clinic instruction prepare future dentists, dental specialists, and dental hygienists for practice in private offices, hospitals, academia and public agencies. Research seeks to discover and apply new knowledge that can help patients worldwide. For more information about the School of Dentistry, visit us on the Web at: www.dent.umich.edu. Contact: Lynn Monson, associate director of communications, at dentistry.communications@umich.edu, or (734) 615-1971.