Annual Ida Gray Awards presented during DEI Day

6

min read
Ann Arbor, Mich., March 16, 2018 -– Two faculty members and two students were honored Wednesday as the School of Dentistry presented its annual Ida Gray Awards during a Diversity, Equity and Inclusion Day program.
Receiving awards were Kelsie Pittel, a third-year dental student; Hussain Haider, a fourth-year dental student; adjunct faculty member Dr. Shahrzad (Sherry) Mirafzali; and faculty member Dr. Elliott Hill. The award honors individuals who have contributed to the advancement of diversity and who have improved the climate for work, learning, research and patient care. Faculty, staff and students from the school submit nominations for the award.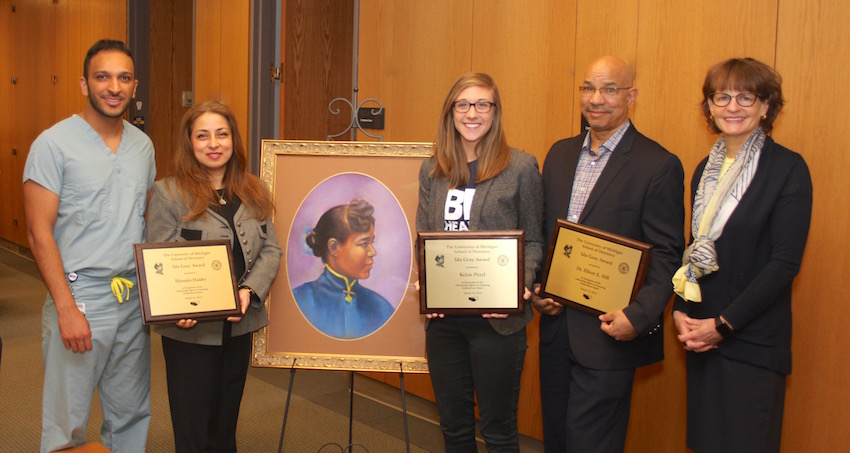 The award is named for Dr. Ida Gray, the first African American woman in the country to earn a DDS when she graduated from the School of Dentistry in 1890. She was also the first black woman to practice dentistry in Chicago.
Dean Laurie McCauley applauded the work of the school's Multicultural Affairs Committee in sponsoring a strong slate of programs and events, like DEI Day, that encourage students, faculty and staff to sustain a welcoming, inclusive environment throughout the school. She noted that university administrators recently praised the school's DEI efforts as well, citing it as an exemplar on campus. "That speaks so highly of the work we all do collectively in this area," McCauley said.
During the Ida Gray Award presentation, Pittel was nominated for her work with LGBTQ advocacy and awareness. She has been president of the Alliance for Inclusion, the school's LGBTQ advocacy group for three years and has taken a leadership role in related issues since first entering the school. Nominators noted that she has created a climate of caring, acceptance and welcoming throughout the school by organizing and attending numerous educational events and support groups. She is a member of the school's Multicultural Affairs Committee and also has volunteered for programs that provide oral health information to various constituencies in the community.
Haider and Mirafzali were nominated for their parts in making a documentary film -– "Me, the 'Other' " -– which had its world premiere on Jan. 15 before a capacity crowd at the Michigan Theater in Ann Arbor. Mirafzali co-produced the film and Haider is one of 12 Ann Arbor-area students profiled in the documentary. The film looks at the sometimes overt and sometimes subtle prejudices of being "different" in a community or society because of race, gender, sexual orientation, religion, age, immigrant status or other elements of personal experience. The students discuss how their lives have been shaped by the perceptions of others and how they have overcome difficulties to move forward in their education, careers and lives. Mirafzali cast students from U-M, Eastern Michigan University and Washtenaw Community College, and recruited mostly volunteers to produce the film, finishing it in less than a year. In the documentary, Hussain discusses how his life changed when his family immigrated from Pakistan to New Jersey when he was 13 years old. The documentary has been shown twice in Ann Arbor and discussions are under way for sharing it more widely, perhaps nationally.
Elliott was cited as a quiet, humble faculty member who brings critical contributions to dental education that reach beyond the school. A DDS alum with a master's in prosthodontics and a PhD in Oral Health Sciences, Elliott returned from private practice to teach at the school because he found that education and mentoring are his passions. He has served on the school's DDS admissions committee for more than 10 years, helping to recruit talented student applicants and ensure diversity in the candidate pool. He is also active leading the U-M Student National Dental Association chapter's Jamaica Outreach Program, which takes students to remote areas of Jamaica to provide oral health care and education for children. The project has inspired students to continue to work with underserved populations as their careers progress. The nomination cited one of Hill's favorite quotes: History most often records those who have made themselves broad in heart by serving others.
Also during the program, Dr. Todd Ester, Director of Diversity and Inclusion, gave an update of the school's participation in the second year of the campus-wide diversity, equity and inclusion initiative. The school completed a cultural competency training series for students, faculty and staff last year. He announced that the series will continue this year with more speakers and training designed for students, faculty and staff. He noted that faculty member Dr. Marita Inglehart will be contributing to campus-wide inclusive-teaching seminars for faculty this year. Ester also introduced the school's Human Resources Director, Natalie Brown, who joins Ester as co-chair of the school's Diversity, Equity and Inclusion Strategic Plan. She replaces Tina Pryor, the previous HR director who retired last year.
Recipients of Ida Gray Awards
2018 – Kelsie Pittel, Hussain Haider, Dr. Shahrzad (Sherry) Mirafzali, Dr. Elliott Hill
2017 – Dr. Kenneth B. May, Carlotta Fantin-Yusta, Teresa Patterson
2016 – Dr. Bonita Neighbors, Guneet Kohli, Dean Laurie McCauley
2015 – Dr. David White, My Yang, Dr. Margherita Fontana
2014 – Scott Ward, John Squires, Isabel C. Castillo
2013 – Jauana Gissendanner, Elizabeth Easter, Wolverine Patriot Project
2012 – Ricardo Lugo, Dr. Henry Temple, Dr. James Lee
2011 – Christinel Dima, Evelyn Lucas-Perry, Dr. Sharon Brooks
2010 – Synthinia Pryor, Javier Johnson, Dr. Preetha Kanjirath
2009 – Dr. Ali Nikoo, Nejay Ananaba, Dean Peter Polverini
2008 – Elizabeth Rodriguez, Joan Anderson, Dr. William Gregory
2007 – Patricia Anderson, Brent Frey, Dr. Marilyn Woolfolk
2006 – Tamanika Terry Stewart, Paul Lopez, Dr. George Taylor
2005 – Diane Nixon, Justin Smith, Dr. Todd Ester
2004 – Patricia Katcher, Erika J. Tyler, Dr. GrahamR. Holland
2003 – Cara Voss, Paulta Lloyd, Dean William Kotowicz
2001 – Cheryl Quiney, Damon Watson
2000 – Dr. Emerson Robinson
1999 – Dr. Lisa Tedesco
1998 – Dr. Marita Inglehart
1997 – Dr. Lee Jones

###
The University of Michigan School of Dentistry is one of the nation's leading dental schools engaged in oral health care education, research, patient care and community service. General dental care clinics and specialty clinics providing advanced treatment enable the school to offer dental services and programs to patients throughout Michigan. Classroom and clinic instruction prepare future dentists, dental specialists, and dental hygienists for practice in private offices, hospitals, academia and public agencies. Research seeks to discover and apply new knowledge that can help patients worldwide. For more information about the School of Dentistry, visit us on the Web at: www.dent.umich.edu. Contact: Lynn Monson, associate director of communications, at dentistry.communications@umich.edu, or (734) 615-1971.