Student Profile: Curtis Herzog

6

min read
Research provides foundation, but treating patients is his future
This profile is one in a series highlighting School of Dentistry alumni, donors and students.
Ann Arbor, Mich., March 12, 2018 — It's easy to assume that second-year dental student Curtis Herzog must be headed for a career in research rather than clinical practice.
Even before he arrived at the School of Dentistry, Herzog spent two of his U-M undergraduate years engaged in ground-breaking scientific research with dental faculty members Drs. Jan Hu and James Simmer. He worked on a project to identify causative mutations in human families with the tooth development disorders amelogenesis imperfecta and oligodontia, which result in weak, deformed or missing teeth. During his time in the lab, Herzog discovered a novel mutation causing hypomaturation amelogenesis imperfecta, which led to a publication in a peer-reviewed journal.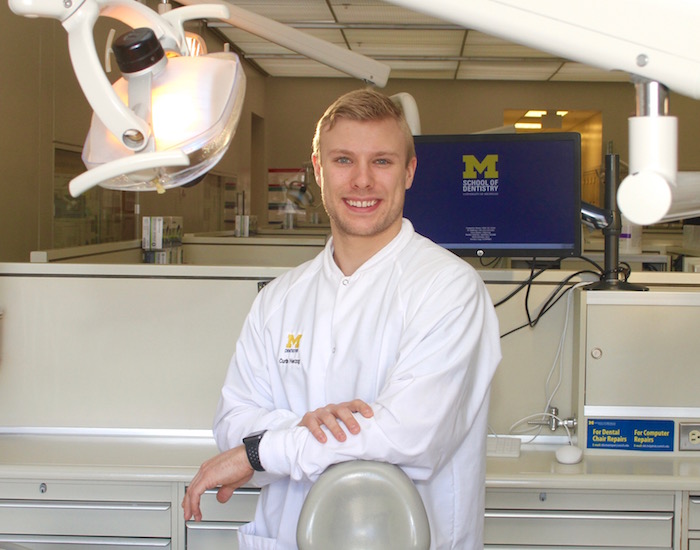 These days, mixed in with his full load of second-year dentistry classes and clinic requirements, Herzog is still in a lab. He is working with Dr. Noriaki Ono and his team to study a population of cells known as resting chondrocytes, which help maintain growth potential of many bones in the body throughout childhood and adolescence. This particular project, using mouse studies, is focused on a subset of bones in the skull known as the cranial base. "We have a really good understanding of how your long bones maintain growth throughout adolescence, but there is not a great understanding of how the process works in the skull," Herzog explains. "My project is trying to tease out a few parts of that mechanism. It is extremely complex."
Given his interest, experience and success with research – along with graduating with highest honors in biomolecular science for his bachelor's degree – Herzog has a surprising response for anyone asking about his career aspirations or if he considered the dual DDS/PhD track. "There was a point when I did consider pursing the joint program. But my passion is in the clinical side of things. It is hard to do both," he says. His foray into research has been rewarding for what he has learned and observed. He credits Hu and Simmer as effective mentors and says it takes "special people" like Ono, an orthodontics faculty member, to maintain both the research and clinical tracks at the same time.
After narrowing his health care interests as an undergrad to medicine and dentistry, Herzog investigated dentistry careers at the suggestion of an undergrad mentor. He shadowed a dentist in his hometown of Novi and spent time as a dental assistant in the Ann Arbor practice of Dr. Ray Maturo, an adjunct faculty member. "Dentistry is such a unique blend of health care, public service, craftsmanship and entrepreneurship that it really engaged my interest," Herzog said. "Assisting with Dr. Maturo really confirmed it for me. I liked dentistry, all of the day-to-day routine."
Now that he's immersed in dental school, Herzog says it is a tougher job than undergraduate studies because there are more courses per semester, which requires a change in study patterns that worked well for undergrad classes. "It's a steep learning curve," he said. "It's a lot right off the bat. And just getting used to juggling. It's a ton of information, it's a lot of exams. In undergrad I would study a week ahead of time for an exam. It's hard to do that in dental school, even if you want to. I'm not a procrastinator, not somebody who crams. Dental school kind of forces you to do that sometimes, especially finals week when you have eight exams in a week. To me, finals weeks are the hardest part of the first three semesters."
He is able to find brief windows of time to get away from dentistry, by socializing with classmates who have become good friends. Last year, he played on a team of dental and medical students in an ice hockey league one night a week. Among Herzog's other non-academic pursuits in recent years, one of the most rewarding was co-founding a non-profit organization that sought grants and raised money to buy school supplies for every classroom in two elementary schools in Detroit. Called "Tools for Detroit's Tomorrow," the organization was a mix of about 20 U-M and Michigan State students who used grants from the Staples Foundation, the business supply company, to kick-start the project. Students also volunteered as tutors at the schools.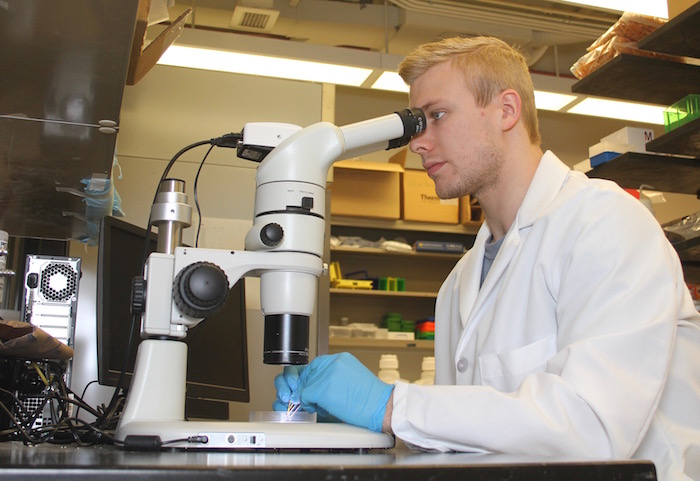 As he approaches the end of the second year of dental school, Herzog said the good news is that he and his D2 classmates are now seeing patients on a limited basis before going full-speed with patients in their third year starting this spring. "I'm feeling good about being over that hump and being in the clinics and providing patient care — that's what most of us came here to do. It's a privilege and it's a responsibility, too. That's why the first year and a half is important to learn about all the science behind what we are doing, how to manage any complications that arise, all that kind of stuff. Anybody who has been through it will tell you how hard it is, but it's worth it and it's great."
Herzog receives what he calls "a significant scholarship that helps a lot" from the Roberts Family Foundation. Tuition increases in recent decades in all areas, not just dentistry, mean that it has been a long time since professional schools were a pay-as-you-go venture. "It's either loans or scholarships," Herzog said. "I'm very grateful for the scholarship. It's extremely expensive to train a dental student because there's a lot that goes into this education. Any financial help, it means a lot to students. It takes your mind off the cost, which is invaluable."
The best part of pursuing a DDS is working with patients and the variety of people throughout the school. "There are just a lot of great people who go to dental school, a lot of people in my class that I spend time with outside of classes and that's what gets you through it. That and the light at the end of the tunnel that says you ARE going to get to see patients. It's been a great experience. It's exciting because I'm finally getting to the point in my education where I'm getting to do the fun stuff."
###
The University of Michigan School of Dentistry is one of the nation's leading dental schools engaged in oral health care education, research, patient care and community service. General dental care clinics and specialty clinics providing advanced treatment enable the school to offer dental services and programs to patients throughout Michigan. Classroom and clinic instruction prepare future dentists, dental specialists, and dental hygienists for practice in private offices, hospitals, academia and public agencies. Research seeks to discover and apply new knowledge that can help patients worldwide. For more information about the School of Dentistry, visit us on the Web at: www.dent.umich.edu. Contact: Lynn Monson, associate director of communications, at dentistry.communications@umich.edu, or (734) 615-1971.