Special needs dental clinic project moves forward

7

min read
School partners with Delta Dental Foundation for renovation at Community Dental Center
Ann Arbor, Mich., Oct. 12, 2017 -– The School of Dentistry and the Delta Dental Foundation on Tuesday marked an important step in a significant collaboration that benefits patients who require special care for their dental needs.
The foundation has committed $2 million to the school to create the Delta Dental of Michigan Integrated Special Care Clinic. The new clinic will be temporarily located at the Community Dental Center (CDC) operated by the school in downtown Ann Arbor until a permanent clinic is finished as part of a major renovation at the main School of Dentistry location on campus.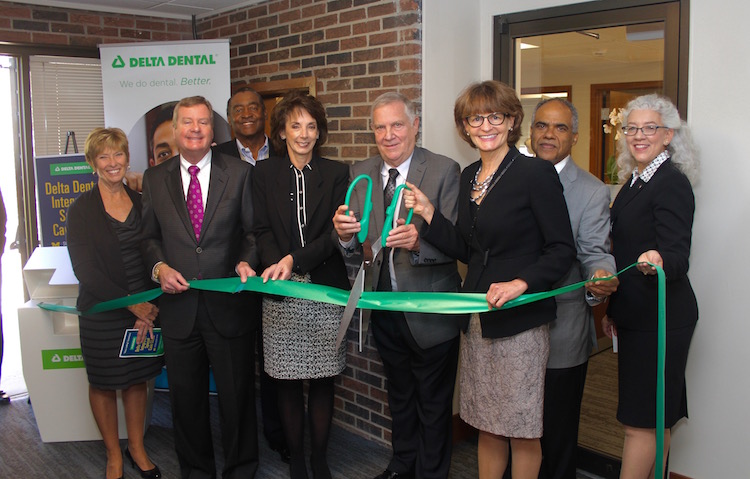 A portion of the CDC was recently remodeled to include several rooms with specialized equipment that will allow dentists and dental hygienists to provide specialized care not available at most traditional dental clinics. The completion of the remodeling was celebrated Tuesday with a ribbon-cutting attended by representatives of Delta Dental, the school, the CDC and the city, which owns the facility.
The new special care clinic at the CDC will be open for patients in January. A permanent special care clinic is being incorporated into design plans now underway for the main dental school renovation, expected to be completed in 2022.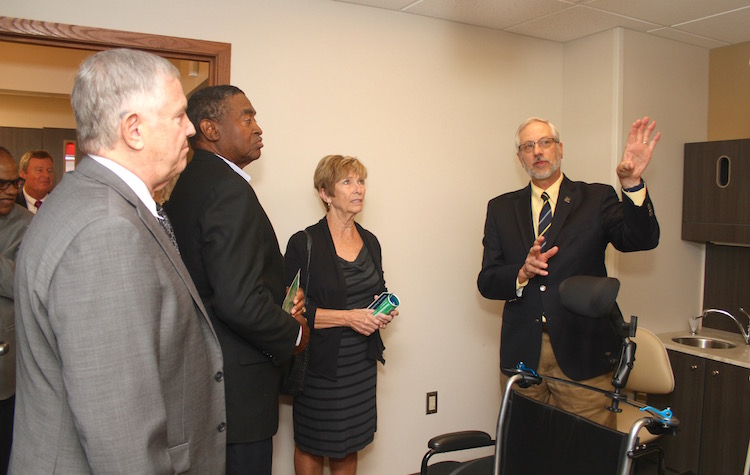 Among the unique features in the special care clinic are various devices to accommodate patients who use wheelchairs so that they can remain in their wheelchairs during treatment rather than have to move or be lifted into dental chairs; adjustable lighting that dims for patients who are sensitive to bright light; portable, hand-held x-ray devices for patients with limited mobility; rooms with more privacy than dental clinics with open floor plans; and dental chairs that adjust to accommodate patients with mobility issues.
As important as the physical accommodations are the educational opportunities for dental students and student hygienists. The School of Dentistry is enhancing its curriculum so that students are trained in the best practices for communicating and collaborating with other members of the healthcare team, while treating patients with a wide variety of physical and mental limitations and conditions.
Laurie McCauley, Dean of the School of Dentistry, said the specialized design of the new clinic along with changes in the school's curriculum represent a significant step forward in improving the quality of and access to dental care for patients with special needs. "Those needs are diverse – patients with developmental disabilities, cognitive impairments, blindness or hearing loss, complex medical problems, stress disorders related to military service or vulnerable conditions unique to the elderly, to name a few," McCauley said. "Immersing our dental students in new interprofessional integrated care models is the wave of the future for all patients, but it has particular value for special needs patients, and we will lead the way in this area."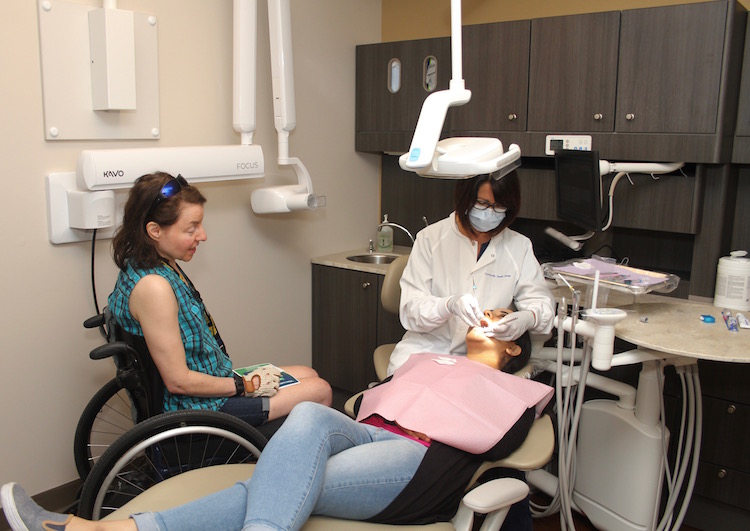 McCauley thanked the Delta Dental Foundation for its financial support, which was crucial to the creation of the special needs clinic. "As with any significant improvement, we can't do this alone – we need partners," McCauley said. "Delta Dental has once again stepped forward to help us improve oral health care in a very significant way. We are truly grateful for how Delta Dental assists us in our mission of advancing health through education, service, research and discovery."
Teri Battaglieri, Director of the Delta Dental Foundation, credited the foundation board of directors for its decision to provide a financial gift and partner with U-M in building the special needs clinic. "Four years ago, the University of Michigan team came to Delta Dental and presented us with a most compelling idea – a clinic to treat patients with special needs and a curriculum designed to train the dentists of the future on how to treat them and how to collaborate as part of a health care team to ensure the well-being of these patients."
Battaglieri related a story about meeting a longtime friend she hadn't seen in many years. The friend's husband died a year ago after a series of health care setbacks. The friend was forced to cancel dental appointments for her husband in the latter stages of his life because his regular dental clinic couldn't accommodate his special needs, including his use of a wheelchair. Had this clinic been available, Battaglieri said, her friend's husband could have received the dental care he needed. It's an example of why the new clinic is so important to the many people with special needs, she said.
Dr. Carol Anne Murdoch-Kinch, Associate Dean for Academic Affairs at the dental school, said the mission of the new Delta Dental special care clinic and program is to improve the oral and general health of people with special health care needs through education, patient care, research and policy. The clinic and curriculum revisions are part of a new initiative led by Murdoch-Kinch, who was recently installed as the inaugural Dr. Walter H. Swartz Professor of Integrated Special Care Dentistry. The professorship was made possible by a major gift from Tim and Laurie Wadhams of Ann Arbor, who made their gift in memory of Laurie's father, Walter, a longtime professor at the School of Dentistry.
"For the caregiver and families of a person with special healthcare needs, the complexity of the problems they face, and the level of coordination required to ensure optimal outcomes and quality of life can be overwhelming," Murdoch-Kinch said. "We will implement an integrated collaborative practice model in which multiple health professionals, including dentists and dental hygienists, social workers, behaviorists, physicians, nurses and pharmacists, collaborate to provide optimal comprehensive for patients with special healthcare needs."
When it begins seeing patients in January, the new temporary clinic, located at 406 N. Ashley St. in downtown Ann Arbor, will take referrals from dental providers. Referral information can be obtained by calling the School of Dentistry at 888-707-2500.
###
The Delta Dental Foundation is a nonprofit, charitable organization established in 1980, which serves as the philanthropic arm of Delta Dental of Michigan, Ohio, Indiana and North Carolina. The foundation is dedicated to improving the oral health of the public and to advancing dental science through education and research. For more information, go to the Delta Dental website.

The University of Michigan School of Dentistry is one of the nation's leading dental schools engaged in oral health care education, research, patient care and community service. General dental care clinics and specialty clinics providing advanced treatment enable the school to offer dental services and programs to patients throughout Michigan. Classroom and clinic instruction prepare future dentists, dental specialists, and dental hygienists for practice in private offices, hospitals, academia and public agencies. Research seeks to discover and apply new knowledge that can help patients worldwide. For more information about the School of Dentistry, visit us on the Web at: www.dent.umich.edu.

Contact: Lynn Monson, associate director of communications, at dentistry.communications@umich.edu, or (734) 615-1971.