Professor's Franklin Expedition fascination yields new research

5

min read
Journal publishes new paper by Dr. Russell Taichman on famed Arctic tale
Ann Arbor, Mich., Oct. 28, 2017 -– A second research paper by a School of Dentistry professor about an Arctic exploration mystery has been published by an international journal.
Dr. Russell Taichman compiled and analyzed journal entries, letters and notes regarding the fate of the famed Franklin Expedition to the Arctic in the 1840s. The research was published in the online version of Polar Record, A Journal of Arctic and Antarctic Research, one of the publications of the Cambridge University Press.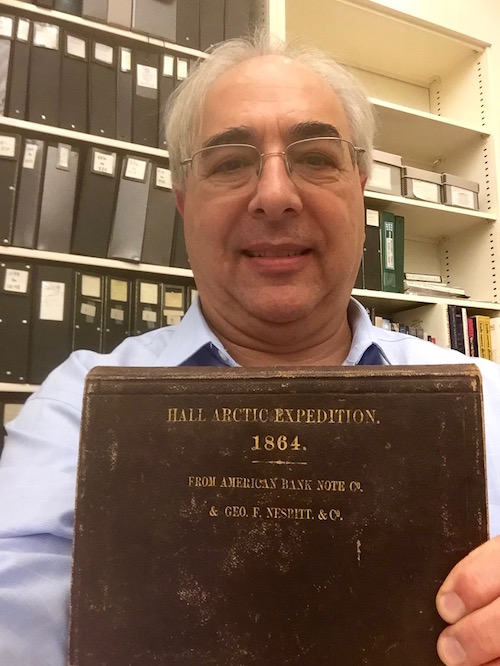 The Franklin story has long fascinated historians – and Taichman, who is the Major Ash Collegiate Professor of Periodontics and Oral Medicine and Associate Dean for Research at the dental school. Two British ships were exploring what is now known as the Northwest Passage when they became trapped in the icepack in 1846. The ships were well-stocked with food but over the course of two years all 129 members of the crew perished on and around King William Island, which is above the Arctic Circle in what is now northern Canada.
Taichman's new research focuses on interviews with Inuit conducted in the 1860s by rescue expeditions that tried to find survivors and evidence of what happened to the Franklin mariners. Taichman went to the Smithsonian Institution in Washington, D.C., to examine the papers of Charles Francis Hall, who led two expeditions seeking Franklin clues. During Hall's second trip, from 1864-69, he interviewed an Inuit named Su-pung-er, who recalled finding human remains and various relics left by the Franklin group. Taichman also reviewed documents relating to Capt. Peter Bayne, who was employed by Hall and gathered additional Inuit testimony.
Of particular interest to Franklin historians is Su-pung-er's description of what was described as a meticulously constructed vault in the tundra. Some researchers believe it could be where Sir John Franklin, the expedition leader, is buried, perhaps with ships' logs and documents that would add valuable new insight about the crew during the two years they tried to survive. Hall and other explorers over the last 150 years have found several sites with human remains, a few notes left by the crew and scattered relics, but no one has found Franklin's burial site or any large cache of documents. The expedition's two ships, the Erebus and the Terror, weren't found until 2014 and 2016, respectively, submerged but in remarkably good condition near the island.
While a few elements of Su-pung-er's stories have been previously published, Taichman's new paper provides a much broader selection and analysis of Hall's documentation of the Inuit's recollections. Taichman believes Su-pung-er's stories are a reliable incentive for modern-day explorers to keep looking for the Franklin grave and more artifacts on King William Island. Taichman has explored the island twice with another Franklin researcher, Tom Gross, a Canadian who is a co-author of both Taichman papers.
The first paper, published last spring in the journal Arctic, called on Taichman's scientific expertise as a dentist and world-class cancer researcher, to examine the historical record for clues as to what diseases may have killed Franklin crew members. With research assistance from Mark MacEachern, an informationist at U-M's Taubman Health Science Library, Taichman posited that Addison's disease, which affects the adrenal glands, contributed to many of the sailors' deaths.
Taichman has made three trips to the Archives Center at the National Museum of American History at the Smithsonian to examine documents related to the Franklin Expedition. Because the collection is not yet completely scanned into electronic form, Taichman was able to carefully handle the actual documents written by Franklin, Hall and others. "The first time I went in, I have to admit when I came to the main documents, I had trouble breathing I was so excited. It was a total thrill," he said. "It was amazing that I could touch the same page Su-pung-er touched when he drew a likeness of the vault for Hall. Here I am basically touching the hand of someone who may have seen Franklin's grave. For a Franklin fan, it was a total geek moment!"
The new research paper, "A comparative analysis of the Su-pung-er and Bayne testimonies related to the Franklin Expedition," can be found on the Polar Record website. Information about Taichman's first Franklin paper from earlier this year was reported in this story on the School of Dentistry website.
###
The University of Michigan School of Dentistry is one of the nation's leading dental schools engaged in oral health care education, research, patient care and community service. General dental care clinics and specialty clinics providing advanced treatment enable the school to offer dental services and programs to patients throughout Michigan. Classroom and clinic instruction prepare future dentists, dental specialists, and dental hygienists for practice in private offices, hospitals, academia and public agencies. Research seeks to discover and apply new knowledge that can help patients worldwide. For more information about the School of Dentistry, visit us on the Web at: www.dent.umich.edu.

Contact: Lynn Monson, associate director of communications, at dentistry.communications@umich.edu, or (734) 615-1971.