DDS meets MBA: New degree program announced

7

min read
School of Dentistry and Ross School of Business collaborate on joint degree
Ann Arbor, Mich., Oct. 10, 2017 -– School of Dentistry students worked with administrators and faculty over the last year and a half to research and advocate for the new joint DDS/MBA degree program announced today by the University of Michigan Ross School of Business.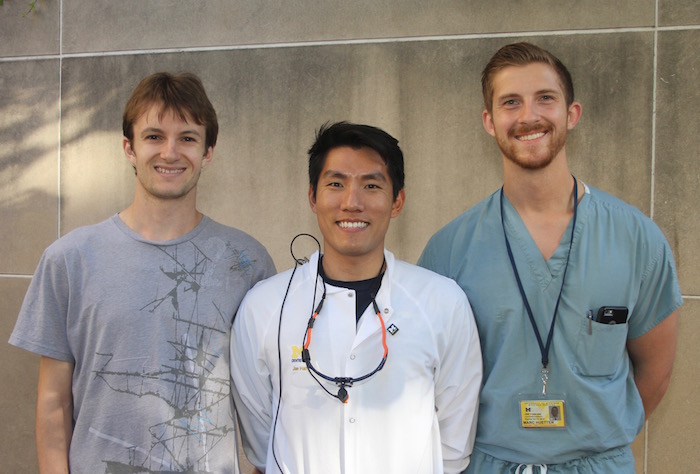 The School of Dentistry put together its proposal for a joint DDS/MBA with the help of three students who saw a growing need for an MBA option in the dental school curriculum. Jae Young Han, Thomas Paron and Marc Huetter, now third-year students, helped administrators survey interest in the student body and research how other dental schools around the country with joint MBAs have structured their programs.
Dr. Carol Anne Murdoch-Kinch, Associate Dean for Academic Affairs, said dental practice management courses are required in all four years of the existing DDS curriculum, but surveys indicated a significant number of students are interested in the much higher level of business leadership training that an MBA offers. Adding the MBA will extend the normal DDS curriculum schedule from four to five years.
"The advantage of this joint MBA program goes beyond helping our dental graduates operate their private practices. The real benefit is that it will provide in-depth leadership and business training for our students who aspire to leadership roles in dentistry," Murdoch-Kinch said. "That could include corporate dentistry, public health or transforming health systems. It will prepare students to be a CEO, and to be a leader of the profession, and the great part is that we are utilizing the world-class business school we have on this campus."
Because the DDS and MBA degrees are each rigorous academic programs, the challenge for Murdoch-Kinch and Dr. Renée Duff, Assistant Dean for Student Services, was to structure the five-year schedule in a way to give students the best chance for success in what administrators acknowledge will be a difficult dual track.
Dental students will enroll in Ross full-time starting in the fall term of their fourth year and complete three full-time semesters: fall, winter and fall. During this time the student will also enroll in one credit of the dental clinic to maintain their clinical skills. During the spring-summer term of the fifth year, they will return to the DDS program full-time and complete the D4 spring-summer requirements. In the fall term of the fifth year, students will enroll full-time in both the DDS and the Ross programs. Students will be permitted to complete an internship through Ross as their schedules permit on a case-by-case basis.
"This is a significant new option for our students that will elevate their leadership capacity and skills," said School of Dentistry Dean Laurie McCauley. "The practice of dentistry, like most health care professions, is in a period of evolution. This program will develop leaders who can advance new practice models that are data-driven and patient-centric. Partnering with the highly-ranked Ross School is a great opportunity for our students."
Dental students can apply to Ross in the fall of their third year for acceptance into the MBA program. Current third-year dental students accepted during the Ross application cycle that began the first week of October will be the first DDS students to begin work on their MBA, starting in the fall of 2018.
Murdoch-Kinch said Han led the student effort after making a strong presentation for the MBA about a year and a half ago. His interest prompted administrators to examine how such programs work at other dental schools around the country, and they opened a dialogue with Ross administrators. Han, Paron and Huetter worked with Marita Inglehart, a professor in the Department of Periodontics and Oral Medicine who has extensive experience in the behavioral sciences, to create surveys for dental students at U-M and other schools around the country.
The U-M survey found that 69 percent of students agreed or strongly agreed that the school should offer a dual DDS/MBA program, and 50 percent said they would strongly consider enrolling in such a program. Further, 46 percent agreed that offering a dual degree would have positively affected their decision in applying to the school, and 28 percent said they would be willing to endure the added expense of the MBA. Results of the national survey aren't yet complete.
Han has applied for the new program and will learn in December if he is accepted. His pursuit of the business degree is a reflection of his many interests that go beyond the basic DDS, dating to the years when he was considering which profession to pursue and eventually which dental school. He decided U-M was the best place to get his DDS, but shortly after arriving on campus he began researching joint MBA programs and how he might convince administrators to add it to the curriculum here. Han said he plans to enter into private practice, but he is also interested in the many ancillary aspects of dentistry and general health care, such as non-profit service, reducing health care costs, interprofessional education and collaboration, the engineering of surgical tools, practice management, insurance efficiencies and many other areas.
"There's so much to the dental industry. It's way more than just private practice," Han said. "I'm not interested in using my MBA to be a good small business owner. I want to use it so I can participate in a bigger role, where I can work within the interdisciplinary domain, for different companies that produce different things, to consult and help them grow."
Whether it's technological advancement, streamlined administration or insurance reformation, Han sees dentistry as positioned for major growth in many areas, including job creation. "I want to elevate the whole image of the profession – help people to see that there is more to dentistry than just clinical, private practice," he said. "You can get a job as a dental technician, you can get a job as a consultant, you can get a job as an engineer who develops these new, innovative surgical tools. There's so much more to it."
The joint DDS program is one of two announced today by Ross. The College of Pharmacy and the business school will now offer a Doctor of Pharmacy and Master of Business Administration (PharmD/MBA) degree.
"Michigan Ross' partnership with the College of Pharmacy and School of Dentistry meets the needs of today's array of global talent," said Brad Killaly, Associate Dean of Full-Time and Global MBA Programs at the business school. "The new PharmD/MBA and DDS/MBA degrees give students the opportunity to have a multifaceted background and explore various career options in the pharmaceutical industry, medical, healthcare, business and beyond. As the medical and business sectors become increasingly connected, students will need the skill set and experience to become effective, impactful leaders in both areas."
More information on the new program can be found on the Ross website.
###

The University of Michigan School of Dentistry is one of the nation's leading dental schools engaged in oral health care education, research, patient care and community service. General dental care clinics and specialty clinics providing advanced treatment enable the school to offer dental services and programs to patients throughout Michigan. Classroom and clinic instruction prepare future dentists, dental specialists, and dental hygienists for practice in private offices, hospitals, academia and public agencies. Research seeks to discover and apply new knowledge that can help patients worldwide. For more information about the School of Dentistry, visit us on the Web at: www.dent.umich.edu.
Contact: Lynn Monson, associate director of communications, at dentistry.communications@umich.edu, or (734) 615-1971.