2 DH degree completion students receive CEW scholarships

4

min read
Ann Arbor, Mich., Oct. 2, 2017 -– Two students in the School of Dentistry's Dental Hygiene online degree completion program received scholarships Sunday during the 47th annual Center for the Education of Women awards program.
Rebecca Merryfield received the Robert Bruce Dunlap Memorial Scholarship and Brandy Zantello received the Jane and Bill Bloom Scholarship. CEW is a University of Michigan program offering a variety of services and financial support to assist in the educational success and degree completion of primarily women and nontraditional students.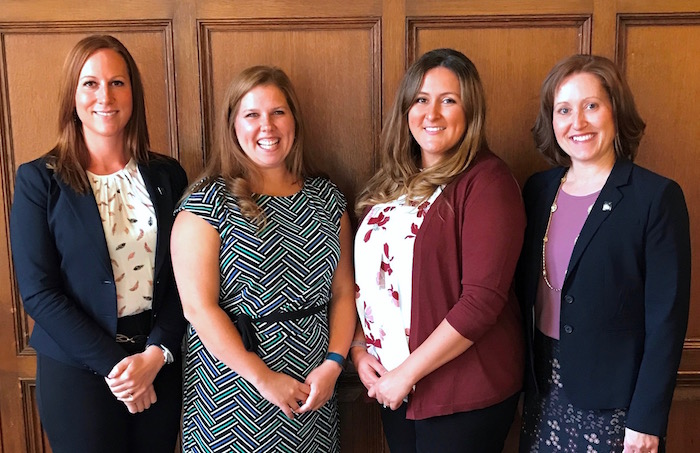 Merryfield, a resident of Woodland, Mich., received her associate degree in dental hygiene at Lansing Community College. She worked as a dental assistant for 10 years before deciding to pursue a degree so she could become a dental hygienist. She started her DH education, then took time off for the birth of her children, and eventually finished as one of the top students and president of her class. When she finishes her bachelor's degree in Dental Hygiene from the School of Dentistry in August 2018, she plans to continue in the profession as a dental hygiene educator, with a particular focus on patients who live in rural communities with limited access to providers and care.
The Dunlap Scholarship was established in 2006 in memory of Robert Dunlap, a long-time U-M employee at the University Hospital and later at the School of Dentistry. Because of his long association with the hospital, and gratitude to his medical teams while he was a patient at the hospital, first preference for the scholarship is given to an Ann Arbor campus undergraduate student pursuing a career in a health-related field. The scholarship is a $4,000 award.
Zantello, a resident of Bangor, Mich., received her associate's degree in dental hygiene from Kalamazoo Valley Community College. She recently decided to expand her longstanding interest in dental hygiene to the educational component of the profession. When she finishes her bachelor's degree in August 2018 she will pursue a master's degree with the goal of finding a full-time teaching position. Her dental hygiene education thus far has been a balance of work, classes and caregiving for a family member with a significant medical condition. She said her one-on-one work with students helped her realize that working in dental hygiene education not only allows her to help patients but also gives her the fulfillment of mentoring students.
The genesis of the Bloom scholarship dates to 1964 when Jane Bloom was the second person to seek assistance at the newly opened CEW. As a 40-year-old mother of 10, Bloom received assistance from CEW as she completed both an undergraduate and medical degree at U-M and went on to a distinguished career as a physician. Bloom and her husband Bill established the scholarship endowment to encourage recipients to "aim high, raise your sights, and stick with it for a rewarding life." The scholarship is a $9,000 award.
CEW was founded in 1964 and its first scholarships were awarded in the fall of 1970 to mark the 100th anniversary of women being admitted to the University of Michigan. CEW advances diversity and inclusion at U-M by serving as a resource, voice and advocate to empower women, nontraditional students and other members of the university community. More information about CEW can be found on its website.
###

The University of Michigan School of Dentistry is one of the nation's leading dental schools engaged in oral health care education, research, patient care and community service. General dental care clinics and specialty clinics providing advanced treatment enable the school to offer dental services and programs to patients throughout Michigan. Classroom and clinic instruction prepare future dentists, dental specialists, and dental hygienists for practice in private offices, hospitals, academia and public agencies. Research seeks to discover and apply new knowledge that can help patients worldwide. For more information about the School of Dentistry, visit us on the Web at: www.dent.umich.edu.

Contact: Lynn Monson, associate director of communications, at dentistry.communications@umich.edu, or (734) 615-1971.