Murdoch-Kinch installed as inaugural Swartz Professor

5

min read
Ann Arbor, Mich., Sept. 29, 2017 -– Dr. Carol Anne Murdoch-Kinch was installed Wednesday as the inaugural Dr. Walter H. Swartz Professor of Integrated Special Care Dentistry.
The professorship was established with a major gift from Ann Arbor residents Timothy and Laurie Wadhams in honor of Laurie's late father, who was a School of Dentistry alum and professor of prosthodontics at the school for nearly 30 years.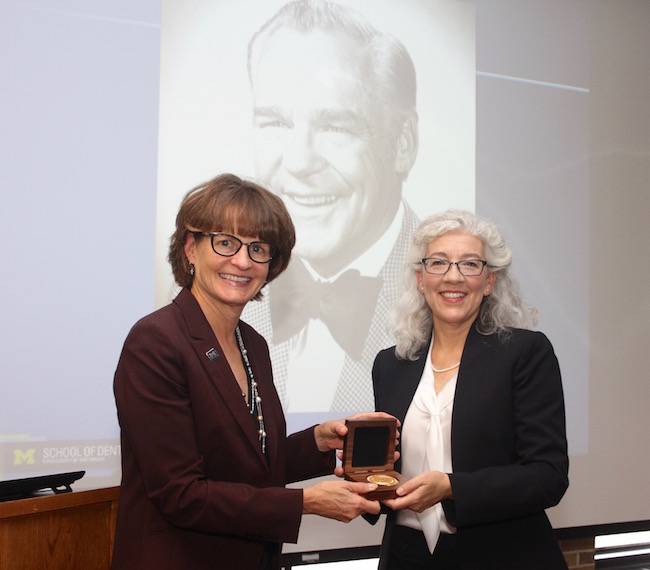 Murdoch-Kinch, Associate Dean for Academic Affairs, was named the first Swartz Professor after a national search for a faculty member who could lead an educational and clinical program that prepares dental and dental hygiene students for collaborative practice and treatment protocols for patients with special needs. The new, transformative approach to developing care programs for those with special needs is one of the first of its kind at a major dental school and builds on comprehensive approaches to multidisciplinary care pioneered at the school.
In her installation lecture, "Integrated Care for People with Special Needs: Aligning the Stars for a Constellation of Health and Wellness," Murdoch-Kinch said providers must continue improving equal access to health care and wellness, and oral health is an integral part of the formula. Of particular importance, she said, is the need to improve access for patients with special needs, which include physical, developmental, mental, sensory, behavioral, cognitive or emotional disabilities.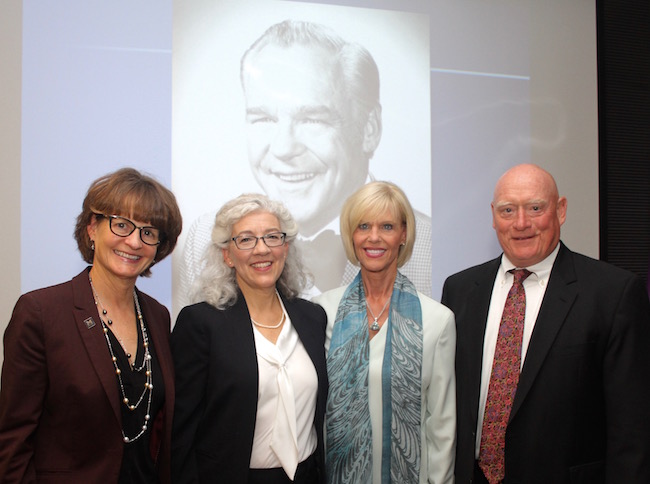 Murdoch-Kinch described how this growing population of people are more likely to have unmet dental needs, due to myriad factors. Improving access to care for people with special needs is a national priority and is a top goal in the state of Michigan's Oral Health Plan 2020. Expanding the number of dentists and dental hygienists able and willing to provide comprehensive dental care will be achieved by providing hands-on experiences during their training.
The initiative led by Murdoch-Kinch will establish teams of healthcare professionals, including social work, pharmacy, medicine, dentistry and nursing, to collaborate in providing integrated patient-centered care. Students will learn how to provide this care together, and faculty will conduct research on best practices and the impact of Interprofessional Education (IPE) and collaborative care on patient outcomes. This work is an extension of initiatives over the past five years led by the University of Michigan Center for IPE and supported by the Health Sciences Deans and Transformation grant from the Provost's Third Century Initiative.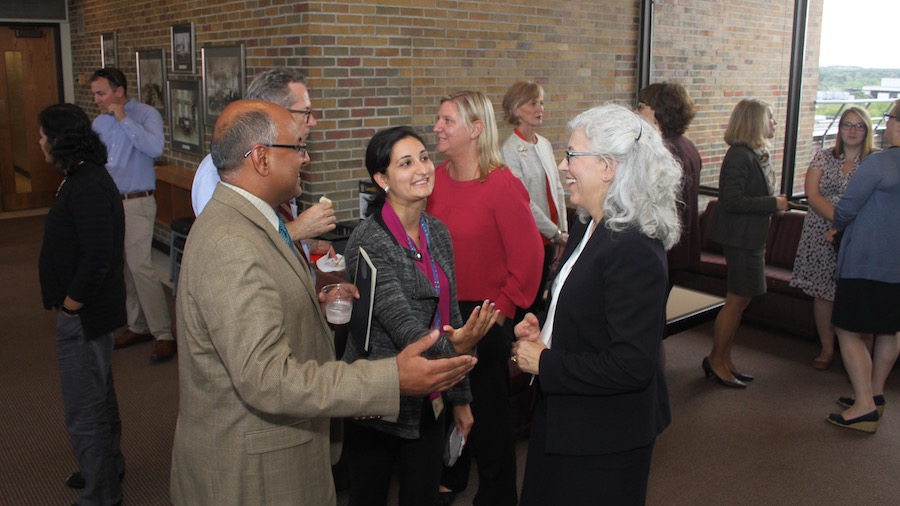 Because patients with special healthcare needs have complex problems, IPE collaborative practice has the potential to greatly improve patient outcomes. The vision of this new initiative states: "Through multidisciplinary and interprofessional collaboration and innovation, across the university and the health system, and with community partners, we will create new models to support the oral and general health and wellness of people with special needs." Added Murdoch-Kinch, "We can align the stars to make the impossible, possible, here in the state of Michigan."
Dean Laurie McCauley, in introducing the installation program, said Dr. Walter Swartz had a rare mix of excellence in many areas – as a private practitioner, educator, professor, nationally recognized researcher and civic leader. He received his DDS in 1945 and his MS in prosthodontics in 1947. He started as a clinical instructor and rose through the ranks to a full professor of dentistry in 1961, teaching more than 2,000 students. Three senior classes during his tenure selected him to receive the Paul Gibbons Award for outstanding teaching.
Murdoch-Kinch received her dental degree from Dalhousie University Faculty of Dentistry in 1985, and practiced general dentistry for several years in Halifax, Nova Scotia. She attended Indiana University where she completed a two-year certificate in Dental Diagnostic Sciences and a PhD; for her dissertation, she conducted clinical research on gene expression of Crouzon Syndrome in families. She later served as the dentist on the multidisciplinary Cleft Palate-Craniofacial Anomalies Team at Children's Hospital of Michigan in Detroit, while on the faculty of Detroit Mercy Dental School. In 2000, she joined the faculty at the U-M School of Dentistry, where she has taught oral and maxillofacial radiology and oral medicine to dental and dental hygiene students, as well as graduate students and residents in dentistry and medicine.
Murdoch-Kinch's renewable five-year appointment is effective through April 30, 2022. The establishment of the professorship and the appointment of Murdoch-Kinch were approved by the U-M Board of Regents.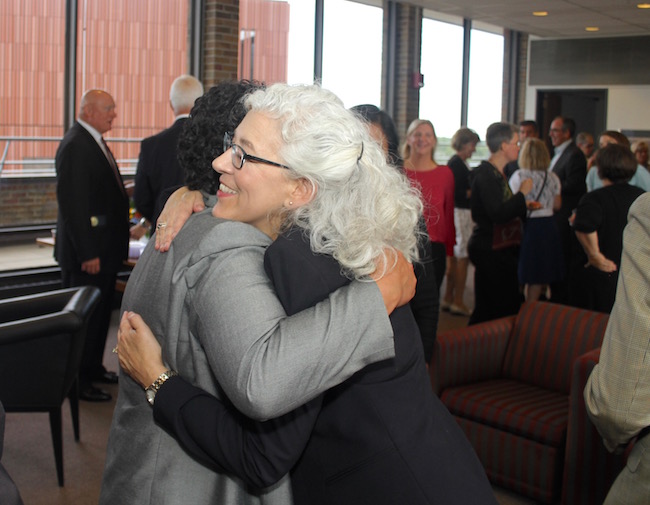 ###

The University of Michigan School of Dentistry is one of the nation's leading dental schools engaged in oral health care education, research, patient care and community service. General dental care clinics and specialty clinics providing advanced treatment enable the school to offer dental services and programs to patients throughout Michigan. Classroom and clinic instruction prepare future dentists, dental specialists, and dental hygienists for practice in private offices, hospitals, academia and public agencies. Research seeks to discover and apply new knowledge that can help patients worldwide. For more information about the School of Dentistry, visit us on the Web at: www.dent.umich.edu.

Contact: Lynn Monson, associate director of communications, at dentistry.communications@umich.edu, or (734) 615-1971.